Best travel cribs of 2019 – Portable travel cribs for babies and toddlers
BEST TRAVEL CRIBS of 2019
The best travel cribs are super portable and don't weigh a lot. They should also collapse quickly, and fold into a small bag, backpack or suitcase so you can transport them easily and store them in a small space if needed.
Travel or portable crib is a perfect solution for parents on the go.
Travel cribs can be often found under the name "portable cribs", which of course they are. But under the same name, we can find another crib type. Those are portable cribs made from wood, which differs from travel cribs we are talking about here in many ways.
All models in our list are also classified as one of the best Pack'n Plays of 2019, because you can use them as a travel crib or as a convenient Playard for your baby. So if you are looking a good Pack'n Play, don't go away!
The difference between travel crib and wooden portable crib 
travel cribs are much lighter
travel cribs typically fold up smaller than portable cribs made from wood
another significant difference is in the material: Travel cribs have soft mesh sides which provide comfort to the baby. Because of the material, they are made of, travel cribs fold up into smaller and lighter packages than portable cribs made from wood.

Travel crib types
Depending on the start of use, we divide travel cribs into two types:
You can choose between travel cribs with or without a newborn bassinet. There are even travel cribs with snuggle nests or/and baby care stations on the top. Those are usually bigger and heavier. Also, it is not convenient to take nests or cares station on the travel, as they do not fold into the package beside the travel crib.
However, it is nice to know you have that option. You can use it at home or in grandparents house and just left it at home while you are on travel. Bassinets fold up into the package with the crib, so you can use them anywhere you go.
So what can I pick?
a travel crib without bassinet
a travel crib with bassinet
a travel crib with bassinet + snuggle nest and care station
After our comprehensive research and tonnes of reviews, we got a list of the best models that are supplied with a bassinet. That is great! Not only have they won in all categories, but can be used by the newborn as well.
Our purpose was to get a list of the best travel cribs that are safe, good quality, with many features, so your baby can use the crib on travel or at home.
All models on our list can be used as a handy Pack'n Play (Playard) as well. When you need a moment for yourself, just set up the crib. Your baby can play safely in the crib, while you do your housework.
Depend on the weight and size of the travel crib we divide them into two groups:
Bigger travel cribs:

Those cribs weight little more and fold up little bigger, but they have lots of additional features, like a snuggle nest, changing table, toys, side organizers and more.

Basic, minimalist travel cribs:

Those are lightweight travel cribs, perfect for hiking or taking on the plane, as they fold up really small.
---
Best travel cribs for babies and toddlers in 2019
THE BEST LIGHTWEIGHT TRAVEL CRIBS – MINIMALIST PORTABLE CRIBS
Lotus travel crib and portable baby Playard

Fisher-Price ultra-lite day and dight Playard
Lotus Travel Crib and Portable Baby Playard
THE GOOD:
lightweight
a backpack instead of a classic travel bag
perfect for travel or home use
setting up is easy and fast
side door
good airflow
exceeded all safety standards
the mattress is better than a standard Pack' n Play mattress
THE BAD:
some have difficulties with Velcro straps: they have a hard time to insert them through slots and keep them there while securing the mattress on the bottom
a backpack could be little larger
>> Buy Lotus Travel Crib and Portable Baby Playard station on Amazon <<
---
BABYBJÖRN Travel Crib Light
THE GOOD:
travel crib stands firmly on the floor
a soft and comfortable mattress
it is perfect for newborns and toddlers
airy design for good supervision
easily removable and machine washable mattress cover and travel crib fabric
a safe crib without toxic materials
quality and durable material that is aesthetically pleasing
THE BAD:
higher price
it is not the crib for petite people or those with a bad back
>> Buy Baby Bjorn Travel Crib Light on Amazon <<
---
Fisher-Price Ultra-Lite Day and Night Play Yard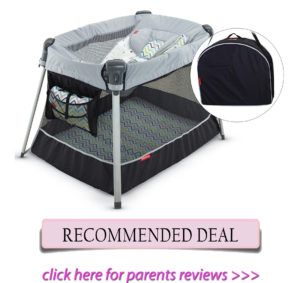 THE GOOD:
affordable price
it doesn't have any loose pieces
super easy to put together and collapse as well as easy to travel with
padded play yard mat
more features than other basic Playards
suitable from newborn till 3 years
lightweight and portable
THE BAD:
little smaller
the bottom is not as good as with the first two
>> Buy Fisher-Price Ultra-Lite Day and Night Play Yard on Amazon <<
---
Best rated travel cribs with bigger weight
Graco Pack 'N Play Playard with Newborn Napper station
Ingenuity Smart and Simple Playard
4moms Breeze Classic Portable Playard
Disney Sweet Wonder Playard
Graco Pack 'N Play Playard with Newborn Napper station
THE GOOD:
folding is quick and hassle-free
simple to pack it up
full-size bassinet
cozy newborn napper for babies under 3 months
airy mesh on all sides for maximum ventilation
usage as a Play yard
extra large and sturdy changing table
soft songs and vibration
affordable price
travel bag
THE BAD:
little heavier
the napper and changing table can't be used outside of this unit
>> Buy Graco Pack 'n Play Playard with Newborn Napper station on Amazon <<
---
Ingenuity Smart and Simple Playard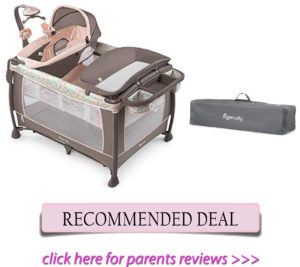 THE GOOD:
folds up quick and easy
easily moving around the house
good airflow to create a cooler space for sleeping
grows with your child
for a bigger newborn's comfort the napper is at a slight incline
organizing unit on the side
stable changing table
adjustable sleeping mat
THE BAD:
the toy bar doesn't stay in an upright position very well
the napper is not easy to put in and take out
heavier as some other travel cribs
>> Buy Ingenuity Smart and Simple Playard on Amazon <<
---
4moms Breeze Classic Portable Playard
THE GOOD:
super easy to put together
grows with your child
removable bassinet
comes with carrying case
great quality
sturdy frame
gender-natural color
bassinet easily snaps securely into position around the
top of the Playard
THE BAD:
lack of color choice
higher price
the bassinet does not fit in the carrying case
>> Buy 4moms Breeze Classic Portable Playard on Amazon <<
---
Disney Sweet Wonder Playard
THE GOOD:
folding up is easily
newborn insert folds up into the travel bag
grows with your baby
easy moving from room to room
lots of storage space
stable changing table
THE BAD:
the mattress is not adjustable (However, you can use the mattress in the full-size bassinet feature or place it in the bottom of the Playard itself. So, in theory, you have two levels, but the mattress itself does not adjust.)
>> Buy Disney Sweet Wonder Playard on Amazon <<
---
HOW WE COMPILED OUR LIST OF THE BEST RATED TRAVEL CRIBS?
First, we had found which models are most desirable amongst parents. After comprehensive research and numerous interviews, we came up with the list of the most popular travel cribs.
Together with parents who already have travel cribs, we find out which features are most important for a good travel crib.
Then we evaluated them and based on the results compiled our list of the best travel cribs of 2019.
If you are uncertain which type is the best for your needs, those factors can be a guideline for your decision. They will tell you what you should consider when buying a travel crib.
1. THE WEIGHT AND SIZE OF THE FOLDED CRIB:
we compared the size of folded cribs to find out which models occupy less space
we also compared the weight of the folded cribs, to find out which models are the easiest to carry around
2. THE FOLDING MECHANISM: we were evaluating
the quality of the folding mechanism
how fast can you fold up the crib
if the crib folds-up in one motion or it requires more steps for collapsing
3. THE TRAVEL MATTRESS:
is the travel mattress included in the price
travel cribs usually come with a basic travel mattress, but the quality of the mattresses differs a lot
4. THE SIZE OF THE CRIB:
overall size of the travel crib can differ for a few inches, which is important for some parents, especially if they intend to use it as a Pack'n Play
5. CAN YOU PACK A FOLDED CRIB IN CONVENIENT CARRYING BAG?
can you store it in a backpack, suitcase or bag
is the carrying bag included in the price
6. THE PRICE OF THE TRAVEL CRIB:
To figure out if the certain model is worth the money, we compared the price of travel crib with its quality, safety and features it can offer.
8. SAFETY:
All cribs on our list meet the required safety standards travel cribs!
Of course, the best travel cribs must be appealing and beautiful too.
OTHER THINGS YOU NEED TO CONSIDER BEFORE YOU DECIDE ON A CERTAIN MODEL OF TRAVEL CRIB
1. THE PURPOSE:
Do you intend to travel a lot?
You might need it only as a secondary crib in grandparents or caregivers house.
Will you use it as a Pack'n Play a lot?
Will you take the crib on a plane, bus or train?
2. THE LOCATION OF YOUR STAY:
There is a big difference if you camp or stay in a hotel.
3. FUNCTIONALITY:
Is it setting up quick and easy?
The same goes for folding.
Do you want a care station or newborn sleeping nest too?
4. THE DIFFERENCE BETWEEN LIGHTWEIGHT AND OTHER TRAVEL CRIBS:
Basic, minimalist travel cribs can fold up much smaller than bigger Pack' N Plays. Of course, they are lighter and with fewer features too.
---
RELATED ARTICLES:
Hello!
I am the founder of Baby's Little Place. I'm a mom to the one-year-old daughter and I know how overwhelming could be when you are looking things and tips for a new baby, especially if you are a first-time parent. That's why I set up this site…because I want to do something I am passionate about, as well as I want to help new parents and parents to be.
I hope you enjoyed reading my article! If you have any question or comment, please leave them down below. I will be happy discuss it with you!
Have a wonderful day!
---
---