Last updated on January 23rd, 2023 at 11:43 am
What is the safest crib for a baby?
Parents want only the best for their kids! When buying nursery gear and other baby belongings, safety should be our number one priority. As young babies sleep more than half a day, is buying quality and a safe baby crib is one of the most important things you should do. However, it is actually hard to tell what is the safest crib for a baby.
Why? Because all cribs on the market meet specific safety standards, otherwise, they are forbidden to sell! Of course, there are differences amongst them, like in their sturdiness or durability, but they are all compliant with current safety standards.
So whether you are buying a mini or a full-size crib, convertible, portable, or combo crib, if it is new, it went through rigorous testing before it was put on the market!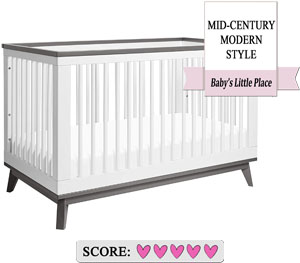 New cribs must meet all required safety standards before they are placed on the market. So, by purchasing a new crib, you get a safe crib, then it is mostly up to you, how safe will you use it!
From the crib's assembly to the firm mattress, the way you will place the baby into the crib, and more.
Because of all this, I can't tell you which crib is the safest, as it would do many an injustice.
For instance, although it safe and one of the best convertible cribs on the market, I can't say that the Babyletto Hudson is the safest crib on the market. That wouldn't be fair to other manufacturers who also sell cribs that meet or even exceeds all federal crib safety standards.
---
How do I pick a safe crib?
Don't use old cribs with dropping side rails!!! The crib must have a solid, sturdy frame, with stationary sides. CPSC banned the sale of dropping side cribs, so those cribs are not on the market since June 2011.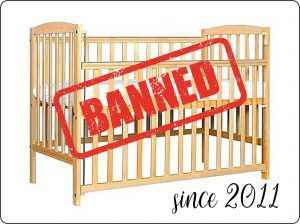 Cribs must be finished with non-toxic paint, which must be evidenced by the obtained safety certificates.
If the crib has JPMA (Juvenile Products Manufacturers Association) or GREENGUARD Gold certificate, it doesn't contain toxic chemicals or toxic paint.
The gap between slats shouldn't be wider than 2 3/8 inches. Baby's body shouldn't fit through the slats!
Sometimes a defect that could potentially pose a safety risk to the baby is found when the crib is already on the market. Companies immediately recall these models, but you can also check if your crib was not recalled, and meets crib safety standards on CPSC (Consumer Product Safety Commission) site.
---
I bought a new, safe baby crib with all certifications, is that enough for my baby's safety?
No! Buying a new crib with all the necessary certificates is a good start, but certainly not all you can do to keep your baby safe during sleeping.
What can I do, to provide the safest crib for my baby?
Assembling the crib:
First of all, you have to follow the provided instructions when assembling the crib.
Check for rough areas and sharp edges.
Secure screws firmly, so they won't catch baby clothes, pinch them or otherwise injure your baby.
Every part of the crib has to be installed correctly. Check the stability of the crib. Give it a good shake, and if it wobbles, it may not be put together correctly.
Regularly check for loose or broken screws, bolts, and mattress support. You won't forget about it, if you check them, every time you change the sheets.
The crib mattress:
Picking the right crib mattress is very important! The most important features you should look at any crib mattress are firmness and fitting into the crib! Crib mattresses, especially those meant for newborns, must be firm! The mattress must fit snugly into the crib!
Crib's and mattress's dimensions are regulated by the government. In theory, all new crib mattresses should fit into all new cribs.
To be sure, check your cribs measurements and compare them with your selected crib mattress. Or make a home fitting test. Place two fingers between the crib's frame and mattress edge. It shouldn't be more than two fingers space there!
U.S. regulations define:
a standard size crib is a baby crib with the following measurements: 52 3⁄8 ± 5⁄8 inches in length by 28 ± 5⁄8 inches in width
a standard crib mattress is a baby crib mattress with the following measurements: at least 27 1/4 inches by 51 5/8 inches and no more than 6 inches thick
→ There are a lot of factors you should consider while purchasing a perfect crib mattress for your baby. You can find lots about crib mattresses on our site.
NOTE! Don't forget to set the mattress in the right position! New cribs have adjustable mattress heights. Place the mattress into the highest setting for your newborn and gradually lower it down while your baby grows.
Other things to keep an eye on:
Keep the crib away from blinds and windows or anything else that baby can reach.
To prevent suffocation, do NOT put pillows, blankets, and sheepskins in the baby crib.
Avoid putting plush toys and any comforters in the crib with your baby.
If you use position devices, use them carefully following the instructions.
If you decide to use bumper pads, use breathable materials, which fit firmly around the crib.
If using a baby monitor, don't place its cord close to the crib, as a baby can strangle or choke.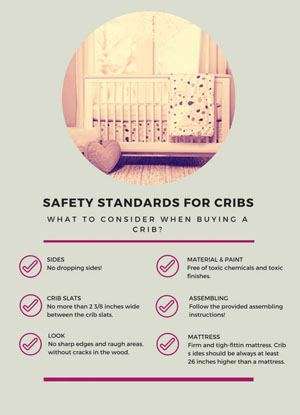 ---
Is a used crib safe for my baby?
Consumer Product Safety Commission released a new CPSC crib safety standard in 2011, so don't buy or accept a used crib made before June 28, 2011! It may not reach new baby cribs safety standards!
New crib safety standards:
prohibit the manufacture or sale of drop-side rail cribs
strengthen crib slats
strengthen mattress supports
improve the quality of hardware
require more rigorous testing
As I already wrote, don't use a crib with drop sides. There were too many injuries and even tragic deaths because of the drop-side mechanism. There are so many new, safe and cheap choices, which are better from those cribs!
If you decide on an old crib, check it with extra care. Find out if it has an unsafe design or any missing or broken parts. If you find something, replace or repair it to reach baby cribs safety standards if it is possible, otherwise, don't use the crib.
You can also check if the old crib hasn't been recalled by the manufacturer. You can find the data on the CPSC site in the recall section.
→ Don't use modified old cribs!!!
---
Frequently asked questions
Are drop-side cribs illegal to sell?
CPSC banned the sale of drop-side cribs on June 28, 2011. So, yes dropping side cribs are prohibited to sale since then.
How far apart should the slats be on a baby crib?
The distance between slats shouldn't be bigger than 2-3/8 inches to protect babies from falling out and toddlers from trapping their heads between the slats.
When should I lower my baby's crib?
You should lower the crib mattress when your baby starts to push up and pulls with hands, or sit down by herself.
What does GREENGARD Gold certified mean?
GREENGARD Gold certification ensures that the crib meets some of the world's most rigorous and comprehensive standards for low emissions of volatile organic compounds (VOCs) into indoor air.
It ensures the crib doesn't contain toxic chemicals that would pollute your indoor air.
What does JPMA certified mean?
JPMA certification means that a baby crib has been tested by an independent facility and met the guidelines set by standards developer ASTM International.
ASTM (American Society for Testing and Materials) is an organization that develops and publishes voluntary consensus technical standards for a wide range of materials, products, systems, and services.
---
RELATED ARTICLES: