Last updated on January 23rd, 2023 at 04:10 pm
4moms Breeze is a handy portable Playard that you can take wherever you go. You can choose between the classic 4moms Breeze Go Pack 'N Play and the upgraded 4moms Breeze Plus Playard. To make your decision easier, we've reviewed both and compared our findings.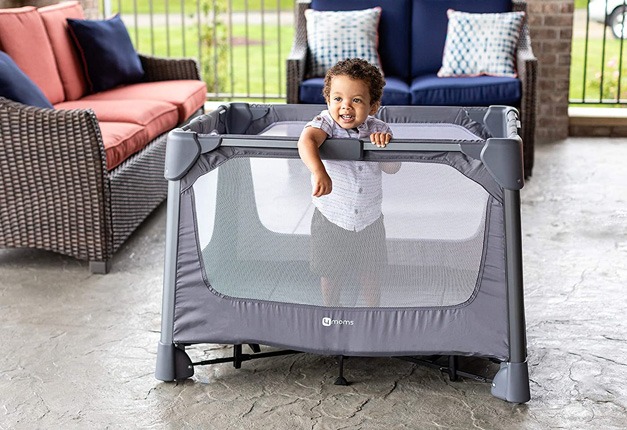 4moms Breeze Playard Plus & Go Reviews
4moms is a well-established brand in the juvenile industry. Parents adore their products, which doesn't surprise me at all! 4moms manufactures high-quality and safe products that make their life easier while increasing baby comfort.
Having this in mind, they have created a perfect Pack 'N Play as well. 4moms Breeze is a quality, durable, and safe Playard, which you can take wherever you go. Most importantly, handling this Playard couldn't be easier. All it takes is one push to open or one pull to close it, and you are done. Like a breeze!
I am impressed by the fact how well all 4moms products help parents in everyday life. For instance, take a look into their 4moms mamaRoo baby swing. It is one of the best-selling baby products of the past few years. Why? Because it bounces up and down and sways from side to side, just like you do when comforting your baby. It calms your baby and gives you much-needed time to rest.
---
4moms Breeze Plus or Go Playard
When buying a 4moms Breeze Playard, you can choose between a basic 4moms Breeze Go Playard and an upgraded 4moms Breeze Plus Playard.
Focusing only on Playards, they are the same. The only difference is in 4 moms Plus added features for newborns and small babies. That's why I will write only one review. But, of course, I will add our verdict about bassinet and changer, giving you a complete 4moms Breeze Plus review too.
What is the difference in price?
You will have to pay 50 dollars more for all the added features of 4moms Breeze Plus Playard.
| | | |
| --- | --- | --- |
| 4moms | Breeze GO | Breeze Plus |
| | | |
| Easy Open Frame | ✓ | ✓ |
| Travel Bag | ✓ | ✓ |
| Bassinet | X | ✓ |
| Changer | X | ✓ |
| Price | Best Price | Best Price |
4moms Breeze Review at a glance
THE GOOD:
super easy to put together or close
you can flip the changer on the side when it is not in use (or detach it completely)*
changer sits securely on the top of the Playard*
removable full-size bassinet*
bassinet easily snaps securely into position*
All-in-one care station, which grows with your child*
2-in-1 crib mattress for use in bassinet or Playard*
it comes with a carrying bag
great quality
sturdy construction
breathable mesh
sleek design
gender-natural color
THE BAD:
lack of color choice
higher price
the leak of accessories, such as mosquito net or sun tent**
*features are available only on 4moms Breeze Plus Playard
** numerous universal accessories fit on 4moms Breeze Playard
4moms recently updated their Playards. While the basic Go model has not changed in its functionality, the additional features of 4moms Breeze Plus have been even further improved. We've reviewed them once more, and I have to say that 4moms Breeze Plus functionality is now even better!
What is new on a 4moms Breeze Plus Playard?
4moms made three changes that, in my opinion, significantly improved Breeze Plus Playard's functionality.
1. Better bassinet:
A new 4moms Breeze Plus Playard has two attachments now. The bassinet and changer are now separate, allowing the bassinet to take the whole Playard's surface. Such a full-size newborn bassinet is more comfortable for the baby!
The old Breeze Plus has only one attachment, divided into two parts (changer & bassinet).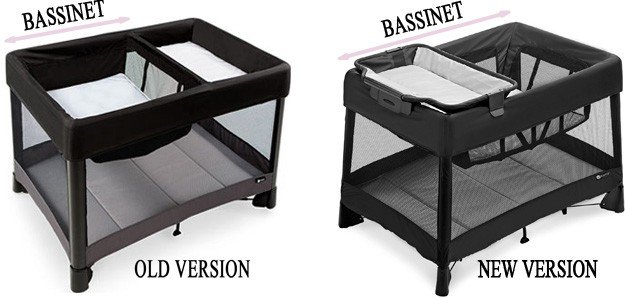 2. Better changer:
The changer is detachable, but you can leave it on the Pack 'N Play and flip it on the side when it is not in use. I find this extremely handy!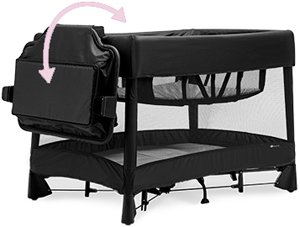 The old model has two separate mattresses, one for the bassinet and one for the changer.
3. Useful mattress:
A new 4moms Breeze Plus Playard comes with only one mattress. It is a carefully designed 2-in-1 mattress, which easily converts from a bassinet to a Playard mattress.
You can also check the comparison table on the Amazon page, which nicely shows the differences between the new and old 4moms Breeze Plus Playard (+ Breeze Go Pack 'N Play).
4moms Breeze Playard is perfect:
for an afternoon nap
as a safe play area for your baby and toddler
for sleepovers at grandparents' or caregivers house
the first bed for your newborn, before you move him into a standard crib (The basic 4moms Breeze Go Playard is also appropriate for newborns! But the Breeze Plus Playard's bassinet places your newborn higher, which is more convenient for you.)
as an occasional travel crib (It is not the lightest and smallest travel crib on the market, so I would not use it when traveling by plane. Other than that, I don't see any reservations why you wouldn't use it for travel as well.)
---
What can be better on 4moms Breeze Plus and Breeze Go?
Our 4moms Breeze Playard review didn't show any flaws. However, I want to point out the lack of color selection and its higher price. Again, these are not flaws, just something that might help you with your decision.
Both Playards are available only in one color, Breeze Go is gray, and Breeze Plus is black. 
4moms picked gender natural colors, which is, in my opinion, the right decision. Also, most Pack 'N Play brands choose the same path. But if you prefer colorful Playards, you can opt for Graco's Pack 'N Plays, where the color assortment is a little bit wider.
What can I say about the price? Excellent quality and the well-established brand certainly add up to the final price. However, if I compare it to similar Playards, the amount you pay is reasonable.
4moms Breeze could have additional accessories, like a mosquito net, musical box, or crib mobile. But all of them can be bought separately and shouldn't be the reason for your decision. There are plenty of cheap but efficient mosquito nets or portable crib mobiles. 
---
4moms Breeze Review Breakdown
We have evaluated the most important features you should look for when choosing a Pack 'N Play (Playard).
Ease of use
Portability
The mattress
Design
And last but not least, it must be safe for your baby! Though I write about the safety towards the end of the 4moms Breeze review, it is actually the most important part of it! It must meet all required safety standards!
4moms Brezze's Ease of use
Nobody wants to deal with a complicated setup. A Pack 'N Play must set up quickly and easily! The same goes for disassembling, folding, and stacking into the travel bag.
Ease of use is without a doubt 4moms Breeze's winning feature! Handling with this Pack 'N Play is so easy. I was a little skeptical, but it is true. Just press in the middle, and the Breeze opens up and automatically locks by itself. The same goes for the folding. Only one pull is required to fold it back.
If I had to find something that took me a little more than few seconds, that would be securing the mattress into a Playard. It fastens with Velcro straps. But when you slide them through the bottom, they sometimes attach to the wrong place. However, with a little practice, that doesn't happen anymore.
Overall, I am impressed!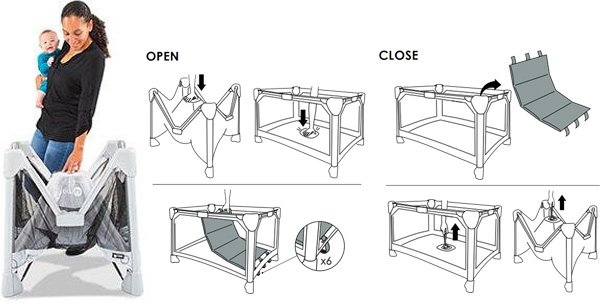 We also didn't notice any installation problems with the bassinet or changer on the 4moms Breeze Plus Playard. They both snap securely in place over the top rails. The process is easy and quick.
Another convenient feature is a flipping changer. As you can flip it on the side, there is no need to remove it whenever the baby is in the Playard or bassinet.
---
4moms Breeze (Plus and Go) Portability Review
You will get a convenient carrying bag with both models. But if you decide on a 4moms Breeze Plus Playard, you have to remember that a bassinet and changer do not fit into the bag! You will have to pack them separately, which, of course, takes more space.*
*Update: A new version of 4moms Breeze Plus portable Playard has two separate attachments. You can now easily take your 4moms Breeze bassinet with you and leave only the changer at home. Excellent improvement for travelers!
4moms Breeze doesn't weigh a lot, but it is not the lightest Playards on the market either. I suggest you think about a lightweight travel crib, such as BabyBjorn travel crib Light or Guava family Lotus crib if you need it only for traveling. 
Lightweight travel cribs weigh only 13lbs, but they are smaller from "classic" Pack 'N Plays, their mattress sits on the floor, etc. 
However, the 4moms Breeze weighs only 23 pounds, so it is one of the lightest Pack 'N Plays on the market. Most Pack 'N Plays weigh around 25 – 30 pounds. 
---
4moms Breeze Travel mattress
The 4moms Breeze has a standard 1″ travel mattress, which is typical for Pack 'N Plays. The old Plus version has also a separate mattress for the bassinet.*
*Update: New 4moms Breeze Plus Playard has a 2-in-1 mattress, which easily converts from bassinet to Playard mattress.
Pack 'N Plays are not comparable with crib mattresses! Even if you find a mini crib mattress that fits into your Pack 'N Play, it is too thick for using it safely! The baby can become entrapped between the thicker mattress and soft mesh, which poses a risk for suffocation.
To prevent SIDS (Sudden Infant Death Syndrome), do not use a thicker mattress in a Pack 'N Play!
Finding fitted sheets for Playards could also be a problem. Purchasing the brand's sheets is usually the best decision. 4moms waterproof sheets are nice looking, comfortable, and quality made sheets. 
---
What do we think about 4moms Breeze Design?
I like the 4mooms Breeze Playard's modern look and clean lines. The mesh is breathable, quality, and see-through.
You will see your baby from any angle of the room, and he will see you!
Some parents would like to have more color choices. However, its colors are unisex and fit perfectly in any environment.
---
4moms Breeze Playard's Safety Review
4moms Breeze meets all relevant Play Yard safety standards. 
The frame is incredibly sturdy and doesn't wobble at all. 
The mesh surrounding this crib is very tight and strong. 
The whole unit is well-made and stable.
It is a strong, safe, and durable model.
---
4moms Breeze portable Playard's specifications
Measurements and Weight:
assembled crib dimensions: 43″L x 30″W x 29″H
collapsed dimensions: 30.7″L x 12.1″W x 12.2″H
included mattress: 1″ thick mattresses & the mattress for the bassinet
weight (including carrying bag):

Without bassinet and changer: 23 lbs
With bassinet and changer: 28.5 lbs
available colors: only one color

Breeze GO: gray
Breeze Plus: black
Child size restrictions:
Playard: from birth until 30 lbs
Bassinet: for babies up to 18 lbs
Changer: for babies up to 25 lbs
---
Frequently asked questions
1. What is the height from the mattress to the top of the side rail?
The internal height from the mattress to the top of the frame is 22″.
2. Can I use the changer without the bassinet with 4moms Breeze Plus?
Yes and no! You can use the changer without the bassinet on a new version of 4moms Breeze Plus Playard. On the old version, that is not possible.
3. Is 4moms Breeze size allowed to be carried on onboard airplanes?
No, it is too large as carry-on luggage.
4. Do 4moms' Breeze Plus bassinet and changer fit in the carrying bag?
The flip changer portion does not fit into the travel bag with the Playard and will need to travel separately. On the older model, where the bassinet and changer are one piece, you can't pack them into the travel bag either.
5. Can I get a 4moms Breeze bassinet kit separately?
They do not sell them separately. Bassinet kit is also compatible only with 4moms Breeze Plus. 
6. Does 4moms Breeze have wheels?
No, it doesn't.
7. What are the dimensions of the 4moms Breeze mattresses?
Playard mattress is the same for both models: 40″L x 28″W and 1″ tick
Mattress of Breeze Plus bassinet: 22,5″L x 17,5″W and 1″ tick
8. Is the 4moms Breeze Playard suitable for twins?
No, the Breeze Playard is not supported for use with twins. Safety requirements dictate a physical barrier must be present between the two babies.
9. How to clean the 4moms breeze Playard?
4moms' Breeze Playards frame can be wiped down with a solution of mild soap and water. 
You can spot-clean the fabric with a solution of mild soap and water.
Sheets are machine-washable. Wash them in cold water on the gentle cycle, and tumble dry separately on low heat.
---
4moms Breeze Plus vs. 4moms Breeze Go
Which one to choose?
Both models are great, and their main features are the same. So, it depends on what you need.
Because you can safely place a newborn into the bottom mattress, you can use both Playards from newborn to toddler's age. It is a matter of your preferences and how comfortable you want to be. 
Putting a sleeping newborn to the bottom mattress takes more effort than using the bassinet. The baby is comfortable and safe either way!
Keep in mind: The 4moms Breeze Plus bassinet is suitable for babies up to 18 lbs or until they can push up on their hands and knees. 
If you don't need a newborn bassinet and changer, I don't see a point in spending an extra $50. And on the contrary, for a newborn, I would pick a Plus version for sure!
---
The Verdict
4moms Breeze is an excellent Playard for everyday use at home or traveling. However, if you travel a lot, especially with planes, consider its weight before your purchase.
The 4moms Breeze portable Playard is stable and quality made. With proper use, it will last for many years to come. You will be able to use it with more than one child, which further speaks in favor of its unisex color.
It is not the cheapest option on the market, but you get a quality Playard, which is safe for your baby and easy to use for you too. Like a breeze, remember?
---