Last updated on January 23rd, 2023 at 12:12 pm
Babyletto Mercer convertible crib with under-crib drawer Review
Babyletto is one of the leading nursery furniture manufacturers on the market. It offers everything you need for a modern nursery, from eco-friendly furniture, mattresses, to bedding and even wall decal.
Babyletto's crib selection is impressive, however, their convertible cribs sell the best. As you will see in our Babyletto Mercer 3-in-1 convertible crib review, Mercer kept the Babyletto's distinguish touch, but it's little different from other well known Babyletto's 3-in-1 models.
While Babyletto Lolly, Hudson, and Scoot possess a European style, is the Mercer more of a US looking crib, with an added storage drawer underneath.
Babyletto Mercer 3-In-1 Convertible Crib Review At A Glance: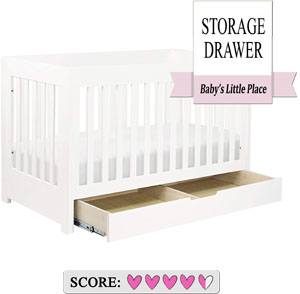 PROS:
additional storage
very functional crib
it grows with your child
toddler bed conversion kit is included in the price
transitions into bigger beds are quick and easy
Eco-conscious design
a very durable crib
adjustable mattress support
one of the cheapest Babyletto's crib
CONS:
lack of different finishes
there is no solid divider between the drawer and the mattress (read more about this in the part where we had reviewed Mercer's drawer)
---
Mercer's storage drawer Review
Mercer is the only Babyletto crib with additional storage. And I am not talking just about their convertible models. 
Babyletto offers a great selection of different cribs, but it doesn't make combo cribs, and the Mercer is its only baby crib with under-crib storage.
What's good on the drawer:
The drawer under the whole mattress's surface offers handy extra space for baby belongings. With such surface and a depth of approximately 4 1/2″, its volume is sufficient compared to other cribs with under-crib drawer.
A wooden board in the middle, divide Mercer into two separate parts. That gives a better overview of stacked items inside.
We also like that the drawer slides well, even if the crib stands on the carpet or a rug.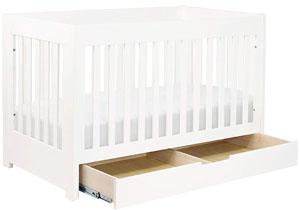 There's still a little room for improvement:
The only downside is the crib's construction above the drawer. There is no solid divider between the drawer and the mattress. They are divided with a spring mattress support only.
When the crib mattress sits on the lowest setting, there is no issue. But when you set it on the highest level, you can see everything in the drawer.
Remember! This is a downside only from an aesthetic point of view. From a safety point of view, which is, by the way, more important is how it should be! A wooden board between the drawer and the mattress would compromise the mattress's breathability on the lowest setting.
In our opinion, Babyletto should think about removable divider for the Mercer. It would hide the drawer's content and prevent dust accumulation when the mattress is set on higher levels.
---
Mercer's Convertibility Review
Cribs that grow with your child are more and more popular amongst young parents! Babyletto Mercer is a 3-in-1 convertible crib. That means you get three different beds for one price.
Convertible cribs don't convert into the same beds, but most of them turn into a toddler bed and daybed. Mercer is not an exception.

The same as all Babyletto convertible cribs, Mercer sticks from the average because of the included toddler bed conversion kit. That makes the crib even more affordable!
Baby's Little Place team reviews many baby cribs. We are surprised that it's Babyletto one of the rare crib brands that sells everything in the package. You have to buy a toddler safety guardrail (if the crib even has it) for all convertible cribs of other brands!
Because of that, a lot of convertible cribs of other brands might seems cheaper at first glance. But when we add up both prices, this may no longer hold the truth.
We think that having everything combined in one package is more convenient. It saves you hassle with searching a right colored toddler safety guardrail that fits on your crib.
Other than that, Mercer's conversions are quick and easy. For the transition into a toddler bed, you have to remove the front crib rail and replace it with a safety guardrail. Don't forget to place the mattress at the lowest level! All you have to do for the transition into a daybed is removing a toddler guardrail.
---
Safety Review
Safety is the most important factor you should consider when buying baby equipment. So, why we always write about it at the end of our reviews? If the product doesn't reach safety standards, I would say that right away, to save your time. I would recommend not to use it right away!
Babyletto Mercer is made of sustainable materials and non-toxic finishes. It is lead and phthalate safe and doesn't contain any other harmful chemicals. That is backed up with GREENGUARD Gold certification, which proves that the crib is screened for 360 VOCs and over 10,000 chemicals, so it doesn't pollute your indoor air.
Babyletto Mercer 3-in-1 convertible crib meets or even exceeds all required ASTM international and U.S. CPSC safety standards!
It is a sturdy crib, without dropping sides. Drop-side cribs are forbidden since 2011!
---
Mercer's Design
As you already know, Mercer is a little different from other Babyletto convertible cribs. But the difference is not only in the presence of a drawer underneath the crib.
While Babyletto uses round spindles for the majority of their cribs, they choose a slated design for the Mercer. It has the Babyletto's distinguish modern design with a touch of retro style, but it is more a U.S. looking crib. With rounded spindles, other Babyletto cribs represent a European style.
We miss more colors for a Mercer. Babyletto Mercer 3-in-1 convertible crib is available only in two finishes. You can get a white crib or gray/white combination, where longer crib's sides are white, and shorter sides are gray.
---
Other useful information about Babyletto Mercer
Babyletto Mercer specifications:
Manufacturer: Babyletto
Model: Mercer
Type: 3-in-1 convertible crib with under-crib drawer
Style: modern
Material: natural New Zealand pine wood, and TSCA compliant MDF for trundle drawer
Assembled dimensions: 53,875″L x 30″D x 35″H
Assembled weight: 74 lbs
Color: white and white/gray
Mattress Information:
Mercer is a standard size baby crib, so any standard size crib mattress fits into the crib.
You can decide on one of Babyletto's crib mattresses too. So far from our research, their best model is the Babyletto Pure core crib mattress.
Compatible Mattress Size: standard
Mattress support: spring mattress support
Mattress Included: no
Recommended mattress: Pure Core non-toxic crib mattress
Adjustable Mattress Height: yes, 4 positions
---
Frequently asked questions
How long can my child use Babyletto Mercer as a crib?
Convert the crib into a toddler bed when your child begins to climb or reaches 35 inches.
How long can my child use a toddler bed?
Your child can use a toddler bed and daybed until he reaches 50lbs.
Is Babyletto Mercer suitable for petite moms?
Yes! Its height is not too high. That is because of the design, not the lower rails! The safety of the crib is not compromised, so your child won't climb out sooner than from other cribs.
SEE ALSO: Best cribs for short moms
Is it hard to assemble the crib?
If you follow the provided instructions, it shouldn't be hard. I recommend you take the time and don't rush! Because of safety reasons, you must assemble the crib correctly.
Can I move the crib from room to room?
Better not! Although it has a minimalist frame, Mercer probably wouldn't fit through your room doors anyway. It is not constructed for moving around the house either. Mercer is not a portable crib, it doesn't fold up, and it doesn't have caster wheels!
---
THE VERDICT
If you want a modern crib that would grow with your child, this one is worth your attention. If you like Babyletto style and need additional storage space, Babyletto Mercer 3-in-1 convertible crib it's your winner for sure!
It has more, for a lower price! Isn't that great? But if you like the furniture in natural and wood colors, Mercer, unfortunately, doesn't have them.
We like the crib a lot and certainly recommend it for your baby!
---
READ ALSO: