Last Updated on September 3, 2020 by Ines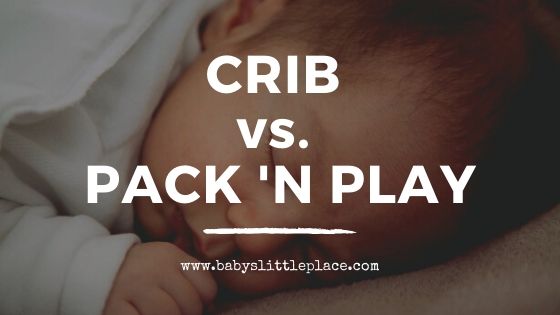 The difference between Crib and Pack 'N Play
Choosing the right baby crib is one of the firsts and most important decisions parents have to make! And picking the right one between hundreds of different standard cribs, mini cribs, and Pack 'N Plays is not an easy job at all.
Parents sometimes think of using Playard rather than a crib. But, can a Pack 'N Play be used as a crib, for every day sleep? Is it as safe as the crib? Comparing crib vs. Pack 'N Play gave us all the answers, and I hope it will help you with your decision too!
Note! Both a quality crib or Pack 'N Play are safe choices for your baby's sleeping arrangement. But there are differences amongst them. And only when you know them all, you can decide which type suits your needs the most!
Crib vs. Pack 'N Play at a glance

1. SIZE: Cribs' size is not the same as Pack 'N Plays' dimensions. There is a misconception that mini cribs have the same size as Pack 'N Plays. The measurements of mini cribs and Pack 'N Plays are not the same!
2. MATERIAL: Cribs and Pack 'N Plays are made of different materials! Cribs are made of wood, metal or acryl, so they are heavier, stronger, and more stable from Pack 'N Plays, which are made of plastic, aluminum, and mesh.
3. PORTABILITY: Most mini cribs are portable, but their portability is limited mostly to your home. On the contrary, the Pack 'N Play's lightweight makes it suitable for traveling.
5. MATTRESS: Crib mattresses are more comfortable and firm than those in Pack 'N Plays. Don't use a mini crib mattress in a Pack 'N Play! Not only, that it doesn't fit perfectly, but it is also too thick for safe use in the Pack 'N Play.
7. PRICE and DURABILITY: Cribs, especially full-size models, are more expensive. But they are also far more decorative and fit better with the furniture in your home.
Our answers on frequent questions about the differences between cribs and Pack 'N Plays:
Can a Pack 'N Play be used as a crib?
Pack 'N Play is a safe sleeping area for your baby, but I wouldn't pick it for an everyday sleeping arrangement for my baby! In my opinion, a Pack 'N Play couldn't be as strong, durable, and comfortable, as a classic crib.
Of course, we have a Pack 'N Play too. It is a great choice for occasional sleepovers in grandparents' house, weekends away, etc. And when my baby was smaller, I have used it at home too. It is a safe place to play, so I was reassured that my daughter was safe if I had to go into another room.
I have decided on a Graco Pack 'N Play On the Go Playard. It is a classic Pack 'N Play, which features a full-sized, removable bassinet, and an arch with soft toys. And the best part? It is one of the cheapest Pack 'N Plays on the market, which is as safe and quality as those with a higher price.
---
Is Pack 'N Play a safe place for a newborn?
If using correctly, a Pack 'N Play can be a safe alternative for the crib. Research had even shown that cribs and Pack 'N Plays are in fact the safest sleeping places for your baby. They are more stable from bassinets, and the risk for SIDS (Sudden Infant Death Syndrome) is the lowest.
However, in my eyes, the classic wooden crib stays the best sleeping arrangement for a baby, especially for a newborn. If you need a baby bed that would stand newt to yours, thinks about a mini crib. Take a closer look into Babyletto Origami, which is portable and even foldable mini crib. Yes, it is not the cheapest mini crib, but it is not the only one in the market. For instance, you can get a beautiful Delta Children mini crib, which has the same features, and lower price.
So, as you see … even if you are on tight with a budget, you have different options. And don't get me wrong, I am not against Pack 'N Plays. In fact, I love them, just not for everyday sleep!
Oh, I almost forget. There are affordable standard full-size cribs too. For example, while offering the same features as high budget cribs, Union 3-in-1 convertible crib costs only a little more than $100.
---
Why my baby doesn't use Pack 'N Play as a crib all the time?
Yes, a Pack 'N Play is safe for sleeping, but only with a proper mattress. And that is the biggest reason why my baby doesn't use it every day.
First of all, safe Pack 'N Play' mattresses are no more than 3″ thick, so they couldn't be as firm as crib mattresses. Crib mattresses, particularly those for newborns and young babies, must be extra firm! A firm crib mattress helps to prevent suffocation, and as such, lowers the risk for SIDS.
And second, if I compare a Pack 'N Play mattress in the Playard with a crib mattress in my daughter's crib, I can't say it is as comfortable as a crib mattress.
By the way, my daughter has a Babyletto Pure core crib mattress in her crib, and a Dream On Me 3″ Playard mattress in the Pack 'N Play. 
---
Are mini cribs and Pack 'n Plays the same size?
| | |
| --- | --- |
| CRIB TYPE | SIZE |
| Standard full-size Crib | 52 3⁄8 ± 5⁄8 in by 28 ± 5⁄8 in |
| Pack 'N Play | ~ 40″ by 28″ |
| Mini Crib | ~ 38″ by 24″ |
Standard crib:
Dimensions of standard, full-size cribs are regulated by the government. Following U.S. regulations, a standard size baby crib's interior dimensions must be 52 3⁄8 ± 5⁄8 inches in length and 28 ± 5⁄8 inches in width.
Mini crib and Pack 'n Play:
Both are smaller from full-size cribs, but the size of mini cribs is not the same as the size of Pack 'N Plays. Their dimensions are also not regulated by the law.
Any crib which is smaller than a regular crib is a mini crib, but most of them measure around 38″ by 24″.
The size of Pack 'N Plays is smaller from standard cribs, and bigger from mini cribs. Pack 'N Plays are on average, about 40″ long and around 28″ width.
---
What are the differences in material, structure, and strength? 
The material from which cribs and Pack 'N Plays are made affects their weight and strength. That is obvious, but it also affects their durability, portability, and it's the reason why you shouldn't use a crib mattress in the Pack 'N Play. 
Most cribs are made of wood, but you can choose a metal or acrylic crib too. Anyway, all these materials are heavier and stronger than mesh on Pack 'N Plays. That's why cribs are also more durable, sturdier and more stable, but less portable than Pack 'N Plays.
Pack 'N Play construction is made of plastic and light-weight aluminum. It's not surrounded by slats or spindles, but by the breathable mesh. The breathability is very important, as it lowers the risk of suffocation and SIDS (Sudden Infant Death Syndrome)! As such, Pack 'N Plays are lighter and more portable than cribs. But their lightweight makes them a little less stable comparing to cribs.
---
What is the difference between Crib's and Playard's features?
While cribs are meant only for sleep, Pack 'N Plays can double as a convenient Playpen too. Though small, this is a safe, portable play and sleep area for your baby or young toddler.
You can choose amongst different crib types, where each one can offer a particular feature that's might significant to you. There is also more than one type of Pack 'N Play.
So, for a complete comparison, you have to know what each type of crib or Pack 'N Play can offer.
Crib types:
Obviously, you know what a crib is, but are you familiar with all its types? The crib's assortment is really impressive.
First of all, cribs are available in standard (normal, regular, full-size) or mini size. And even if you heard otherwise, both dimensions are available in all types. Yes, comparing mini vs. full-size crib, there are certain differences in features, but I won't go into details here.
Classic, non-convertible baby crib
Types of Pack 'N Plays:
Lightweight Pack 'N Play or Travel crib
Traditional Pack 'N Play has the same inner dimensions as the care station. As it doesn't have additional accessories, it is lighter and, as such, more suitable for travel. The best models have a removable full-size bassinet that provides an elevated sleeping area for a newborn, but that's pretty much it.
You can fold it quick and easy, and store all its parts into the included carrying beg.
As I already said, the care station Playard posses the same interior dimensions as traditional Pack 'N Plays, but because of accessories usually takes up more space in the room.
The added features differ from model to model, wherein the most common ones are a portable napper, which can double as a rocker, changing table, storage organizers, soothing devices, or crib mobiles.
Care Station Playards can fold up into a convenient carrying bag. But only the Pack 'N Play and full-size bassinet. You will have to pack other accessories separately. 

These ultra-light Pack 'N Plays are intended primarily for traveling. While the first two stands on legs or wheels, it's the sleeping area of this one usually placed on the floor.
Everything is adapted for easy travel. The whole unit folds up smaller, but the sleeping area is usually a little smaller too. 
Depending on the model, you can store it into a travel bag, suitcase, or convenient backpack.
---
Can I use a crib mattress in a Pack ' N Play?
No! You shouldn't use a crib mattress in the Pack ' N Play! It is not safe! Although it is more comfortable, using a crib mattress in the Pack 'N Play increases the risk of suffocation. It is particularly dangerous for young babies and newborns who are not able to roll over or push up by themselves.
Crib mattresses are too thick for a Pack 'N Play! The baby could rollover from a thicker mattress and get stuck between the mattress and the mesh, which surrounds a Pack 'N Play. That can lead to injuries, and in the worst case, even into suffocation.
A compatible Pack 'N Play mattress is usually included, if not, buy a special one that is no more than 3 inches thick!
---
Why should I decide on a mini crib or Pack 'N Play, not a standard full-size crib?
Standard crib, especially convertible models, will last the longest. But sometimes, we don't have enough space for a full-size crib. In such a case is choosing a mini crib or Pack 'N Play the best and the safest alternative for your baby!
Although you can get a portable full-size crib, parents tend to think of something smaller and lighter when looking for a portable crib.
Mini cribs and Pack 'N Plays are also perfect for an occasion sleepovers in grandparent's house. First of all, they occupy less space! And second, all Pack 'N Plays and lots of mini cribs can also fold away until another use.
Last but not least, mini cribs and Pack 'N Plays are usually cheaper as regular cribs!