Last Updated on September 25, 2020 by Ines
A baby bottle is usually one of the first baby items parents purchase. Even if mom is determined to breastfeed, there is a high chance she needs to use a bottle at a certain point. However, with so many types, styles, and shapes to choose from, it can be hard to know where to begin. This guide will help you find the best baby bottle for your little one, but remember, in the end, your baby is the one who will decide which one is best for him!
Best baby bottles
Baby's Little Place Top Picks
Finding the right baby bottle for your little one is not a matter of your personal preferences, but more of a process of elimination. Yes, it can be hard to know which one will suit your baby's needs, but you can prepare in advance.
Buy two or three different baby bottles before your baby arrives. Try them out, and your baby will ultimately decide which one works the best for him.
---
My personal experience and my favorite baby bottle
My newborn was a sleepy baby, so I had to pump to ensure enough milk supply. Having a baby bottle suitable for newborns was a lifesaver for me. After all, it is a small, inexpensive item, which can only make your life easier.
Anyway, I was using Philips Avent Natural Baby Bottle, and I couldn't be happier with it. By using their breast pump, you can pump directly into the bottle. That saved me so much time and hassle.
Another feature that I like is the bottle's nipple. It resembles the mother's breast, so it doesn't confuse babies. I was able to switch between breast and bottle feeding without any problems. (Find more about it in the baby bottle buying guide below.)
According to our research, this is, in fact, the best baby bottle on the market. Philips AVENT is also the #1 brand recommended by moms worldwide. Moms who already used their products (including me) highly recommend it!
---
Our Top-Rated Baby Bottles in 2020
Baby Bottle Buying Guide
The first baby bottle was large, made of glass, with a large nipple on the top. Today, there are several baby bottle types to choose from, with various features meant for different situations. Baby bottles differ in size, material, and shape of the nipple at the top.
By picking the right one, you won't just make the feeding process more comfortable, but also help your baby to overcome various issues, such as colics, gas or reflux. Of course, each type has its pros and cons, but which one is the best depends mainly on your baby, your family's lifestyle, and how you plan to use it.
It is a long road before eating solids, so the decision for a baby bottle is the right one!
If you are still not sure which of our best baby bottles is the right one for your family, check up our baby bottle buying guide. Provided with additional information, you will find it easier to choose your favorite.
Which material is best for a baby feeding bottle?
The variety of plastic baby bottles is by far the largest. It is followed by glass and silicone models, while the assortment of stainless steel baby bottles is a lot smallest.
All materials used for baby bottles are safe and tested, but most parents decide on the plastic or glass baby bottle. However, the silicone bottle is also becoming more and more popular, and will probably soon overtake the glass model.
Although it has its advantages, parents have yet not quite accepted a stainless steel bottle as an option for a newborn too.
Glass Baby Bottles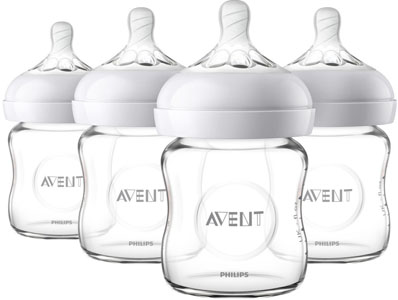 A glass bottle is suitable mostly for newborns and younger babies who are not yet holding it on their own. It can fall and break, which could lead to injuries.
Today's glass baby bottles can't burn your baby! They are also heat- and shock-resistant, and often extra protected with a silicone sleeve.
PROS:
long-lasting bottle
sturdy
usually microwave, dishwasher, and sterilizer safe
CONS:
heavier
more expensive
shatter risk
---
Babies who can already hold the bottle on their own should have a plastic, silicone, or stainless steel bottle. Not only, that they can't shatter, but they are also lighter and more suitable for small hands.
Plastic Baby Bottles
Plastic baby bottles are typically made of Polypropylene. Parents are often worried if the plastic is harmful to their babies. 
If you buy a new one, you shouldn't worry about it. Since 2012, are plastic baby bottles standardized and continuously tested to meet all required safety standards. All of them must be BPA-free (bisphenol A), as the FDA no-longer permits the use of this chemical.
PROS:
lightweight
unbreakable
inexpensive
versatile
most of them are dishwasher, sterilizer, and microwave safe
some can be even frozen
CONS:
it can wear out faster
it can quickly scratch during cleaning
you should replace plastic baby bottles every few month
Stainless Steel Baby Bottles
Stainless steel bottles are the best option for trips and long walks during winter. They are usually insulated and can keep milk at your baby's preferred temperature for a longer period.
PROS:
very durable, and rarely need replacing
insulated
sturdy
smooth
CONS:
more expensive
harder to get
Silicone Baby Bottles
These apply to baby bottles made of food-grade silicone, which is safe and non-toxic. Food- or medical-grade silicon is one of the safest materials available. It is free from BPA (and BPS or F), PVC, or Phthalates.
PROS:
smooth
flexible
heat resistant
usually microwave, dishwasher, and sterilizer safe
free from BPA
scratch-resistant and shatter-proof
---
Baby Bottle Shapes
Baby bottles come in a variety of shapes, where each design is meant for a specific baby's need. Choose the bottle shape that best suits your baby's needs, not the one you like!
Standard bottles:
The standard baby bottle has a traditional design with a straight neck. Most babies accept them fine. Particularly babies who are bottle-feeding exclusively usually do not have problems with this shape.
You can get them almost anywhere, and are available in plastic, glass, or stainless steel.
Because of a basic shape, standard baby bottles fit into most bottle warmers and sterilizers without a problem as well.
Wide-neck bottles:
Wide-neck baby bottles are smaller and wider than the traditional model. The purpose of their design in preventing nipple confusion. As such, they are perfect for nursing babies who switch back and forth between breast and bottle feeding frequently.
A wide opening on the top allows the use of a wider nipple, which hand-in-hand with the bottle, mimics the mother's breast. Most of such nipples is also vented to reduce colic and gas.
The wide neck makes cleaning easier from the traditional bottle.
Angled bottles:
Angle-neck bottles have a curved neck, which prevents air bubble formation in the bottle's nipple. Because of this, your baby swallows less air, which leads to a less gassy baby.
Angle necked baby bottles promote feeding in a semi-upright position and are more comfortable for the parent to hold. Such a feeding pose prevents ear infections, which is good to remember if it happens in the future.
Because of its bent neck is cleaning and filling this type of baby bottle a little more challenging, but you will get used to it.
Vented baby bottle:
The shape of this baby bottle is designed to reduce colic, gas, and reflux. A vented baby bottle has an internal vent, which looks like a tube or straw. The vent eliminates the vacuum and reduces air bubble formation in the nipple. The air won't mix with the milk, so your baby won't swallow it, which leads to less fussiness.
Vented baby bottles have extra parts, so they are usually a little harder to clean.
Baby Bottles with Disposable Liners:
Baby bottles with disposable liners are handy when you are away. They are designed to take a specially designed disposable liner. These are pre-sterilized, individually wrapped, ready-to-use liners, meant for one-time use only. That way, you can have a fresh and clean baby bottle anytime, anywhere.
---
What type of baby bottle nipple is the best?
The bottle cannot serve its purpose without a nipple. You can choose from different materials, sizes, and styles.
Do not save on buying a quality nipple. A good nipple has an additional opening that allows air to pass through. That is important for equalizing the pressure in the bottle.
You will know if it works well by rushing bubbles from the nipple upwards when your baby drinks from the buttle.
Material
They are usually made of silicone or latex.
Silicone nipple for a baby bottle:
You will recognize the silicone nipple by the fact that it is transparent, with a silky feel. A silicone nipple is also firmer and does not lose its shape. Although it is more durable from latex, you should replace it every few months anyway.
Latex nipple for a baby bottle:
The latex nipple has a yellow-brown color. It is more flexible and has a pliable feel. Because the material is softer, you can increase the size of the hole for greater flow by yourself. But it deteriorates quicker and has to be replaced frequently. Babies can also be allergic to latex.
Baby bottle nipple sizes
On top of the nipple is a hole, which regulates the fluid flow. The size of the hole defines how quickly or slowly the liquid flows. You must choose the right size to prevent your baby from feeding too fast, too slowly, or swallow too much air.
Baby bottle nipple sizes are only guidelines. You should watch your baby's sucking style to see if it's time to adjust.
Preemies
Extra Slow Flow
Stage 1
Slow-flow
Size-one nipple has a small hole for a slow flow. In general, babies use this stage from newborns up to 6 months.
Stage 2
Medium-flow
Size-two allows for quicker flow. Most babies use this size after 6 months of age. It the milk is flowing too fast, stay on the size one a little longer.
Stage 3 and 4
Fast-flow
Some babies go directly on a size 3, right after the first stage, some are just fine with the size-two. You will notice if the baby is sucking hard and getting frustrated because the milk flow is too slow for her. In such a case, try a nipple with a larger hole.
What style of the baby bottle nipple is the best?
The one that works best for your baby. If a particular style doesn't suit him, experiment, and you will find the right one sooner or later.
Traditional Nipples: 
These are the basic version of nipples, which are available in silicone or latex material and comes with most baby bottles. They have the shape of a bell and a narrow tip. Because of a slow milk flow are a good choice for small babies. If your baby doesn't experience any problems while feeding, and she is not fussy, then there is no need for searching a specially shaped baby bottle nipples, as a traditional shape is perfectly fine.
Anti-Vacuum or Vented Nipples: 
This type of baby bottle nipples is perfect for babies with a poor sucking mechanism. Babies with a weak sucking mechanism gulp a lot of air along with milk, which causes digestive problems.
Anti-vacuum nipples have a small hole or vent, which prevents vacuum formation in the bottle during the feeding. As such, it limits colic and gasses in babies with those problems.
Orthodontic Nipples: 
Using the right kind of nipple is extremely important, especially during the first months. The wrong one can cause long-lasting problems in their gums and teeth.
The orthodontic nipples' shape is designed to fits perfectly into the baby's palate and gums. They are flat on the bottom side and bulged on the top.
Orthodontic nipples are perfect for babies with delicate gums or those who are entering the teathing phase.
Naturally Shaped Nipples
Because of the shape, which mimics a mother's nipple, is the transition from breastfeeding to bottle-feeding much smoother. The nipple is designed similar to a mother's breast. It has a broad base, with a flexible and softer top.
Multi-flow nipples: 
Different liquids have different density, and as such, they do not flow the same through the same sized hole. While one can flow nicely, others can flow to fast or too slow, or even clog the opening.
Multi-flow nipples have adjustable holes that provide multi-stage flow in the same nipple, so there is no need to buy nipples with different size holes.
breastmilk, milk, or tea flow better through small holes
medium-sized holes are better for formula
natural juices with lots of fiber flow better through large holes
Disposable nipples:
These are sterilized and individually wrapped, ready-to-use nipples. Disposable nipples come in very handy during travel. But you have to throw it away after use, so they are costly if you use them every day.
---
What size baby bottle do I need?
You need a small-size baby bottle for a smaller baby and a larger size for older babies. It is as simple as that. 
However, if you want to save some money, you can go with a larger bottle from the beginning. But pick the one where you can change nipples, and don't forget to choose the first-stage nipple with a slow flow for a newborn.
Baby bottles generally come in two different sizes, where a small baby bottle takes 4 or 5 ounces of liquid, and a large one 8, 9, or 10 ounces. 
---
Baby bottles come in several shapes, styles, and materials. Some have two handles, others one or none. They differ in size and functionality. Some are better for nursing babies, others for formula-fed babies.
What I am trying to say is that the market is huge. I think we have managed to combine the best baby bottles of different types, where each in its own way helps you and your baby.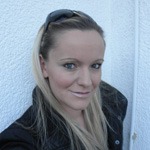 Hello!
I am the founder of Baby's Little Place. I'm a mom to the one-year-old daughter and I know how overwhelming could be when you are looking at things and tips for a new baby, especially if you are a first-time parent. That's why I set up this site…because I want to do something I am passionate about, as well as I want to help new parents and parents to be.

I hope you enjoyed reading my article! If you have any questions or comments, please leave them down below. I will be happy to discuss it with you!