Having a beach tent or canopy is essential for a beach trip with a young child. We've researched and reviewed numerous options to make things easier for you and ensure you'll find the perfect one for your next seaside stay. As a result, we've compiled a list of the best baby beach tents in 2023 that are worth your consideration.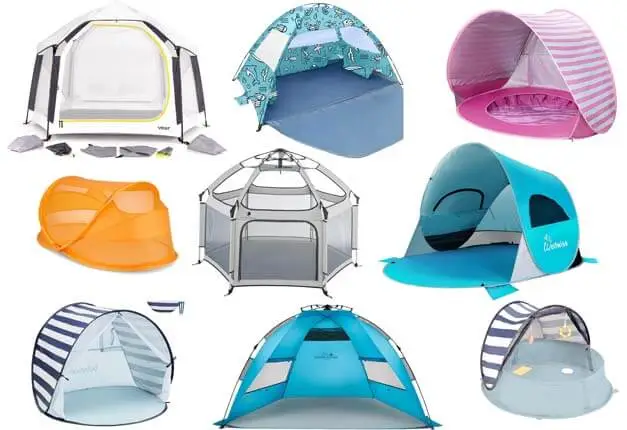 A restful day on the beach can benefit the whole family. However, as much as it can be fun, it can quickly become a nightmare if unprepared.
Babies have very sensitive skin that requires extra care and protection. Exposure to excessive sunlight can lead to painful sunburns and long-term damage. A quality beach tent acts as a barrier, blocking harmful UV rays and creating a shaded area where your baby can safely relax, play, and even nap.
However, even the best baby beach tent in the World can not completely protect your baby from the sun and heat. Thus, you should never forget about other safety measures, such as dressing your baby in lightweight, breathable clothing, using sunscreen, and planning your beach visits during non-peak hours.
top 3 Baby Beach Tents
BEST OVERALL
Pacific Breeze Easy Setup Beach Tent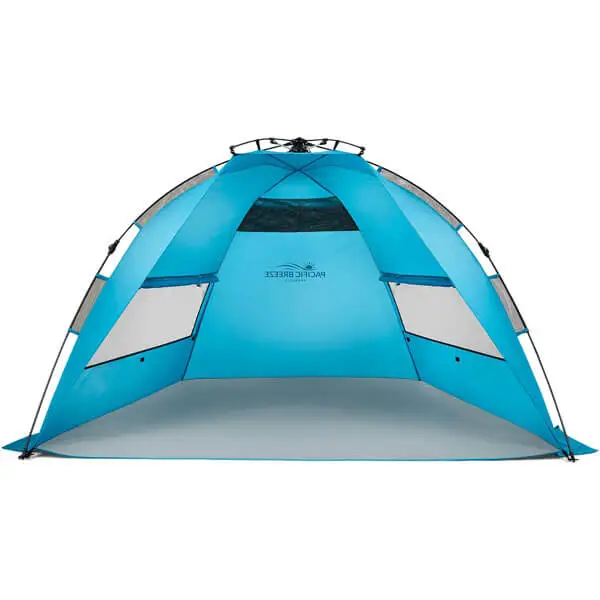 RUNNER UP
Babymoov Anti-UV Marine Tent
MOST AFFORDABLE
Ocean World Beach Tent for Baby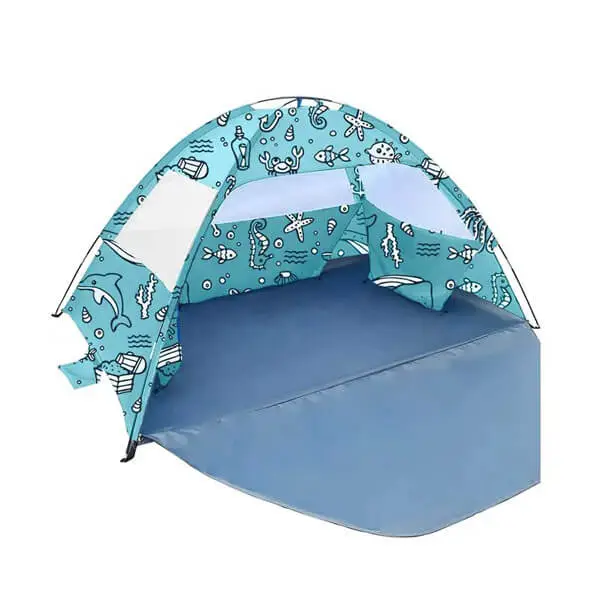 → Skip straight to other top-rated Baby Beach Tent in 2023!
Selecting the Best Baby Beach Tents: Our Process
We have carefully reviewed numerous popular baby beach tents available in the market. Together, it was 36 models
Our research focused on identifying key features that we believe a quality baby beach tent must have. These include high-quality UPF-protecting fabric that shields from harmful sun rays and adequate ventilation to prevent baby's overheating.
Additionally, we reviewed other factors such as the tent's design, functionality, ease of assembly, age recommendations, and value for money.
To ensure comprehensive research, we also included user feedback for each baby beach tent under consideration. Our criteria were stringent, and we only considered products with an average four-star rating or higher.
After consolidating and evaluating all our findings, we got a list of the top-rated baby beach tents available this year.
Best Baby Beach Tents in 2023
From shielding your baby's delicate skin to creating a shaded oasis for play and nap, these are this year's best baby beach tents.
1. Best Baby Beach Tent Overall
Pacific Breeze Easy Setup Beach Tent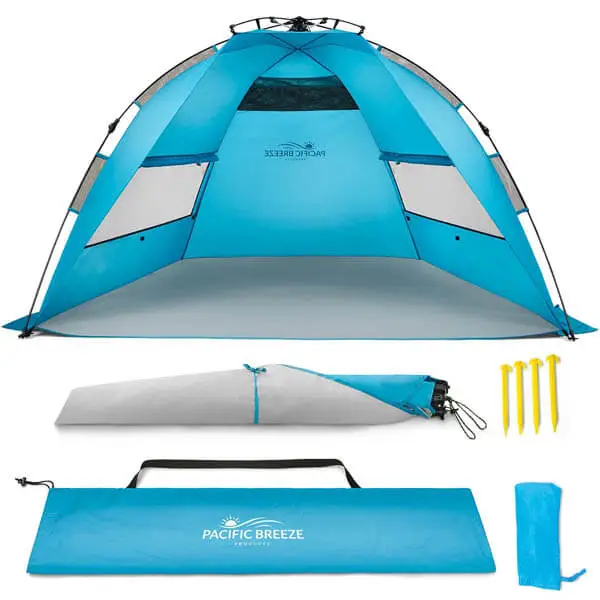 DIMENSIONS: 86.6″ L x 49.2″ W x 47.2″ H | WEIGHT: 4.45 lbs | UPF PROTECTION: 50+ | WATERPROOF: no, but Water-Resistant | CARRYING CASE: yes (40″ L x 5″ W x 5″ H)
Why we love it:
This highly-rated baby beach tent is a big hit with both moms and dads for several good reasons.
First off, it's spacious enough to accommodate parents as well. It is a great option for breastfeeding moms, providing a private and comfortable space for them.
Second, it offers excellent UPF 50+ sun protection and comes with large windows, ensuring your baby stays cool during those beach naps.
We also like its roomy floor mat that helps keep sand at bay and provides a clean and comfortable space for your baby to play or rest. We all know how annoying it can be when sand gets everywhere.
Setting up the Pacific Breeze beach tent is super easy. It comes with a carrying bag and is incredibly lightweight, weighing just a bit over 4 pounds, so it's really easy to carry around. That can be a real lifesaver when you're looking after little ones.
And that's not all – it even has handy internal pockets for storing your cell phone, sunscreen, or extra diapers and wipes. These pockets are often overlooked but can be a real game-changer!
2. Best Baby Beach Tents: Runner-Up
Babymoov Beach Tent
DIMENSIONS: 39″ L x 39″ W x 31.5″ H | WEIGHT: 1.54 lbs | UPF PROTECTION: 50+ | WATERPROOF: no, but Water-Resistant | CARRYING CASE: yes (23.6″ diameter x 2″ W)
Why we love it:
This is such a cute baby beach tent that we recommend to families with babies and toddlers.
Its setup is an absolute breeze. The Babymoov beach tent springs into action in just about three seconds, and as a parent, I can't emphasize enough how much I appreciate anything that simplifies our beach outings. No more struggling with complicated assembly – it's instant and stress-free.
I know that some might find the folding process a bit tricky at first. However, Babymoov has created a super-helpful video tutorial that walks you through closing the tent. Trust me, with some practice, you'll become a folding pro in no time.
We also like its dome design, which provides ample space for little ones to sit up and play comfortably while being shielded from the sun. It is like a personal sun-safe play area for them.
The front of the tent comes with mesh curtains equipped with zippers. They keep insects at bay while still ensuring excellent ventilation. You can easily tie each side out of the way when you want an open feel. Plus, with two rear windows, there's plenty of airflow to prevent your baby from overheating.
Portability is another big win with this tent. At under 2 pounds and neatly folded into its travel carry bag, it's a cinch to pack. You'll find it fits snugly in a large suitcase, leaving you with one less thing to worry about when planning your family beach adventures.
3. Best Bang for the Buck:
Ocean World Beach Tent for Baby, Kids and Family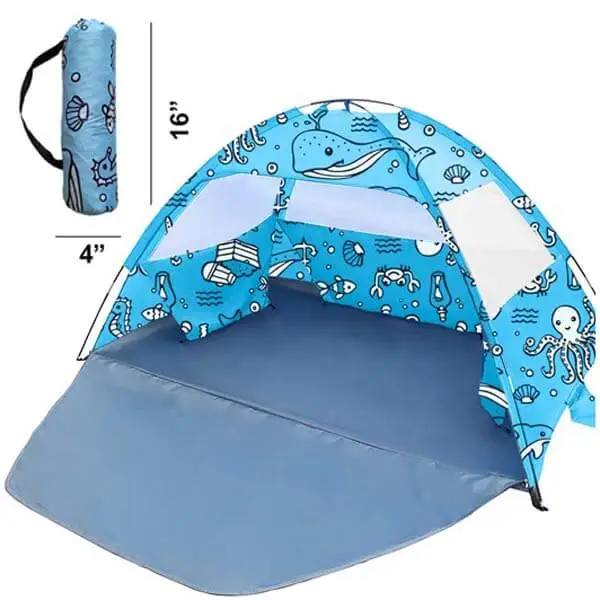 DIMENSIONS: 94″ L x 55″ W x 48″ H | WEIGHT: 3.22 lbs | UPF PROTECTION: 50+ | WATERPROOF: yes | CARRYING CASE: yes (4" W x 16" H)
Why we love it:
This baby beach tent is the best choice for families looking for an affordable model with everything for a stress-free day at the beach with their little ones. It stands out for its design with kids in mind, featuring a delightful sea-creature-themed print that instantly catches your eye. But that's far from everything.
This tent is no slouch in the size department, measuring a roomy 94 inches in length, 55 inches in width, and 48 inches in height. That's plenty of space to comfortably shelter 3 to 4 people, making it ideal for the whole family. Plus, it boasts maximum UPF 50+ sun protection and cleverly designed ventilation screens that stretch the entire length of the tent, ensuring a refreshing breeze even on the hottest days.
Now, I'll be honest: setting it up might not be the quickest job compared to other best baby beach tents on our list. It's best to tackle it with two pairs of hands. However, here's the kicker: it's a fantastic value for your money, especially if you're not a frequent beach visitor.
We also like that it is waterproof! So, if an unexpected rain shower rolls in, you can stay cozy and dry without any worries. And when it's time to pack up and head home, you'll appreciate how compact and lightweight it is when folded. At just over 3 pounds, it won't drag you down, and when folded, it shrinks to a mere 16 inches in length, making it incredibly portable and easy to carry.
4. Best Baby Beach Tent – Playpen
California Beach Co. Tent Pop N' Go Premium Playpen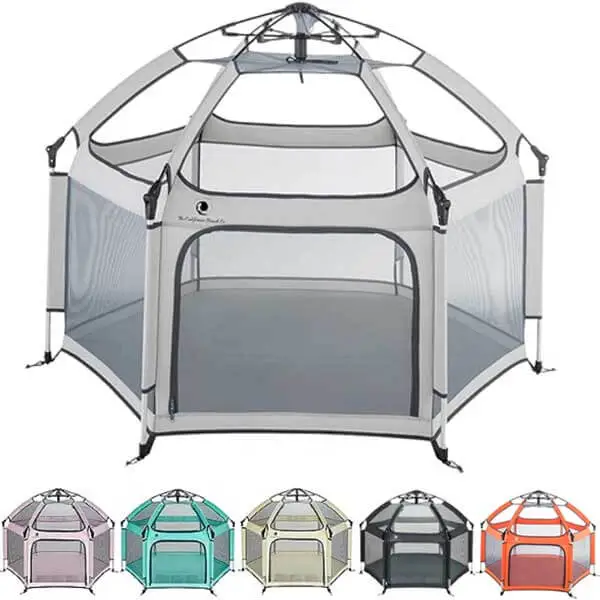 DIMENSIONS: 59″ L x 59″ W x 48″ H | WEIGHT: 7.2 lbs | UPF PROTECTION: UPF 50 shade cover | WATERPROOF: no | CARRYING CASE: yes (8" W x 36" H)
Why we love it:
The California Beach Co Pop N' Go baby beach tent gives your baby all the room they need to play and nap on the beach.
It is actually a Playpen that doubles as a beach tent. The California Beach Co Pop N' Go comes with a shade cover that provides UPF 50+ protection, effectively turning it into a safe and cozy beach tent.
Setting up is a breeze. It comes fully assembled and unfolds in seconds. But what's even better is that it's equally easy to break down and pack up when your beach day is done.
Sure, it weighs 7 lbs, which might be a tad heavier than some other options, but its convenience makes up for it. The tent folds down compactly and comes with a handy carry bag with a shoulder strap, so it's easy to transport.
What sets this baby beach tent apart is its patented technology, making it one of the strongest options out there. Worried about it taking flight in the wind? Fear not! It comes with six ground and seven sand stakes, ensuring it stays firmly in place no matter where you set it up.
We also love its ventilation. It boasts six large mesh sides, allowing the sea breeze to flow while keeping annoying insects out.
Just one thing to keep in mind – the padding floor mat is sold separately, so you might want to consider adding that to your setup for extra comfort.
5. Best Baby Beach Tent for Newborns and Young Babies
Babymoov Aquani Premium Baby Dome Beach Tent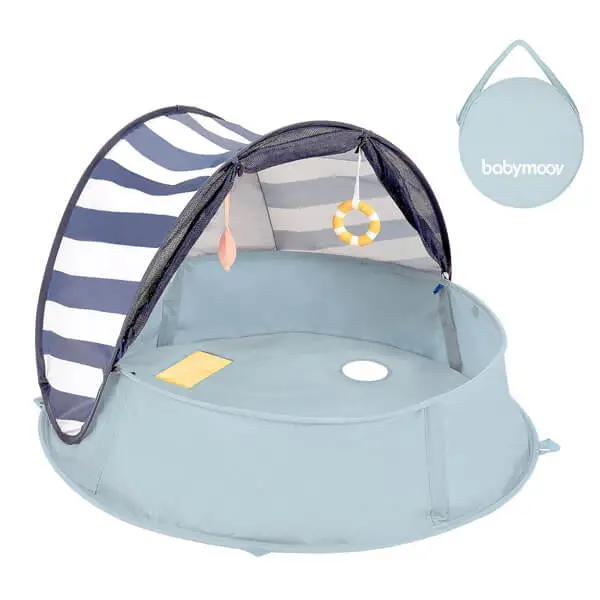 DIMENSIONS: 35.0″ L x 35.0″ W x 24.0″ H | WEIGHT: 2.0 lbs | UPF PROTECTION: 50+ | WATERPROOF: only the base, the dome is water-resistant | CARRYING CASE: yes (24.0″ diameter x 2″ W)
Why we love it:
If you are a parent who wants to go on a beach with a newborn or young baby, the Babymoov Aquani Premium Baby Dome beach tent is might what you are looking for.
The Babymoov focuses on comfort and safety, making this baby beach tent a perfect choice for keeping your little one safe and content during outdoor adventures.
The Aquani provides UPF 50+ sun protection, shielding your baby from up to 99% UV rays. This is crucial for the delicate skin of newborns and young babies.
It includes a built-in bug net, protecting against pesky insects that can bother your baby during outdoor activities. For your little one, there is also a soft and comfy removable play mat that ensures comfort during playtime and three fun infant toys they can play with.
Setting up the Babymoov Aquani is easy with its pop-up system, saving you time and hassle. It comes with a carry bag, making it convenient to take with you wherever you go, whether it's the beach, the park, or a family gathering.
Most importantly, the Aquani ensures ultimate comfort for your baby. It provides a cozy and secure space for them to relax and play. And there is also a bonus feature. The Babymoov Aquani has a built-in pool feature that allows safe water play when your baby gets a bit older.
6. Best Pop-Up Baby Beach Tent
WolfWise SpiltWave R10 Pop-Up Beach Tent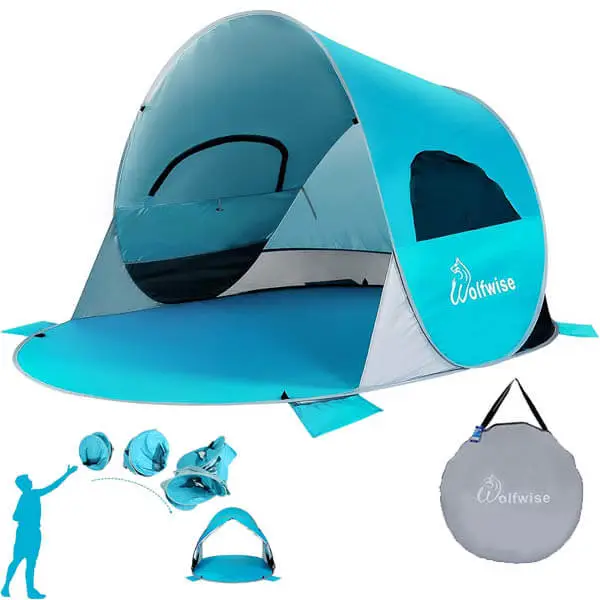 DIMENSIONS: 86.61″ L x 57.9″ W x 47.24″ H (36.22″ H on the lowest point) | WEIGHT: 4.21 lbs | UPF PROTECTION: 50+ | WATERPROOF: no, but water repellent | CARRYING CASE: yes (29.5″ L x 29.5″W x 1.6″ H)
Why we love it:
This great pop-up tent falls into the category of internal flex frame designs. The best thing about this structure is that you don't need any assembly and that it's practically indestructible. You'd have to make a real effort to break it, and even then, it just creases without cracking.
Setting up the WolfWise SpiltWave beach tent is quick and easy. It pops open on its own in less than a second. And it comes with stakes, wind ropes, and sandbags to secure it even in unexpected sea breezes.
It is just as easy to fold – well … once you get used to it. I suggest you practice at home until you get the hang of it. Once you master it, the entire process should take only about 30 seconds. The case comes with folding instructions sewn into it, which is helpful if you forget the process.
But what sets this tent apart the most is its excellent ventilation. It has two relatively large mesh windows on each side of the tent and a full-size rear door. The windows can be closed for privacy or opened for extra ventilation. Combined with the open back door, you get 360-degree ventilation, perfect for hot summer days. And that's not all. There is also extra ventilation around the bottom of the tent, allowing airflow when you want privacy.
The WolfWise SpiltWave baby beach tent weighs only about 4 pounds, which is not much for a tent that accommodates up to four people. However, the diameter of the folded tent is pretty large, so check your suitcase to see if it will fit in it.
7. Best Baby Beach Tent for Naps
Joovy Gloo Portable Play Tent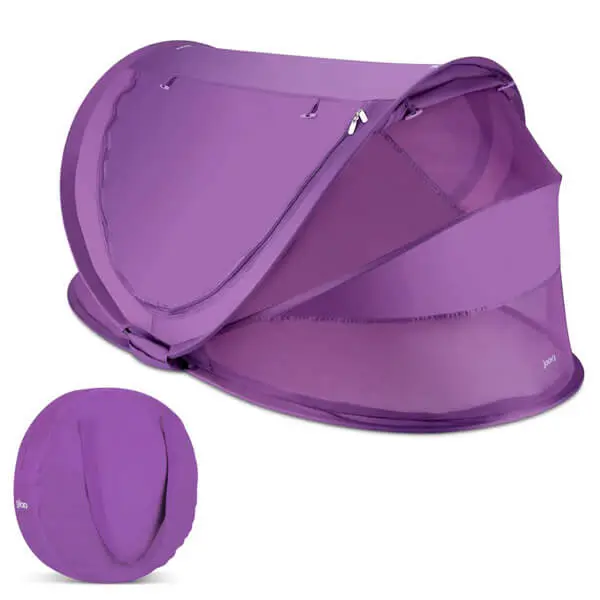 DIMENSIONS: Regular Size – 44.0″ L x 25.0″ W x 18.0″ H / Large Size – 51.5" L x 28" W x 24.5" H | WEIGHT: Regular – 3.9 lbs / Large – 5.5 lbs | UPF PROTECTION: 50+ | WATERPROOF: no, but Water-Resistant | CARRYING CASE: yes (Regular Size – 14" L x 5" W x 14" H / Large Size – 18" L x 4.5" W x 17" H)
Why we love it:
No matter where you are, little ones require sleep during the day. If you're planning to hit the beach, we highly recommend the Joovy Gloo Portable tent for your little ones.
This portable pop-up baby beach tent is one of the best options for napping on the beach.
First, it comes with a self-inflating pad, making those naps extra cozy. Second, the durable, high-quality nylon material is designed to keep out the morning dew, and the UPF 50 canopy protects your baby from harmful sun rays. Third, the ultra-fine mesh keeps the bugs out, ensuring your child rests undisturbed.
Last but not least, not only does it provide a comfortable spot for your baby to rest, but it also doubles as a toddler travel bed and can be used until the child is five years old.
The Joovy Gloo Portable tent comes in two sizes, regular and large, allowing you to choose the one that best suits your needs. It's incredibly lightweight and folds neatly into the included travel bag. So, no need to lug around bulky gear.
The regular-sized tent has a zippered mesh opening for ventilation, while the larger one has a two-layer mesh and a roll-down fabric shade for added flexibility.
8. Best Baby Beach Tent with a Pool
Buenavo Baby Beach Tent with Mini Pool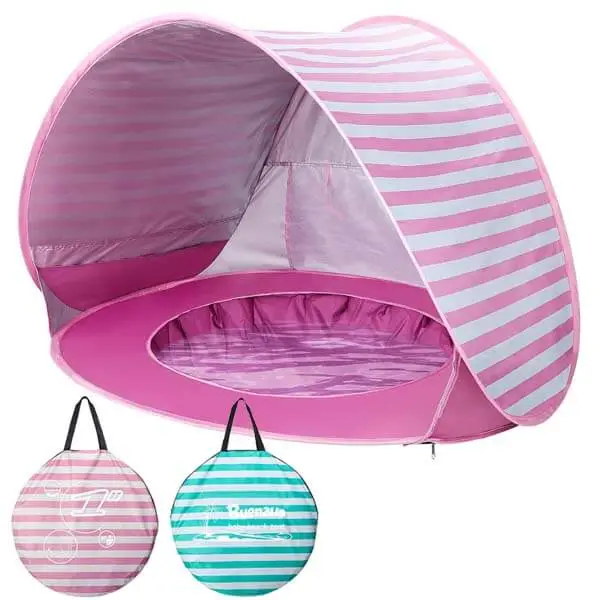 DIMENSIONS: 47.2″ L x 31.5″ W x 27.5″ H | WEIGHT: 1.45 lbs | UPF PROTECTION: 50+ | WATERPROOF: yes | CARRYING CASE: yes (21.0″ diameter x 1″ W)
Why we love it:
This beach tent is a perfect choice for parents who want to provide safe water fun for their little ones. It has a built-in pool on its floor, allowing your baby to play safely in the water.
Younger babies may be too small or fearful of more extensive water like oceans or lakes, but with this clever tent, they don't have to miss out on the fun. The Buenavo Baby Beach Tent combines the safety of shade with the excitement of a wading pool.
Simply dig a small hole, place the tent over it, and fill it with water to create a shaded baby pool. You can also use the pool as a mini sandbox, a safe spot for naps and diaper changes, or an indoor play tent, adding to its versatility.
We like that the canopy and the pool are detachable, which makes the cleaning easier and extends the use to places beyond the beach. Setting up is due to its pop-up mechanism quick and easy.
The tent features a roll-up back panel that provides ventilation to keep your baby cool on hot days. You'll also find convenient side storage bags for storing toys and sunscreen. Four tent hooks keep the beach tent securely in place, preventing it from blowing away in the wind. Plus, it comes with a handy carrying bag for easy transport.
9. Best Baby Beach Tent for Siblings
Veer Basecamp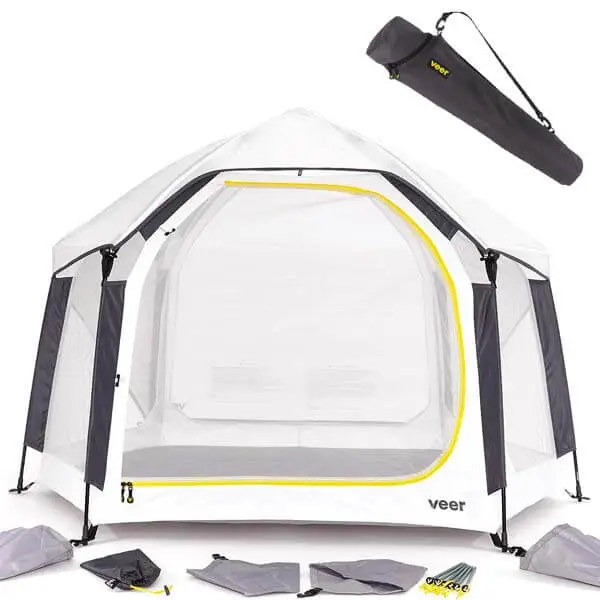 DIMENSIONS: 56.0″ L x 43.0″ W x 35.0″ H | WEIGHT: 7.00 lbs | UPF PROTECTION: 50+ | WATERPROOF: no, but water-resistant | CARRYING CASE: yes (36″ L x 6″ diameter)
Why we love it:
When it comes to choosing the perfect beach tent for siblings, this option stands out for several reasons.
Firstly, it's a durable tent that's easy to set up and pack away in a convenient travel case. The tent is spacious enough for up to three kids aged five and under, and it weighs only seven pounds, so it won't be a burden to carry around.
The Veer Basecamp beach tent is packed with practical features, including zip-down mesh sides that offer excellent ventilation and a 360-degree view of your children. It also has a removable UPF 50 sun and rain cover to protect your kids from the weather and a moisture-resistant bottom to keep the tent dry.
Safety is a top priority. The Veer Basecamp meets ASTM play yard safety standards and has a JPMA certificate, ensuring your kids will be safe and secure. The tent also has a secure zip that can only be opened from the outside, so your kids won't be able to wander off.
So, whether you prioritize ease of setup, spaciousness, family-friendly features, safety, or premium quality, this beach tent from Veer has you covered. It's a versatile, durable, and well-designed solution for families who love spending time outdoors and want a reliable shelter for their beach adventures.
And if your kids are older and need more space, consider the Family Veer Basecamp Sundome, which is larger and comfortably fits two adults and kids.
What to Look for in a Baby Beach Tent
1. Size : 
Consider the tent's dimensions to ensure it can accommodate your needs. If you need it just for the baby, pick a smaller one. Still, it must have sufficient space for your baby to move, play, and nap comfortably.
If you're looking for a tent for the entire family, you can pick a canopy setup instead of a regular beach tent. It can accommodate more than two people and provide ample shade. 
2. UV Protection and Sunshade:
One of the most critical features of a baby beach tent is its ability to provide effective UV protection. Look for a tent with a high UPF (Ultraviolet Protection Factor) rating, which indicates its ability to block harmful UV rays. Ideally, choose a tent with a UPF rating 50+ for maximum sun protection.
Another factor to consider is how much sunshade it can provide. Look for a beach tent with a wide canopy or extended coverage that offers ample shade to protect your baby from direct sunlight. 
3. Ventilation and Breathability:
Proper airflow is essential to keep your baby cool and comfortable inside the tent. Look for tents with mesh panels, windows, or adjustable openings that promote air circulation and prevent overheating. Adequate ventilation ensures a pleasant environment for your baby, especially during hot beach days.
4. Ease of Use and Portability: 
A baby beach tent should be easy to set up, take down, and transport. Consider tents with a pop-up or instant assembly design, as they save time and effort. Lightweight materials and compact folding capabilities contribute to easy portability, allowing you to carry the tent conveniently to and from the beach.
5. Durability and Stability: 
Look for a baby beach tent made from durable materials that can withstand outdoor conditions and repeated use. Additionally, consider the tent's stability, especially when faced with windy beach environments. Sturdy construction and the availability of stakes or sand pockets for anchoring are great features to ensure the tent stays securely in place.
6. Comfortable Interior: 
Consider the interior features of the tent, such as a soft and comfortable floor or mattress. Some tents may include additional features like pockets for storing baby essentials or hooks for hanging toys, providing a cozy and convenient space for your baby to relax and play.
7. Easy Maintenance: 
Opt for a baby beach tent that is easy to clean and maintain. Removable and washable fabric or materials make it convenient to keep the tent clean, especially after a sandy beach adventure.