Last updated on January 23rd, 2023 at 12:15 pm
The Dream On Me Synergy is a simple, full-size convertible crib that won't break the bank. However, can you get a functional and safe crib for such a low price? Finding the answer was the primary purpose of our Dream On Me Synergy 5-in-1 convertible crib review.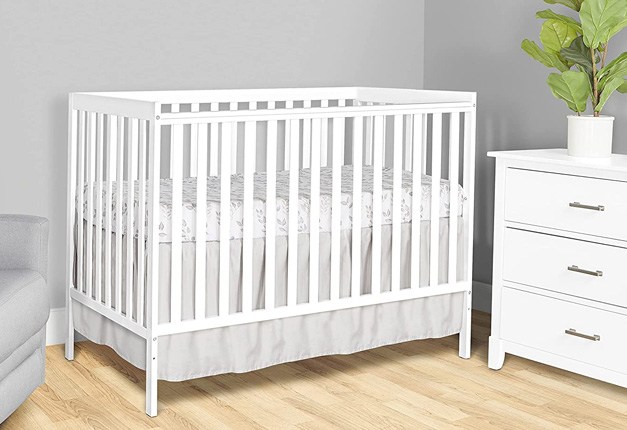 Dream On Me Synergy 5-in-1 convertible crib
The Dream On Me Synergy 5-in-1 convertible crib is one of the last year's best-selling cribs.
It is one of the cheapest cribs on the market, which I appreciate. But let's be realistic; it can not be the same as high-budget cribs.
While it seems the crib is marrying costs, convertibility, and safety pretty well, it has its deficits, reflected mainly in its appearance and durability.
That is understandable for such an inexpensive crib, so it is on you to decide whether these minor flaws bother you or not.
PRODUCT HIGHLIGHTS:
Inexpensive full-size crib
Minimalist, space-saving designed frame
Grows with your child from infant to toddler age and beyond
Baby's Little Place Reviews
The Dream On Me Synergy 5-in-1 convertible crib is a nice and simple crib that fits both traditional and modern aesthetics.
Parents seem to like it. It has many positive reviews, and I particularly like the Dream On Me Synergy white crib. But can you get a decent crib for such a low price? Well, yes and no.
I can not deny, the Dream On Me Synergy 5-in-1 convertible crib is a decent crib for the price. It serves its purpose, surpasses all needed safety tests, and meets required safety standards. However, do not expect too much from its overall appearance.
Although it is a pretty good crib compared to other affordable models, you can not expect a 5-star quality of such a low-budget crib. I could say you get what you pay. So, please keep reading for our complete Dream On Me Synergy 5-in-1 convertible crib review and decide for yourself.
---
Dream On Me Synergy 5-in-1 convertible crib review
PROS:
minimalist aesthetic
it doesn't take up a lot of space
a low price
it grows with your child
wide color selection
GREENGUARD Gold and JPMA certified
meets all required safety standards
CONS:
it is made of softwood, so it can get easily dinged and chewed
few visible slots from bolts
sturdy enough, but due to thinner legs not as compact as more expensive cribs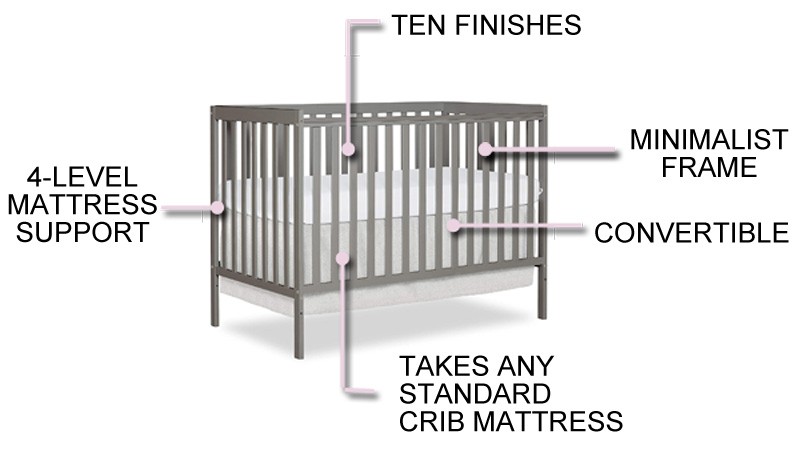 Design and Specifications:
The Dream On Me Synergy convertible crib has a simple frame with slats on all four sides.
It doesn't have unique elements, such as carved components, full headboard, arch, etc. However, that is not a bad thing! Such minimalist style is currently one of the most wanted ones. Not only that it's modern and timless, it is also convenient!
Its open design enables a better airflow through the crib and helps prevent the baby's overheating. Due to an open design, it can stand in the room's center or against a wall.
Another advantage of its "small" frame is its smaller footprint. The Dream On Me Synergy 5-in-1 convertible crib takes less space than many full-size cribs. I have to highlight that this doesn't mean it has a smaller sleeping surface! Interior dimensions of full-size cribs are standardized so that they are all pretty much the same.
The Dream On Me described the Synergy 5-in-1 convertible crib design as gender-natural. But I find some of its fun colors more suitable for girls and others for boys.
Its color selection is awe-inspiring, from classic to bold, stylish finishes like Emerald or Aqua Sky. Not many cribs are available in so many different finishes, so that's undoubtedly the Synergy advantage!
Dream On Me Synergy specifications: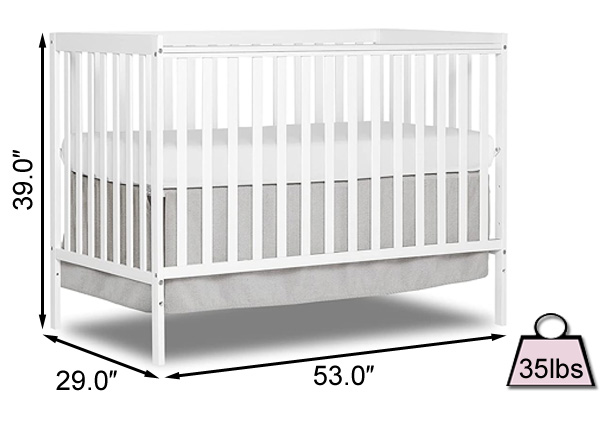 MANUFACTURER: Dream On Me
MODEL: Synergy
TYPE: 5-in-1 convertible crib
STYLE: classic, modern
MATERIAL: New Zealand Pine wood
COLOR: Aqua Sky, Black, Cherry, Cool Grey, Emerald, Espresso, Mint, Natural, White
ASSEMBLED DIMENSIONS: 53.0″ L x 29.0″ W x 39.0″ H
ASSEMBLED WEIGHT: 35 lbs
I like the crib's look. It adds a contemporary style that fits any décor from your baby nursery to your growing child's bedroom.
However, be aware that this is not a high-budget crib. Being softwood, the Dream On Me Synergy 5-in-1 convertible crib can get easily dinged and chewed.
There are also some visible slots from bolts, which do not bother me, but they may bother you. If so, you will have to spend more on the crib, as that is normal for low-budget and mid-range cribs.
RELATED: Best convertible cribs in 2023
---
Dream On Me Synergy convertibility review:
The Dream On Me Synergy is a 5-in-1 convertible crib, meaning you can convert it into four different beds. It is one of the few cribs at this price point that converts into a toddler bed, day bed, and full bed with a headboard and optional footboard.
As such, it can be a lifetime investment. Still, this is an inexpensive crib, whit tinner legs, and smaller feet, making it a little less sturdy from more imposing "thicker" cribs.
So, while I do not see any drawbacks to why you wouldn't convert it into a toddler bed and daybed, I am skeptical about the additional conversion into a full-size bed. If not extra careful, all the disassembly and assembly can leave damages.
Another thing I want to point out is conversion kits. You will have to buy a toddler bed safety rail and a full-size bed conversion kit separately. If you already know you will convert the crib, I strongly suggest purchasing the conversion kits now. Just in case they become unavailable or out of stock later.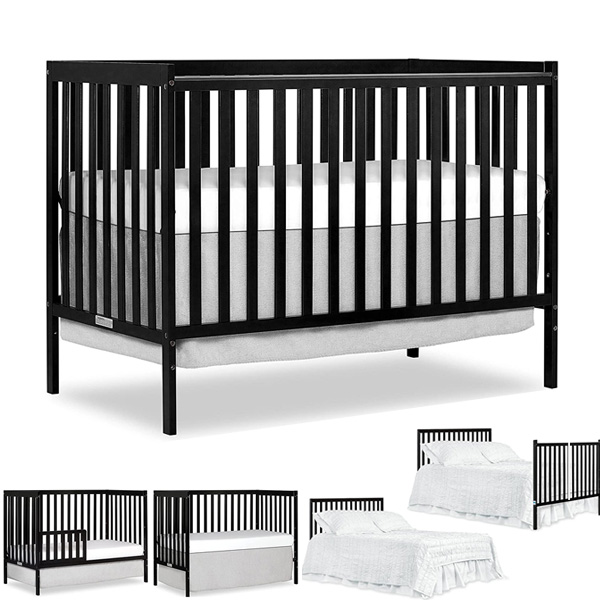 NUMBER OF CONVERSIONS: 5
CONVERSION TYPES: crib, toddler bed, daybed, full-size bed with a headboard, full-size bed with a headboard and footboard
TOODLER BED SAFETY RAIL: not included
---
Safety:
Third-party labs have tested the crib to meet or exceed CPSC and ASTM safety standards. It is JPMA certified to prove it was tested by an independent facility and meets the standards developer ASTM International guidelines.
It is also GREENGUARD Gold certified to ensure that it meets some of the world's most rigorous and comprehensive standards for low emissions of volatile organic compounds (VOCs) into indoor air.
Dream On Me Synergy 5-in-1 convertible crib is lead and phthalate-safe and finished in water-based, eco-friendly finishes without toxins.
MEETS: all applicable ASTM, JPMA and CPSC standards
CERTIFICATIONS: JPMA, GREENGUARD Gold
NON-TOXIC FINISHES: yes
LEAD AND PHTHALATE SAFE: yes
STURDY: Due to its thinner and smaller feet, it is not as sturdy as some high-budget cribs. However, it is sturdy enough to meet all safety standards set by the government. If assembled correctly, it doesn't wobble and performs well along with one child's growth. After many conversions, however, its solidity declines.
DROPPING SIDES: no
---
Dream On Me Synergy crib mattress information
Dream On Me Synergy is a full-size crib, which takes any standard-sized crib and toddler bed mattress. It has a metal, four-level mattress support to adapt to your growing child. You can start with the highest setting for a newborn and gradually lower it down with your child's growth.
---
Dream On Me Synergy 5-in-a convertible crib
Frequently asked questions
---
---