While a crib remains one of the most tried-and-true options for safe infant sleep, there are instances where parents may seek baby crib alternatives to cater to unique needs or living situations. These crib substitutes should prioritize safety and comfort to ensure a peaceful slumber for your little one. This article will delve deeper into some of the best-known ones.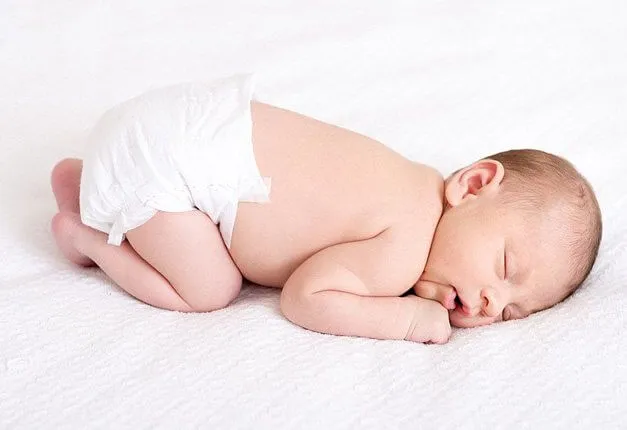 Are there any safe baby crib alternatives that provide the same security and peace of mind as a crib?
Fortunately, the American Academy of Pediatrics (AAP) recognizes the importance of providing options. So, in addition to cribs, the AAP approves both baby bassinets and Pack 'N Plays as safe sleeping choices for babies. Still, there are other baby crib alternatives that some modern parents tend to use, too.
We will list all of them and explain why some are better than others.
Baby Crib Alternatives
Pack 'N Play or Playard
Travel Crib
Baby Bassinet
Bedside Sleeper
Mini Crib
Bed Sharing
Snuggle Nest
Moses Basket
Cardboard Box
Floor Bed
Hammock
Now, let's take a closer look at each of these baby crib alternatives and evaluate their safety for your little one's peaceful sleep.
1. Baby Crib Alternative: Pack 'N Play
A Pack and Play, often called a playard or playpen, is a versatile and portable piece of baby gear designed to provide a safe space for infants and toddlers to sleep, play, or rest. So, one of the key advantages of a Pack 'N Play is certainly its versatility.
This multipurpose baby product has become a convenient alternative to traditional cribs for various reasons. You can easily fold and unfold it, allowing for compact storage and convenient transportation. The mesh or fabric sides provide adequate ventilation and visibility while ensuring the baby's safety. Some models have additional features like changing tables, bassinets, mobiles, and more.
Last but not least, compared to traditional cribs, Pack and Plays are often more budget-friendly. They offer an affordable alternative for parents who want a safe and comfortable sleeping environment for their baby without the expense of a full-size crib.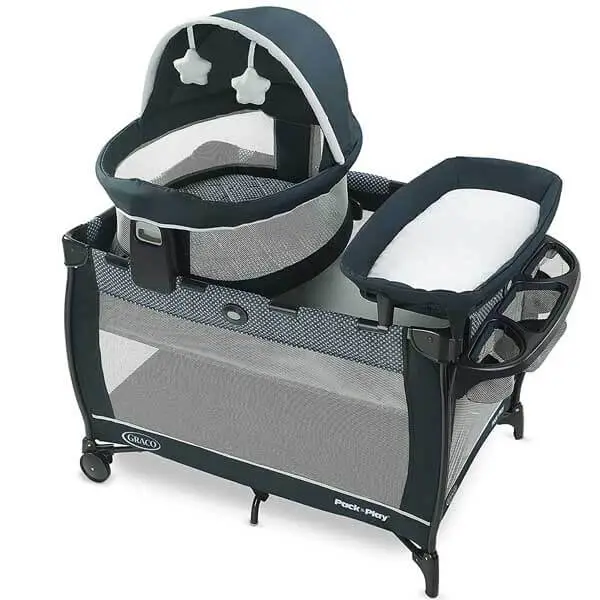 Graco Pack 'N Play Travel Dome LX Playard
Is a Pack 'N Play a safe crib alternative?
Yes, Pack and Play is a safe baby crib alternative. They are designed with safety in mind. The mesh sides allow for adequate airflow and visibility, reducing the risk of Sudden Infant Death Syndrome (SIDS). They also typically have locking mechanisms to prevent accidental collapses.
Pack and Plays must undergo rigorous testing to meet federal law requirements and additional requirements from the Consumer Product Safety Commission (CPSC). In general, they are considered a safe crib alternative.
RELATED: Best Pack 'N Plays
2. Baby Crib Alternative: Travel Crib
A travel crib, also known as a portable crib or travel cot, is a specially designed baby sleeping and resting solution that is primarily intended for travel and on-the-go use. It is foldable to collapse into a compact and easily transportable size.
Travel cribs typically have a rectangular shape with a mattress pad placed on the floor for enhanced stability. They are constructed with lightweight materials such as aluminum or steel frames and surrounded with durable fabric sides.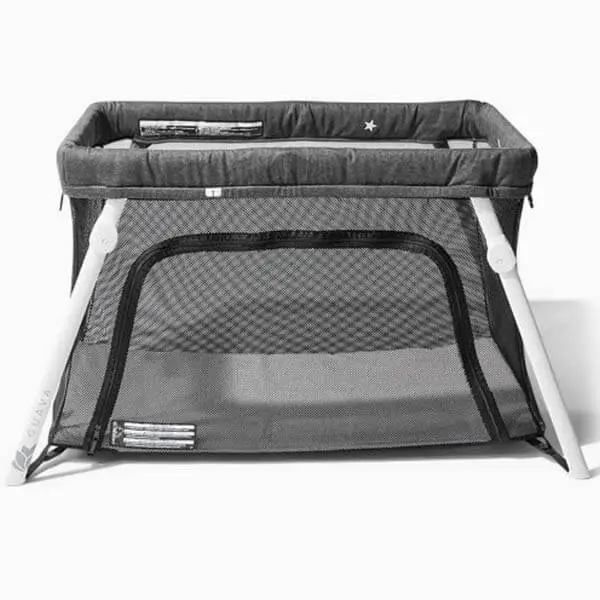 Guava Family Lotus Travel Crib and Portable Playard
Is a travel crib a safe baby crib alternative?
Yes, a travel crib can be a safe baby crib alternative. They have mesh sides that provide ventilation and safety locks or mechanisms to prevent accidental folding or collapsing.
However, travel cribs have a mattress pad placed on the floor, so we do not advise using it for everyday sleep. It is a great baby crib alternative for the go, but do not use it instead of the crib at home.
RELATED: Best travel cribs
3. Baby Crib Alternative: Baby Bassinet
A baby bassinet is a small, portable bed designed specifically for infants. It is typically used for newborns and very young babies, usually from birth until they are a few months old or until they can sit up or roll over, at which point they may transition to a crib.
Bassinets provide a cozy and secure sleeping environment for infants. They are often used in the same room as the parents, making it easier for caregivers to attend to the baby's needs during the night.
SNOO Smart Sleeper Baby Bassinet
Is the baby bassinet a safe crib alternative?
Yes, a baby bassinet is a safe and convenient sleeping option for newborns and very young infants, but it is not intended to be a long-term alternative to a crib.
When choosing a baby bassinet, look for products that meet safety standards and certifications, such as those established by organizations like the Consumer Product Safety Commission (CPSC) in the United States. These standards ensure that the bassinet is built with safety in mind.
RELATED: Bassinet Types
4. Baby Crib Alternative: Bedside Sleeper
A bedside sleeper is a baby bassinet that attaches securely to the adults' bed, allowing babies to sleep peacefully right next to their parents, yet in their dedicated sleep space.
This innovative co-sleeping practice fosters a sense of closeness while minimizing the risks associated with traditional bedsharing, particularly concerning Sudden Infant Death Syndrome (SIDS).
Bedside sleepers come with diverse attachment options to the adult's bed. Some feature a side that can be easily lowered when you need access to your baby, ensuring seamless interaction. Others have one side with a lower profile than the remaining three walls, offering an alternative way to reach your child.
Newton Baby Bassinet Bedside Sleeper
Is a bedside sleeper a safe crib alternative?
While bedside sleepers can be a safe and convenient option for newborns and very young infants, they are not a suitable long-term crib alternative. As babies grow and develop, it is essential to transition them to a crib.
You should also avoid bedside sleepers with only three sides. These models, while available, are not recommended due to safety concerns.
5. Baby Crib Alternative: Mini Crib
A mini crib is a smaller version of a standard crib that provides a safe and comfortable sleeping space for infants and babies. Mini cribs are typically used for newborns and infants up to about 2 years old. They are a popular choice for parents with limited space in their nurseries or bedrooms.
Babyletto Origami Mini Portable Crib
Is a mini crib a safe baby crib alternative?
Yes, of course! After all, it is a crib. A mini crib has smaller dimensions, while all other features are the same as on standard-size cribs.
READ MORE: Best mini cribs
6. Baby Crib Alternative: Bed-Sharing
Bed sharing is a form of co-sleeping where a baby sleeps in the same bed as one or both parents or caregivers.
Co-sleeping is a common sleeping arrangement in many cultures worldwide and can occur for various reasons, including convenience, bonding, and breastfeeding. However, there are more and less safe ways of co-sleeping, wherein sharing a bed is considered a less safe method.
Is bed sharing a safe crib alternative?
Bed sharing is not considered a safe baby crib alternative. Safety considerations for bed sharing include the risk of suffocation, overheating, and accidentally rolling onto the baby during sleep.
7. Baby Crib Alternative: Snuggle Nest
Parents who are searching for a safer way to share their bed with their baby can consider using a snuggle nest. This product creates a separate sleeping space for the baby within the adult bed.
The nest's walls are a barrier between the parents and the baby, preventing accidental rolling into the nest. However, these baby beds are only suitable for the first six months of a baby's life, and there are some considerations about their use.
Baby Delight Snuggle Nest Bassinet
Is a snuggle nest a safe crib alternative?
While it is safer than bed-sharing, be cautious when choosing one.
The nest's sides should be firm and high enough to protect the baby from parents rolling over. Avoid baby nests with soft padding or other soft surfaces, as these can be dangerous for your little one. It's also recommended to opt for a nest with mesh sides and avoid in-bed sleepers with an incline of more than 10 degrees.
8. Baby Crib Alternative: Moses Basket
A Moses basket is a small, portable bassinet or crib that is traditionally made from woven materials such as palm leaves or wicker. It typically has sturdy handles on the sides, allowing for easy transport. Moses baskets are designed for newborns and infants to nap in and are usable during the early months of a baby's life.
Moses baskets often come with a fabric lining, a mattress or pad, and sometimes a hood or canopy to provide shade and a sense of privacy for the baby. They are commonly used in a parent's bedroom or in other rooms of the house to keep the baby nearby while they sleep.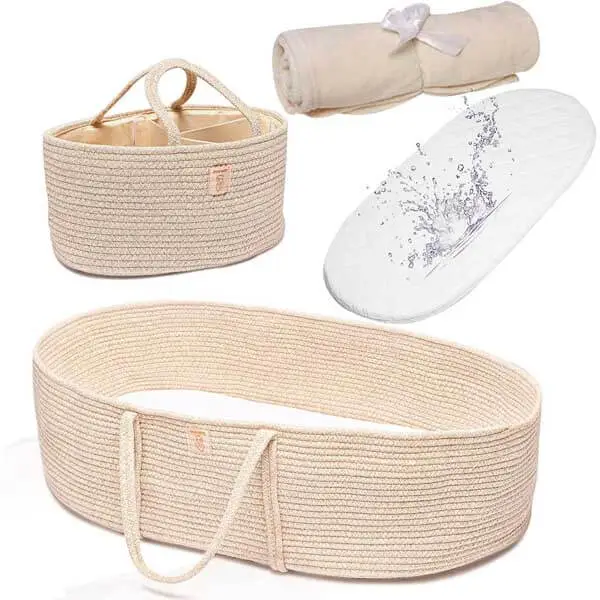 Is a Moses basket a safe baby crib alternative?
Moses baskets can be safe for babies when appropriately used. You have to ensure that the basket is made of durable materials and has a firm, flat bottom to provide a stable sleeping surface for your baby. The mattress in the Moses basket must be firm and fit snugly. Also, do not carry the basket with the baby inside, and always place it on a flat, stable surface so that it cannot tip over easily. 
However, they are only usable for supervised naps, not as a crib alternative.
9. Baby Crib Alternative: Cardboard Box
Using a cardboard box as a crib alternative may seem unusual at first. However, it's a common practice in certain countries like Finland. There, pregnant women traditionally receive a care package with a cardboard box and mattress.
This box contains essential items for the baby, such as clothes, diapers, bed linens, and toys. And after the baby is born, the cardboard box becomes the baby's first sleeping arrangement.
There are several reasons why some parents have adopted this practice. One is cost-efficiency, as using a cardboard box requires little to no money. Cardboard boxes are also Eco-friendly, minimalistic, and highly portable, making them convenient for families on the go.
Is a cardboard box a safe baby crib alternative?
Using a cardboard box as a substitute for a crib is not advisable for your baby's sleeping environment. Although initiatives such as "baby boxes" or "safe sleep boxes" that provide cardboard boxes with essential baby items exist, they are typically intended as temporary solutions and come with specific safety measures in place.
Cardboard boxes do not meet the safety standards of cribs, bassinets, or play yards. They are not as sturdy as cribs and can also easily wear out or become damaged, increasing the risk of collapsing. Furthermore, they don't offer sufficient ventilation, which can affect air circulation and temperature regulation in your baby's sleep space.
10. Baby Crib Alternative: Floor Bed
Using a floor bed for a baby is an alternative approach to infant sleep and safety that differs from the traditional crib setup. Instead of placing a baby in a crib, a floor bed is a mattress or a padded surface set directly on the floor.
This concept gained attention through Maria Montessori, an Italian physician, who believed they could boost a child's confidence and individuality. However, it's worth noting that there isn't concrete evidence supporting these claims.
Is using a floor bed a safe baby crib alternative?
There are better crib alternatives than this. The idea behind a floor bed is to grant your baby the freedom to explore independently, but we must remember that there are reasons why we don't leave our infants alone. Cribs and most crib alternatives provide a comfortable, enclosed sleeping area.
So, safety is the foremost concern when using a floor bed. Make sure the baby's sleeping environment is free from hazards. Keep the room childproofed and ensure no sharp objects, cords, or choking hazards are within reach. Babies can also roll off the bed, so be vigilant to prevent accidents.
Floor beds are often recommended for older infants (around 6 months or older) who can roll over and have some mobility skills.
11. Baby Crib Alternative: Hammock
While unconventional, hammocks have gained popularity as a crib substitute, offering several advantages. They replicate the snug feeling of a womb, typically crafted from soft fabric cushioned with firm foam and suspended from a sturdy beam.
One of the most compelling reasons parents and caregivers opt for hammocks is their ability to swaddle the baby snugly, creating a sense of security and comfort. The gentle rocking motion of the hammock is believed to have a soothing effect.
However, there are safety concerns surrounding hammock use.
Is a hammock a safe baby crib alternative?
There are several issues with using a hammock as an alternative to a crib for a baby.
Firstly, the flexible base of some hammocks can cause the baby's neck to be positioned at an uncomfortable angle, making it difficult for them to breathe. Secondly, babies can roll to the side in a hammock, potentially pressing their face against the material, which could lead to suffocation. Additionally, some hammocks may not provide sufficient air circulation, which could cause the baby to overheat. Lastly, restless babies may be able to fuss their way out of the hammock, resulting in potential falls.
Final Words about Baby Crib Alternatives
In conclusion, various baby crib alternatives are available to cater to unique needs and living situations. While some alternatives, like Pack 'N Plays, baby bassinets, and mini cribs, are generally safe and recommended by experts, others, like bed-sharing, hammocks, and cardboard boxes, pose certain safety issues you should be aware of.