Last updated on January 23rd, 2023 at 04:44 pm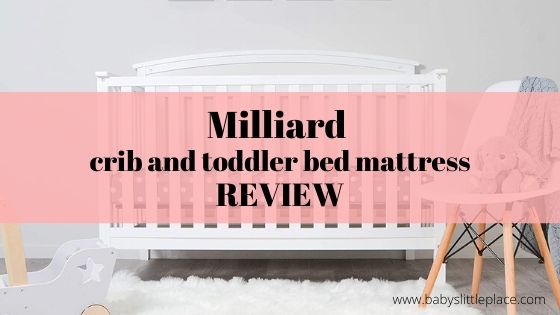 Milliard crib mattress Review
Milliard crib mattress and toddler bed mattress is one of the most popular baby crib mattresses on Amazon. The point of our review, was mainly to see if such a cheap mattress, can be so excellent, that so many parents want it.
And our conclusion? It is a really good mattress, but unfortunately with a poor quality cover.
There is no doubt Milliard's crib mattress is one of the cheapest models on the market. It is hard to find such quality, for that price!
But as expected it has some deficiency, after all, it is a lot cheaper from other crib mattresses on the market.
Our Milliard crib and toddler bed mattress review will provide you with all the information needed before the purchase.
---
A quick review of Milliard crib mattress:
PROS:
affordable baby crib mattress
for babies and toddlers
it keeps the shape
a firm and safe foam
very breathable crib mattress
lightweight
meet all safety standards
good foam quality
hypoallergenic
CONS:
a mattress cover has a poor quality
Bottom line:
Milliard wanted to create an affordable baby crib mattress, that would create a perfect combination of comfort and safety for babies and toddlers. And they succeeded! Their unique designed foam, which copies the womb environment, is firm and safe. Babies feel supported and cradled on the mattress, which contributes to better sleep, and less restless nights.
---
Is this crib mattress dual-sided?
Dual-sided baby crib mattresses have two separate layers with different firmness, firmer for babies, and softer for toddlers. So, this Milliard's crib mattress is not dual-sided! The name can easily mislead you, after all, it is stated to be a baby and toddler bed mattress.
Don't get me wrong, the mattress is designed for toddlers too, but it doesn't have two sides. That means the sleeping surface for toddlers is as firm as for babies.
Because of the safety reasons, and for the proper bone and muscle development, babies need a firm sleeping surface! A firm mattress reduces the risk of SIDS (Sudden infant death syndrome), that's why it is extremely important.
Milliard crib mattress is a perfect choice for babies, but some toddlers might feel it is too firm for them. If the toddler sometimes sleeps on the parent's bed, he is familiar with the softer sleeping surface. There were cases where they refuse sleeping on the firm mattress anymore.
However, Milliard also has a dual-sided baby crib mattress, which we reviewed here.
---
Milliard crib and toddler bed mattress review's breakdown
According to Milliard, this baby crib mattress should have all the following features. To see if that is the truth, and to see how well they perform, we have reviewed them all!
it can be used for babies and toddlers
it is a firm mattress, with good support
it has standard crib mattress dimensions, so it fits into all regular sized cribs and toddler beds
it is hypoallergenic and waterproof
it meets or even exceeds all safety standards set by the government
it has a good breathability
it is lightweight
Mattress specifications:
Mattress size: 52″ long by 27,5″ wide
The thickness of the mattress: 5″
Mattress weight: 8 pounds
---
Is Milliard's waterproof cover enough?
The only thing that bothers us on this mattress is its cover.
On the first look, it is actually not so bad. The dotted pattern makes it cute too, but that is just not enough. Milliard claims it is machine washable, but we don't agree with that at all. If you wash it in the washing machine, the cover's inside will start shredding very soon.
Because of quick damaging, you can find lots of reviews where people claim the cover is not waterproof. Until it starts shredding, the cover is waterproof on the top and sides, but not on the bottom.
This waterproof system is actually very useful. It protects the mattress from liquids and enables air and heat ventilation on the bottom at the same time.
---
Milliard crib mattress's features review
We've reviewed the following features:

---
Firmness and support:
Foam has a density of 28D, which shouldn't allow your baby to sink in. It is designed to be firm enough to reduce the risk of SIDS (Sudden infant death syndrome), so you can feel comfortable using it with a newborn, as well as a baby or toddler of any age.
We made a simple firmness test, which you can make at home with any crib mattress you have. Press on the mattress with one hand. If the mattress holds firm and spring back in place quickly, it is firm enough.
Milliard crib and toddler bed mattress spring back in place immediately. We also put 30 pounds toddler on it, and there was no noticeable denting at all.
We concluded that it has a perfect combination of comfort and support for your baby. That is very important, not just because of the safety reasons, but because it promotes a healthier and more restful sleep for your baby.
Fitting in the crib:
This is a standard size crib mattress, so it should fit in all regular size cribs. It does not fit into mini cribs!
First, we checked its dimensions. The dimensions of crib mattresses AND cribs are determined by law. Any new standard size crib mattress should fit into any new standard size cribs! With 52″ long, and 27,5″ wide there shouldn't be any fitting problems.
To be sure, or if you have an older crib, you can make a home fitting test. We call it a two-finger test. Place your fingers between the crib's frame and the edge of the mattress. There shouldn't be more than two fingers space there!
Comfort:
Although it is a firm crib mattress (as it should be!), Milliard foam gently adjusts to the curves of your baby's body. That release stress, aches, and muscle pain.
There is only one thing you should consider. A firm mattress might be uncomfortable for your toddler. Again, a firmer sleeping surface is healthier for toddlers too, but there were few cases where toddlers didn't want to sleep on the firm surface anymore.
Bounce:
The mattress has just enough bounce. It is not too bouncy, so your toddler won't use it as a trampoline.
Compared to other mattresses of the same price range, your child will sleep much better on it, without tossing and turning.
Hypoallergenic:
Milliard's crib and toddler bed mattress is naturally hypoallergenic, antimicrobial, and resistant to allergens. That makes it an ideal mattress for children who might suffer from allergy and asthma.
The waterproof cover is non-porous, keeping unwanted allergens, bacteria, dust mites, and mold permeating the mattress.
Venting and heat regulation:
The breathability of this mattress is incredible! We were truly surprised and impressed! The mattress is designed to maximize airflow and help regulate sleep temperature. Your baby won't wake up all sweaty and uncomfortable on this mattress.
Unique technology and foam design help increase air circulation and weight distribution for a more restful sleep.
Durability:
The cover is not durable at all, especially if you wash it in the washing machine. The mattress won't lose its shape over time, which is way more important than the quality of the cover.
Cleaning:
Wipe it with a damp cloth. If you want to preserve the waterproof barrier of the cover, don't wash it in the washing machine.[/stextbox]
---
Safety Review
Milliard crib mattress and toddler bed mattress has a CertiPUR certificate, which means it is completely safe and chemical-free. It is PVC, phthalate, lead, antimony, and vinyl free. The certificate also ensures that this is a non-indoor air polluting product, as it has a low impact on indoor air due to low VOC (volatile organic compounds).
The mattress meets or even exceeds all required safety standards!
It is made from anti-flame materials, and also meets all fire safety regulations by using an inner fiberglass lining that is free of chemicals and toxins.
---
The package
Milliard crib mattress has arrived rolled up and vacuum sealed in a relatively small box, so you can't use it right away. That is common for all foam mattresses, so no biggie here.
After unrolling the mattress and placing it on the flat surface, it took approximately one day to fully decompressed. Milliard stated you need to leave it in a warm area for 48 hours, and I suggest you stick to that. One day is not a lot, to ensure the perfect quality.
We didn't notice any smell of the fresh unpacked foam, however, some parents reported that there was a smell. If the smell bothers you, we recommend placing the Milliard in a well-ventilated area for 1 to 3 days to air it out completely.
Even those who noticed the smell reported the mattress aired out in a day or two. And most important, the foam is free of toxins and harmful chemicals, so it is not dangerous at all.
---
The verdict
It is hard to find a crib mattress with such high quality for such a low price. There is no doubt, Milliard crib mattress and toddler bed mattress is a very durable and safe product. Yes, its waterproof cover could be better, but it is removable, so you can always switch it with a new one if it tears up. High-quality waterproof covers, like the SureGuard mattress protector, are not expensive at all. So even with the potential additional costs, this is still a high-quality sleeping surface, for a low price!
---