Last updated on January 23rd, 2023 at 04:23 pm
Think about a baby bassinet. What is the first thing that comes into your mind? Probably a traditional oval wicker baby bed with a canopy. However, nowadays, the bassinet's interior doesn't have to be elliptical. The shape of the bassinet mattress can be oval, hourglass, square, etc.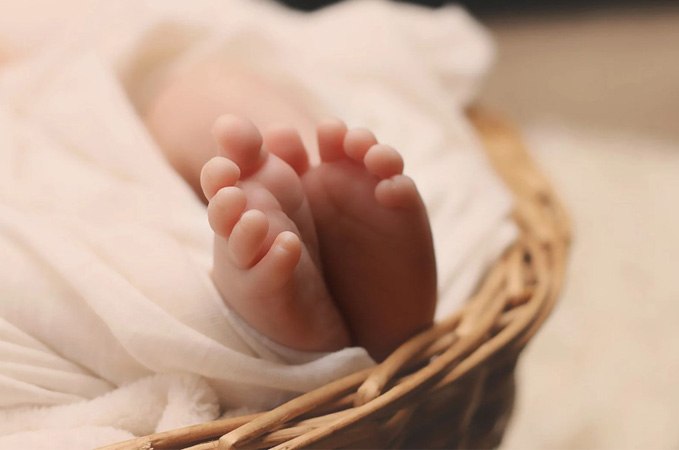 → PART 5 ←
Bassinet Mattress Guide
Different shapes of bassinet mattresses
A mattress must fit snuggly into the bassinet, regardless of its shape!
The government safety requirements do not define the size and shape of baby bassinets.
In theory, you can get a bassinet of any shape and size. Of course, in practice, this is not the case.
The most common are oval- and rectangular-shaped bassinets, which are about 30 to 33 inches long by 15 to 18 inches wide.
But you can't just pick the first oval or rectangular mattress you see because it might won't fit snugly into your bassinet.
Not only do they vary in size, there are also minor differences in individual shapes. For instance, a rectangular mattress may have square ends or round corners.
Shapes of bassinet mattresses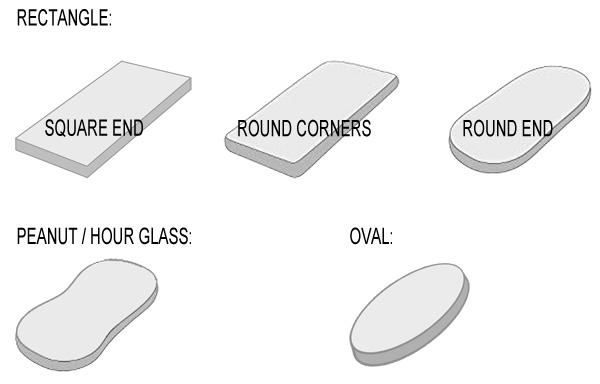 Most bassinets have one of the following shapes of sleeping area:
Rectangular mattress with square ends
Rectangular mattress with round corners
Mattress with rounded ends
Peanut- or Hourglass-shaped mattress
Oval bassinet mattress
---
Popular Baby Bassinets & their Mattresses
Bassinet mattress with round ends:
Fisher-Price Soothing Motions Baby Bassinet
The Fisher-Price Soothing Motions bassinet has a mattress pad with round ends.
The included mattress surpasses all safety tests and fits perfectly into this Fisher-Price bassinet.
I like that it is firm enough to minimize suffocation hazards but still soft enough for a comfortable sleep.
Another feature that is worth mentioning here is the mattress's cover. Don't worry that it is not waterproof, because the mattress itself is! Waterproof covers are often not breathable, have a plastic feel, or retain too much heat.
I also do not see a problem with cleaning the cover, because you can simply remove it and toss it in the washing machine.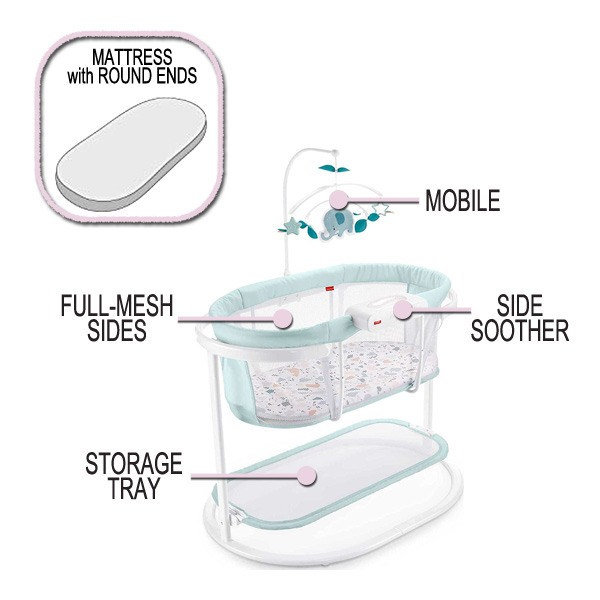 Hourglass-shaped bassinet mattress:
HALO BassiNest Swivel Sleeper
This award-winning bassinet comes with a unique hourglass-shaped mattress pad. The mattress is waterproof and meets all AAP (American Academy of Pediatrics) safety recommendations. It comes with one removable and machine-washable polyester sheet.
The included mattress is quality, safe, and perfectly fine for the baby! However, if you want additional peace of mind and comfort for your baby, pair it with the HALO DreamWeave Breathable Mesh BassiNest mattress.
They claim it makes the bassinet sleeping area extra breathable and promises even better sleep. Of course, you must purchase it separately (it costs around $70).
Rectangular mattress with round corners:
Dream On Me Traveler Portable Bassinet
This bassinet has a simple yet quality and safe rectangular mattress with round corners.
The mattress is removable and approximately 1 inch thick. It is nicely padded and soft for a comfortable sleep. Still, it is firm enough for a baby's safety and proper development.
The Dream On MeTraveler bassinet is perfect for home or on the go. It is one of the best portable baby bassinets on the market. Meaning everything, including the mattress, is designed for maximum portability.
Its mattress is easy to fold. Since it folds in half, it has a visible split in the middle. Don't worry about it; the mattress is rigorously tested to be safe and appropriate for the baby!
The whole mattress is also washable, so you won't have to worry about your baby making a mess.