Last updated on April 12th, 2023 at 11:14 am
We reviewed the Newton Baby crib mattress years ago when it was a relatively new and unknown product. Years later, more experienced, wiser, and with the help of many parents whose babies have used this crib mattress, we've updated our review for 2023. If you're ready to give your baby the gift of peaceful sleep, check out our in-depth Newton Wovenaire crib mattress review below.
Product Review:
Newton Baby crib mattress
---
If you're looking for a new crib mattress, you've probably already come across Newton Baby. They have expanded their selection to cribs and other baby gear since our first review, but the Wovenaire crib mattress remains their flagship product.
The Newton crib mattress has a unique and innovative structure designed with the baby's health, safety, and comfort in mind. Very promising! Therefore, I was looking forward to reviewing it once again. However, I have to admit; I was a bit anxious that we might have missed something during our first review.
Spoiler alert …
The second Newton crib mattress review confirmed our first results! It is still one of the best baby products on the market! And I am so happy we didn't find something to dispel my idea of a perfect crib mattress.
I am also happy for us because it proved to me we are on the right path and that the Baby's Little Place team was and continues to perform excellent work!
---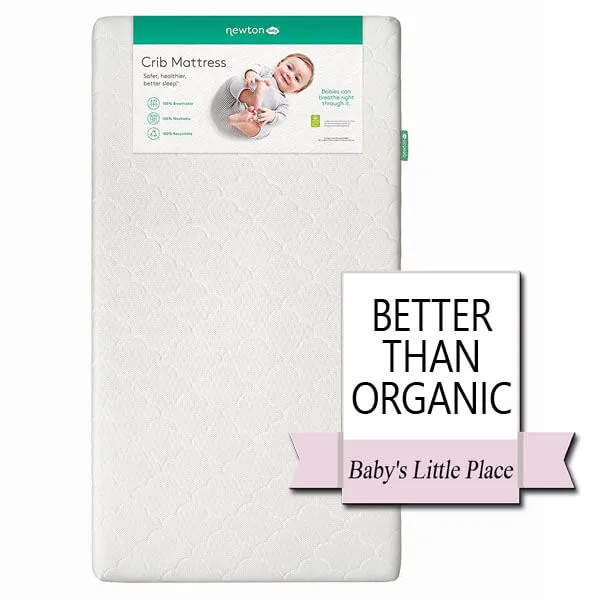 → You can also purchase it on Amazon
---
What makes the Newton baby crib mattress unique?
The Newton crib mattress is different due to the material used for its core. It is called Wovenaire and is Newton's patented cushioning material, which replaces the standard foam, latex, and springs.
Wovenaire is a blend of 100% recyclable food-grade polymer and air. And the fascinating part: the majority of the structure is air. You have read right; only 10% of the Newton crib mattress's core is food-grade polymer, while 90% is air.
Such a structure is 100% breathable, non-toxic, and entirely safe for the baby. If your baby rolls over in the middle of the night, she can breathe through the mattress. I tried it, and it works!
Its excellent breathability is one of the main reasons why we love Newton's crib mattress so much. And I think bringing them peace of mind is why so many parents love it too.
---
Newton baby crib mattress review breakdown
Before we dive into the details of this review, I want to show you your options. 
The Newton Wovenaire baby crib mattress is available in a mini and standard size. Those who are buying a mini crib mattress have only one option. But if you need a standard (full-size) crib mattress, you can choose between three slightly different models:
Essential crib mattress
Original Newton Baby crib mattress
Waterproof crib mattress
The Essential mattress is a bit tinner from the other two, while from a material point of view, they differ only in the cover's structure.
Crib mattress covers are important for evaluating the mattress's waterproofing, breathability, and ease of cleaning. Therefore, you can find more about them in the sections where we reviewed these features.
Standard-size crib mattress specifications:
Mattress size: 52″ long by 28″ wide
The thickness of the mattress: 5,5″ (*4″ only Essential)
Mattress weight: 14 pounds (*11 lbs Essential)
Mini crib mattress specifications:

Mini Dimensions: 38″ long by 24″ wide
Mini Thickness: 5,5″
Mini Weight: 9 lbs
Breathability:
Newton Baby devoted much time to developing a fully breathable crib mattress. And we think they've succeeded! 
We tested the mattress by pressing the nose and mouth to its surface and tried breathing through it, and it worked! Newton Baby has really achieved the maximum breathability a crib mattress can have!
Because Newtons Wovenaire's core is made almost entirely of air, we already know its breathability is flawless. Thus we've paid attention and thoughtfully tested its three covers. They all performed great!
All of them are made of breath-trough material. And as for the one with a waterproof barrier, it is not unbreathable. Furthermore, we've discovered that the barrier is added only to the toddler side. As toddlers can move their heads away from the mattress, suffocation is no longer an issue, even if their sleeping surface is not breathable.
But better be safe than sorry, so be careful to place the waterproof mattress with the right side up for a baby!
If breathability is your primary concern when choosing a baby crib mattress, the Newton Wovenaire is an excellent choice!
Heat regulation:
We got excellent results after the heat regulation test!
The Newton baby crib mattress has the best heat regulation we have ever seen, thanks to the same elements that enable its excellent breathability (airy structure and the absence of foam, latex, and adhesives that can trap heat).
Sufficient air circulation through the mattress allows body heat to dissipate. That keeps your baby from overheating and eliminates sweating, leading to better sleep.
Firmness and Support:
You can make a simple firmness test at home. Everything you need is your hand. Press on the mattress with one hand. If the mattress is firm enough, it will spring back in place quickly.
However, if your palm print remains on the mattress, the mattress is not firm enough for the baby. In fact, it is dangerous because the baby's face can sink into the surface, making them difficult to breathe.
I pressed hard on the Newton Wovenaire crib mattress, and when I pulled my hand away, there was no palm print on it. It immediately returned to its original shape, meaning the Newton crib mattress has the right firmness for the baby.
Of course, it is not hard as a rock. That would be uncomfortable.
This excellent combination of support and comfort is another feature we like on the Newton crib mattress. It provides a supportive sleep surface for infants without being too hard for toddlers.
Fitting in the crib:
We've measured the Newton crib mattress, and our results perfectly correspond to the required measurements (read the explanation above the star rating in this section). 
If you have a new full-size crib (or one made after 2008), fitting into it shouldn't be a problem!
But if you have an old crib, check the crib's measurements and compare it with Newton's dimensions, which are 52″ long by 28″ wide.
What about the mini crib mattress? The Newton mini crib mattress has the following measurements 38″ X 24″ X 5.5″, so it does fit into most mini cribs (read the explanation above).
We have also made a so-called "two-finger" fitting test:
You can make it when your mattress arrives. Place your fingers between the crib's frame and the mattress's edge. There shouldn't be a gap bigger than two fingers!
We tested the Newton baby crib mattress in the Babyletto Hudson 3-in-1 convertible crib and Graco Benton 4-in-1 convertible crib. The mattress fits perfectly into both of them.
Waterproofing:
If you're looking for a waterproof crib mattress, the Newton Wovenaire may not be your best choice. Well, one of the options, a Newton Waterproof crib mattress, has a waterproof barrier, but it is added only to the toddler side of the cover.
However, not being waterproof is not as bad as it might sound. Waterproof covers reduce breathability, which increases the baby's chance of overheating. It is also less safe if the baby rolls on the face.
So, for a baby, I wouldn't miss waterproofing. After all, the Newton is 100% washable, so if your baby has a diaper leak or vomits, you can easily wash the whole thing.
But if your baby often spills or vomits, of course, you won't wash the entire mattress every day. In this case, think about Newton's waterproof crib mattress pad. It is a high-quality mattress protector that keeps sufficient breathability while adding waterproofing protection for a quick cleanup.
Is Newton's crib and toddler bed mattress hypoallergenic?
The Newton Baby uses only materials that are naturally resistant to allergens. The mattress doesn't contain polyurethane foam, latex, adhesives, metal springs, glue, or allergens. So yes, the Newton Wovenaire baby crib mattress is non-toxic and hypoallergenic!
Breathe-thru technology also keeps humidity and moisture away, which prevents the buildup of dust mites, mold, and other allergens.
Cleaning:
I admit, I was a little skeptical about the whole 100% washable thing. I was unsure if washing the entire mattress at home is possible, but to my surprise, it is!
The Newton Wovenaire crib mattress was the first entirely washable crib mattress on the market. And also stays the only one that is 100% washable!
Washing the cover was an easy job. You can do it by hand or throw it in the washing machine. We decided on the washing machine, which is quicker and more efficient.
Washing and drying the mattress' core took a little more time. You must place it in a tub or shower and clean spots with cold or cool water.
But we had soaked the entire core with water, curious how long it would take to dry. It took only two hours and a half. We were impressed!
Yes, the humidity was low, and the air circulation was excellent, speeding up the process, but Newton claims it shouldn't dry more than 6 hours anyway.
You can read more about the cleaning here: How To Clean The Newton Crib Mattress? | Care & Use
Durability
The Newton Wovenaire baby crib mattress is built to last. With some care and caution, it can be used for multiple children or passed down to other families.
It can be considered reusable. After all, it is completely washable, so you can always use it fresh as new. You can see through the entire core, which is important because you can see what's happening inside. This, together with excellent breathability, prevents the formation of mold or dust in the mattress's core and thus extends its durability.
To assess the mattress's longevity, we contacted parents who purchased it several years ago. Their feedback confirmed our expectations, as their children used the mattress throughout infancy and toddlerhood without issue. Those who have several children have also used it with younger siblings.
The Wovenaire material resists sagging and compression over time, meaning the mattress maintains its shape and firmness longer than many other crib mattresses on the market.
Safety:
We've recognized the Newton Wovenaire baby crib mattress as one of the safest and healthiest options available.
The mattress is rigorously tested to meet and exceeds all CPCS (Consumer Product Safety Commission) standards. It is firm, supportive, and fits snugly inside the crib frame without any gaps or spaces that could pose an entrapment or suffocation hazard.
It has a breathable, organic cotton cover and a Wovenaire core. Both are non-toxic, free from harmful chemicals, and Greenguard Gold certified, ensuring the mattress meets rigorous standards for low chemical emissions. The Newton crib mattress also doesn't contain polyurethane foam, latex, adhesives, metal springs, glue, or allergens.
We especially like its excellent breathability and ventilation, which reduce the risk of overheating and suffocation.
We rate the Newton Wovenaire baby crib mattress as 5 out of 5 stars for safety based on our evaluation. The use of non-toxic materials, excellent breathability, snug fit, and firmness make this mattress an exceptional choice for parents who prioritize safety and health.
---
Frequently asked questions about Newton's mattress
1. Can I use a sheet on the Newton crib mattress?
Yes, you can use a sheet on the Newton crib mattress. However, choose crib sheets made of breathable materials such as cotton.
2. Is Newton Wovenaire crib mattress dual-sided?
No, it doesn't have two sides with different firmness as dual-sided crib mattresses. However, its single firmness level is appropriate for babies and toddlers, so your child can use it as long as any dual-sided crib mattresses.
3. May I use an additional waterproof mattress protector?
We do not recommend using an additional waterproof mattress pad for newborns and young babies because it reduces breathability. That, in turn, increases the risk of suffocation.
For older babies and toddlers, you can use it without hesitation.
4. Is Newton's crib mattress a good choice for a convertible crib?
Yes, it is! The mattress fits perfectly into all standard-size cribs. That includes convertible cribs, convertible cribs with a changing table, and even full-size folding cribs.
Newton's mini crib mattress also fits into most mini convertible and mini portable cribs.
5. How often should I wash the Newton Wovenaire crib mattress?
You can wash your Newton crib mattress as often as needed. Just make sure you follow the care instructions.
6. Do I need to wash my Newton Wovenaire before the first use?
No, that is not necessary.
7. Does the Newton Wovenaire baby crib mattress have a warranty?
Yes, the Newton Wovenaire baby crib mattress has a limited lifetime warranty, which applies only to the original purchaser, so keep the proof of your purchase.
If your mattress has any defects in materials and workmanship, Newton Baby will repair or replace it free of charge.
However, remember that the warranty does not cover normal wear and tear or damage caused by misuse, accidents, or improper cleaning. So, the same as for any other crib mattress on the market!
If you have a problem, contact Newton Baby's customer service team to make a warranty claim. They will then guide you through the process.
8. Does Newton Baby crib mattress really reduce the risk of SIDS?
SIDS is a diagnosis of exclusion used if we don't know how to classify an infant's death in the crib. So, it is important to note that no crib mattress or other baby product can completely prevent Sudden Infant Death Syndrome (SIDS)! After all, we don't know what has caused SIDS!
However, baby products, like highly breathable crib mattresses, can reduce the risk for conditions believed to cause SIDS. In the Newton crib mattress case, its 100% breathability reduces the risk of suffocation if a baby accidentally rolls onto their stomach while sleeping.
It is important to distinguish whether the baby dies from suffocation or the baby's death is declared SIDS, i.e., where the exact cause of death in the cradle cannot be determined.
Meaning the Newton crib mattress won't prevent SIDS, but it will reduce the risk of suffocation, which can be one of the reasons for SIDS.
RELATED: Can the Newton breathable crib mattress really prevent SIDS?
---