Last updated on January 23rd, 2023 at 12:04 pm
We've written the Delta Children Tribeca 4-in-1 convertible crib review based on our comprehensive research and actual experiences of parents who already have the Tribeca baby crib.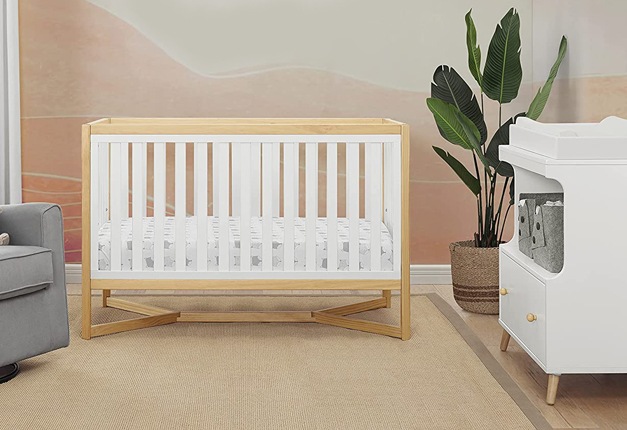 Delta Children Tribeca 4-in-1 convertible crib
Modern design, with sturdy and safe construction, great functionality, high versatility, and reasonable price, is the combination that makes the Tribeca one of the best convertible cribs on the market.
PRODUCT HIGHLIGHTS:
Stylish, contemporary design, available also in a trendy two-tone finish
Highly functional baby crib that adapts to your growing child
Unique x-shaped feet for an extra sturdiness
Baby's Little Place Reviews
Delta Children has been on the market for over 50 years. They are well-known for making high-quality, safe, sustainable, and stylish products at affordable prices.
So, if you like unique and trendy baby cribs that catch everyone's attention but the budget limits you, the Delta Children Tribeca 4-in-1 convertible crib is worth your consideration.
The crib's price might be slightly higher than you expected, but still reasonable, especially if you consider the excellent Tribeca features.
Now let's take a look into our Delta Children Tribeca 4-in-1 convertible crib review's breakdown, with all information about this trendy baby crib.
Delta Children Tribeca 4-in-1 convertible crib review
PROS:
grows with the child
stable and sturdy
very stylish
unique x-shaped base
trendy two-tone finish
high quality
exceeds all required federal safety standards
3-level mattress support
takes any standard crib mattress
easy assembly
CONS:
its price falls on the upper end of Delta Children cribs
Design and Specifications
The crib's design is undoubtedly a winning feature for this convertible crib! The Delta Children Tribeca boasts a sleek frame with orthogonal but soft-edged lines. 
I like its open silhouette with carefully placed slats. It is beautiful, light, and airy, so it can stand in the middle of the nursery or next to the wall.
However, the x-shaped feet are the feature that makes the Tribeca unique and different from most convertible cribs. Such a construction also contributes to better stability, which is excellent. But you will have to give up under crib storage because it prevents sliding storage boxes under the crib. 
*Those with space issues might think about a convertible crib with an under crib drawer.
The Delta Children Tribeca 4-in-1 convertible crib has a solid and stable wood construction. It is made of sustainable New Zealand pine wood, which is inexpensive and sturdy. That is a rare combination, so it is construction material for most cribs on the market. 
Softwood cribs can get easily dinged or scratched, so I was pleasantly surprised that this didn't happen on this crib! 
Delta Children Tribeca crib's specifications: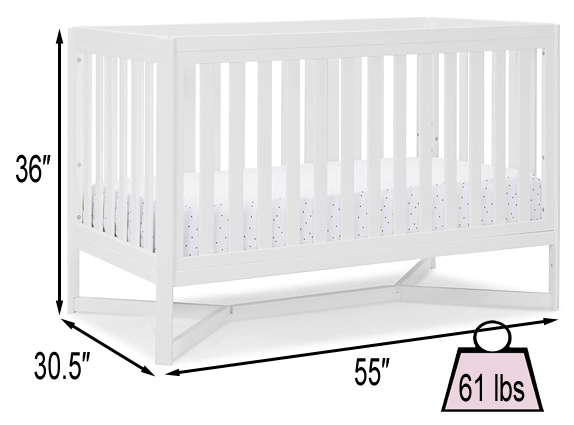 MANUFACTURER: Delta Children
MODEL: Tribeca
TYPE: full-size convertible crib
STYLE: trendy, modern
MATERIAL: New Zealand pine wood
COLOR: Bianca White, Grey, Midnight Grey, and two-toned finish Bianca White/Natural & White/Grey
ASSEMBLED DIMENSIONS: 55.00″ L x 30.50″ W x 36.00″ H
ASSEMBLED WEIGHT: 61.00 lbs
Is Delta Children Tribeca 4-in-1 convertible crib suitable for short moms?
I wouldn't classify it amongst low-profile cribs. Those cribs have a specially designed frame, allowing them to be up to four inches shorter than the Tribeca.
However, most low-profile cribs are only an inch or two shorter than the Tribeca, so consider whether this is enough to give up this crib because of it.
If you are very short, a model like Oxford Baby Harper 4-in-1 convertible crib might be a better choice. Its front rail is only 32 inches high. Yet, you have to consider that Harper's design is entirely different from the Tribeca crib, so you may not like it.
Delta Children Tribeca convertibility Review
We are talking about a 4-in-1 convertible crib, meaning it can transit into three different beds. In the Delta Children Tribeca case, these are a toddler bed, a daybed, and a full-size adult bed.
Because it grows with your child to adolescence and beyond, it can be the only bed he will ever need. However, most of Tribeca's conversions incur additional costs. That is a bit disappointing but common to all convertible cribs. It is also clearly stated in the crib's description, therefore, it did not lower the review's ratings.
We also didn't have any problems with the conversions. The Tribeca stayed sturdy and didn't wobble, which is very important!
Delta Children Tribeca crib's convertibility: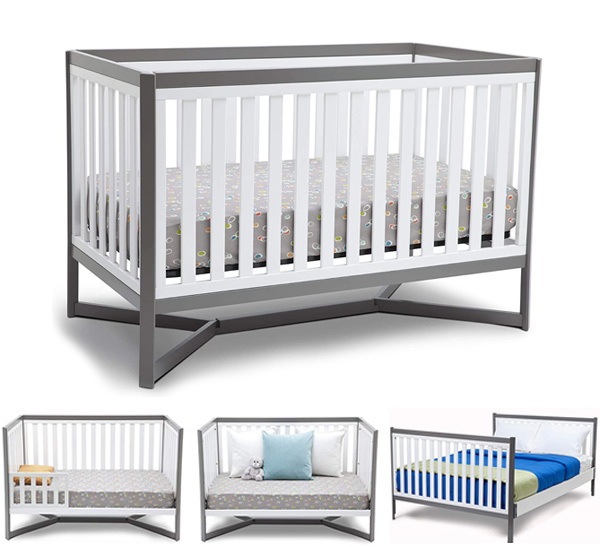 NUMBER OF CONVERSIONS: 4
CONVERSION TYPES: crib, toddler bed, daybed, full-size adult bed
TOODLER BED SAFETY RAIL: Delta Children toddler bed guardrail, not included (find the link below)
Safety Review
Delta Children is one of the most trusted brands in baby's and children's furniture for a reason.
Their Tribeca crib is a sturdy crib that meets and exceeds all CPSC and ASTM safety standards. It is lead-free, phthalate safe, and finished in a multistep non-toxic painting process.
Its hardware and wood felt high quality and fit together really well.
Delta Children Tribeca's safety specifications:
MEETS: all applicable ASTM, JPMA and CPSC standards
CERTIFICATIONS: JPMA, GreenGuard® GOLD Certification
NON-TOXIC FINISHES: yes
LEAD AND PHTHALATE FREE: yes
CONSTRUCTION: strong and sturdy wood construction
DROPPING SIDES: no
Delta Children Tribeca 4-in-1 convertible crib mattress information
The Delta Children's Tribeca is a full-size crib, taking any standard-size crib mattress. You shouldn't have problems finding one, as the government regulates their measurements.
RELATED: Baby crib mattress guide
To be sure, you can check the dimensions of your selected crib mattress. A crib mattress for the Delta Children Tribeca 4-in-1 convertible crib must be at least 51 5/8 inches in length, 27 inches in width, and 4 to 6 inches in thickness.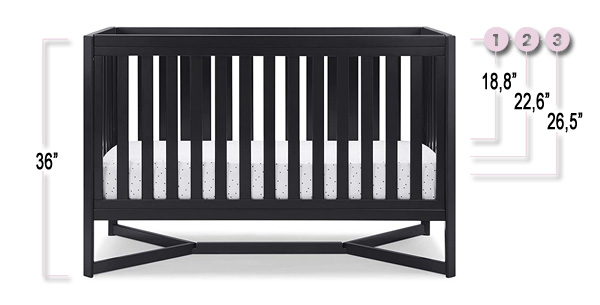 I find the crib's mattress support strong and reliable. It is a metal spring support, adjustable to three heights. Use the highest level for easy access to your newborn, and lover it down along with your baby's growth. Measured from the top of the mattress support to the top of the rail, you can set it to 18,8″, 22,6″, and 26,5″.
Delta Children Tribeca crib mattress information:
MATTRESS SUPPORT: metal
ADJUSTABLE MATTRESS HEIGHT: three-position mattress height adjustment
---
Delta Children Tribeca 4-in-1 convertible crib
Frequently asked questions
---
---