Last updated on January 23rd, 2023 at 10:55 am
We've found the best baby cribs with storage drawers for every budget.
Under-crib drawer or drawers on the attached changer?
Which one is your favorite type? We've been digging into different cribs with drawers and found the best ones in both categories.
No matter if you have a small or a large nursery, eventually, you are short of space. When having a baby, any additional storage space comes in handy to you. So, why would you not pick a crib that uses otherwise unutilized space under the mattress area or choose the one with an attached changer?
Types of cribs with storage capacities: 
Convertible crib with drawer underneath
Convertible crib with drawers on the attached changing table
Sneak peek at the best baby cribs with storage drawers:
Best under-crib drawer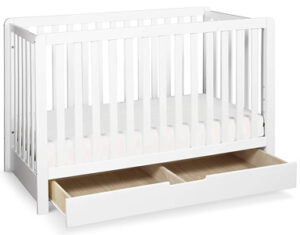 Best changer with drawers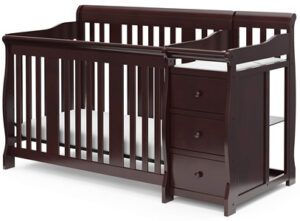 Best combination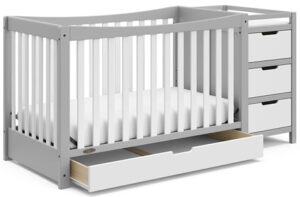 You can find more top-rated baby cribs with drawers in each category here:
---
Types Of Cribs With Storage Drawers
Both types of baby cribs with drawers are convertible, so what that mean?
These cribs grow with your baby. When your baby outgrows the crib, you can convert them into one or more beds. The possible conversions are a toddler bed, daybed, twin-size bed, and a full-size adult bed.
Such a crib can be the only bed your child will ever need. However, when buying a convertible baby crib, you have to pay attention to two things.
First, the number in their name (3-in-1, 4-in-1, etc.) tells you only into how many beds it can convert. For instance, all 3-in-1 convertible cribs transit into two beds. But while some convert into a toddler bed and daybed, others might skip the toddler bed, and transforms into a daybed and full-size bed, etc.
Second, normally, you have to purchase parts for the conversions. But some brands, such as Babyletto, include a toddler bed safety guardrail.
Convertible cribs with drawers underneath the crib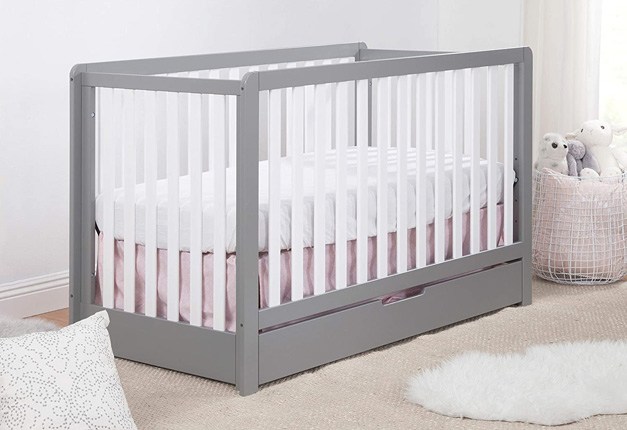 Having a large under crib drawer gives an excellent additional value to this type of crib. These cribs use otherwise unutilized space under the mattress are. That gives you perfect storage space for all baby's bedding and other baby's essentials.
Not only that, but the drawer also prevents dust accumulation under the crib. I found it very helpful, as I didn't have to vacuum under the crib or crawl for the toys later.
There is usually one large drawer under the crib, which is further divided into two equal parts. Some cribs, such as Karla DuBois Baby Oslo convertible crib, have two separate drawers, but we didn't find any advantages over those with only one drawer.
You can find our favorite convertible cribs with an under-crib drawer HERE.
---
Combo or multifunctional cribs with storage drawers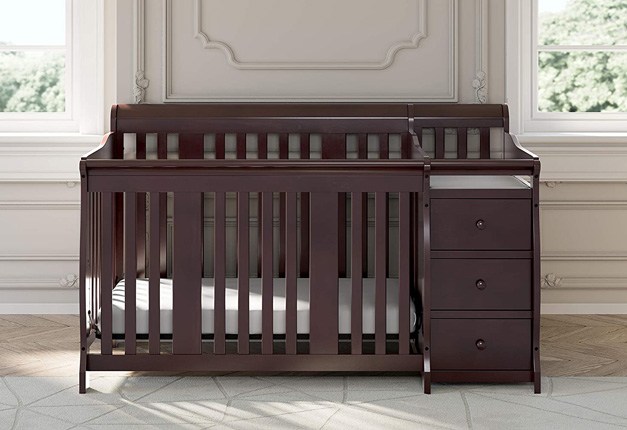 Combo cribs are convertible cribs with an attached changing table.
A changing table on the combo crib is smaller than a stand-alone changing station, but it serves its purpose.
Changers are different from model to model. Some have shelves, others drawers, or a combination of both.
A changing table on a combo crib can contain up to three drawers under the changing pad. The drawers' volume also varies from model to model. Some are long, taking the entire length of a changing table. Others are shorter with an additional shelf on the back. What I am trying to say is that you have a very diverse choice.
Find the whole list of the Best combo cribs with changer here.
Combo cribs with drawers underneath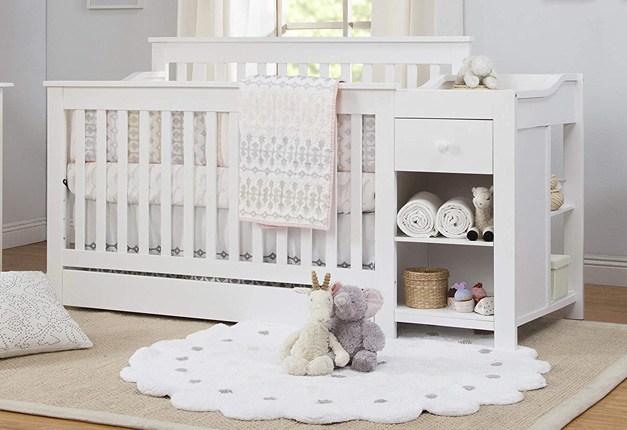 You won't find a crib with more drawers than there are on that model. These cribs have a changing table and a large drawer under the whole mattress.
Combo cribs with under-crib drawers are rare. However, we found the best ones for you. You can find them in our article: The best combo cribs with under crib storage drawer.
---
What about mini cribs with storage drawers?
Both types of cribs are available in mini size. However, while you can choose from quite a few mini combo cribs, you won't find a quality mini crib with an under-crib drawer easily.
Some claim that the space under the mini crib mattress is just too small for a drawer. I do not agree. I think it makes sense to use the space under the mini crib. After all, those who decide on a mini crib usually already facing space issues.
DaVinci seems to agree. I am happy to say that they sent a mini convertible crib with an under-crib drawer to the market. It is a smaller version of a full-size DaVinci Colby crib, and it is perfect.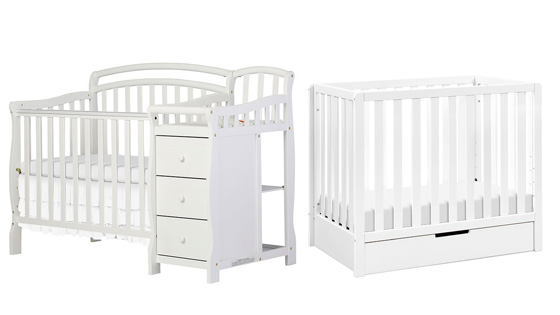 Of course, all of the above applies only to the mini convertible cribs. But parents who buy a mini crib usually decide on a portable mini crib. Therefore the offer of stationary mini cribs is already lots smaller. So, seen from this point of view, the lack of those with additional under-crib drawer is, in a way, logical.
---
Bottom Line
If you are looking for a crib with drawers, you have quite a wide choice. Choose what you need wisely.
Having enough space, I would go with a convertible crib with an under-crib drawer. A handy drawer is surely better than boxes or empty space under the crib. I would also add a matching dresser with lots of storage space and a changing unit on the top.
But for those who have space issues, I recommend a combo crib instead of a crib and dresser. And if this one is also too big, consider one of the mini cribs with drawers.