Last updated on January 23rd, 2023 at 12:25 pm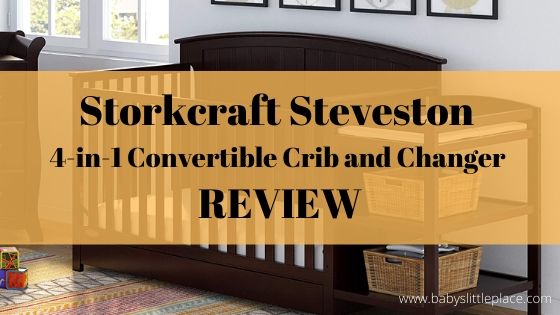 Storkcraft Steveston 4-in-1 convertible crib and changer with drawer
Storkcraft Steveston is perfect for modern parents who love a touch of tradition. It has an arched headboard with a strong classical look. But still, a crib is modern, with a space-saving design and the ability to convert into multiple bigger beds.
Storkcraft Steveston is a 4-in-1 combo crib, where the number 4-in-1 tells you into how many beds it can convert, and the 'combo' suggests it has an attached changing table.
But Storkcraf Steveston offers even more! The crib has a large drawer underneath the whole mattress's area. That makes it unique and classifies the Steveston into the group of cribs with the most available storage space you can get.
I hope our review will help you decide if Storkcraft Steveston convertible crib with changer is the right crib for your family needs. We've reviewed all the important features of the crib, from safety to its under-crib drawer, convertibility, and changing table.
---
Quick review of Storkcraft Steveston combo crib: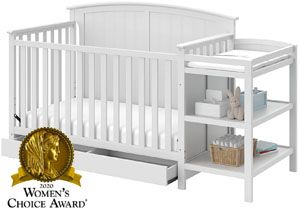 PROS:
it grows with your child
large under-crib drawer
adjustable mattress support
additional storage on the changer
the changing pad is included in the price
changer converts into a nightstand
it has a JPMA certification
meets and exceeds all safety standard
affordable price for a combo crib
CONS:
changing table posses only shelves
Specifications:
Assembled dimensions: 72,3″ L x 28,9″ D x 42,2″ H
Assembled weight: 85,67 lbs
Color: Espresso, Gray & White
The provided height on all Storkcraft Steveston crib's specifications is the highest point of the arch. The front rail of the crib is about 34″ in height, which makes it perfect for short moms as well.
---
Storkcraft is a well-established juvenile furniture brand, which focuses on designing functional baby furniture that grows with your child. It is also an official manufacturer of Graco's convertible cribs. Their partnership is one of the best on the market. Together they provide families with affordable, safe, innovative, and quality baby furniture.
The reason I am telling you this is because I want to point out another convertible crib with a changer. That's Graco Solano 4-in-1 convertible crib and changer, which is almost identical to Storkcraft's Steveston crib. After all, both cribs are made by the same manufacturer, by the Storkcraft.
Storkcraft Steveston vs. Graco Solano 4-in-1 convertible crib with changer
The biggest difference between those two combo cribs is the design of their headboards. While the Storkcraft Steveston possesses a solid wood back panel, it is the headboard from Graco Solano designed with slats.
Comparison table: Storkcraft Steveston vs. Graco Solano
| | | |
| --- | --- | --- |
| | Storkcraft Steveston | Graco Solano |
| Convertible | 4-in-1 | 4-in-1 |
| Changing table | 2 shelves | 2 shelves |
| Included changing pad | YES | YES |
| Under-crib drawer | under the whole mattress's are & divided into two equal parts | under the whole mattress's are & divided into two equal parts |
| Headboard | features a solid wood back panel | open, slated design |
| Assembled Dimensions (Inches) | 72.3 x 28.9 x 42.1 | 72.1 x 29.5 x 41.7 |
| Weight (lb) | 85.76 | 73.63 |
| Current Price | Price on Amazon | Price on Amazon |
---
Storkcraft Steveston 4-in-1 Convertible Crib and Changer Review
Convertibility
Storkcraft Steveston is a 4-in-1 convertible crib, which means it can convert into three bigger beds:
a toddler bed
daybed
full-size adult bed
Toddler bed:
Storkcraft recommends the conversion into a toddler bed when your child suppresses the height of 35 inches. Of course, you can use Steveston as a crib longer, but make sure you set the mattress into a lower level.
Anyway, your child can use the Steveston toddler bed with or without a safety guardrail. If you don't feel comfortable using it without a guardrail, you will have to buy it separately. That's the same for all cribs of this type, so it can't be considered a drawback.
The reason why the Storkcraft Steveston crib got "only" 4.5 stars for convertibility, is that its guardrail is not always in stock. So I recommend you don't delay the purchase until the last moment, but buy it at the same time as a crib.
Daybed:
You don't have to buy any additional parts for this conversion. Like any other convertible crib on the market, Storkcraft Steveston converts into a daybed by removing the crib's front rail or toddler bed's guardrail (depends on what bed your child is sleeping at the time) and setting the crib mattress into the lowest position.

Adult bed:
Storkcraft Steveston can be the only bed your child will ever need. With the last conversion into a full-bed, it can also be used in adulthood.
Some full-size beds from convertible cribs look a little strange, but not this one. Storkcraft Steveston converts into a beautiful full-bed with arched headboard and footboard.
But you need a few additional parts for the last conversion. Like on any other convertible crib with such an option, you need a Storkcraft's full-size conversion kit and a fitted mattress!
A great thing about this conversion is the detachable changing table, which transits into a handy stand-alone nightstand beside the bed.
Changing table review
A changing table is attached to the right side of the crib. You can't adjust it to the left! It possesses two open shelves, which are spacious enough and enable having diapers and other baby essentials on easy hand reach.
However, some parents prefer changing tables with drawers. If you are one of them, I suggest you look into Graco Remi, Athena Daphne, or DaVinci Piedmont convertible cribs with changers and under-crib drawers.
Steveston's changer is smaller than stand-alone changing tables but big enough to use until your baby reaches 30 pounds. That's the fact for all combo cribs, so you shouldn't take it as a disadvantage!
Finding a fitted changing pad for a combo crib is sometimes impossible. So, having the included one is a great benefit for Steveston. You get a water-resistant, 1-inch thick changing pad with a safety strap beside the crib!
To some parents that's too thin, others seem fine with it. I don't see a problem here, as you will only change the nappy there, and your baby won't sleep on the pad!
If you want a thicker pad, you will have to find such with measurements around 27,5″ x 17″, or make it by yourself.
Under-crib storage
Comparing to other combo cribs with under crib storage is Steveston's drawer spacious enough. I like that it is divided into two equal parts, allowing better transparency over stored baby items.
But I don't like that there is no wooden barrier that will separate the mattress support from the drawer underneath. When the mattress is sat on the higher positions, you can see into the drawer. Also, dust can accumulate faster in the drawer.
Almost all cribs with under-crib storage drawers are constructed in such a way, but I appeal to the manufacturers, start adding the plywood under the lowest mattress position.
Safety review
Storkcraft Steveston 4-in-1 convertible crib and changer is stringently tested to meets or exceeds all applicable ASTM (American Society for Testing and Materials) and CPSC (Consumer Product Safety Commission) safety standards.
It is a sturdy crib, which doesn't wobble after conversions. Storkcraft Steveston doesn't have drop-sides, which are banned since 2011. Its slats are 2-inch apart, which is less than the prescribed maximum. The crib is lead and phthalate safe and finished with non-toxic paint.
Storkcraft Steveston convertible crib is also JMPA (Juvenile Products Manufacturers Association) certified, which ensures it doesn't contain toxic chemicals or toxic paint.
---
Crib mattress information
Storkcraft Steveston is a full-size crib. The inner dimensions of full-size cribs are, as well as standard size crib mattress dimensions, regulated by the government.
These regulations allow any new standard size crib mattress to fit into any full-size crib on the market.
U.S. regulations define:
a standard size crib is a baby crib with the following measurements: 52 3⁄8 ± 5⁄8 inches in length by 28 ± 5⁄8 inches in width
a standard crib mattress is a baby crib mattress with the following measurements: at least 27 1/4 inches by 51 5/8 inches and no more than 6 inches thick
You have several options, from unique high budgets crib mattresses, like the Newton Wovenaire crib mattress, to more cost-efficient Milliard baby crib mattresses, etc. You can also opt for a very affordable Graco baby crib mattress, which is completely safe and fits into the crib too.
Storkcraf Steveston possesses three-level mattress support. You can start with the highest level for a newborn, and gradually lower it down with your growing baby.
---
The verdict
Comparing its price-quality-functionality ratio, it is Storkcraft Steveston convertible crib with changer surely one of the best of its kind.
You will get a crib that will grow with your child and ample storage space for baby belongings. The crib has a space-saving design, which is ideal for the modern living space.
Regarding the results of our Storkcraft Steveston convertible crib and changer review, I don't see the reason why you wouldn't opt for it right now.
As far as our research, we've found the best price for Storkcraft Steveston convertible crib and changer on Amazon.
---