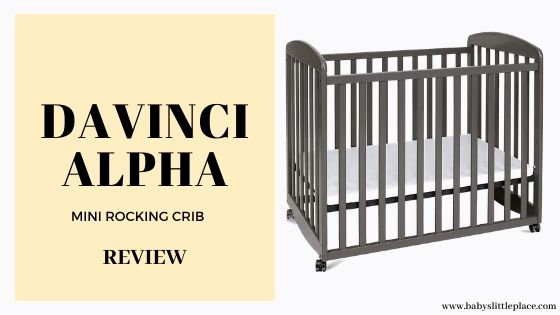 Is DaVinci Alpha Mini Rocking Crib a Portable crib?
DaVinci Alpha mini rocking crib stands on wheels, so yes, it's classified as a portable crib. However, Alpha is not a classic portable mini crib. First of all, it doesn't fold down. And second, it has a rocking feature, which gently rocks your baby into sleep.
I like reviewing unique models such as the DaVinci Alpha mini rocking crib. They contribute to a broader assortment of different baby cribs and also satisfy the specific requests of young parents. Unique features tend to make parenting easier, and in this case, makes it a little less tiring as well. If the crib promises to make my baby fall asleep more peaceful and faster, it certainly has my attention!
Anyway, although it sounds great, this is, of course, not my only requirement. First and foremost, the baby crib must be safe, with other characteristics that suit my needs. In DaVinci Alpha mini rocking crib review, we've covered all the critical factors you need to consider before purchasing a baby crib. I hope our review will help you with your decision!
DaVinci Alpha crib's pros and cons: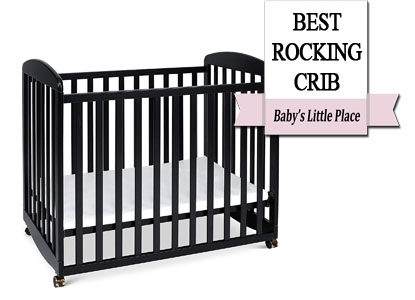 PROS:
space saving size
portable
wheels with locking mechanism
unique rocking feature
included mattress pad
adjustable mattress support
meets and exceeds all safety standards
better bassinet alternative
wide color selection
affordable price
CONS:
it doesn't fold down as majority portable mini cribs
---
DaVinci Alpha Mini Rocking Crib Review
Alpha Mini rocking crib is made by DaVinci, which is a well-known and trustworthy brand. They offer a large assortment of quality mini and full-size cribs, bassinets, combo cribs, and cribs with under-crib drawers.
DaVinci's cribs are consistently recognized as the best cribs of their type. For instance, DaVinci Kalani is one of the best convertible cribs, vintage-inspired Jenny Lind Crib is one of the best full-size cribs on wheels, etc.
So it is not surprising that DaVinci Alpha mini rocking crib also ranks on many 'best of' lists, such as the best mini portable cribs, best rocking cribs, etc.
Rocking feature review:
The rocking feature is the one that makes DaVinci Alpha mini crib unique. Most babies fall asleep much faster when rocking in our hands. And many times, the problem arises when we have to lay down our sleeping baby in the crib. Of course, without waking her up!
DaVinci Alpha gently rocks baby to bed right in the crib, which is a huge benefit! But you should know that this is not a magical product, which will immediately lull every baby into sleep. There is no such product! But it can help, and it can help a lot!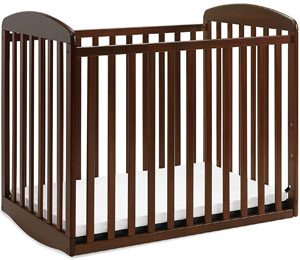 The DaVinci Alpha only rocks when the wheels are off! That is a bit disappointing because many parents would prefer both features, portability and rocking one, without the need to install or remove the casters. But, the crib is lightweight and small enough for one person to pick it up and carry it into another room, even when the wheels are not installed.
The crib rocks nicely from side to side, just like some bassinets. As it is so space-efficient, many parents use it as a co-sleeper. If the baby starts fussing in the middle of the night, you can gently rock the crib to get her back to sleep without even opening your eyes.
If you want the crib not to rock, it also has a locking mechanism that keeps crib in place.
Portability review:
With the wheels on, the crib transforms into a handy portable mini crib. As I already said, with wheels on, the DaVinci Alpha gets portability but loses a rocking feature.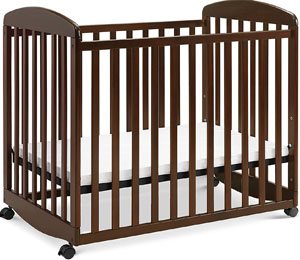 Wheels are a great benefit, either to move the crib around your home or just clean the hard reach areas under it. It's also essential that DaVinci Alpha poses a minimalist design, so it fits through standard doorways without a problem.
The DaVinci Alpha mini rocking crib is not a classic portable mini crib that also folds down, but parents who decide on this crib don't miss it, as they choose it because of its rocking feature.
Quality portable cribs have locks on wheels, and DaVinci Alpha is not an exception. It poses a reliable locking mechanism, which keeps the crib on the place.
Safety
DaVinci is aware that baby safety comes first! The Alpha mini rocking crib meets and even exceeds all required safety standards.
The crib exceeds ASTM (American Society for Testing and Materials) international and U.S. CPCS (Consumer Product Safety Commission) safety standards.
It has a sturdy structure and strong slats. The crib is without dropping sides, which are because of safety issues baned since 2011. Wheels have a reliable locking mechanism, and rocking stops keep the crib stationary.
DaVinci Alpha mini rocking crib is also lead and phthalate safe and finished in a non-toxic multi-step painting process. It has a GREENGUARD Gold certificate, which ensures that the crib meets some of the world's most rigorous and comprehensive standards for low emissions of volatile organic compounds (VOCs) into indoor air.
---
DaVinci Alpha Mini Rocking Crib Mattress
DaVinci Alpha has adjustable mattress support. You can set the mattress into three different heights, which is excellent for a mini crib.
You get an included 1″ mattress pad beside the crib. It is better than nothing, but in my opinion, it's too thin to be a good choice for everyday sleep. Even, DaVinci aggress, as they recommend DaVinci's Deluxe mini crib mattress for the Alpha crib.
DaVinci Deluxe Coil Firm Support Mini Crib Mattress
DaVinci Deluxe is an innerspring crib mattress, which is designed with 50 coils and polyester fiberfill for an extra firm sleeping surface. It is a lightweight mini crib mattress, which fits snuggly into the DaVinci Alpha mini rocking crib.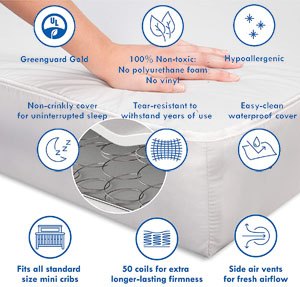 DaVinci Deluxe mini crib mattress features a waterproof and very durable tear-resistant cover. The cover is easy to clean, and a great mattress's core protector. The cover also doesn't leave crinkly noises when a baby moves. As such noises, wake up the baby, is this an important feature, you shouldn't forget about when purchasing a crib mattress.
DaVinci Deluxe mini crib mattress meets all required safety standards and is the same as the Alpha rocking crib, GREENGUARD Gold certified. It's a non-toxic and hypoallergenic mini crib mattress. Of course, it's also free of polyurethane foam, vinyl, and chemical flame retardants.
---
DaVinci Alpha Mini Rocking Crib's Specifications
Assembled dimensions: 38,5″ L x 26,25″ W x 35,0″ H
front-rail measurement (top to floor): 31,25″
interior crib measurements: 37,25″ L x 23,75″ W
Assembled weight: 26 lbs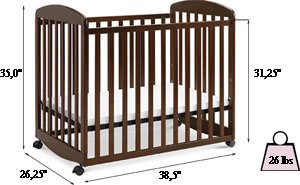 Child size restrictions:
DaVinci Alpha on wheels: Your baby can use a rocking feature until he or she can climb out or reaches the height of 35 inches.
DaVinci Alpha rocking crib on wheels: You should stop using the crib when the infant begins to push on hands and knees or reaches 17,5 lbs, whichever comes first.
---
The verdict
DaVinci Alpha mini rocking crib is a unique piece of furniture. The rocking feature evokes nostalgia, as it reminds us of cradles used by our grandparents. And the DaVinci perfectly bland this in a modern, but timeless design.
Not only that, but the rocking feature also comforts the baby, which is a dream come true for every young parent.
Of course, this is not just a rocking crib, but a convenient min portable model as well. Space efficient design and wheels make it easy to move around the house and keep your baby close all the time.
The crib is safe, durable, quality, available in multiple finishes, and doesn't cost a lot, so I don't see a reason why I wouldn't recommend DaVinci Alpha mini rocking crib to you!
---