Last updated on January 23rd, 2023 at 04:45 pm
Milliard Memory Foam Crib Mattress Review
Milliard's memory foam crib mattress is a quality and affordable choice, which costs a little more than their best selling crib and toddler bed mattress.
If you need a mattress for older baby or toddler, you will have a hard time finding a mattress of such quality for the same price. In such a case is Milliard memory foam crib mattress a great, and affordable choice, worth of your consideration!
Unfortunately, I can't claim the same about its suitability for newborns. Although the mattress has passed all safety tests, I would not use it until my baby starts to roll over by herself. There are so many other great crib mattresses, which are perfect for newborns, that it's not worth the rick. Even those from the Milliard. Their crib mattress with the dual-comfort system is an excellent choice, which will grow with your child from newborn to toddler.
If you need a crib mattress suitable for babies older than six months, but this one. I think you won't be disappointed. But I suggest you precisely read our Milliard memory foam crib mattress review before you buy it for a newborn.
Pross and cons of Milliard Memory foam crib mattress: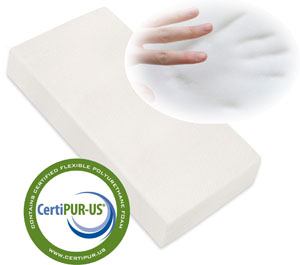 PROS:
durability
good support
meets all industry standards
affordable
comfortable crib mattress
removable and machine washable cover
hypoallergenic
fits all regular size cribs
CONS:
little too soft for babies under 6 months of age
Milliard memory foam crib mattress is made from a firm foam base, which is topped with a softer layer of quality memory foam. Such a structure combines durability, comfort, and support for less sleepless nights. A better night for your baby is a better night for you!
---
Why is Milliard's memory foam crib mattress a better choice for older babies and toddlers?
Milliard's memory foam crib mattress is situated in the middle firmness range. Although infants don't weight a lot, and probably won't start dipping into the memory foam before they grow older, we don't recommend this mattress for newborns.
On Baby's Little Place we always put safety at first, so we would not use Milliard memory foam crib mattress for babies under six months. We think it is a little too soft for them!
Don't get me wrong, the quality of the memory foam is unquestionable, just a little too soft in our opinion. Toddlers and older babies sleep very well, comfortable, and most importantly safe on this mattress!
---
The majority of people believe that the firmer a crib mattress is, the safer it is! That is true, but only to a certain point.
Babies need a firmer sleeping surface for proper bone and muscle development. A firm crib mattress also reduces the risk of SIDS (Sudden infant death syndrome), which is even more important!
But on the other hand, the internet provides us numerous sad stories about deaths in the crib (some are true, others don't), which hugely increases the future parents' fear. In this fear, parents sometimes exaggerate and wants sleeping surface hard as a rock. As a mom, I understand them completely, but there is a limit to how firm a mattress has to be.
If you press hard on the mattress with your hand, it's nothing wrong if you see its imprint for a moment, but it should disappear quickly.
---
Milliard's memory foam crib mattress structure
The mattress is constructed of a firm foam base and topped with a layer of softer high-quality memory foam. The foam is surrounded with a removable waterproof cover.
All foam used for this mattress is hypoallergenic, and CertiPUR certified. You can read what CertiPUR certificate means below, in the safety section of our review.
While the naturally hypoallergenic foam resists allergens and bacteria, the waterproof cover prevents the entry of dust mites and reduce the risk of building the mold.
The cover is made from bamboo. It is plushy and incredibly soft. It doesn't have a plastic feel, so it doesn't leave an irritating crackly sound when your child is moving.
Specifications:
Mattress size: 52″ long by 27,5″ wide
The thickness of the mattress: 5,5″
Mattress weight: 10 pounds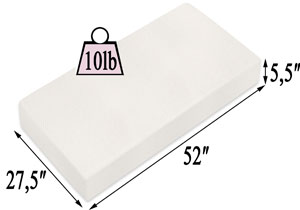 The results of our Milliard Memory Foam Crib Mattress Review
According to Milliard, this baby mattress should have all the following features. To see if that is the truth, and to see how well they perform, we have reviewed them all!
it can be used for babies and toddlers
it has a memory foam with firm support
it fits into all standard size cribs and toddler beds
it has a removable, machine washable cover
it is hypoallergenic and waterproof
it meets or even exceeds all safety standards set by the government
it has a good breathability
it is lightweight
We've reviewed the folowing features:
FIRMNESS and SUPPORT:
As I already mentioned, I would decide on a firmer mattress for a newborn. But for older babies and toddlers it has a perfect combination of comfort and support.
Children sleep very well on this mattress. It really does promote healthier and more restful sleep! With enough support to the neck and head, the mattress also improves the child's posture, which is excellent.
Firmer foam underneath the memory foam also prevents sinking too deep into the mattress.
It is a perfect mattress with sufficient firmness and quality support, for toddlers and babies older than six months.
FITTING in THE CRIB:
The measurements of Milliard's memory foam crib mattress, correspond to those set by the law.
It is a perfect fit for all standard (regular) size cribs and toddler beds! We have tested it in our Babyletto Hudson 3-in-1 convertible crib, and it fits snugly in it.
There is no problem with the mattress's dimension, but you must be sure that the measurements of your crib also correspond to the guidelines.
U.S. regulations define:
a standard size crib is a baby crib with the following measurements: 52 3⁄8 ± 5⁄8 inches long by 28 ± 5⁄8 inches width
a standard crib mattress is a baby crib mattress with the following measurements: at least 51 5/8 inches long by 27 1/4 inches width, and no more than 6 inches thick
Baby's Little Place tip: To be sure, that everything is OK, you can make a home fitting test. Place your fingers between the crib's frame and the edge of the mattress. It shouldn't be more than two fingers space there!
If you have an older crib, and there is a bigger space, the Milliard memory foam crib mattress is not a perfect choice for your crib.
We could barely fit one finger in our Babyletto Hudson, which is a perfect result. If you have a new crib, there shouldn't be any problems!
COMFORT:
Milliard memory foam crib mattress is extremely comfortable. Children love it!
Memory foam feels good quality and adapts quickly to any position changes. The foam contours to the body shape nicely, so it offers better support to important body areas.
We also like its bamboo cover, which feels soft to the touch.
VENTING and HEAT REGULATION:
Milliard memory foam baby mattress doesn't have side venting holes like innerspring mattresses. That is the same with all foam crib mattresses, so it is not something that should divert you from the purchase.
The mattress has a good waterproof cover, which prevents liquids from entering inside, so there is no need for drying anyway.
However, the highest mattress' layer still breathes and prevents overheating of the baby.
Milliard memory foam crib mattress cooled down from 130ºF to body temperature in 15 seconds, which indicates it has good heat regulation.
CORNERS and EDGES:
Corners of the mattress are squared.
As they fit more snuggly into most cribs, we prefer square not round corners, so this is perfect. Its corners also don't lose the shape and have good quality.
Because it is a foam mattress, you should expect edges are not as strong as on coil mattresses. Milliard' crib mattress has solid edge support, for a foam mattress.
THE BOUNCE:
A good crib mattress must have just enough bounce for a comfortable sleep. It shouldn't be hard as a rock, and your child shouldn't be able to use it as a trampoline.
Everything is OK here!
DURABILITY:
The construction of the mattress, a firm base, topped with a layer of high-quality memory foam ensures it won't flatten over time.
Because of the nature of our work, we couldn't test it for a longer period, but we had asked numerous parents how well it performed. They all reported that the mattress didn't lose shape or becomes too soft over time.
Is the bamboo cover waterproof?
Yes, it is!
It has a multi-functional cover with a soft quilted cotton face and a vinyl-free waterproof backing to protect the mattress against accidents. The cover's inside is coated with a fiberglass lining, which repels liquids.
We also love the fact that it is not plastic to the touch, and it doesn't leave annoying crackly noises when your child moves. I hate those plastic mattress encasements!
Overall we were very pleased with the quality of the cover. It is waterproof on the inside and soft, with a layer of cozy bamboo on the top, which is great!
CLEANING:
Wipe it with a damp cloth, or remove the cover and throw it in the washing machine.
After washing it in the washing machine, the encasement stayed undamaged and continues to provide water resistance.
The package:
Milliard memory foam crib mattress has arrived rolled up and vacuum-sealed. The roll was further packed in a relatively small cardboard box, which protects the mattress from damages during transport.
Foam mattresses are rolled up, which is convenient for easy transport, but you can't use them right away like innerspring mattresses.
Included instructions say you have to leave the mattress in a warm area for 48 hours.
After unrolling and placing it on the flat surface, it took approximately one day to fully decompressed, but we suggest you wait two days. One day is not a lot, to ensure the perfect quality.
We didn't notice any smell of the fresh unpacked foam, however, some parents had noticed it. If the smell bothers you, we recommend placing the Milliard in a well-ventilated area for 1 to 3 days to air it out completely.
Even those who noticed the smell reported the mattress aired out quickly. And most important, memory foam is free of toxins and harmful chemicals, so it is not dangerous at all.
---
Safety of Milliard Memory Foam Crib Mattress
Milliard memory foam crib mattress is a safe choice for older babies and toddlers. It meets and even exceeds all required safety standards and has a CertiPUR-US certificate.
This certificate ensures the foam's safeness and high quality. Foam has been made without ozone depletes, mercury, lead, and other heavy metals.
Natural fiberglass lining inside the mattress encasement also meet all fire safety standards without using chemicals for safety in its purest form.
The mattress fits perfectly into standard size cribs and toddler beds, so there are no issues as well. Just make sure your crib's measurements meet required safety standards if you use an older crib model. All new cribs do meet them!
THE VERDICT
Milliard memory foam crib mattress is a comfortable and safe choice for children older than six months. The quality of its foam is excellent. And we love the fact it is made without any harmful substances.
Another great thing about this baby mattress is its cover. Milliard's memory foam crib mattress doesn't cost a lot. Many mattresses in the same price range have covers of poor quality, but not this one!
The mattress is durable, with proper support, and fits perfectly into standard size cribs.
We highly recommend it for toddlers and babies older than 6 months!
---
Check up crib mattress reviews on our site: