Do you like modern and stylish acrylic cribs but don't want to spend thousands of dollars on one? Then the Babyletto's acrylic 3-in-1 convertible crib is might what you are looking for. In this Babyletto Harlow acrylic crib review, we'll explore its unique blend of wood and acrylic, convertibility, safety features, and more.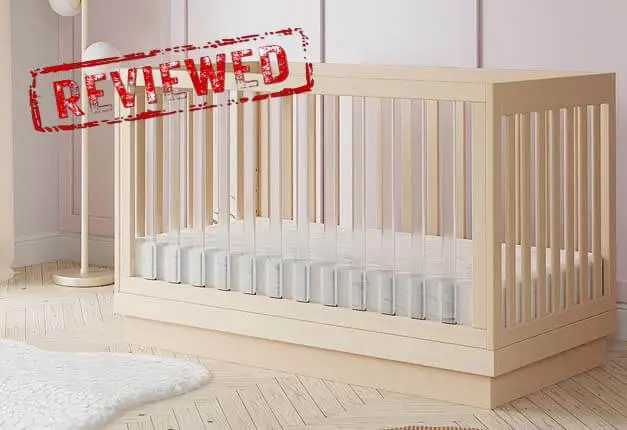 Babyletto Harlow Acrylic 3-in-1 Convertible Crib with Toddler Bed Conversion Kit
We recommend the Babyletto Harlow 3-in-1 convertible crib to those who like the idea of an unobstructed view of their baby while still wanting to maintain the cozy and traditional feel of wood. This crib is also an excellent choice for those who wish to have an acrylic crib but can't spend a fortune on it. And let me tell you, we think it is actually a lot better than those high-budget acrylic cribs.
PRODUCT HIGHLIGHTS:
A unique blend of wood and acrylic that stands out in any nursery.
Harlow is a versatile crib that grows with your child.
A toddler bed conversion kit is included with the crib, making it an even more cost-efficient choice.
The low-profile design of the crib makes it easy to put a newborn to rest.
It is made with clear recyclable acrylic and sustainably sourced solid New Zealand pine wood. 
Baby's Little Place Reviews
Why do we think the Babyletto Harlow is the best acrylic crib?
In recent years, acrylic cribs have gained popularity for their modern and futuristic look. Still, some parents find them too "sterile" or lacking in "comfort" due to their transparent look. That's where the Babyletto Harlow 3-in-1 convertible crib stands out.
We think its combination of acrylic and wood materials is just perfect. It creates a balance of ultra-modern elegance and comfort that most parents want for their nursery.
Another thing that sets the Babyletto Harlow apart from most acrylic cribs is the price. Let's be honest, yes, acrylic cribs are something new, trendy, and modern, but their prices are outrageous. $2000 for a crib? I don't think so!
The Harlow is available at a more reasonable price of approximately $600. Of course, this is not cheap compared to many wooden convertible cribs, but it is a good deal for an acrylic crib.
So, let's explore the Babyletto Harlow acrylic crib review in more detail to understand why we consider it the top choice.
Babyletto Harlow Acrylic 3-in-1 Convertible Crib Review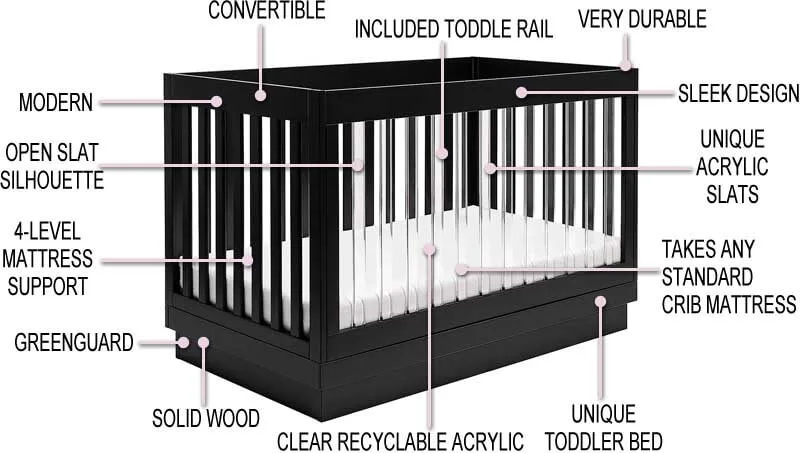 Price on Amazon: Babyletto Harlow Acrylic 3-in-1 convertible crib
PROS:
A unique-looking crib with a chic and contemporary look
Unobstructed view of your baby
It grows with your child
The toddler bed safety guardrail is included
Low profile
4 adjustable mattress positions
Ultra-modern design
Eco-friendly and sustainable
Meets and exceeds all required safety standards
Harlow takes any standard-size crib mattress
Affordable for an acrylic crib
CONS:
Although affordable for an acrylic crib, it has a high price compared to traditional wooden cribs
Limited color options
Acrylic surfaces can require more care and maintenance than wood (visible fingerprints and smudges)
It is primarily available through online retailers, which limits your ability to physically see the crib before purchasing
Thoughts about the Crib's Design
I find the Harlow crib's design visually appealing and modern. But if you think acrylic is too much for you, I recommend you look into other, more traditional-looking convertible cribs.
The Babyletto Harlow crib has acrylic slats only on the front side, allowing a clear and unobstructed view of your baby. The wooden rails on the other sides provide a nice balance to the overall design. And this is why I like Babyletto Harlow more than fully acrylic cribs.
In my opinion, all-acrylic cribs lack a certain warmth and comfort. They appear too "sterile" for my taste, making the baby seem like a display item. And I don't think babies feel comfortable in them. Of course, this is just my opinion, and babies might don't mind it at all. But think about it. Would you like to live in a house made entirely of glass or acryl, or do you feel more comfortable with some privacy?
Other notable features of the Harlow design are sleek and clean lines for the sophisticated feel, low profile, perfect for short moms, and hidden hardware construction that further enhances the crib's polished appearance by eliminating visible screws and creating a seamless finish.
Babyletto Harlow Acrylic Crib Specifications: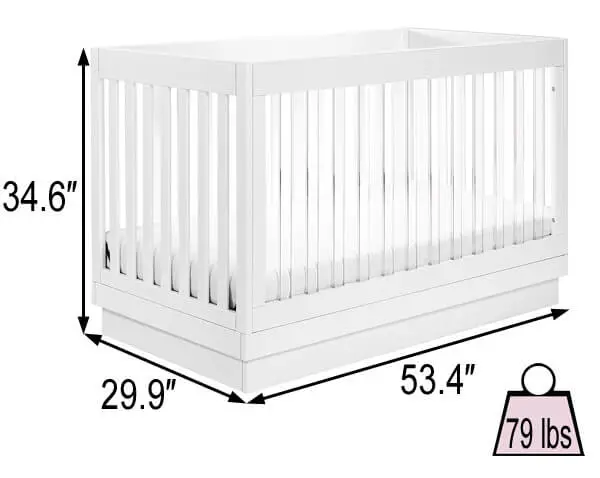 MANUFACTURER: Babyletto
MODEL: Harlow
TYPE: convertible
STYLE: ultra-modern
MATERIAL: natural New Zealand pine wood and clear recyclable acrylic
COLOR: Black with acrylic, Washed Natural with acrylic, and White with acrylic
ASSEMBLED DIMENSIONS: 53.4″L x 29.9″D x 34.6″H
ASSEMBLED WEIGHT: 79,37 lbs
Babyletto Harlow Acrylic Crib Review's breakdown
Babyletto Harlow is a solid, stationary crib without any moving parts. It is also among the heaviest baby cribs, so I recommend you assemble it in the room where you plan to keep it. After putting it together, we gave it a thorough shake, and we're happy to report that it's incredibly sturdy and doesn't wobble at all!
This crib is designed with a combination of acrylic and wooden slats. The slats are 2 inches wide, and the space between them is 1.87 inches. That is smaller than the allowed maximum, so everything is as it should be regarding safety. (The distance between slats is important because the baby's body shouldn't fit through gaps between them. You can read more about this here: What Is The Safe Distance Between Crib Slats?)
The acrylic slats are clear, easy to clean, and do not turn yellow over time. Additionally, the edges of the slats are smooth, with no rough or sharp corners, which is very important when you are buying an acrylic crib.
But Babyletto Harlow is not just an acrylic crib. It is also convertible, meaning it grows with your child! So, let's look at its convertibility.
Babyletto Harlow Convertibility Review
Convertible cribs transform into different types of beds. And the number in their names indicates how many possible transformations you get.
In Harlow's case, we are talking about the 3-in-1 convertible crib, meaning the crib can convert into two beds, a toddler bed and a daybed.
We had no trouble converting the Harlow crib, but following the instructions provided carefully is crucial to ensure a safe and proper process. I recommend you do the same.
Babyletto Harlow crib's convertibility: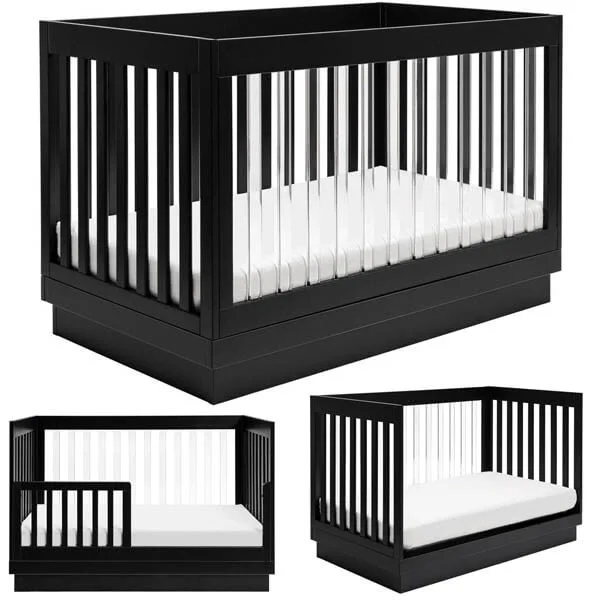 NUMBER OF CONVERSIONS: 3
CONVERSION TYPES: crib, toddler bed, and daybed
TODDLER BED SAFETY RAIL: it is included with the crib
One of the best features of the Harlow and actually all Babyletto's 3-in-1 convertible cribs is that everything for their conversions is included with the crib. 
Meaning you will get a toddler bed safety guardrail that is typically sold separately for most convertible cribs, with the Harlow crib. This not only saves you time and hassle finding the right rail but also saves you money.
So, looking at the whole picture, purchasing the Babyletto Harlow acrylic 3-in-1 convertible crib is even more cost-efficient than other acrylic cribs.
As for the safety guardrail for Harlow's toddler bed, it is not acrylic but made of wood. However, that doesn't mean your toddler bed won't have acrylic accents anymore. To transition into a toddler bed, remove the back rail and replace it with a safety guardrail. Then, turn the Harlow bed around, and you will have a beautiful toddler bed with an acrylic backside.
1. How long can my baby use Babyletto Harlow as a crib?
Stop using Harlow as a crib when your child begins to climb or reaches 35 inches.
2. What is the weight limit for a toddler bed and daybed?
The weight limit for both beds is 50 lbs.
Safety Review
The Babyletto Harlow acrylic crib is sturdy and durable. It is made with clear recyclable acrylic and sustainable New Zealand pine wood, one of the most renewable woods available. The crib doesn't wobble and doesn't have any moving parts!
It is rigorously tested to meet and exceed all required safety standards. Harlow's wood is finished with a non-toxic painting process and doesn't contain lead or phthalate.
The Babyletto Harlow acrylic crib is also GREENGUARD Gold certified, meaning it has been tested for over 10,000 chemical emissions and VOCs and doesn't pollute your indoor air.
Babyletto Harlow's safety specifications:
SAFETY STANDARDS: meets and exceeds all safety standards set by the CPSC & ASTM
CERTIFICATIONS: GREENGUARD Gold Certification
NON-TOXIC FINISHES: yes
LEAD AND PHTHALATE SAFE: yes
STURDY: yes
DROPPING SIDES: no
What is the best crib mattress for the Babyletto Harlow?
Babyletto Harlow features a four-level metal spring mattress support, which is solid and reliable. It also provides good airflow through the mattress. 
You can adapt the height of the mattress to four different positions. Start with the highest position for a newborn, then gradually lower it down.
For the mattress, Babyletto recommends their Pure Core non-toxic crib mattress with Hybrid Waterproof Cover, which is a perfect fit. We've done its review, and it is a great quality option for this crib.
But it is worth mentioning that this is a full-size crib with standard interior dimensions. This means any standard-size crib mattress from any brand fits into it. That gives you a wide variety of different options to choose from. You can opt for an affordable Graco crib mattress, a luxury Newton baby crib mattress, and more. They all fit perfectly into the Harlow crib.
Babyletto Harlow acrylic 3-in-1 convertible crib mattress information:
MATTRESS SUPPORT: metal springs
ADJUSTABLE MATTRESS HEIGHT: yes, 4 heights
---
---