Last updated on January 23rd, 2023 at 12:25 pm
Babyletto Harlow acrylic crib Review
The look of acrylic cribs really stands out in the nursery. Or, on the contrary, if we are talking about all-acrylic cribs, they are almost invisible. Although extremely modern, sophisticated, and futuristic, I personally don't like all-acrylic models. I will explain why later in the review.
Why do I like Babyletto Harlow then? Because it features a perfect blend of wood and acrylic. Harlow is still an ultra-modern crib, but with that touch of ease and comfort that only wood can offer.
The fact that this crib is affordable for an acrylic model also adds up a good value to the Harlow. Let's be honest, yes, acrylic cribs are something new, trendy and modern, but their prices are outrageous. $2000 for a crib? I don't think so!
With a price of around $600, Babyletto Harlow cost more than most wooden cribs, but for an acrylic crib, the price is really good! Even more! As you will see in our Babyletto Harlow acrylic crib review, the crib offers more than just an unobstructed view on your sleeping baby.
At a glance: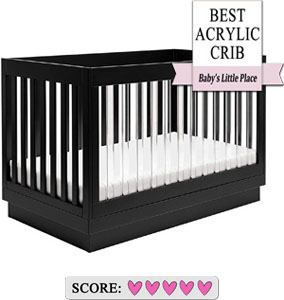 PROS:
a unique looking crib
unobstructed view on your baby
grows with your child
toddler bed safety guardrail is included
ultra-modern design
Eco-friendly
4 adjustable mattress positions
safe
affordable for an acrylic crib
CONS:
although cheap for an acrylic crib, it has high price comparing to ordinary cribs
Babyletto Harlow is in my opinion the best acrylic crib
Why do I think this so? The crib is made in a perfect combination of wood and acryl. Only the front side of the crib has acrylic slats. That provides a clear and unobstructed view of your little bundle of joy, while wooden rails on other sides offer a great balance to the overall design. And this is the cause why I like Babyletto Harlow much more than all-acrylic cribs!
All-acrylic cribs are just too "sterile" for my taste. Also, I don't think babies feel comfortable in them. To me, it seems the baby is displayed like in some sort of shop-window in completely acrylic cribs. Think about whether you would like to live in a house made entirely of glass or acryl, or do you feel more comfortable with a little privacy?
Manufacturer: Babyletto
Model: Harlow
Type: 3-in-1 convertible crib
Style: open, ultra-modern
Material: natural New Zealand pine wood and acryl
Assembled dimensions: 53.4″ L x 29,9″ D x 34,6″ H
Assembled weight: 79,37 lbs
Color: black/acrylic and white/acrylic combination
---
Babyletto Harlow acrylic convertible crib Review's breakdown
Harlow is a sturdy, stationary crib, without any moving parts. It doesn't wobble at all! Acrylic slats are clear and do not get dirty quickly. It is also important that acrylic doesn't yellow over time. Edges of the slats are smooth, without any sharp edges and rough areas.
Each slat is 2″ wide, and the space between them is 1,87″. That is smaller than the allowed maximum, which is excellent! Baby's body shouldn't fit through gaps between slats, so the distance between them shouldn't be more than 2 3/8 inches.
But Babyletto Harlow is not just an acrylic crib. It is also convertible, so the bed grows with your child!
Convertibility Review
Harlow is a 3-in-1 convertible crib, which means you get three beds at once. 3-in-1 convertible cribs convert into different beds. So, when your baby outgrows the crib, you can convert the Harlow into a:
toddler bed
daybed

Conversions are quick and easy, just follow the provided instructions! Another great thing is the included safety guardrail for the toddler bed. That is not common at all! You have to buy it separately for convertible cribs of other brands. From this point of view, this reduces the total price, and spare you trouble with searching a compatible guardrail.
The safety guardrail for Harlow's toddler bed is made of wood. For the transition into a toddler bed, you can remove the back rail and replace it with a safety guardrail. Turn the bed, and you get a toddler bed with a beautiful acrylic backside.
1. How long can my baby use Babyletto Harlow as a crib?
Stop using Harlow as a crib when your child begins to climb or reaches 35 inches.
2. What is the weight limit for a toddler bed and daybed?
The weight limit for both beds is 50 lbs.
RELATED ARTICLE:
---
Which is the best crib mattress for the Babyletto Harlow?
Babyletto Harlow is a full-size crib, so any full-size crib mattress fits into the crib. The measurements of all cribs and crib mattresses on the market must correspond to those set by the government.
U.S. regulations define:
a standard size crib is a baby crib with the following measurements: 52 3⁄8 ± 5⁄8 inches in length by 28 ± 5⁄8 inches in width
a standard crib mattress is a baby crib mattress with the following measurements: at least 27 1/4 inches by 51 5/8 inches and no more than 6 inches thick
If you want to stick with Babyletto, they recommend using a Coco Core non-toxic crib mattress in the Harlow. But after our review, we prefer their Pure Core non-toxic crib mattress with a hybrid waterproof cover.
As I said, you can use any standard size crib mattress in the crib. You can find reviews of many crib mattresses, on our site as well.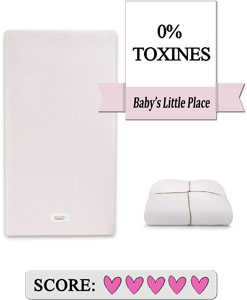 Other than that, Babyletto Harlow features a four-level, metal mattress support. Metal spring support is reliable and provides a good airflow through the mattress. And adjustable mattress height is also extremely useful. Start with the highest position for a newborn, and then gradually lower it down.
Compatible Mattress Size: standard
Mattress Included: no
Recommended mattress: Pure Core non-toxic crib mattress with Hybrid Waterproof Cover
Adjustable Mattress Height: yes, 4 positions
RELATED ARTICLES:
---
Harlow's safety review
Although acrylic, Babyletto Harlow is a great choice for Eco-cautious parents as well. The crib is made of sustainable New Zealand pine wood and recyclable acrylic.
Harlow is a steady crib, without any moving part! Drop-side cribs are because of numerous injuries and even deaths, forbidden since 2011!
Babyletto Harlow meets or even exceeds all required ASTM international and U.S. CPSC safety standards. It is lead and phthalate safe and finished only with non-toxic paint. The crib is also GREENGUARD Gold certified, which proves that it doesn't pollute your indoor air.
You can read more about baby crib safety standards HERE.
---
THE VERDICT
If you want an acrylic crib, Babyletto Harlow is absolutely the best decision you can make.
First of all, it is a safe crib! And second, Harlow is not just an ultra-modern, but it satisfies the glamorous parents' taste, and the baby's need for a safe sleeping haven.
Babyletto Harlow is a durable crib, which will grow with your child!
It is also not expensive compared to other acrylic cribs. You will get a reliable, ultra-modern, and unique looking crib, for a much lower price!
We love it! If you like it too check its current price on the provided link below.
Babyletto Harlow Acrylic 3-in-1 Convertible Crib with Toddler Bed Conversion Kit
---