Last updated on January 23rd, 2023 at 12:10 pm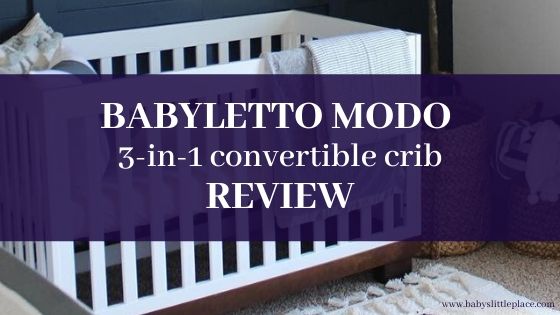 Babyletto Modo 3-in-1 convertible crib Review
Modo is one of Babyletto's best selling convertible cribs. It is a 3-in-1 convertible crib, with the same features as Hudson, which is one of the best selling cribs of this year. As you will see in our review, Babyletto Modo 3-in-1 convertible crib doesn't differ much from the Hudson. But there are a few differences that might help in your decision!
Babyletto Modo Crib Review At A Glance: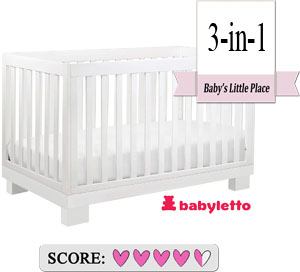 PROS:
it grows with your child
everything for the conversions is included
modern, sleek design
durable crib
affordable choice
safe and sturdy
four adjustable mattress positions
great for short moms
CONS:
some parents reported that the finish on this crib is very fragile and it chips, scratches and peels very easily*
*Babyletto uses only non-toxic finishes for their cribs. Because of that, the paint is might not as strong as ordinary paint, which is contrary full of toxic chemicals.
I love beautiful things, but when it goes for my child, I put safety in the first place. What I am trying to say is that I would not mind if a scratch or two occurs over time. You should know that all trustworthy juvenile furniture manufacturers use only non-toxic finishes for their cribs, so the "problem" is the same.
Because of Eco-conscious design and a non-toxic finish, your baby is safe even if she starts chewing the Modo crib. To preserve the look of the crib's rail, you can use a crib rail protector. They come in various colors and styles, and can nicely complete the overall nursery look.
READ ALSO: Babyletto Modo vs. Babyletto Hudson 3-in-1 convertible crib
---
Babyletto Modo Review's Breakdown
Convertibility
Babyletto Modo is a 3-in-1 convertible crib. That means you get three different beds, for one price!
It is not necessarily that all 3-in-1 convertible cribs transit into the same beds, but the most common conversions are toddler bed and daybed. And those are the Modo's conversions!
Babyletto Modo's conversions are quick and easy. You get a toddler bed, by setting the crib mattress into the lowest position and replacing the front rail with a toddler safety guardrail. When your child is old enough, you can remove the safety guardrail and transform the Modo into a toddler bed. And the best part? You get everything in the package!
Included toddler safety guardrail is Babyletto's trademark. And in my opinion, it adds extra value to their convertible cribs.

Modo is already Babyletto's cheapest 3-in-1 convertible crib. But because of the included safety guardrail, it might seem more expensive from convertible cribs of other brands. That misleads parents, thinking they will get a better deal, but in the end, they often pay even more than for the Modo.
Not only that, sometimes parents realize that they need to buy a safety guardrail only when they get a crib. Sometimes guardrail is no longer for sale, or the toddler bed doesn't have this feature, so ending up with a higher price is actually their best scenario.
With including everything in the price, Babyletto saves you trouble and money, so it gets additional points in our review!
---
Babyletto Modo's design
Babyletto is famous for its modern, sleek design, with a touch of retro style. Most Babyletto 3-in-1 convertible cribs are surrounded by round spindles, and as such, resemble typical European cribs.
But Modo is different! It belongs to Babyletto's group of convertible cribs with a slated design. Such style is more common for USA-looking cribs. As many parents like it more, Babyletto wanted to meet their needs too. And its slated convertible cribs Modo, Mercer, and Harlow are perfect results of its efforts.
While Babyletto kept a sleek and sophisticated design for the Modo, they made few changes too. Two things that made Babyletto Modo 3-in-1 convertible crib special are:
all-slated design
specially designed feet
The same as other Babyletto's 3-in-1 convertible cribs, Modo poses an open design. Because of that, you can place the crib in the center of the nursery, or beside the wall. In any case, it looks great.
Modo 3-in-1 convertible crib has wider and even stronger feet from other Babyletto's cribs. That makes the crib more solid. I like that Modo doesn't wobble at all, even after conversions!
You can choose between five finishes for Babyletto Modo, including two two-color combinations.
grey
grey/white
Espresso
Espresso/white
white
---
Modo's specifications & mattress information
Specifications:
Manufacturer: Babyletto
Model: Modo
Type: 3-in-1 convertible crib
Style: modern, with all-slated sides
Material: natural New Zealand pine wood
Assembled dimensions: 53,13″L x 29,88″D x 34,75″H
Assembled weight: 59.52 lbs
Mattress Information:
Babyletto Modo is a standard size baby crib, so any standard size crib mattress fits into the crib. If you want to go with Babyletto, so far from our research, their best model is the Babyletto Pure core crib mattress.
You can read our Babyletto Pure core crib mattress review, or choose amongst many other great baby crib mattresses we had already reviewed.
---
Babyletto Modo Safety Review
Babyletto Modo has a solid wood construction and strong feet, so it is a sturdy and stable crib. I like that the crib doesn't become wobbly after conversions too.
The crib is GREENGUARD Gold certified, which proves that it doesn't contain any toxic chemicals that would pollute your indoor air. Modo is also lead and phthalate safe, finished with non-toxic paint.
The same as all Babyletto's cribs, Modo meets or even exceeds all required ASTM international and U.S. CPSC safety standards.
The distance between slats is less than 2 3/8 inches, which is the widest prescribed distance.
---
Frequently asked questions about Babyletto Modo
1. How long can my child use Babyletto Modo as a crib?
Until she or he begins to climb or reaches 35 inches.
2. How long can my child use a toddler bed?
Your child can use a toddler and daybed until his 50 pounds.
3. Is Babyletto Modo suitable for short moms?
Yes, it is a perfect choice for short moms. It has a minimalist frame, and it's not too high. Modo belongs to low-profile cribs, which are the best choice for short moms.
It has special design feet, not lower rails, so it is as safe as any other convertible crib, and your child won't climb out of the crib sooner!
4. How hard is the assembling?
If you follow the provided instruction, assembling the crib should be easy and quick.
5. Can I move the crib from room to room?
Babyletto Modo is a steady convertible crib. It is not portable, and it is not made for moving around the house. Although it has a minimalist frame, most likely, it wouldn't fit through room doors anyway.
If you like Babyletto and you want a portable full-size crib, check-up Babyletto Maki. Maki has an all-slated design, you can move it on caster wheels, it is a full-size folding crib, and it converts too!
---
THE VERDICT
Babyletto Modon is a perfect crib for a modern nursery. With a touch of retro style and wide color selection, it matches almost any juvenile furniture nicely. It grows with your child, and a matching safety guardrail for the toddler bed is already included in the price!
The results of our review showed us that Modo doesn't lag behind more expensive Babyletto cribs. For example, it has the same features as Hudson or Lolly, but for the cheaper price.
I love Babyletto's cribs! They look like $1000 cribs, but they cost a lot less. Of course, I would not buy it just because of the great look. But the fact that it is Eco-friendly, that it meets or even exceeds all required safety standards, and it grows with your child convinced me it is a great choice!
Where to buy Babyletto Modo 3-in-1 convertible crib? In my opinion, on Amazon. If you are a Prime member, even better! You will get free delivery and might receive additional discounts. Here is the link to the site:
Best deal for Babyletto Modo 3-in-1 convertible crib
---
READ ALSO: