Last updated on January 23rd, 2023 at 12:19 pm
Our DaVinci Jenny Lind 3-in-1 convertible crib review will give you all the answers you need before your decision.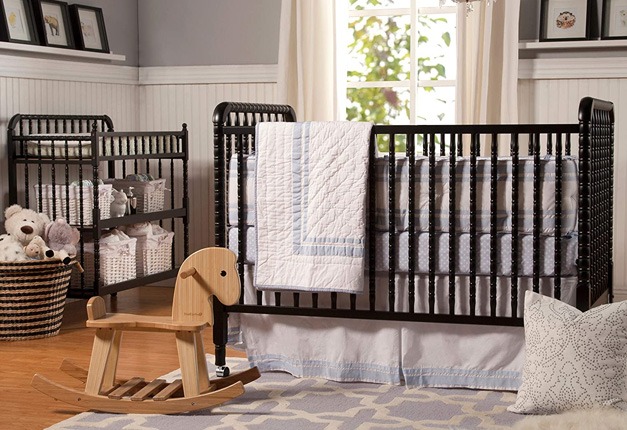 DaVinci Jenny Lind, a unique convertible crib on wheels
Baby's Little Place Rewiev
The DaVinci Jenny Lind is a charming, vintage-inspired 3-in-1 convertible crib. And it's not only convertible, but it is also one of the best full-size cribs on wheels.
That further classifies it amongst portable cribs. Just keep in mind that the DaVinci Jenny Lind is not foldable, so you can not collapse it for storage, like some other full-size portable cribs.
However, you can effortlessly move it from one room to another, which I find very convenient. That, together with its convertibility, makes it one of the most versatile cribs on the market. 
During our DaVinci Jenny Lind 3-in-1 convertible crib review, I've figured out that this is a perfect crib for use from infant to toddler age. You can set it up next to your bed for a newborn and slide it into the nursery when the baby is old enough.
I must say I like the concept of mixing the convertibility with portability. But good design alone is not enough, especially when it comes to baby cribs. Everything has to work flawlessly, and most of all, the crib must be safe for the baby!
Pross and cons of the DaVinci Jenny Lind crib: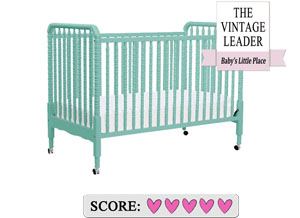 THE GOOD:
vintage charm
it grows with your child
its wheels glide smoothly
reliable locking mechanism
it's available in many colors, including unique colors like navy, pinky, or lagoon
the fact that it is convertible & portable at once
it meets and even exceeds all required safety standards
it is GREENGUARD Gold Certified
THE BAD:
some unique colors, like coral, or sunshine are not always in stock
you have to buy a safety guardrail for the conversion into a toddler bed
Keep in mind:
There can be a difference in price for toddler safety guardrail in a classic and unique color. Traditional colors are ebony black, white, cherry, slat, and fog gray. All other DaVinci Jenny Lind's finishes are considered a bonus, so you might have to pay a few bucks more for such a guardrail. The price varies from color to color, where the difference between the cheapest and the most expensive rail is around $20. It is not much, but it may affect your decision.
---
DaVinci Jenny Lind 3-in-1 Convertible Crib Review Breakdown

DaVinci Jenny Lind Convertibility Review
DaVinci Jenny Lind is a 3-in-1 convertible crib, meaning it can transit into two bigger beds, a toddler bed, and a daybed. Conversions are easy, and Jenny Lind stays sturdy after them. I will say it like this, if you follow the provided instructions, conversions shouldn't take you a lot of time and effort.
Jenny Lind Toddler bed:
A toddler bed has a safety guardrail, which will protect your child from falling out of bed. Unfortunately, you need to buy a toddler bed conversion kit. It will cost you an additional $60 – $80, depends on what color you need.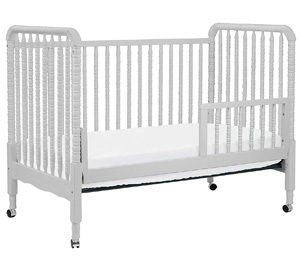 A toddler safety guardrail is not a "must-have" item, but I do recommend it. Looking at my daughter, she would fall out of bed countless times without it. But as I said, that's a matter of your judgment. Some convertible cribs even offer a toddler bed without a safety guardrail, so it's not uncommon.
If you do not decide on buying a safety guardrail, I recommend that you use DaVinci Jenny Lind a little longer as a crib, and then convert it directly to a daybed.
Anyway, the conversion into a toddler bed is done by removing the front rail, lowering the mattress position, and installing a safety guardrail. When you are done, check the bed stability. Give it a good shake, and if it wobbles, check if you assemble it back correctly.
Baby's Little Place tip: If you intend to convert the crib into a toddler bed, we recommend you buy the safety guardrail at the same time as the crib, especially if you decide on one of the unique finishes. There are more reasons for that! You will have it on hand when it's time to transit into a toddler bed. It will take some time before the transition to a toddler bed. A suitable safety guardrail may become out of stock. And last but not least, you may get a discount if you buy all at once.
DaVinci Jenny Lind's Daybed:
The conversion into a daybed is even faster. Depending on what type of bed your child is already using, you have to remove a front or safety rail and place the mattress into the lower position. As I already said, you don't need any additional parts, only the provided DaVinci Jenny Lind assembly instructions.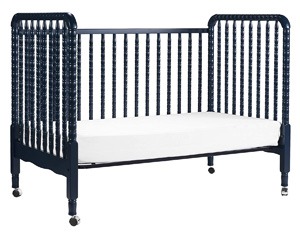 Convertible: yes
Number of conversions: 3
Conversion types: crib, toddler bed, and daybed
Toddler bed safety guardrail included: no
How long can my child use DaVinci Jenny Lind 3-in-1 convertible crib?
You have to stop using DaVinci Jenny as a crib when your child begins to climb or reaches 35″. The weight capacity of a toddler bed and daybed is 50 lbs.
---
DaVinci Jenny Lind Portability Review
Portability is the feature that distinguishes the Jenny Lind from other convertible cribs. There are not many full-size cribs on wheels, let alone being also convertible.
The only full-size portable & convertible crib that can compete with the DaVinci Jenny Lind is the Babyletto's Maki. That is a full-size portable crib, which converts into a toddler bed and can even fold away for easy storage.
As far as Jenny's portability is concerned … The DaVinci Jenny Lind crib stands on caster wheels with a reliable locking mechanism. Wheels glide smoothly, and they don't seem to have any problems on the carpet as well.
Locked wheels hold the crib in place, but don't forget to lock them down when your baby is in the crib!
A quality portable crib must fit through standard room door frames. As such, you can effortlessly move it from one room to another. With its sleek design, the DaVinci Jenny Lind does not have problems with that. Moving around the home shouldn't be a problem.
---
DaVinci's Jenny Lind Design and Specifications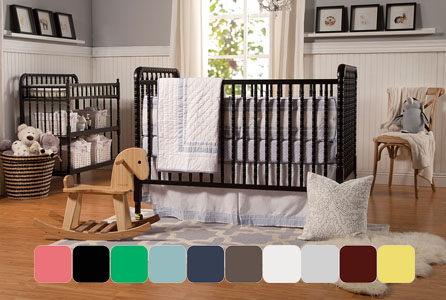 DaVinci's Jenny Lind 3-in-1 convertible crib brings a classic, vintage-inspired charm to the home. It has a signature heirloom style and solid wood spindle posts. Spindles are joined in an open design, allowing better airflow through the crib and a better view of your sleeping baby.
You can choose from a broad color palette of different finishes. The number of different colors is impressive. Choose between classic tones, like cherry, white, slat, and gray. Or pick a unique finish, such as Lagoon, Emerald, Navy, and Blush Pink.
So many finishes allow the DaVinci Jenny Lind 3-in-1 convertible crib to pair with a wide range of different furniture. But there is more. You can decide on pieces from the Jenny Lind Nursery Collection that are a perfect match.
That sounds great, but I am disappointed about the available colors. I do not know why a changing table is available only in white, cherry, black, and gray. And you can get a drawer dresser only in a white, black, or grey color.
Jenny Lind's Specifications:
Material: 100% sustainable New Zealand pine wood
Assembled dimensions: 54.75″ long x 30.50″ width x 41.25″ high
Front-rail measurements (top to floor): 30.375″ high
Assembled weight: 40 lbs
Slat strength: 135 lbs
Interior Crib Measurements: 52.125″ long x 27.75″ width
---
What is the best mattress for the DaVinci Jenny Lind convertible crib?
The DaVinci Jenny Lind is a standard (full-size) size baby crib, so its inner measurements should correspond to those set by the government. And they do!
As such, you can choose from a wide selection of different standard crib mattresses, whose dimensions are also regulated.
Jenny Lind grows with your child, so you might take a look into the crib mattress that does the same. A dual-sided crib mattress has two sides, a firmer side for infants and a softer side for toddlers. Such mattresses enable turning over along with the conversion into a toddler bed, giving you a new bed and a new mattress at the same time.
You can decide on a DaVinci's Deluxe Coil Waterproof Dual-Sided crib & toddler mattress, which is, of course, recommended by the manufacturer. However, you have other options too.
Do not get me wrong! The DaVinci Deluxe is a quality crib mattress, which fits perfectly into the Jenny Lind crib. But you can also choose amongst other dual-sided crib mattresses, such as Colgate Eco, Milliard crib mattress with a dual comfort system, and Dourxi crib mattress.
You can also go with a quality mattress, such as the Newton Wovenaire baby crib mattress. That is a unique baby crib mattress that is suitable from infancy to toddler age.
DaVinci Jenny Lind features four-level mattress support. You can start with the highest position and gradually lower it down while your child grows.
Compatible Mattress Size: standard
Mattress Included: no
Adjustable Mattress Height: yes, 4 positions
---
DaVinci Jenny Lind Safety Review
The crib's frame is sturdy and stays compact after conversions. But you have to assemble and convert it correctly to ensure maximum safety. I recommend you take your time and follow the provided instructions. 
The DaVinci Jenny Lind's locking mechanism is reliable and holds the crib in place. You should not forget to lock them down when your baby is in the crib!
The DaVinci Jenny Lind 3-in-1 convertible crib meets and even exceeds all ASTM (American Society for Testing and Materials) international and U.S. CPSC (U.S. Consumer Product Safety Commission) safety standards.
The crib is made of sustainable New Zealand pine wood, finished in a non-toxic multi-step painting process, and lead and phthalate safe. It has a GREENGUARD Gold certification, meaning it does not affect the quality of indoor air. 
DaVinci has done everything it can to send a safe crib to market. However, after you buy a crib, you have to choose the right baby crib mattress and use the crib correctly. Only then will you provide the safest sleeping environment for your baby!
---
The Conclusion
If you like vintage style, DaVinci Jenny Lind 3-in-1 convertible crib might be a perfect choice for you! The crib certainly stands out of the average.
The DaVinci Jenny Lind 3-in-1 convertible crib is quality, beautiful, and versatile.
I love it, and so do many parents who already purchased the crib! I think the DaVinci Jenny Lind 3-in-1 convertible crib won't disappoint you!
---
Let me know your decision in the comments below! Do you like the crib?