Last updated on January 23rd, 2023 at 05:57 pm
Some baby bassinets can be pretty expensive. Lucky for you, you need one right when the holiday sales start rolling out. So, let us help you save some money. Here is the list of the best Black Friday baby bassinet deals in 2023!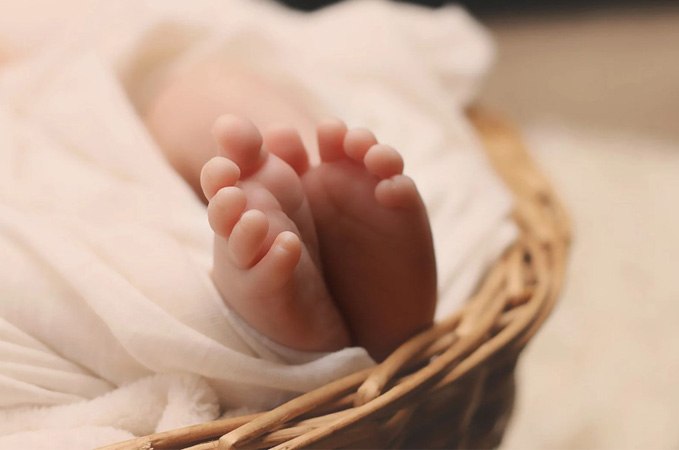 Black Friday deals on Baby Bassinets
Preparing a safe and comfortable sleeping environment is one of the first and most important parents' tasks.
The American Academy of Pediatrics (AAP) recommends that babies sleep next to their parents for at least six months. But not in the same bed!
Room sharing is recognized as the safest sleep practice for newborns and young babies! Meaning you will have to place a baby bed in your bedroom. And what could be more convenient than a space-savin, high-quality baby bassinet?
What's more, the baby bassinet is practical all day. Since you can easily move it around, you can have your baby next to you in a safe and secure place during the day too.
Top 3 Black Friday deals on baby bassinets
Coupon code: BIGSALE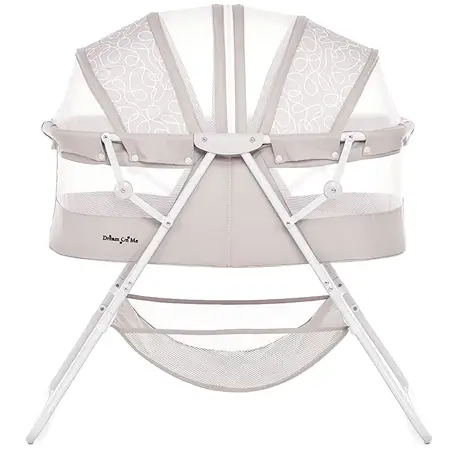 Best Black Friday deals on:
Baby bassinets not only save space but are also very convenient for mothers. Bassinets have a raised sleeping area, so you won't have to lean over the railing. The baby is at your eye level, so you won't have to get up to check on her. And many more …
In a perfect world, you'd buy the one you like, regardless of the expense. But in reality, you have a budget, so it's always exciting when baby items go on sale. And there's hardly a better time to find a baby bassinet on sale than Black Friday!
In 2023, Black Friday falls on November 25. But many big-name baby brands, like Dream On Me, Halo, Graco, Delta Children, and more, will have their baby bassinet and other baby essentials on sale days before.
Keep scrolling for tips on buying a baby bassinet, hints on making the most out of the Black Friday sale, or skip right to the best Black Friday bassinet deals in 2023 using the links below.
---
Best Black Friday Bassinet Deals in 2023
Black Friday Deals on Traditional Bassinets
Dream On Me Karley Bassinet:
I am so happy about this Black Friday presale. Karley is the best-selling bassinet from Dream On Me and one of the most popular bassinets on the market! 
It is a great baby bassinet that is available in numerous beautiful finishes. 
Unfortunately, not all of them are on sale, but you still have eight discounted options, which is great!
Cool Gray: 33% off
Dove White: 30% off
Gray/Pink: 29% off
French White, Black, Rose: 22% off
Blue/Grey: 13% off
Periwinkle: 12% off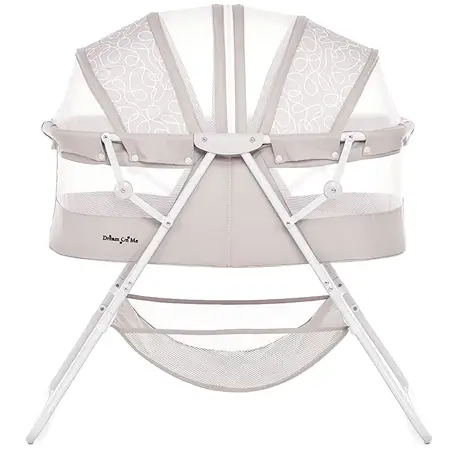 Save $39.54 (44%) on the Dream On Me Karley Bassinet
Black Friday Deals on Bedside Sleepers
Mika Micky Baby Bassinet Bedside Sleeper: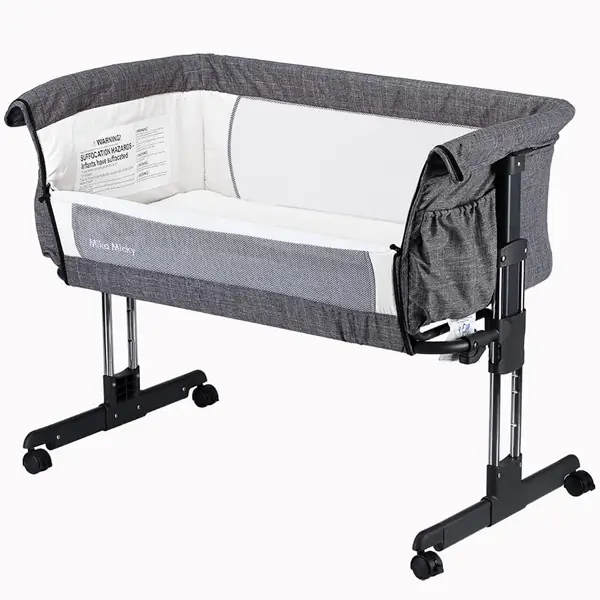 Save $47 (21%) on the Mika Micky Baby Bassinet Bedside Sleeper
Newton Bassinet & Bedside Sleeper:
Newton is known for its high-quality crib mattresses that are 100% breathable and washable. Finally, you can also get a basket with such a mattress. This 100% breathable and washable bedside sleeper is designed for the safest and most comfortable sleep!
Save $59.99 (20%) on the Newton Bassinet & Bedside Sleeper
coupon code: BIGSALE
Enter the provided code at checkout, and you will get a 20% discount!
Black Friday Deals on Smart Bassinets
SNOO Smart Sleeper Baby Bassinet:
This one is a winner! It is undoubtedly the world's smartest and safest baby bassinet!
The SNOO smart baby bassinet is one of the most wished-for bassinets, which is understandable; after all, it can add 1 to 2 hours of sleep each night!
SNOO helps whenever you need a break: to work, cook, shower, or sleep. But this 24/7 helper is expensive.
That's why we are so excited this year's Black Friday deal on the SNOO Smart Sleeper baby bassinet is so great! You can save more than $600!
Save $678 (40%) on the SNOO Smart Sleeper Baby Bassinet
4moms MamaRoo Sleep Bassinet:
This excellent, intelligent bassinet helps the baby sleep for longer stretches and teaches her to get back to sleep alone.
The price of the 4moms mamaRoo sleep bassinet on Amazon is already lower than prices from most other retailers. But now it is even further reduced, which is great!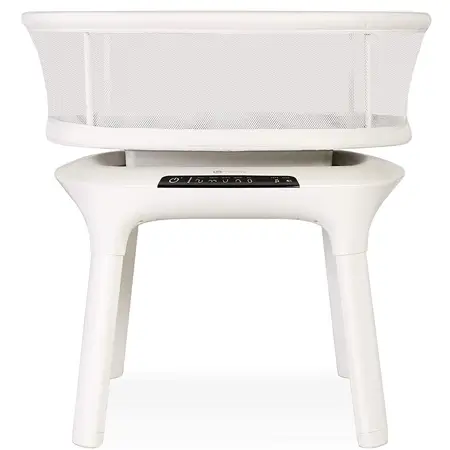 Save $112,5 (25%) on the 4moms mamaRoo sleep bassinet
Black Friday Deals on Travel Bassinets
Dream On Me Traveler Portable Bassinet:
A perfect choice for those looking for a spacious bassinet when traveling or away from home.
Get this popular portable bassinet for a lower price before Black Friday! Yes, amongst four finishes, only two are on sale. But the Dream On Me traveler bassinet is the best-selling portable bassinet, so it may soon go out of stock on Black Friday.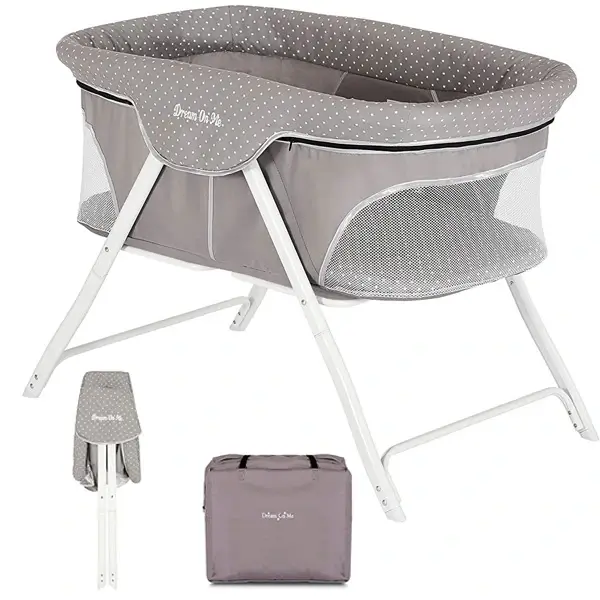 Save on the Dream On Me Portable Bassinet
Safety 1st Nap and Go Rocking Bassinet:
The Safety 1st Nap and Go Rocking Bassinet lets your baby sleep anytime and anywhere. It is lightweight and folds easily into a convenient travel bag. You can even take it with you to the park. It has a retractable canopy and bug net, which will keep your little one safe when outside too.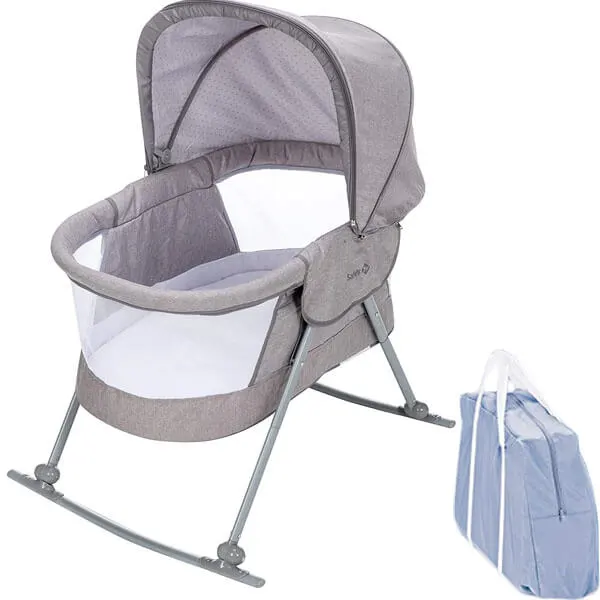 Save on the Safety 1st Nap and Go Rocking Bassinet
How to get the best Black Friday deals on Amazon?
The first option is searching among many Amazon offers on Black Friday. However, this is a bit time-consuming, and you can quickly run out of time to find Black Friday deals on all the items you need.
Your second option is bookmarking this page (babyslittleplace.com), and check back on Black Friday as we'll find the best baby deals for you!
But there is also a third option, purchasing Amazon Prime. It gives you an edge over Amazon's "regular" customers! Even better! You will gain many other advantages, not just exclusive presales on Black Friday!
---
Is buying a baby bassinet on Black Friday worth it?
Yes, buying a baby bassinet on Black Friday can save you a lot of money!
However, when buying a baby bassinet, remember babies outgrow it relatively fast (it is useful for about 4 to 6 months). If your baby is already a few months old on Black Friday, the bassinet will only be useful for a brief time. In this case, I suggest you skip a bassinet and rather save money on other Black Friday baby deals.
But if you are pregnant or have just given birth, taking advantage of Black Friday bassinet deals is the perfect opportunity to save money!
But all the Black Friday baby deals can be overwhelming, or you end up buying a bunch of baby stuff you do not need.
I suggest you stick to a few rules!
When buying a baby bassinet, ask yourself:
Is this a baby bassinet you really want? Don't buy a baby bassinet just because it is on sale on Black Friday! Buy it because you need it, and it is the type and model you always wanted.
Is the discounted bassinet a new model? Many retailers want to get rid of old models, so they are on sale. Although it is nothing wrong with purchasing an older bassinet model, think twice if it is worth it. Also, check if it meets all current safety requirements.
Make the most of Black Friday shopping:
Black Friday mistakes when buying a baby bassinet:
---
Things to consider when buying a bassinet
Here is the list of tips on buying a bassinet, but for more in-deep information, you can read our Baby Bassinet Buying Guide.
Bassinet type:
Your first task is deciding which type suits your family most. Or even better, think about which one is best for you! Many moms forget about themselves and that they should select the bassinet that eases their life!
When buying a baby bassinet, you can choose between four types:
Traditional bedside bassinet: This freestanding unit stands next to your bed. It may have wheels or accessories like the canopy, storage units, etc.
Bedside sleeper (co-sleeper): attaches to an adult bed, making it easy to reach the baby. Some have only three sides, but those who intend to buy it should choose a model with all four sides.
Smart bassinet: This much-loved bassinet type is relatively new-to-market. It has numerous features, like automated rocking, voice responding, sound, lights, vibrations, Bluetooth, and more. It is an excellent helper and even teaches your baby a sleep rhythm, but it is usually very expensive!
Travel bassinet: is the lightest bassinet type, which collapses for enhanced portability and often holds a carrying bag. 
Choose a stable and compact baby bassinet:
Ensure the bassinet fits well in your space. Baby bassinets generally have a small footprint but are available in numerous sizes and shapes, so their overall size can vary by a few inches. Sometimes even an inch is important.
Look for a bassinet that won't tip over easily, even if someone bumps into it. Quality-made bassinets with a wide base are considered the sturdiest.
Set the budget for your bassinet:
How much are you willing to spend on the baby bassinet? Prices depend on the style, model, and type of the bassinet. Wherein additional features, like wheels, storage, canopy, toys, etc., can also add to the final price.
Most traditional bassinets, co-sleepers, and travel bassinets cost between $50 and $250. But you will have to pay more for a smart bassinet.
Some cost even more than a thousand dollars. So, buying a smart bassinet on Black Friday is even more worthwhile. You can save a lot!
Decide on a breathable baby bassinet:
Good breathability reduces the risk of Sudden infant death syndrome (SIDS)!
A bassinet's breathability depends on its sides and mattress. We recommend you pick a bassinet with mesh sides. It has excellent breathability and provides constant airflow through the bassinet, which prevents the baby's overheating.
Buy a bassinet with a flat and tight-fitting mattress:
Bassinets typically come with a suitable mattress! So, only choose a bassinet with an included mattress. It is made specifically for the bassinet it comes with, so it is the best and the safest choice!
However, check if it is smooth, firm, and fits snugly into the bassinet!
Safety:
There are no federal government safety standards for baby bassinets. However, Consumer Product Safety Commission (CPSC) advises what to look for in bassinets:
It should have a wide base.
The bassinet must have a sturdy bottom.
The whole surface of the bassinet should be smooth.
No hardware should be sticking out of the bassinet.
I must have a firm and tight-fitting mattress. 
Think about bassinet accessories and additional features:
adjustable height
casters
carrying bag
rocking mechanism
canopy
soothing options (sounds, vibrations, light)
smart bassinet features (Bluetooth, WiFi, voice, cry responsiveness, mimicking parents' movements, etc.)
toys
mobile
storage pockets
MORE: Bassinet Accessories – The Best And Worst Extra Features
---
Will Black Friday baby bassinet sales start any sooner?
Yes, we expect baby bassinet deals to ramp up a week to even a month in advance.
That means deals on baby bassinets will start creeping up around early November and, in most cases, last until the end of the weekend after Black Friday.
Feel free to bookmark our page and revisit it. We'll update it with the most recent deals, more information on what to expect, and finally, the latest Black Friday bassinet deals in 2023.
---
More Black Friday baby deals in 2023: