Last updated on January 23rd, 2023 at 12:22 pm
There is a lot of confusion about whether the Union is a 2-in-1, 3-in-1, or 4-in-1 convertible crib. The bed was actually selling in all three versions. In 2021, the last conversion was added, making it a 4-in-1 crib. To see if it maintained an excellent price-quality ratio, we've reviewed it again. Here is a Union 4-in-1 convertible crib review.
Union 4-in-1 convertible crib Review
From now on, the Union is a 4-in-1 convertible crib. I think this is great, as the option to convert it into a full-size adult bed further increases the crib's good value for money.
With a price of just over $ 100, the Union crib stays one of the cheapest convertible cribs on the market.
Yes, the crib's design is simple, but you can not expect a massive carved frame for such an affordable price. It is important that it is made well and that it is safe, which the Union is. And the latest furnishing trends, however, prefer a minimalist style anyway!
A Union convertible crib certainly promises a lot for such a cheap crib. I think you will like it, but let's dig deeper into our Union 4-in-1 convertible crib review first.
---
DaVinci Union convertible crib
The Union convertible crib is the product of the DaVinci Baby. As such, it is a part of a well-known and reputable nursery furniture brand.
If you already made any crib investigations, you are probably familiar with the DaVinci cribs. The DaVinci's Kalani 4-in-1 convertible crib and its vintage-inspired Jenny Lind crib are, after all, one of the best-selling cribs for the past few years.
Of course, that raises the question of why the DaVinci is not listed in the crib's name. DaVinci designed this crib exclusively for big online sellers, like Amazon, and we all know how huge is Amazon's market.
Such collaboration enables the sale of quality and affordable cribs with profit for everyone involved.
---
Union convertible crib's pross and conns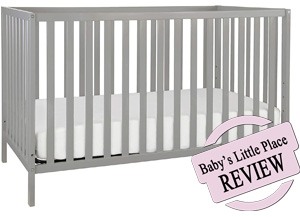 THE GOOD:
good value for the price
it grows with your child
meets all required safety standards
GREENGUARD Gold certified
unique colors, like Lagoon or Sunshine
an affordable price
adjustable mattress support
sleek, minimalistic design
the lightweight of the crib
great for short moms
THE BAD:
it can scratch easily*
few visible screws and holes
*The crib is finished in non-toxic paint. Such paint may scratch sooner than conventional paint, which is full of toxins. I prefer a safe finish, even if it's not so sustainable! Also, any crib, cheap or expensive, will eventually get a few scratches or teeth marks. If you want to protect the crib's wood, take a look into crib rail protectors.
---
Union 4-in-1 convertible crib Review Breakdown
Convertibility Review
A Union is a 4-in-1 convertible crib, which means it can transit into three bigger beds. It converts into a toddler bed, daybed, and full-size bed. Conversions are easy and shouldn't take you a lot of time, but follow the provided instructions.
Toddler bed:
You have to buy the toddler bed conversion kit, but this is common practice with the majority of convertible cribs. And, even with the additional purchase, the overall price stays low.
Daybed:
When your child outgrows the toddler bed, you can transform it into a daybed. Of course, you can skip a toddler bed, and convert the crib directly to a daybed. By doing so, you will avoid additional purchases of safety guardrail.
Union becomes a daybed by removing the safety guardrail and placing the mattress support into the lowest setting.
Full-size bed:
You have to buy a full-size conversion kit for this one. The front and the back of the crib serve as a headboard and footboard in a full-size bed. Union has both sides of the same height, so a full-size bed doesn't look as good as the models, which are meant for this.
Cribs that convert to a full-size bed have higher backsides to be more appealing as an adult bed. A few examples are DaVinci Kalani, Graco Benton, or Storkcraft Tuscany, which is, by the way, one of the best deals on baby cribs too. 
Convertible: yes
Number of conversions: 4
Conversion types: crib, toddler bed, daybed, full-size bed
How long can my baby use the crib?
Stop using Union as a crib, when your child begins to climb or reaches 35 inches. It is time to transform the crib into a toddler bed and later to a daybed.
---
Union's design and specifications
Union crib is a simple yet elegant crib. It doesn't have a bulky framework, but a minimalist design, with slats all around the crib. All four sides are even, without curves, and the crib looks clean and modern.
With a decent color selection, the Union convertible crib fits almost any type of nursery decor. The crib is available in classic colors, like white, natural, ebony, espresso, and gray, or in a more funky version like sunshine or lagoon.
The crib is made from sustainable New Zealand pine wood. Compared to bulky cribs, it doesn't weigh a lot, but it's a sturdy crib with fixed sides.
Manufacturer: DaVinci
Model: Union
Type: 3-in-1 convertible crib
Style: clean modern design
Material: natural New Zealand pine wood
Assembled dimensions: 53.5" L x 30.5" D x 33.5" H
Assembled weight: 36,9 pounds
Color: ebony, white, gray, natural, espresso, lagoon, and sunshine
The crib is not as high as some bulky models, but that doesn't affect its safeness at all. The side rails are high enough to ensure your baby won't climb out of the crib sooner than from any other crib.
Because of such a structure, it's the perfect crib for short moms. We have asked a few petite moms who already have the crib about their experiences. They were very satisfied with the crib, as they reach the sleeping baby easily.
---
Mattress information

The mattress sits on a metal spring support, which allows better air circulation throughout the crib mattress. It possesses four-level mattress support, so you can start with the highest position for a newborn and gradually lower it down. But don't forget to adjust the mattress high as your baby increase mobility and learns to sit up and stand!
Union 4-in-1 convertible crib is a standard-size crib. Dimensions of standard-size cribs and crib mattresses are regulated by the government. That's why any standard-size crib mattress fits into the crib.
U.S. regulations define:
a standard size crib is a baby crib with the following measurements: 52 3⁄8 ± 5⁄8 inches in length by 28 ± 5⁄8 inches in width
a standard crib mattress is a baby crib mattress with the following measurements: at least 27 1/4 inches by 51 5/8 inches and no more than 6 inches thick
However, the manufacturer recommends using the DaVinci mattress in the crib. Of course, this is because they want to sell their own product. I am not saying it is a bad choice, but you should know you have more options.
For instance, lots of parents decide on a Graco Premium foam crib and toddler bed mattress, which is an affordable option.
---
Union 4-in-1 convertible crib Safety Review
Union crib is a sturdy crib with fixed side rails. CPCS commission banned the sale of cribs with drop sides in 2011. There were too many injuries or even deaths because of them. Please, if you have the dropping side crib, don't use it. It is just not worth it to risk!
The crib meets all ASTM international and U.S. CPSC safety standards. They use only non-toxic materials, and the finishes are lead and phthalate safe.
---
Is the Union crib portable?
A crib is lightweight, so you can transfer it from room to room easier than other cribs. Also, the sleek and minimalist frame allows you to get it through most room door frames. However, that doesn't mean it's portable. If you want to move the crib regularly, look into portable cribs on wheels.
What about under-crib storage?
The height from the floor to the underside of the rail is approximately 6″. It is not a lot of space, but sometimes any additional space can be useful. If you want more storage, you can buy a convertible crib with under-crib drawer.
Crib's assembling:
Union 3-in-1 convertible crib is one of the easiest cribs to assemble. The assembly is effortless, and it shouldn't take you more than an hour. You get a fully detailed instruction manual that takes you to step by step through the entire assembly process. All the tools are included.
---
Final verdict
Union 4-in-1 convertible crib is the best baby crib for $100.
The crib meets all required safety standards, and it's as safe as any other crib on the market. The ability to grow with your child makes its value for the price even higher.
We don't see a reason why you wouldn't decide on Union 3-in-1 convertible crib, but if you have any questions, leave them in the comments below.