DaVinci Kalani crib reviews
DaVinci Kalani Crib Reviews
Kalani is such a popular 4-in-1 convertible crib that we were eager to find it out why. There is really not a lot of cribs that would persist on the top year after year. I was wondering if this is because of so many positive DaVinci Kalani crib reviews on Amazon, or is it really that good?
When I first saw the crib, I can't say I was impressed. Because of so many positive DaVinci Kalani crib reviews, I might have expected too much. I thought, if so many parents love the crib I will immediately love it too.
Don't get me wrong the crib is not bad at all! It is a good, safe and nice crib, but there is a lot of 4-in-1 convertible cribs with the same features and beautiful look on the market. So why DaVinci Kalani 4-in-1 convertible crib? Is it because of the affordable price?

 Facts & Parents Reviews
To get a whole picture of crib's popularity, let's look at few facts about the crib at first:
Convertibility:

More and more parents turn to this option because the crib grows with their child. You get a lifetime crib!
Another factor for Kalani's popularity is certainly the price. You can use the crib year after year, and this makes the purchase very cost effective. I won't say Kalani is a cheap crib but compare to others you get a good crib for an affordable price.
Classic & timeless look
Don't forget about DaVinci Kalani crib reviews on Amazon! We all know how powerful is Amazon. If you see an item with a lot of positive reviews there, you are almost certain it's a good deal. And yes, you can get Kalani on Amazon for the best price, with one year warranty.
DaVinci Kalani crib reviews from parents
[stextbox id='ovcka' image='null']
This crib looks amazing and was very easily set up. My friend has the same crib, also my sister just converted it for her toddler and another friend has just moved the mattress down. All said that the conversion was very easy.
Lisa[/stextbox]
[stextbox id='TABLE OF CONTENT' image='null']
The pictures don't do this crib any favor! It arrived without any scratches. The finish is beautiful. It took ~1.5 hours to put together. The design adds a sense of elegance to the nursery. Very pleased with this purchase!!!
Mia
[/stextbox]
[stextbox id='TABLE OF CONTENT' image='null']
This crib came well packaged, encased in foam padding. I love that the toddler bed rail was packaged in its own cardboard box inside the main box. This will allow for easy storage until we are ready to use it. Very satisfied with our purchase so far!
Anna
[/stextbox]
[stextbox id='TABLE OF CONTENT' image='null']
My daughter is just over a year old and I love this crib. I am short and can still reach in to get her. So far, so good. And I would definitely recommend it!
Sara
[/stextbox]
DaVinci Kalani Description and Specifications
DaVinci Kalani is a static crib and as such without any moving parts. It is made from 100% natural solid New Zealand pine wood, with tasteful design and gentle curves. This crib is available in a wide assortment of colors, so you won't have a problem to match it with other nursery furniture.
You don't have to buy DaVinci furniture beside the Kalani crib for the good-looking nursery. But if you do, it pairs with Kalani 3-Drawer Changer, Kalani 3-Drawer Dresser, and Kalani 6-Drawer Double Wide Dresser.
Manufacturer: DaVinci
Model: Kalani
Type: 4-in-1 convertible crib
Style: timeless wooden design, with gentle curves and sturdy construction
Material: natural pine wood
Assembled dimensions: 54.375″L x 35″D x 41.875″H
Assembled weight: 56 lbs
Color: white, chestnut, cherry, honey oak, ebony black, espresso and gray
What can you expect from the crib?
DaVinci Kalani is a standard size crib with stationary sides to add to the security and stability. The best thing about Kalani crib is that it grows with your child. The crib converts to a toddler bed, daybed and finally into a full-size bed.
To turn the crib into a toddler bed, you don't have to buy the safety toddler guardrail. Manufacturers usually sell them separately, but this is not the case here, as you get it with the crib. A big advantage for the Kalani, as it makes the purchase even more cost-efficient.
When your little one doesn't need a toddler bed anymore, you can remove the guardrail and use Kalani as a daybed. And finally, with the conversion rail kit, you can turn the crib into a full-size bed, where pieces of the crib combine to serve as a headboard and footboard. But you have to buy the conversion kit for the full-size bed separately.
[stextbox id='ovcka' image='null']You may question yourself if the Kalani is still stable after all the conversions. Parents say that even in the last full-size stage, the bed remains sturdy and safe.[/stextbox]
Convertible: yes
Number of conversions: 4
Conversion types: crib, toddler bed, daybed, and full-sized bed
Weight Capacity: toddler/daybed = 50lb
Weight Capacity: full-sized bed = 500lb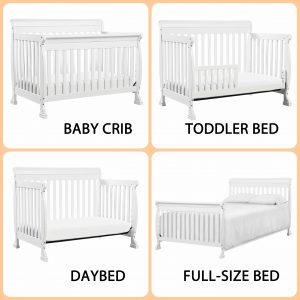 If you are certain you will transform the crib into a full-size bed, I suggest you buy the conversion kit at the same time as a crib. First of all, you will have it on the hand when need it. And second, it will take some time before your child will use the full-size bed, it might won't be on the market anymore.
MORE 4-in-1 CONVERTIBLE CRIB REVIEWS:
Additional information about DaVinci Kalani 4-in-1 convertible crib
1. How long can your baby use the crib?
Stop using DaVinci Kalani as a crib, when your child begins to climb or reaches 35″. It's time to transform the crib into a toddler bed and later to a daybed, which you can use until the child's 50 lbs. The load capacity for full-size bed is 500 lbs.
2. Portability:
DaVinci Kalani 4-in-1 convertible crib doesn't have wheels, so you can't drag it around the house. It is not a portable crib!
3. Assembling:
You shouldn't have major problems with assembling the crib. DaVinci Kalani comes with easy to follow assembly instructions. Most parents reported it didn't take them a lot more than 30 minutes, to finish. However, because of the safety reasons, I would take the time to make sure every part is in the right place. If you are not sure, search for the additional instruction, or even better, call the manufacturer for assistance. Better be safe, than sorry.
[stextbox id='ovcka' image='null']Make sure you assemble the crib in the room you want to use it, as it is bigger as a normal house door.  It won't fit through the doors, believe me, some found this the hard way![/stextbox]
4. Under-crib storage:
There is about 6,25″ distance between the floor and the bottom of the rail, which you can use as an extra storage space. Just to remind you of one more appealing option: a convertible crib with storage drawer. You can read more about them in our article Best convertible cribs with under crib storage. Amongst them is a crib model from DaVinci too.
Mattress information
Mattress sits on the metal spring, which is good for the air circulation. DaVinci Kalani has four-level mattress support, so you can adjust it to the high that is best for you and your baby. If you are tall, you can lower the mattress and vice versa, if you are short, just set it in the higher position.
[stextbox id='ovcka' image='null']No matter if you are short or tall, as your baby motor skills advanced to sitting and standing, you need to lower the mattress position, that she won't fall out.[/stextbox]
The mattress is not included in the price, but you have a broad range of choices, as you can use any standard-sized mattress with the crib.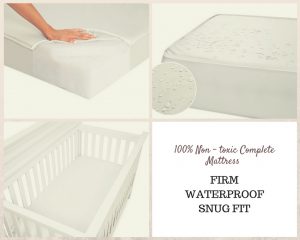 At this point, I need to mention, that DaVinci recommends using 100% non-toxic Complete Mattress. From my perspective, it is a good choice, as it is non-toxic, free of polyurethane foam, vinyl, and chemical flame retardants, as well as hypoallergenic and waterproof. Medical-grade nylon cover is tear-resistant, easy-to-clean, repels liquids and keeps allergens from entering the mattress core. I found it very useful, that the mattress provides a durable sleeping surface, because it is a two-sided mattress, with infant and toddler side.
The complete mattress has been designed to be a perfect fit to the DaVinci Kalani 4-in-1 convertible crib. But as I mentioned before you can use any standard-sized mattress, just keep in mind the safety standards. Most parents actually choose another one, a Safety 1st Heavenly Dreams crib & toddler bed mattress, which has the same characteristics as the mattress from the DaVinci. They are even more satisfied with it, as those who choose the first one.
[stextbox id='ovcka' image='null']Safety: The mattress should be firm and fit tight in the crib! Also, make sure there is a room for no more than two fingers between the side of the crib and the edge of the mattress![/stextbox]
---
What do we like about DaVinci Kalani 4-in-1 convertible crib?
great value for the price
if you wish you can use it as a co-sleeper: By placing the crib next to your bed, removing the front rail and placing the mattress on the same high as your bed.
sturdy and extremely durable
convertible, lifetime crib
adjustable mattress height
a wide assortment of different colors
easy to assemble
it meets all the safety standards
Down points and solutions for them
The wood is little soft, so there will be some scratches over the time. If your baby likes to bite things, there will be teeth marks on the wood too. You probably wanna look into the teething rail protectors, before she gets to the stage when she stands up and chews things. For sure you will lift your baby in and out of the crib a lot. So the crib guards will protect the edges from scratches too. Overall the wood is nice looking, and with little precision, you will have a nice looking bed for a long time.
---
Don't forget about the safety!
The safety should be your No.1 priority. and DaVinci Kalani won't disappoint!
DaVinci Kalani 4-in-1 convertible crib is GREENGUARD Gold Certified. You are probably asking yourself what that means?
GREENGUARD Certified products help reduce indoor air pollution and chemical exposure. The crib is screened for over 10,000 chemicals and certified as low-emitting and healthier for the indoor environment. The crib is finished in the non-toxic multi-step painting process, without lead and phthalate.
DaVinci Kalani 4-in-1 convertible crib also meets voluntary ASTM safety standards, in addition to federal CPSC regulations. The framework is solid with no dropping side.
Your baby body shouldn't fit through the slats, so CPSC set the maximum on 2 3/8 inches. With 2 1/8 inches apart, slats meet safety regulations and are still wide enough for you, to see into the crib from another side of the room.
Additional safety measurements:
Assemble the crib correctly. It should be stable, and it shouldn't wobble.
Crib sides must be at least 26 inches higher than a mattress.
Avoid putting plush toys and any comforters in the crib with your baby.
Always place your baby in the crib on his or her back.
---
The conclusion
Overall the DaVinci Kalani 4-in-1 convertible crib offers everything most parents seek for the crib. No wonder it is the best-selling baby crib in 2014, 2015, 2016 and 2017.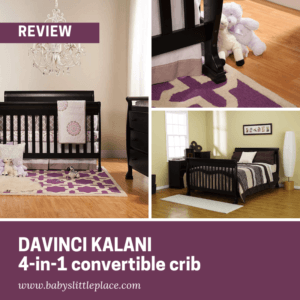 Even though I would probably pick a European style crib such as Babyletto Lolly or Hudson, our research showed me I would do that strictly because of the design. I like that style more, and that's it. As far from other features and safety, which are by the way far more important than look, DaVinci Kalani deserves to be at the top of popularity.
It is comfortable, sturdy and most important, a safe crib! It can grow with your child, and you get the toddler safety rail in the package.
We noticed that if parents make a complaint, that is only because of a few scratches. As I mentioned before, you can solve this problem easily with crib rail protectors. And few scratches that might happen are certainly not the factor that will stop us, to highly recommend the DaVinci Kalani 4-in-1 convertible crib to you.
So far, from our research on where to buy the DaVinci Kalani 4-in-1 convertible crib, the best place is on Amazon. The seller offers free shipping and one year warranty.
---
I hope you enjoyed this DaVinci Kalani 4-in-1 Convertible Crib Review and it was helpful for you. If you have any questions or you want to leave your personal review, please leave a comment below.
RELATED READING:
Hello!
I am the founder of Baby's Little Place. I'm a mom to the one-year-old daughter and I know how overwhelming could be when you are looking things and tips for a new baby, especially if you are a first-time parent. That's why I set up this site…because I want to do something I am passionate about, as well as I want to help new parents and parents to be.
I hope you enjoyed reading my article! If you have any question or comment, please leave them down below. I will be happy discuss it with you!
Have a wonderful day!
---
---