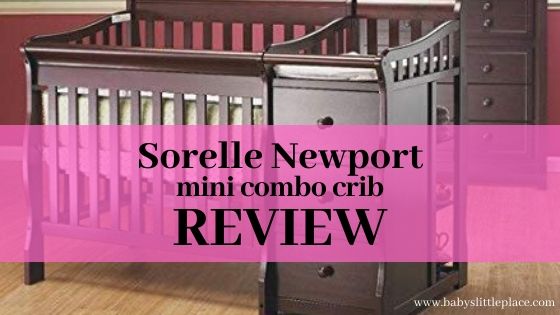 Sorelle Newport mini crib with changing table review
Sorelle Newport is a mini crib with an attached changing table. Mini combo cribs are a perfect solution for small baby rooms, without compromising on style and safety.
Yes, it is smaller than a full-size combo crib, but it has the same features and even grows with your child. That means that your baby will outgrow Sorelle Newport's crib stage sooner, but he will be able to use its bed conversions until adolescence anyway.
Our Sorelle Newport mini convertible crib with changer review gave us good results, but there are better alternatives like Dream On Me Casco.
Pros and cons:
PROS:
the changer with three drawers and three little shelves on the back
3 level adjustable mattress support
included changing pad
it meets all safety standards
durable
CONS:
it can convert only into a twin bed
lack of different finishes
most of the time is out of stock
Update: We have drastically reduced Newport's rating because it's most of the time out of stock!
RELATED: The best convertible cribs with changing table
---
Sorelle Newport convertibility Review
Sorelle Newport is a 2-in-1 mini convertible crib. Once your baby outgrows the crib, you can convert it into a twin-size bed and use the changer separately as a nightstand.
Rails for the conversion are not included in the price. Because this is a common practice for all combo cribs, Sorelle Newport didn't get fewer points in our review.
But we miss at least the conversion into a daybed. I can understand why Newport doesn't convert into a toddler bed. It is a mini crib, and it wouldn't have much sense. That is also very common for all mini convertible cribs.

How long can my child use a crib and twin bed?
stop using Sorelle Newport as a crib when your child begins to climb or reaches 50lbs
the weight limit for a twin bed depends on the twin rails you will purchase
---
Newport's changing table Review
Sorelle's changing table is attached to the right side of the crib. It has three organizing drawers that sit on the metal side glides. Because of that, drawers glide better than on many other combo cribs, which is excellent.
Drawers' depth is 6″, which is enough for a mini combo crib. Behind the drawers are three shelves for additional storage. Shelves are not specious, but there will be room for a few little things.
It is hard to find a fitted changing pad for mini cribs with a changing table, that is why I like that it is included in the price.
A plus for the Newport is certainly a detachable changing table. It can convert into a stand-alone nightstand beside a twin bed, which is great!
---
Description and Specifications
Newport is a versatile and sturdy mini crib. It has square slats, which are placed on the front, back, and left side of the crib. On the right side of the crib is an attached changer that closes that part of the crib.
Newport has a smaller footprint from full-size combo cribs, but with a height of 40,91 inches, it's as high and safe as any other crib.
Sorelle uses solid New Zealand pine wood for the Newport crib. All materials and finishes are also Eco-friendly. If the crib is available, you can buy it in white or merlot color.
The crib is finished in intense colors, but they disappointed with a poor choice.
Some claim you can paint the white crib. However, I do not recommend that. By doing so, you can compromise the crib's safety, and the warranty will be voided.
Sorelle Newport Mini Crib With Changer:
Manufacturer: Sorelle
Model: Newport
Type: 2-in-1 convertible crib with a changing table
Style: traditional with gentle curves
Convertible: yes
Number of conversions: 2
Conversion types: crib and twin bed
Material: natural New Zealand pine wood
Color: white and Merlot
Assembled dimensions: 57.10″ length x 28.85″ wight x 40.91″ height
The assembled overall weight of the crib and changer: 80 lbs
---
Newport's Mattress Information
Any mini crib mattress with the dimensions 38" long x 24" width, and no more than 3″ thick fit in the crib.
You can set the mattress to three different heights. For your convenience, start with the highest setting for a newborn, and gradually lower it down. But don't forget to lower the mattress when your baby starts to crawl or sit on her own!
---
Newport's Safety Review
Safety should play a big role when you are buying a new crib. Actually, it should be the most important factor in your decision!
Sorelle Newport is a safe and sturdy crib, made from solid wood for lasting strength! The crib features fixed side rails, so it doesn't have a dropping side. And that is how it should be with any new crib on the market!
U.S. Consumer Product Safety Commission (CPSC) released new crib safety standards in 2011, where they banned the sale of drop-side cribs. You can read more about this in Baby Crib Safety Standards.
Sorelle uses only non-toxic materials for all their furniture, and the crib is also lead-free. Newport is JPMA certified. That means that the crib has been tested by an independent facility and met the guidelines set by ASTM (American Society for Testing and Materials).
As such, Sorelle baby nursery furniture meets or even exceeds all U.S. Consumer Product Safety Commission (CPSC) standards and conforms to ASTM standards.
---
Sorelle Newport mini convertible crib with changer is a nice looking combo crib. It can last until adolescence, but it can convert only into a twin bed. I would rather have a daybed, as on Dream On Me Casco, but you might don't need it.
The finishes are fine, but I miss a broader selection. As far as safety, I don't have any complaints! The crib is sturdy and meets all required safety standards.
And the thing that bothers me the most? The crib is not on the stock most of the time!
Related articles: