Last updated on January 23rd, 2023 at 04:16 pm
Lately, we have been getting more and more questions, such as: "Do I need a bassinet? Can my newborn sleep in something other than a bassinet?" etc.
This part of the Bassinet Buying Guide will clear the dilemma. It explains whether a bassinet is a necessary piece of baby equipment or whether you can skip it.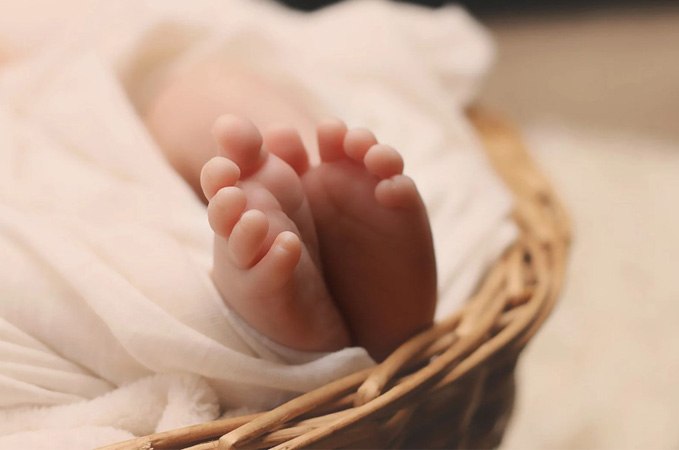 → PART 2 ←
Baby Bassinet Buying Guide
Pros and Cons of Baby Bassinets
Is a baby bassinet something you can skip when creating your baby registry? Yes, you can! A bassinet is not an essential piece of baby equipment! But on the other hand, it is a safe and very convenient baby bed worth your consideration.
Do newborns have to be in a bassinet?
Here's what experts say:
According to the experts, the bassinet is just one of the options you have for your baby's safe sleep. The American Academy of Pediatrics (AAP) and Centers for Disease Control and Prevention (CDC) recommend using a crib, bassinet, or portable play yard (also called Pack' N Play) with a firm and flat mattress covered by a fitted sheet.
All three options are safe for a newborn and can be used from day one, so the decision is on you. The bassinet is an optional purchase you may choose to make for various reasons.
For instance, those having smaller bedrooms will appreciate a small bassinet's footprint. It takes up less space than a crib or Pack 'n Play. Thus anyone can have the baby next to their bed for the first few months.
And the aspects that might divert you from purchasing … babies outgrow bassinets relatively quickly. When it is time for the transition, babies are too small to sleep in anything else, instead the crib or a Pack 'n Play. So, sooner or later, you will have to buy one of these two.
Do you need a bassinet?
The following is what I think:
I suggest you thoroughly weigh all the pros and cons before deciding between the bassinet, crib, or Pack 'n Play. I personally like the bassinet. It has many benefits for young mothers and is a cozy space for newborns who are used to the tiny space in the womb. However, if you are on a tight budget, you can skip the bassinet without any bad conscience.
I will discuss the pros and cons of the bassinet below. You can also find additional information about the bassinet versus the crib and the Pack 'n Play in the following sections of this Bassinet Buying Guide:
PART 8: Bassinet vs. Crib
PART 9: Bassinet vs. Pack 'n Play
Now you know you do not need a bassinet to ensure the best and safest sleeping place for your little bundle of joy. Yet, you are still a bit confused. I understand if you are still unsure if the bassinet is worth your money or not. So let's look at the bassinet's pros and cons.
Pros and Cons of Baby Bassinets
PROS
safe for newborns
raised sleeping area
it keeps the baby close
suitable for small spaces
travel-friendly
easy mobility around the home
useful for night and naps
added features that contribute to a better sleep
CONS
not as long-lasting as cribs
can be expensive
more baby gear to buy and store = higher total cost
So Do You Really Need a Bassinet?
Well, you know all the facts now. It's time to weigh them and decide if the bassinet is right for your family or if you would rather buy a crib or Pack 'n Play right away.
Below, I have listed the bassinet's benefits. If they seem good to you, then the baby bassinet is probably the right choice for you.
Practical reasons why choosing a bassinet can be the option for you:
1. Maximal convenience:
Whether it is due to feeding or changing the nappy, newborns wake up several times during the night. It is much easier to reach over and pick up your baby than to go into another room. Nor you nor your baby won't wake up completely, which can significantly prolong your sleeping time.
2. A bassinet is excellent for mothers after C-section:
One of the best bassinet features is its raised sleeping area. This is very helpful for any mother in lying the baby down, let alone those after C-sections.
3. Keeping the baby as close as possible:
Even if the newborn does not wake up, mothers check on him several times a night. If the baby is next to you, you just look to the side and ensure everything is okay. Again, this makes your nights more relaxed and helps you sleep better. 
You will also react faster when your baby starts fussing, calming her down faster than if she was fully awake.
4. Easy mobility:
Many bassinets are compact and light; some even stand on wheels. Thus you can move them freely around your home, making them a perfect napping space.
5. Travel friendly:
Many bassinets are lightweight and foldable, making them a perfect choice for traveling with a newborn.
6. Sleep training:
The bassinet trains your baby to sleep independently from the beginning, making the transition to the crib smoother and stress-free.