Last Updated on July 31, 2020 by Ines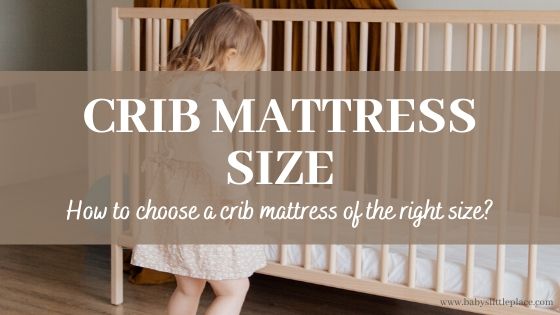 How to choose the right crib mattress size?
So, you have the best and most beautiful crib for your baby. But what about crib mattress? Picking the right crib mattress size is in addition to the sufficient firmness, one of the most important features you have to consider when buying a baby crib mattress. Only a crib mattress with the fitting dimensions will provide a safe sleeping environment for your little bundle of joy.
A crib mattress must fit snuggly into the crib! There should be as little space as possible between the mattress's edge and the crib's frame! Wider gaps increase the risk of injuries and suffocation! So, choose a standard size crib mattress for a full-size crib, crib mattress with smaller dimensions for a mini crib, and a right portable crib mattress for a Pack 'N Play or travel crib.
1. Is the size of all standard crib mattresses the same?
Yes, as the name "standard size crib mattresses" tells by itself, are their dimensions standardized. A very small size deviation is allowed, but in general, we can say that the size of all full-size crib mattresses is the same.
2. Is there a one crib mattress size for mini cribs too?
No! You have to be a little more careful when choosing a mini crib mattress. Check up thoroughly if the mattress dimensions correspond to the interior size of your crib to fit snuggly into it.
I will explain everything about different crib mattress sizes further in this article, but there are also other things to consider when picking a mattress for your little one. We've made a crib mattress buying guide, where you can find everything you need to know when buying a crib mattress.
---
Did you buy a crib mattress of the right size?
If you already have a crib mattress, you can check if it fits perfectly into the crib. A two-finger home fitting test couldn't be easier and quicker. I recommend doing it with any crib mattress, new or used one! Better be safe than sorry!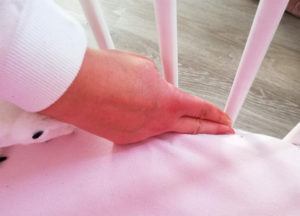 This way, you can further check if you have chosen the right crib mattress size and make sure you didn't buy the wrong one. If there is a visible gap between the mattress's edge and crib's frame, place your fingers there. You shouldn't be able to fit more than two fingers in the gap!
---
Standard crib mattress Size
Among cribs of different sizes, is choosing a mattress for the full-size crib the easiest task. Interior measurements of full-size, or should I say standard size cribs, are defined by the law. The same goes for standard size crib mattresses!
Such regulation enables that all standard crib mattresses fit into all full-size cribs. However, the government can control only the sale of new cribs and crib mattresses! So, if you decide on a second-hand crib or crib mattress, don't forget about the home fitting test before the use!
The law defines:
A standard crib is a baby crib with the following measurements: 52 3⁄8 ± 5⁄8 inches in length by 28 ± 5⁄8 inches in width.
A standard size crib mattress is a baby crib mattress with the following measurements: at least 27 1/4 inches by 51 5/8 inches and no more than 6 inches thick.

Although there are usually no problems with fitting, there is a bit of wiggle room within the regulations. Why? Because the provisions allow a slight deviation. 
If the internal size of your crib is the maximum allowed, and you choose a standard crib mattress with the minimum allowable dimensions, you may end up with a gap. That is unlikely, but still, carefully check the dimensions of both, and do not put the baby in crib before you don't make the fitting test!
RELATED: Crib mattress Reviews
---
What size is a mini crib mattress?
The government does not regulate the size of mini crib mattresses and mini cribs as they do for standard models. Any crib with smaller dimensions from a full-size crib is defined as a mini crib. As a result, the interior dimensions of mini cribs can vary a lot.
Manufacturers cannot make crib mattresses in so many different sizes. But there is an unwritten rule, to which more or less all mattress's and mini crib's manufacturers stick.
The size of most mini cribs on the market is 38 inches long by 24 inches wide, where the most mini crib mattresses correspond to those measurements.

Before buying, make sure that the size of the mini crib mattress matches the internal dimensions of your mini crib. And make a home fitting test before the use!
---
Portable crib mattress size
To tell you what size crib mattress you need, I have to know what portable crib do you have. Do you know that portable cribs include travel cribs, Pack 'N Plays, and even wooden or iron cribs on wheels?
The latter further divide into mini and full-size cribs. While almost all mini portable cribs also collapse for storage and transport, are some of the full-size models without folding mechanism, but classified as portable because of their rolling feet.
What I am trying to say is, this group is extremely versatile, where each type needs a different crib mattress.
Crib matt

r

ess size for travel crib and Pack 'N Play
Pack 'N Plays and travel cribs usually come with an included mattress pad, but some parents want an additional one.
When buying a crib mattress for these cribs, you have to be extra careful. Yes, a crib mattress must fit snuggly, but the mattress's thickness is even more important. Travel cribs and Pack 'N Plays have soft meshed sides, so their mattress shouldn't be too thick. As there is no solid side that would prevent the baby from rolling down, she can trap between the crib's side and the mattress, which poses a safety hazard. Most travel cribs and Pack 'N Plays takes up the mattress, up to 3 inches thick, but check by the manufacturer first!
Crib mattress size for a mini portable crib
When choosing a mattress for a mini portable crib, you have to consider the same rules as for all mini cribs.
Crib mattress dimensions for a full-size portable cribs
Interior dimensions of full-size portable cribs are standardized! So, a full-size portable crib, regardless if it is folding or not, takes a standard size crib mattress.
CRIB MATTRESS REVIEWS
Unique crib mattresses:
Foam crib mattress Reviews:
Innerspring crib mattress Reviews: