Standard size baby crib – measurements & facts
Measurements & facts about Standard size baby crib
Standard size baby cribs are full-size cribs of different types and models. While internal measurements of standard size cribs are the same, can external measurements differ up to few inches. Why? Depending on the different types and crib models, their frameworks have multiple designs and shapes. Cribs are also made from different materials, so the thickness of the crib's framework can also be very different.
Some standard size baby cribs have bulky, another sleek design, and if we are talking about full-size combo cribs, overall dimensions are even bigger.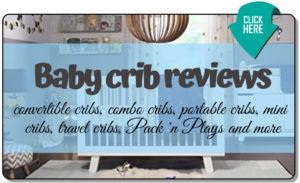 Why should I know the external and internal dimensions of the crib?
External measurements are important if you are on tight with space! Carefully check what the crib's measures are before you make a purchase!
Internal measurements are important while picking the right mattress for your selected crib. Luckily inner measurements for standard size cribs are the same, so any standard size crib mattress should fit into any full-size crib.
U.S. regulations define a standard size baby crib as one whose interior dimensions are 52 3⁄8 ± 5⁄8 inches (133 ± 1.6 centimeters) in length and 28 ± 5⁄8 inches (71 ± 1.6 centimeters) in width.
Looking for mini crib measurements? You can find them here: Best mini cribs for small spaces.
Mattress for a standard size baby crib
Any full-size crib mattress fits in all models of standard size baby cribs. But, make sure you choose a firm and safe mattress for the crib!
If you use an older mattress, check if it's still firm and fits tight in the crib. Press on the mattress with your hand, if it springs back in place quickly, it's firm enough. Also, make sure there is a room for no more than two fingers between the side of the crib and the edge of the mattress. That way your baby can't slip in and get trapped between the mattress and crib side.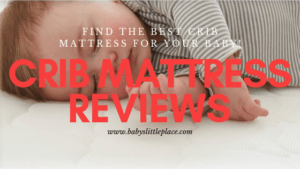 Types and models of full-size cribs
A picture says a thousand words! That's why we used them, to present all the different types of standard cribs. We were wondering how to do it in a most practical and understandable way and came up with the idea of hierarchy graph.
So, below is a graph with standard size baby cribs of all types. Under the graph, we made a short description of each type. And by clicking the link beside the description, you get the whole article about it.
Also, we will continuously add new crib reviews to the list. We already classified cribs under the type they belong. So you get a rough idea of their look and features right away. For more information, prices and reviews, you can click on the crib name.
---
Non-convertible traditional standard size baby cribs
Those are regular, classic full-size cribs. A non-convertible crib is a traditional first bed for your baby, which serves only as a crib.
The crib doesn't have any extra features, it doesn't convert into bigger beds, and it's not portable at all.
There is not a lot of those cribs on the market anymore, as parents usually expecting more from the crib. Because it is just a crib, without any additional value, it is the cheapest type amongst standard size baby cribs.
---
Convertible standard size baby crib

Convertible cribs convert into one or more different bed options. Those cribs grow with your child! Some models can transform up to the full-size bed, so they can be even a lifetime bed for your child.
Usually, you have to buy conversion kits for transformations separately. But some models have the safety guardrail for a toddler bed included in the price. Why am I telling you this? Because it is very important to read all the specifications for a specific convertible model thoroughly.
Also, make sure what the numbers in the name of convertible crib mean! For example, it is not necessary that all 3-in-1 convertible cribs convert into a toddler and daybed. Some can skip one of these phases and convert into a full-size bed. Check what numbers in the name means!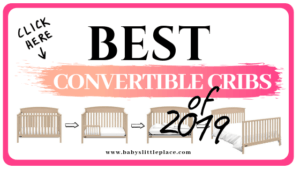 RELATED:
Based on the number of conversions certain crib has, they are divided into:
---
Combo cribs
Combo or combination crib is a multifunctional crib because it has an area for sleep and the area for changing the nappies, combined into one piece of furniture. These cribs have a changing table, which is attached on the one side of the crib.
Combo cribs are space and money savers!
Although combo cribs take up more space as standard types, they are actually space saving cribs. Why? Because they take up less space as stand-alone changing table and crib.
They are usually cheaper as a combined price of a crib and stand-alone changer as well!
All Combo cribs are convertible to some point. If the crib converts into a full-size bed, in the last conversion, a detached changing table serves as a nightstand beside the full-size bed.
You can find combo cribs under different names:
combo cribs
multipurpose cribs
combination cribs
multifunctional cribs
convertible cribs with changing table
RELATED: What is a convertible crib with changing table?
---
Full-size portable cribs
Those are usually wooden cribs on wheels. Although many people think portable cribs are only traveling cribs, wooden cribs on wheels also belong to the same group.
Some of them can even fold-up for easy storage or shorter transports.
TYPES OF PORTABLE CRIBS:
Folding full-size cribs on wheels

Full-size cribs on wheels that do NOT fold up

Pack 'N Plays

lightweight minimalist travel cribs
RELATED: Best rated portable cribs
1. Folding standard size baby crib on wheels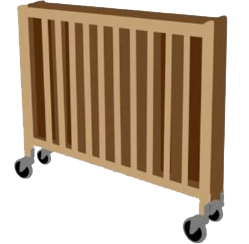 it has wheels for easy moving around the house
it has a minimalist designed framework, to fit through room doors
it can fold up for easy storage
you don't need any tools for the folding
no disassembly is needed for the folding
perfect for the secondary crib, grandparents or holiday house
READ MORE:
Dream On Me full-size portable folding crib
2. Crib on wheels that doesn't fold up
doesn't have a bulky design, that it fits trough room doors
easy moving around the house
it must have a good locking mechanism, so the crib will stay sturdy in place while your baby is in it
RELATED ARTICLES:
3. Pack'n Play & Travel Cribs
First of all, internal measurements of travel cribs are not the same as the standard size wooden cribs! You have to use a special travel mattress in those cribs, which is usually included in the price.
I am not claiming these are mini cribs, but they differ much from wooden full-size cribs!
Although in theory, especially in bigger Pack'n Plays, you could use a classic standard crib mattress, manufacturers do not recommend it. Standard size crib mattresses are thicker from travel mattresses. Because travel cribs don't have slats, but mash sides, baby can trap between the side of the crib and mattress!
Facts about travel cribs:
there are bigger travel cribs and minimalist lightweight travel cribs
they can fold up in a second
most of them double as a Playard
you can store them in a travel bag, suitcase or in a convenient backpack
lots of models have included an infant insert
some models have many additional features, like crib mobiles, toys, napping station for a newborn, changing table, additional storage pockets and more
RELATED: Best travel cribs
Hello!
I am the founder of Baby's Little Place. I'm a mom to the one-year-old daughter and I know how overwhelming could be when you are looking things and tips for a new baby, especially if you are a first-time parent. That's why I set up this site…because I want to do something I am passionate about, as well as I want to help new parents and parents to be.
I hope you enjoyed reading my article! If you have any question or comment, please leave them down below. I will be happy discuss it with you!
Have a wonderful day!
---
---