Best baby crib mobiles

Best baby crib mobiles for your little bundle of joy
Picking the right baby mobile can be a difficult decision. Yes, you need to consider few technical details, but the main problem is the huge selection of different models and types. In our opinion, the best baby crib mobiles need to be safe, with the ability to entertain babies at the beginning of their life. Babies are unable to amuse themselves, that's why dangling, colorful toys are much better view than an empty ceiling.
But best-rated baby crib mobiles are not made just for entertaining, as they must have the ability to relax babies if needed as well.
And remember, a baby mobile can be a beautiful decorative item in the nursery, but first and foremost it is meant for your baby. So, look on practicability, not just on the design! While picking the mobile, you need to consider how it looks from baby's perspective. Yes, the best baby crib mobiles have to be nice and appealing, but the most important is how they look from underneath.
Although we recommend reading the whole article, you can jump directly to the best baby crib mobiles in their group:
You can also jump to your preferred section:
Types of baby mobiles
According to the place they are hung on, we distinguish two types of baby mobiles: crib mounted and ceiling mounted baby mobiles.
While ceiling mounted mobiles swings only with the help of a slight breeze, the crib mounted mobiles operate from three different sources.
Yes, crib mounted baby mobiles can be operated by the wind too. And there are few good wind operated crib mobiles on the market, but more common are those with mechanical box. Mobile utilizes a small motor, which spins the toys and plays the music. And the mechanical box can be operated by batteries or wind-up manually.
Baby crib mobiles differ according to the source needed to spin the hanging toys:
wind operated baby crib mobiles
battery operated baby crib mobiles
wind up baby crib mobiles
Wind operated baby crib mobiles
Wind operated baby mobiles can be hung over the bed, but many parents decide to hang them on the ceiling. Despite their beautiful design, they are less and less popular amongst parents. Although they need only a slight breeze to spin around, they still need it, and not many nurseries have a constant wind flow through them. Parents mostly decide on this type of baby mobile, due to decorative looks, and as an addition to the thematically decorated nursery.
Wind operated baby mobiles are more suitable for its decorative purposes and short baby relaxation. They do not hold a lot of weight, so they contain lightweight objects, like felt toys, balls or feather. You can't remove hanging objects from the mobile.
Battery operated baby crib mobiles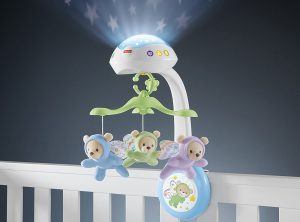 On the contrary, battery operated crib mobiles are made mostly for the baby entertainment or relaxation, not for the decorative purposes.
Those mobiles are stronger and support more weight, so various interesting and bigger toys can be hung on them. Usually, you can remove the toys, so the baby can play with them when the mobile is not in use. This type of baby mobile utilizes a small motor, which runs on batteries and has a various functionality.
We described all the additional features a battery operated crib mobile can have in the section below.
Wind up baby crib mobiles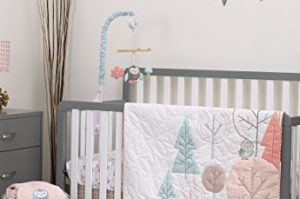 This type of crib mobile also runs mechanically, but you need to wind up the box manually. So you don't need batteries or electric power for operating. You wind it up manually and when unwinding the mechanical box spins the hanging toys and plays the music.
As mention before, wind up mobiles usually plays lullaby beside rotating the toys. But they don't play it as long as battery operated mobiles. There is also only one song.
As they are almost as strong as electronic mobiles, they can carry more weight than wind operated baby mobiles. Usually, you can also take the toys down from the mobile when it's not operating.
While you do not have to worry about changing batteries, you have to wind up a knob or handle over and over.
---
Best baby crib mobiles

After our extensive research, hours of testing and consulting with parents, we got a list of best-rated baby crib mobiles below.
Best battery operated crib mobiles
Not all battery operated crib mobiles contain all the features, as operating modes vary from model to model.
PROS
lots of additional features: nightlights, night light projector, remote control, volume control, …
different melodies
different spinning speed
push on the button to start operating
longer operating time
different operating lengths
detachable toys
CONS
some drain batteries really fast
sometimes a rotating mechanism can be too loud
---
Best wind up crib mobiles
PROS
no battery needed
perfect for a themed nurseries
a nostalgic touch
bigger toys, as on the wind operated mobile
detachable toys
CONS
they don't run for a very long time
only one melody
no lights
they can be over-wound and stop working if you are not careful
wind up music boxes usually break faster than battery operated
---
Best wind operated baby mobiles
POROS
nice nursery decoration
lightweight
needs only light breeze for moving the hanging objects
lots of wind operated baby mobiles are handmade
CONS
no additional features, like music or lights
it needs constant wind flow to operate
---
Things to consider, before picking one of the best baby crib mobile
technical aspect:
From a technical point of view, you have to pay attention to the following things:
what type of baby crib mobile you prefer: operated by wind or mechanical operated mobile (wind-up or battery)
the frame of the crib on which you will install the mobile
Choose a mobile that fits a wide range of cribs and can be easily attached to the crib frame.
Although crib mobiles are designed to fit onto many different crib types, there is no universal baby crib mobile which would fit into all available cribs. There are too many different types of baby cribs on the market that this would be even possible.
If you have a crib with sleek design and minimalist frame, most likely there won't be any major problems with installing a mobile onto a crib. But if you have a crib with a big and bulky frame, this is another story. In any case, check thoroughly if the selected crib mobile will fit properly onto a crib.
Some baby crib mobiles fit best on rounded crib rails when others slot perfectly onto cribs with square rails. If the crib mobile doesn't attach firmly and correctly onto the crib, do not use it! It can damage crib frame and even worse hurt your baby, as it can lose and fall down.
Other things to put into consideration:
Newborn:
A newborn can only see about 8 to 12 inches away, beyond that, the world seems like a pretty blurry place to him. A crib mobile, which can be set lower, closer to the baby's eyes, is the perfect solution. But, even if the mobile doesn't support that, it is not the end of the World. Cribs have adjustable mattresses. Because you start with the highest mattress position, the mobile is closer to your baby. Also, crib mobile will stay out of baby's reach all the time, as you will gradually lower down the mattress with his growth.
Though it is not known how well babies can distinguish colors at birth, color vision is likely not fully developed at this stage, so your baby will benefit from bright colors on their crib mobile a lot. Choose bright colors with a lot of contrast!
Colors and movement:
When you are searching for a new baby crib mobile, keep in mind that it should stimulate your baby. So, pick the mobile with lots of colors and different shapes. Also, a good crib mobile helps to improve hand/eye coordination. Pay attention to which directions the mobile can rotate the toys.
The best baby crib mobiles can move the toys in different directions, up and down or rotating clockwise and counterclockwise. Your baby will track moving toys with her eyes, and sooner or later she will try to reach them too. By looking into a certain toy and trying to reach it, she will learn to coordinate her movement with eyes, to get what she wants.
Design:
As I already mention you should put more attention to usability, but if we focus only on the design, pay attention to the following things:
What is the design of your nursery? If you pick a themed nursery, you can find numerous themed crib mobiles, like planes, sea animals, space, jungle and many more.
What is the color of your nursery?
Do you need a crib mobile for a baby girl or baby boy?
If you already have a baby, try to identify her favorite type of toy and pick a mobile with them.
---
More about Battery operated baby crib mobiles
Battery operated baby crib mobiles are the most popular choice amongst parents. As these mobiles work without your help or help from the wind, they can ease your life a lot. Batteries provide many additional features besides the rotating toys for this type of mobile. And that makes them even more desirable amongst parents.
Multiple flashing lights or even a night light projector are one of the best things they can provide. With projecting an image onto the ceiling or wall, they can create a starry night sky, colorful animals, and more.
Battery operated baby mobiles always contain a musical box. With different soothing melodies with or without the night lights, they will help your baby to feel relaxed and calm.
Some are even remote controlled. You can turn on and of the movement of the mobile, switch between soothing sounds or turn on and off lights.
Additional features that battery operated mobile can have:
detachable toys
remote control
glowing in the dark
flashing lights
night lights
night light projection
the sound of a heartbeat, natural sounds or white noise
---
More about musical baby crib mobiles
There are two types of musical crib mobiles, as both, battery operated and wind-up crib mobiles contain a musical box.
Music is important for babies because it stimulates the baby's hearing and listening skills. While wind-up mobiles have only one melody, a battery operated musical crib mobiles usually offer several song choices: soothing sounds, natural sounds, heartbeat, lullabies or classical melodies.
Melodies are meant for relaxation, so be sure to choose a musical crib mobile that plays soft and gentle music, instead of very loud and blaring sounds. If the mobile contains volume control, that's even better, as sometimes the sound can be pretty loud, and you don't want to keep the baby awake.
The biggest difference amongst battery and wind-up musical mobiles is the duration of the melody. Also, wind up musical crib mobiles require you to physically turn a key and let the music box to unwind when playing a melody and spinning the toys. You need to manually wind them up over and over if you want to play the melody for a longer period.
Battery operated musical crib mobiles, will play music after the push on the button. They have a preinstalled playing time, which ranges from half a minute to a whole hour.
Pay attention to the following things:
music duration
source for operating
numbers of melodies
melody types: lullabies, classical music, natural sound, heartbeat sound, …
does it have adjustable volume heights
does it has remote control
does it plays music continuously, or you can switch between melodies
do toys stop spinning before the music stops: this helps to calm down babies, as they don't have visual stimulation anymore
Hardly any musical baby crib mobile will have all the listed features above, as we only presented you all the qualities it can have.
---
More about Portable baby mobiles
Portable mobile is a variant of baby mobile, that easily goes everywhere with you and your baby. It is adaptable, designed to easily attach to most play yards, strollers, cribs, car seats, and bassinets.
There are two types of portable baby crib mobiles:
you can take off only the hanging toys on the clip
you can take a mobile motor with the hanging toys beside you
---
Safety tips'
attache the crib mobile tightly onto the crib
hang it at least twelve inches away from the baby
remove the baby crib mobile, if your baby can reach it and pull down the hanging objects
make sure that baby can't reach the batteries
remove the remote control out of baby's reach
check that everything is properly installed
be sure that there are no broken and loose parts
---
Why should you buy the baby crib mobile?
Because, this is a good investment for you and your baby. Yes, for you too! Believe me, you will need a rest! If there is a device that can help parents to get a little time for themselves, I am for it!
The baby crib mobile will entertain your little bundle of joy or help him to fall asleep. I am not saying it will work all the time, for everyone. But I can say it has worked for me. I admit I was one of the lucky ones. I put my daughter in the crib, turned on the mobile and she fell asleep when she was listening to the music and observing toys.
We had three different mobiles. Yes, three! I said I am for the helping devices.
First was a simple Ikea wind operated mobile with little animals above the diaper changing table. She was happy and collaborated when we were changing her diapers, as she was distracted by the hanging toys.
Other two was Fishers Price and Tiny Love musical mobiles on batteries. Tiny Love was the portable mobile, which we took on holidays or used in the grandparent's house. We do not use it anymore. For the last months, we only used it on a crib in grandparent's house. When my daughter was big enough to stand up, she started to pull it off the crib, so we put it away.
And for the nursery, I picked the Fisher-Price Starlight crib mobile, with everything you can imagine: different kinds of music, night light projector, rotating animals and the remote control. And it helped, it helped a lot! She is two and a half now and she still uses it. The only difference is that now she turns on and off the mobile or nightlight projector by herself.
---
Benefits for the baby
Developing senses:
A mobile provides visual stimulation and promotes brain development. Toys and the mobile slow-motion along with the soft music stimulate baby's sense of sight and sound. The more colorful the crib mobile is, the more visually stimulating it will be for your baby.
Relaxation:
The soothing music and steady movement create an atmosphere that calms babies and helps them through the process of going to sleep.
Language & Communication:
As babies lie in their crib, looking at the mobile characters, smiling and practicing some baby talk, they hone their communication and language skills.
Hand-eye coordination:
As their eyes become attracted to bright colors and fun shapes, a baby may become excited enough to try to touch the shapes. Sooner or later her hands will start following her eyes, trying to reach the certain toy.
Education:
Some battery operated baby mobiles can also serve as an education tool after your baby stops using it as a crib mobile. By touching a shape, a sound is made which can either denote a letter or number or can play a relaxing tune.
Hello!
I am the founder of Baby's Little Place. I'm a mom to the one-year-old daughter and I know how overwhelming could be when you are looking things and tips for a new baby, especially if you are a first-time parent. That's why I set up this site…because I want to do something I am passionate about, as well as I want to help new parents and parents to be.
I hope you enjoyed reading my article! If you have any question or comment, please leave them down below. I will be happy discuss it with you!
Have a wonderful day!
---
---