Tiny Love musical mobile Review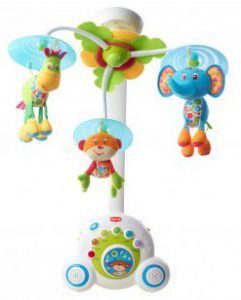 Is Tiny Love Soothe 'n Groove the best baby musical mobile?
Yes, we think it is! Why? There are tons of baby musical mobiles with only one lullaby on the market. There are also hundreds of crib mobiles with two or three sounds. But there are not a lot of baby musical mobiles with such a wide selection of sounds and songs as we have here. Tiny Love musical mobile has numerous songs and sounds in various categories. Because of that, and because of the quality of sound and the ability to play longer than most other baby mobiles we define Tiny Love Soothe'n Groove mobile as the best baby musical mobile!
→ Best baby crib mobiles of 2018
---
PROS
versatile use: crib mobile, crib musical box, and portable music box
grows with your baby
multidimensional movement
18 tunes in six categories
up to 40 minutes of non-repetitive music
switching between sounds
adjustable volume
night-light
CONS
no remote control
the night light can be a bit too bright in the dark room
---
We have reviewed a lot of baby mobiles, so we have a pretty good picture if the mobile is good or not. I won't say Tiny Love Soothe 'n Groove is the best baby mobile overall. Not because it wouldn't be a great product, but because baby mobiles have different features. Which one is the best for you, depends on what you are looking for. If you are looking for the best baby musical mobile, Tiny Love Soothe 'n Grove is the best choice in its category. But for instance, if you are looking for a baby mobile with nightlight projector, this one can't be the best option for you.
→ Best baby crib mobiles of 2018
Other features that give the additional value to the Tiny Love musical mobile:
Tiny Love musical mobile is a versatile mobile, which grows with your baby
it is a safe mobile
it is available in different designs
you can use it longer than just for the first months of baby's life
it has a nightlight
The only thing we are missing here is the remote control. As this mobile can play for so long, usually there is no need to restart it. But, if you need to, you will have to do it manually with buttons on the mobile base. Because the remote control is not the essential thing to look for a baby mobile, Tiny Love "won the first place" in our search for the best baby musical mobile anyway.
Tiny Love musical mobile grows with your child
Soothe 'n Groove is a unique three-in-one musical mobile that grows with your little one from newborn to toddler.
For an infant, you will use the mobile on a crib. Toys will spin above your baby, entertain her or soothe her to sleep along with gentle music.
You have to remove mobile's arm from the base when your baby is old enough to reach the toys. But you can keep the mobile base attached to the crib, and your little one will now use it as a music box.
Multicolored lights indicate which musical category is currently playing. By pressing them, your child can easily select his favorite tune. Or he can navigate between different songs by pressing the large button in the center of the musical box.
And by the time your baby can walk, you can remove the music box from the crib and pull the handle out so that your toddler can carry the box around.
Does Tiny Love musical mobile require any assembly?
The mobile requires a little assembly, but it is easy, and it shouldn't take you more than a minute or two. Just make sure you follow the provided installing instructions carefully, because of the safety reasons!
Tiny Love Soothe 'n Groove baby musical mobile consists of the:
base unit with buttons and lights
mobile arm with hanging toys
crib adapter to secure the mobile onto the crib
Buttons on Tiny Love musical mobile:
Tiny Love musical mobile doesn't have a remote control, so you control it by pressing the various buttons on the mobile's base.
Controlling the mobile is easy and because of the colorful buttons interesting for older babies as well. With six colorful buttons, you can navigate between different sound categories. Buttons for the chosen category will also light up in different colors.
Mobile has also an option to choose between individual songs in the same category. You or your toddler can do it simply by pressing the large button in the middle of the mobile base. And that is not all this button can do, as it is also a nightlight for your baby which you turn on by pressing the on/off button to the higher position.
Best baby musical mobile
So, let's talk about the feature which makes Tiny Love Soothe 'n Groove as the best musical mobile, a sound choice. You can choose up to 40 minutes of non-repetitive music to either soothe or engage baby's senses and help develop auditory skills. From our experiences, this is a lot!
The mobile has a total of 18 different sounds and songs, which are arranged in six different categories. Therefore, each category contains three different songs. You can switch between sounds or press the shuffle button on the top left of the mobile base for random sounds and songs. You can select between classical, jazz, world music, nature sounds, lullabies, and white-noise womb sounds.
music duration: up to 40 minutes of non-repetitive music
volume control: yes, there are six levels of volume
number of melodies: 18
switching between sounds: yes
Other information
TOYS:
Tiny Love musical mobile is available in four different designs. The overall function of all four mobiles is the same. There is only a change in colors and characters.
Tiny Love Soothe 'n Groove Mobile, Animal Friends – Blue: with plush giraffe, elephant, and monkey
Tiny Love Meadow Days Soothe 'n Groove Mobile: with plush bunny, hedgehog, and fox
Tiny Love Soothe 'n Groove Mobile, Tiny Princess in pink/white combination, and plush hedgehog, butterfly and ladybug
Tiny Love Soothe 'n Groove Mobile, Tiny Princess Tales: with plush raccoon, deer, and fox with flowers
ROTATION:
rotating direction: multidimensional movement
it can rotate, without the music, as the lowest volume level will mute the music
NIGHTLIGHTS:
yes
six little light buttons for the chosen sound category
soft blue night light with a picture in the middle of the mobile base
two models (Animal Friends – Blue and Tiny Princess) have also the overhead light: a soft, blue night-light on the top of the mobile's arm
it doesn't have the

nightlight projector
TECHNICAL DETAILS:
weight: 1.98 pounds
dimensions: 22.8 x 16.9 x 14.4 inches
batteries: 3 C batteries required (not included)
AGE:
as a crib mobile: from 0 to 5 months
as a musical box, as long as you want
WARRANTY:
The warranty for Tiny Love musical mobile is 6 months from the date of purchase with a receipt.
---
FREQUENTLY ASKED QUESTIONS
1. Can I use Tiny Love musical mobile on a pack'n play or bassinet?
The mobile attaches using a large pressure locking nut that screws onto the mobile base through the crib slats. It can only be used on a crib or bassinet that has slats to attach and support the mobile. It cannot attach to a fabric cover bassinet or play yard.
However, some moms cheat a little and attach it onto the chair and push it next to the pack'n play. If you do that make sure the chair is sturdy and your child doesn't reach the mobile.
2. Is Tiny Love musical mobile sound activated? Will it turn itself on if baby cries or fuss?
No, it does not. You have to turn it on by yourself like the majority of other crib mobiles. If you are interested, we have made a review of the best sound activate mobile, a VTech Soothing Ocean Slumbers Mobile.
3. Can I attach the mobile on all crib types?
Yes, you can, as long as the crib has slats.
4. Can the light be turned off when the music is on?
Yes!
5. Can it spin with no music?
Yes, the music volume can be adjusted on muted when the mobile is turned on.
---
Engaging your baby with music as early as possible is not only just fun, but it will also cultivate her musical cognition and other cognitive skills. Because of this, almost all baby mobiles have at least one lullaby for the baby, but some stands out of the average. And Tiny Love musical mobile is one of them.
Along with huge sound choice and installed nigh light, it also grows with your baby. In our opinion, Tiny Love Soothe 'n Groove mobile is certainly the best baby musical mobile you can buy now.
Hello!
I am the founder of Baby's Little Place. I'm a mom to the one-year-old daughter and I know how overwhelming could be when you are looking things and tips for a new baby, especially if you are a first-time parent. That's why I set up this site…because I want to do something I am passionate about, as well as I want to help new parents and parents to be.
I hope you enjoyed reading my article! If you have any question or comment, please leave them down below. I will be happy discuss it with you!
Have a wonderful day!
---
---