Last updated on January 23rd, 2023 at 12:31 pm
Orbelle Trading the Tian mini Portable Crib Review
Orbelle Trading portable crib is a little less known mini crib, but those who have decided for this crib provide only positive reviews. I have to say that I agree with them. In my opinion, the Tian crib easily competes with other mini portable cribs on the market. And the results of our Orbelle Trading portable crib review confirmed this. In fact, they are so good that we've included the Tian on the list of the best mini portable cribs.
Now I sound like I'm selling this crib. So, is there anything we don't like? Yes, there are minor things I want to mention. First of all, Orbelle states that this is a convertible crib. I don't agree!
If you've read any of my reviews, you already know that I don't like such naming for cribs that are not convertible in the truest sense of the word, and Orbelle Trading mini portable crib is not the exception. Placing a number 3-in-1 besides a portable crib like the Tian confuses the customers, and at worst, ever misleads them thinking they are buying the crib that grows with the child.
Crib's pros and cons: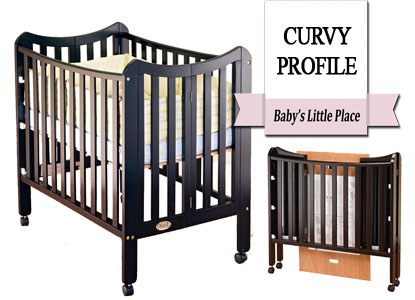 PROS:
minimalist arched design
quality wheels
reliable locking mechanism
folds flat
JPMA certified
meets safety standards
a better alternative to a regular bassinet
three-level mattress support
included mattress
CONS:
3-in-1 in the name could lead someone thinking he is buying a crib that grows with the child
the included mattress is very thin
Orbelle Trading portable folding mini crib is suitable:
for urban living
for easy moving around the house
for the millennial on-the-go families
as a crib in grandparent's, daycare, or caregiver's house
instead of a regular bassinet
for co-sleeping in parents room
as a crib for guests
---
Is Orbelle Trading portable crib convertible or not?
A 3-in-1 convertible crib is a model that converts into two bigger beds (toddler bed, daybed, etc.), not a portable crib with three mattress levels, such as Orbelle Trading mini portable crib.
Same as Dream On Me for their mini portable crib, Orbelle marked the Tian as a 3-in-1 model. The company states that the crib converts into a playpen and changing table, but these are not the same conversions as those on real convertible cribs. 
Orbelle Trading the Tian's 'conversions':
The highest mattress's setting is for them a changing table. That is the level for your newborn.
When the mattress is set to the medium level, Tian it's a crib. 
The bottom level is a Playpen. That is the level for your toddler.
Don't get me wrong! Three-level mattress support is a big benefit for a mini portable crib. Even further, you can adjust the mattress without the use of tools and disassembly, which is very convenient. My criticism is only about crib's naming, which can intentionally or unintentionally mislead customers, not about crib's functionality!
---
Orbelle takes a mini crib mattress
My second remark refers to the included mattress. Not all portable cribs come with the mattress, so having at least a thin one isn't a bad thing for the Orbelle Trading mini portable crib.
Just don't rely on the included mattress, especially if you intend to use the crib every day. Tian's mattress is more of a pad, like the one used on changing tables. You can pick a mini portable crib mattress, which must be at least 23-5/8" L by 37-3/4" W, and no more than 2″ thick. A Milliard Memory Foam mini crib mattress is our suggestion, which doesn't cost a lot.
Anyway, all portable crib mattresses, of all brands, that come with portable mini cribs are the same. They are thin and suitable only for occasional use
---
Our Orbelle Trading portable mini crib Review
To get even more relevant results, we compared the crib with similar mini cribs, such as Delta Children portable mini crib, Babyletto Origami, and Dream On Me portable mini crib.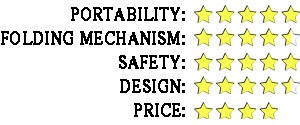 Portability:
The Tian crib stands on wheels that roll smoothly. Casters also possess a reliable locking mechanism, which holds the crib in place when your baby is in it.
It doesn't have a large footprint, so it doesn't occupy a lot of space. It has a lightweight wooden frame, which is designed to fit through standard room doors. All this makes it easy to move from one room to another, without disassembly.
When it is not in use, you can easily fold it down and set it back, again, without any disassembly.
Safety:
Orbelle Trading mini portable crib meets all required safety standards set by the government. It has a JPMA (Juvenile Products Manufacturers Association) certificate, which means that it has been tested by an independent facility, and doesn't contain toxic chemicals or toxic paint.
The crib is stable and doesn't have drop sides. CPSC (Consumer Product Safety Commission) released a new crib safety standard in 2011, where they banned the sale of dropping side cribs. There were too many injuries and even deaths because of drop sides.
So, no matter what crib will you pick, don't use those with drop sides. It's not worth the risk, especially considering that there are so many cheap but safe cribs on the market.
---
Frequently asked questions
How long can my child use this portable mini crib?
Discontinue use of the product when a child is able to climb out or reaches the height of 35in.
I would say that on average, toddlers can use the Orbelle Tian crib up to their second birthday or even more.
Can I assemble the crib without wheels?
Yes, you can, but the crib doesn't have soft pads for the bottom of the legs.
Is it possible to take the front railing off and use it as a co-sleeper?
No, you shouldn't take the railing off, because you will compromise the crib's safety. Place it next to your bed, lock the wheels, and set the mattress into the highest setting for a newborn. As such, it is a great co-sleeper, which is better than a regular bassinet.
How hard is the assembly?
It's not hard, just follow the provided instructions, and take your time.
Does the front rail drop-down?
No, it doesn't, and that is how it should be! As I already said, dropping side cribs are dangerous.
---
The verdict
Orbelle Trading the Tian mini portable crib is a great choice. As far as goes about its portability, I don't have any complaints, because it serves its purpose to perfection.
The company should provide more information about the crib. For instance, the description on Amazon is limited. You can't find any information about the crib on Orbelle's website either. I don't know why, but they have only cribs' pictures without their descriptions. In my opinion, the Orbelle could easily sell more cribs if they would put a little more effort into their web's appearance.
Yes, the Tian Three Level Portable mini crib costs a little more than the Delta Children mini portable crib, which is one of the best-selling cribs, but the Tian crib has a big potential to follow Delta Children's lead.
And the positive reviews of those who chose this portable mini crib also speak in its favor!
Our research showed that the Orbelle Trading Tian's price remains the cheapest on Amazon.
---