Last updated on January 23rd, 2023 at 04:55 pm
After reviewing the Fisher-Price Smart Connect mobile, we concluded that it is a quality baby crib mobile. But is the Fisher-Price Smart Connect also the best Bluetooth-operated baby crib mobile on the market?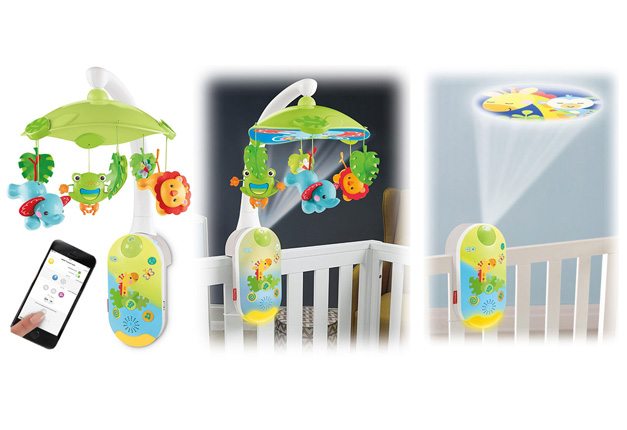 Fisher-Price SmartConnect 2-in-1 Projection Mobile
Bluetooth baby crib mobile review
High-tech parents are going to love this baby crib mobile! Great versatility and operation via smart devices is something for all gadget lovers. Oh yes, babies love it too!
Is Fisher-Price Smart Connect the best Bluetooth crib mobile?
Remote-controlled crib mobiles are becoming more and more popular amongst parents. Such mobiles can be operated from a distance, so parents do not disturb their baby in the crib. As a result, there is less chance of the baby waking up completely. Who wouldn't love a feature like that?
But when designing the Smart Connect crib mobile, Fisher-Price went even a step further. Instead of an ordinary remote, they constructed a Bluetooth-operated mobile!
Basic remotes have one or two features. They can restart the crib mobile, adjust volume, or change between sounds. Bluetooth, on the other hand, allows you to control all of them, plus many other functions.
Of course, Bluetooth alone doesn't place the Fisher-Price SmartConnect 2-in-1 projection mobile on the top. I have to say that it is very versatile. It rotates, plays various sounds, projects images under the dome or onto the ceiling, etc. And most importantly, it must be safe for your baby!
The excellent results of our Fisher-Price SmartConnect 2-in-1 projection mobile review convinced us that this is the best Bluetooth mobile on the market.
Review's Summary: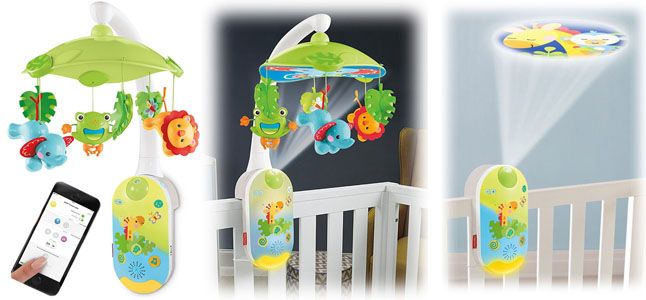 PROS:
controlled by your smart device
light show projector
one-minute dim light for a quick check on a baby
grows with your baby
switching between sounds
adjustable volume
sound sensor
sensory-stimulating mobile
CONS:
projects only one reel of repeating images
a little more expensive baby mobile
RELATED: Best baby crib mobiles
---
Fisher-Price Smart Connect Mobile Review
The baby mobile consists of the base unit, mobile arm, and dome with hanging toys. The mobile's base attaches to a crib with the adjustable strap and strings. The whole mobile is not heavy and easily attaches to various crib rails and spindles of different thicknesses.
If installed correctly, the mobile remains stable and sturdy. But make sure you follow the installation instructions for safety!
Bluetooth-operated crib mobile
You can control the Fisher-Price Smart Connect 2-in-1 projection mobile manually using buttons on the base unit or via Bluetooth.
You will have to download the Fisher-Price Smart connect App on your iOS or Android smart device, and pair the baby mobile with it. Pairing is simple and doesn't take you more than a minute. Same as any other device.
Once you download the App, press a little yellow button on the mobile's side, and your smart device should find the mobile in a few seconds.
The benefit of crib mobiles with Bluetooth
Once you place your baby in the crib and get the mobile going, you can leave the room and continue to control the mobile features from another room.
The App allows you to manage the mobile without disturbing the baby by returning to the room. I find this very useful. If the baby doesn't see her parents, there is more chance she will get distracted by the mobile, which will soothe her into sleep.
Features controlled via Bluetooth:
you can turn it on or off
you can set the time after which the crib mobile will turn off automatically
control the projection
change between soothing sounds and lullabies
turn on the night light
adjust the volume
set the sensibility of a sound sensor *
set and switch between two modes **
* The sound sensor alerts you on your smart device if the sound is detected in the baby's room after the mobile is turned off.
** You can set up two modes, for instance, one for the evening and one for the morning. Music can be louder in the morning when the baby wakes up or calm and gentle when your baby goes to sleep.
Features controlled with buttons on the mobile's base:
on/off
change between sounds
turn on the night light
volume adjustment
turns on and off the projection and mobile movement
Convertibility review
The Fisher-Price Smart connect 2-in-1 projection mobile grows with your baby from a motorized crib mobile to a crib soother for older babies.
The light projection on the mobile dome is very convenient for newborns and young babies. Such projection is another Fisher-Price ingenuity that I really like. They use it on several crib mobiles, including the Fisher-Price Precious Planet projection mobile. That is another baby crib mobile that I like.
Why is projection under the canopy so beneficial in the first months of a baby's life? Newborns and young babies do not yet see so far to focus on the images projected on the ceiling. A little canopy on the top of the mobile brings pictures closer to them, which is great!
When your baby is old enough, remove the mobile arm and covert the Fisher-Price Smart Connect in a crib soother with ceiling projection. Now, the mobile has the same sound options, but it doesn't have spinning animals anymore.
---
Fisher-Price Smart Connect 2-in-1 projection mobile specifications
TOYS:
Fisher-Price smart connect mobile is available in two different designs. Both designs contain three colorful hanging toys, with three leaves for the rainforest and three acorns for the woodland model. Toys are made from plastic, so they are heavier and hang and spins nicely.
Two available designs:
Woodland Friends Smart Connect 2-in-1 Projection Mobile: spinning woodland animals (bunny, owl, fox) and acorns
Rainforest Friends Smart Connect 2-in-1 Projection Mobile: spinning rainforest animals (elephant, frog, lion) leaves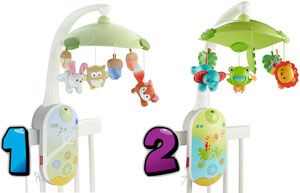 ROTATION:
rotating direction: clockwise
The mobile can project images, rotate, and play music at once, or you can choose between different combinations of them.
MUSIC & SOUND OPTIONS:
music duration: up to 30 minutes
volume setting: yes, manually or via Bluetooth
melodies: lullabies, white noise or nature sound effects
switching between sounds: yes, manually or via Bluetooth
LIGHTS:
light show projector: Projection is displayed on the mobile bottom surface or directly onto the ceiling.
quick checkup night light: The button turns on the soft yellow light at the bottom of the base unit, which is great for letting you quickly check on your sleeping baby.
REMOTE CONTROL:
yes
you can control the mobile from your smart device
TECHNICAL DETAILS:
weight: 2.75 pounds
dimensions: 15.8 x 3.9 x 23.2 inches
batteries: 4 D batteries required (not included)
AGE:
mobile: birth to 5 months
projector: birth and up
---
More about Bluetooth crib mobile
1. Can I play own music via Bluetooth?
Unfortunately, no. You can't use the Bluetooth functionality on the speakers to play your own music. You can only switch between preset sounds.
2. Can I change the reel with images?
The same as all projection mobiles, it has only one reel of repeating images.
3. Can I use the mobile on other baby equipment?
We do not recommend that, because of the safety issues. It is designed to be safe and secure only on a crib. If you are able to attach it somewhere else, make sure that the mobile can't fall down and injure your baby.
If you want a safe baby mobile for the car seat or stroller canopy, you can buy a portable baby mobile.
4. Can my toddler use the projector?
Of course, he can! When you detach the mobile arm, it becomes a projector for many years to use.
5. Is the smart App free?
Yes, the Fisher-Price Smart connect App for iOS or Android smart device is completely free.
6. Can the mobile rotate or play its own music with the Bluetooth OFF?
Yes, it can work without Bluetooth!
---
The Verdict
Yes, Fisher-Price smart connect mobile is a little more expensive, but it offers a lot. It stimulates baby senses and provides a sense of comfort and security at bedtime. While various sounds stimulate the baby's hearing, the motorized crib mobile action and light projection encourages her eye-tracking.
The Fisher-Price SmartConnect mobile's hights are certainly the ability to grow with your baby and operation via Bluetooth. Furthermore, features like managing from another room, push notifications if the baby starts crying, sound quality, etc., convinced me that this is the best Bluetooth baby crib mobile you can buy.
Check the latest price on Amazon:
Fisher-Price SmartConnect 2-in-1 Projection Mobile
---