Fisher-Price baby crib mobile with remote and light projector
Last Updated on September 3, 2020 by Ines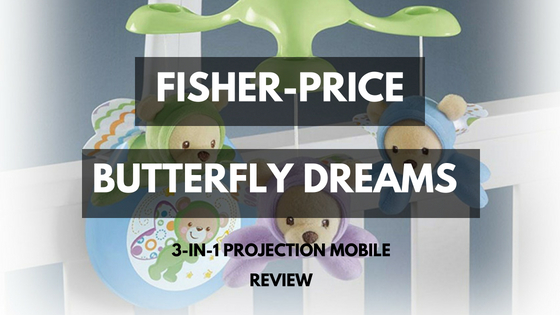 Fisher-Price Butterfly Dreams 3-in-1 projection mobile Review
I love this baby crib mobile! That's why I bought it for my daughter, and she still has it! She is now two years old and still adores the starry nightlight projection on the ceiling. Why did I decide on the Fisher-Price Butterfly Dreams mobile? Although the majority of baby mobiles can engage and soothe babies to sleep, I was looking for a crib mobile that will serve mostly as a sleep helper for my baby. And Fisher-Price baby crib mobile with the remote and light projector was a perfect choice for us! With soft colors, calming music, and nightlight projection it does everything I expected and more.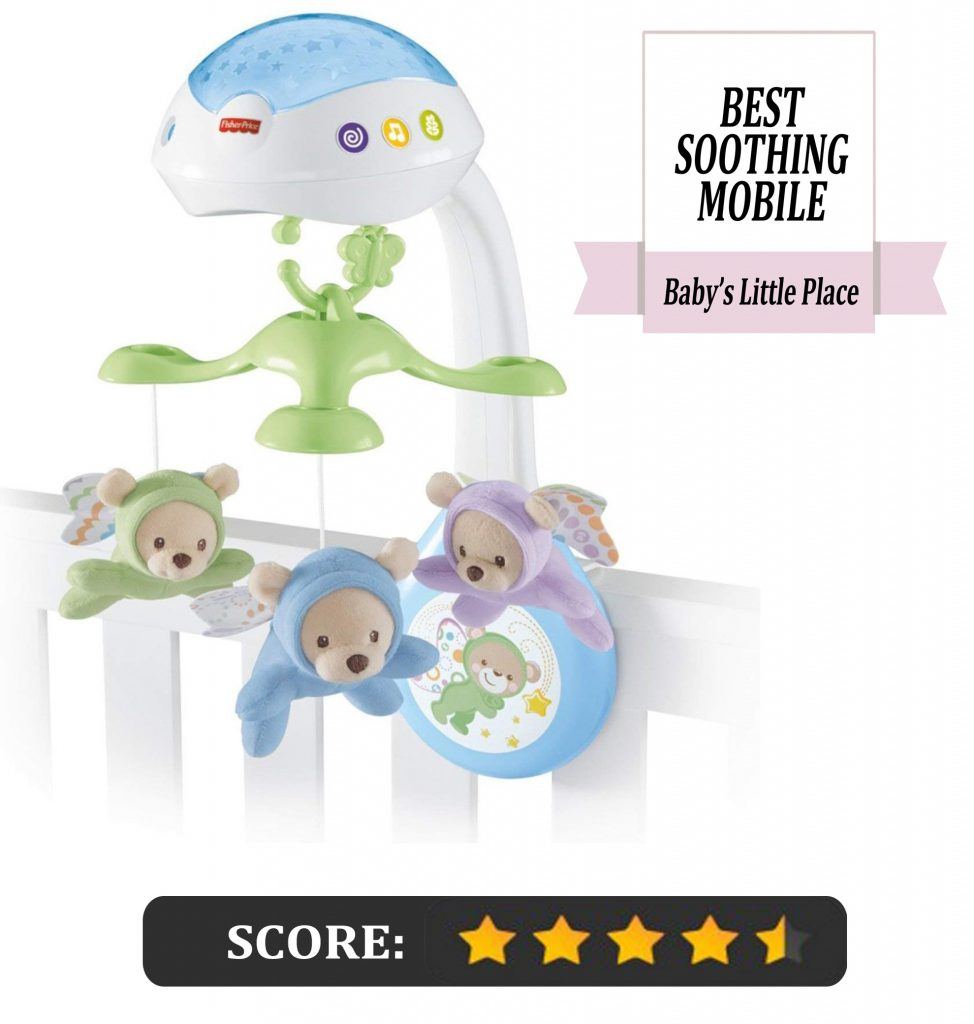 PROS:
versatile use: as a baby crib mobile, tabletop musical projector, and portable mobile
it can spin with or without starlight projection
switching between different sound options
adjustable volume
it has the remote control
easy to assemble
cute teddy bears in soft colors
CONS:
you can't shut down the mobile with the remote
Why would you decide for the Fisher-Price Butterfly Dreams 3-in-1 projection mobile?
if you need a mobile mostly for soothing baby to sleep, this one is a great choice for you
if you want a long-lasting mobile that grows with your baby
if you want a remote-controlled baby mobile
if you want a projection mobile
---
You may also like:
---
Crib mobile's features
TOYS:
three plush butterflies bears
toys are removable
soft colors and patterns
ROTATION:
rotating direction: clockwise
it rotates with or without the light projection
after a while ceiling, projection stops, but the soothing melody still plays for a few minutes to slowly soothe baby to sleep
MUSIC:
music duration: up to 30 minutes
volume setting: yes, it has two volume levels
number of melodies: three audio modes – three lullabies, white noise or soothing nature sounds
switching between sounds: yes
LIGHTS:
yes
soft-glow starry light show projects on ceiling and walls
REMOTE CONTROL:
yes
You can restart the mobile and switch between songs, which is in my opinion completely enough.
TECHNICAL DETAILS:
weight: 3 pounds
dimensions: 13.4 x 9.8 x 18.9 inches
batteries: required 4 AA batteries for mobile and 2 AAA batteries for the remote control (not included)
WARRANTY:
The warranty for the Fisher-Price Butterfly Dreams 3-in-1 projection mobile is 3 months from the date of purchase with a receipt.
---
My experiences with Fisher-Price Butterfly Dreams 3-in-1 projection mobile
I didn't look for a remote-controlled baby mobile, but I find it extremely useful later. It helped me restart the mobile without disturbing my daughter.
I immediately noticed that this one doesn't have such strong colors and patterns as most of the other baby mobiles. And I was looking for that!
Although the hanging bears are in different colors and they do have different patterns on their wings, colors are calming and not too bright. I really like its overall look.
The next thing I wanted for our mobile was a nightlight projection. This remote-controlled baby mobile projects the starry light show on the ceiling. Stars do not appear all at once, so there is never a complete dark in the room, and your baby will love the show on the nursery ceiling.
---
Crib mobile with a remote and nightlight projector that grows with your child
Another feature that gives added value to this baby mobile is its long-term use. That's why it can help with the development in different stages of a child's early life.
The ability to detach the projector and linkable stroller mobile is handy for traveling, as you don't have to take the entire mobile with you. They will help you stick to the same sleeping routine on the road, and familiar toys on the stroller will give your baby a sense of security.
3 in 1 means that this mobile can be used for three different purposes:

1. Baby crib mobile with remote and light projector
At the beginning of your baby's life, you can use it as a musical crib mobile, with all available features: spinning toys, different sounds and songs, nightlight projection and remote control.
Attachment onto the crib:
The mobile's base wraps around the top railing and fastens with a plastic belt. On the back of the mobile base is a special plastic connector, which will adapt to almost any size and shape of a crib rail. And for added security, there is an additional string that you tie around one of the crib slats.
If you follow the provided instruction, you shouldn't have any problems and mobile will stay stable and sturdy on the crib. Just make sure you follow the installation instructions and mobile won't fall from the crib rail!
2. Stroller mobile with hanging toys
Another useful feature is a linkable stroller clip. It easily clips to a stroller's canopy, so your baby can enjoy with familiar toys wherever she goes. But toys dangling because of the moving stroller. The rotating motor remains on the mobile arm, so bears do not spin automatically.
If you want a motorized unit, that can attach to most of the baby equipment, consider buying a Tiny Love portable baby mobile.
3. Remote-controlled tabletop musical projector
After your baby outgrows the crib mobile, it converts to a stand-alone musical projection soother for older babies and toddlers.
When your baby reaches the hanging toys, you have to remove them. Although it says you have to detach the light projector and use it on a table, I didn't do that right away.
When my daughter started to pull down the hanging butterfly bears, I removed them but left the projector on the mobile's arm.
Why? Only because we like it so, and because she can turn it on and off by herself if she wants. Of course, you can detach the projector and use it as a tabletop musical projector right away.
Pick the option which suits you and your baby the most.
After all the pulling and constant playing with the projector, our mobile still stays strong and sturdy on the crib!
---
Fisher-Price Butterfly dreams is a remote-controlled baby mobile
Besides the mobile, you get the remote control, which controls the projector and thus the entire baby mobile. Using the remote control is a very convenient feature, as you can control the mobile, without disturbing the baby.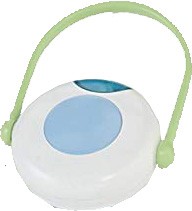 The remote control only comes with one button and a little handle. It requires two AAA batteries, and after two years we still have the first pair. I just checked if it still works, as we didn't use it anymore after she outgrows the mobile stage. She is now switching between sounds and highlight projection manually, with buttons on the projector.
When we were using the remote control, we hung it on the nursery door handle. The remote was there if we need it. Why didn't I take it with me? Although it is very handy, you can't control the mobile from another room, as the remote doesn't have such a wide range.
To be honest, I didn't miss that. Baby's Little Place team tested other baby crib mobiles with remote, and the result was, unfortunately, the same.
But there is one option which can help you with that. If you want to control the mobile from any corner of your house, you might like Bluetooth operated crib mobile. It's a cool gadget for high tech parents, especially dads.
---
Buttons on the light projector
Of course, you can control the mobile manually with buttons as well. Fisher-Price Butterfly Dreams differs from other crib mobiles due to the position of buttons for controlling the mobile. Most baby mobiles have buttons on the mobile's base, but that is not the case here. Buttons are located on the projector, at the top of the mobile's arm.
There is a simple explanation of why Fisher-Price decided to put them on the top of the mobile. Simply because as a tabletop musical projector, you will use only that part of the mobile, and you need buttons to control it manually as well.
I found this very useful because of another reason. When my daughter started sitting on her own, she didn't reach the buttons, so she was not occupied with them.
Buttons on the light projector:
on the right side is on/off button & volume control
there is also a light button, which will turn on the light projection
on another side, there are three buttons for switching between different sound options
by continuously pressing the button for lullabies, you can also switch between three different lullabies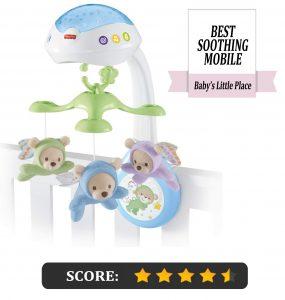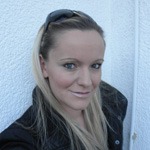 Hello!
I am the founder of Baby's Little Place. I'm a mom to the one-year-old daughter and I know how overwhelming could be when you are looking at things and tips for a new baby, especially if you are a first-time parent. That's why I set up this site…because I want to do something I am passionate about, as well as I want to help new parents and parents to be.

I hope you enjoyed reading my article! If you have any questions or comments, please leave them down below. I will be happy to discuss it with you!
---
---