Last updated on January 23rd, 2023 at 04:40 pm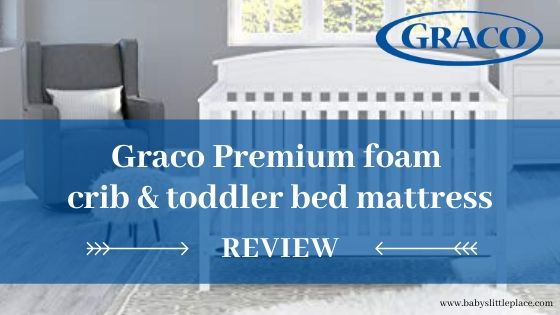 Graco Premium foam crib and toddler bed mattress
The Graco Premium foam crib and toddler bed mattress has according to the declaration everything that a quality and safe baby mattress should have. But Graco Premium is such an affordable baby crib mattress that it automatically raises the question if all its features are as good as they should be. Can a cheap baby crib mattress reach the standards of high-end baby crib mattresses?
According to parents' reviews, it's considering the money you pay an excellent piece. I have to say that I kind of agreed even before the review. After all, it's from Graco! But I did the Graco Premium foam crib and toddler bed mattress review anyway. Just to make sure!
Is Graco's Premium foam mattress as good as some other baby crib mattresses we have already reviewed? Well, yes, it is!
---
Quick review of Graco Premium: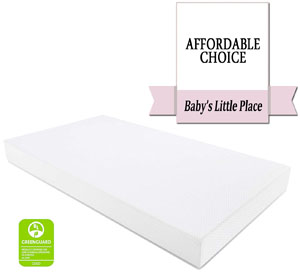 PROS:
it grows with your child
fits into all standard, full-size cribs
GREENGUARD Gold certified
just enough bounce
affordable price
the crib mattress cover is included
removable and washable cover
CONS:
sometimes doesn't fully expand*
*There are reports that Graco Premium foam crib and toddler bed mattress didn't fully expand. Parents noticed the problem mostly on one or more corners.
I didn't notice such problems, so I don't know if there was a problem with the mattress, or parents didn't follow the provided instructions correctly.
Make sure you follow all the provided instructions for proper expansion! Instructions are simple, clear, and easy to follow, so you shouldn't have any problems in my opinion.
---
Graco's baby crib and toddler bed mattresses are exclusively manufactured by Storkcraft. Storkcraft is the exclusive Graco supplier of infant mattresses and furniture for the USA, Mexico, and Latin America. Storkcraft was selected over other manufacturers to produce Graco due to more than 70 years of experience, and the company's impressive history relating to quality, safety, innovation, reputation, and longevity in the industry.
Structure and specifications
The structure of the mattress: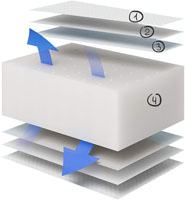 1. Embossed quilted polyester cover with a moisture barrier
2. Separation barrier
3. Fire barrier
4. Polyurethane foam core with airflow technology
Graco Premium foam crib and toddler mattress specifications: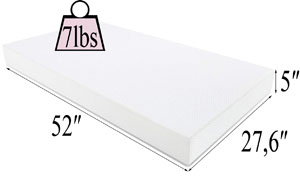 Mattress size: 52″ long by 27,6″ wide
The thickness of the mattress: 5″
Mattress weight: 7 pounds
---
Graco Premium foam crib and toddler mattress Review breakdown
According to Graco, Premium baby crib and toddler mattress should have all the following features. To see if that is the truth, we have reviewed all of them!
great breathability
ideal firmness and support
fits in all standard full-size cribs
water-resistant cover
safe mattress
for infants and toddlers
Venting and heat regulation:
A baby crib mattress must have high breathability because of safety reasons. A breathable mattress enables good internal air circulation, which creates a climate that can cool or warm the baby, depending on the environment. A breathable mattress also presents mold formation in the mattress's core.
Graco Premium is made from high-quality polyurethane foam, which is breathable and maximizes airflow through the mattress.
But a breathable foam is not enough. The mattress's cover must be suitable too. Since plastic covers prevent breathability, they are not good at all. Graco Premium is enclosed with a quilted polyester cover with a moisture barrier that lets the airflow through the mattress. That's how it should be!
We have also made a heat retention test, which shows us how long it takes for a mattress to cool down from 130 to 98 degrees, which is average body temperature.
Graco Premium foam crib and toddler bed mattress cooled down in approximately 25 seconds. That is a good result, as it proves that the child won't overheat.
Firmness and support:
Having the proper firmness is crucial for an infant's safety and growth. Crib mattresses for newborns and young babies must be firm! It's like that … If the mattress seems too firm for you, it has the right firmness for your baby. Don't worry, your newborn won't sleep uncomfortable because of the firmness.
A firm mattress is much safer from soft and cushy mattresses and also decreases the risk of SIDS (Sudden Infant Death Syndrome)!
We have made a simple firmness test, which you can make at home with any crib mattress you have. Press on the mattress with one hand. If the mattress holds firm and spring back in place quickly, it is firm enough.
Although we had seen firmer mattresses before, Graco Premium has sufficient firmness for your newborn, with a good combination of softness for your toddler! Your baby can start pushing up and roll-over on the mattress when she is ready. That will help her to develop strong muscles and good coordination!
Fitting in the crib:
The measurements of Graco Premium foam crib and toddler mattress correspond to those set by the government. It is a perfect fit for all standard, full-size cribs.
We have placed it in a Babyletto Hudson 3-in-1 convertible crib, and Graco Benton 4-in-1 convertible crib, and it fits snugly into both cribs.
There is no problem with the mattress's measurements, but you must be sure that the dimensions of your crib also correspond to the prescribed measures. If you have a new crib, that shouldn't be a problem, otherwise, check-up if crib's dimensions correspond to those set by the government.
U.S. regulations define:
a standard size crib is a baby crib with the following measurements: 52 3⁄8 ± 5⁄8 inches in length by 28 ± 5⁄8 inches in width
a standard crib mattress is a baby crib mattress with the following measurements: at least 27 1/4 inches by 51 5/8 inches and no more than 6 inches thick
Baby's Little Place tip: You can make a home fitting test. Place your fingers between the crib's frame and the edge of the mattress. There shouldn't be more than two fingers space there! If space is bigger than two fingers, then Graco Premium foam crib and toddler mattress isn't the right choice for your crib.
Note!
Make sure that all corners are fully expanded. The mattress must fit snugly into the crib. That prevents the formation of dangerous gaps between the mattress and crib's corners.
Durability:
If you take care of the mattress correctly, it will last enough time to take care of one child.
But let's be realistic, probably it won't be suitable for a second child anymore. I wouldn't place the used Graco Premium in a newborn crib anymore.
But in my opinion, using it through the infancy and toddlerhood of one child is absolutely enough. It is such a cheap baby crib mattress that I recommend buying another one for a second child.
Bounce:
Graco Premium is a foam mattress, so it is not as bouncy as traditional innerspring mattresses. Because of that, your toddler won't use it as a trampoline, which is excellent.
It is a firm mattress, firm enough for your baby, and cozy for your toddler at the same time.
Is the mattress hypoallergenic?
Graco didn't specifically classify this mattress is hypoallergenic. However, they stated: This mattress is GreenGuard Gold certified which offers stricter certification criteria, considers safety factors to account for sensitive individuals (such as children and the elderly), and ensures that a product is acceptable for use in environments such as schools and healthcare facilities.
Is the cover waterproof?
Graco Premium foam crib and toddler bed mattress is not waterproof, but only water-resistant.

If you clean up liquids promptly, it is fine. But if you let liquids sit for an extended period, they will eventually soak through.
Cleaning:
Graco Premium foam crib and toddler mattress have a removable outer cover. The cover can be hand wash in cold water with mild soap. Do not use bleach, as you will damage the water-resistant film of the cover.
For the same reason, you can't dry it in the drying machine, but only on a line.
---
Are there problems with Graco Premium foam crib and toddler mattress decompression or not?
If I say that there was never a problem with the mattress expansion, you would know it's a lie. Only because we didn't notice this problem, that doesn't mean it can't occur.
If the problem occurs, that is usually on the mattress's corners. Sometimes one of the corners doesn't fully decompress. To aid in the mattress expansion fluff the affected areas similar to a pillow, and it should be fine.
However, the same as with any product on the market, you can be the unlucky one who gets a product with a defect. That is why it is nice to know that Graco Premium foam crib and toddler bed mattress came with a 6-year limited warranty.
For optimal convenience, it's shipped compressed in a lightweight, easy-to-carry box. It is a self-expanding mattress, but for the optimal performance, you must follow the provided instructions.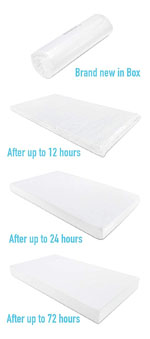 First of all, unroll your Graco Premium mattress within two weeks of purchase. Remove the plastic wrapping and place it on a clean and flat surface, in a well-ventilated room. That is it. Now just wait that the mattress expands on proper size.
Although the mattress expands into its normal shape almost immediately after unpacking, you have to give it a decent amount of time to fully expand before the use. Graco states you should wait 48 to 72 hours, but we recommend leaving it unused at least for one week.
Not only you will be sure it has fully expanded, but you will also get rid of any possible initial odor.
---
Crib mattress safety
Graco Premium foam crib and toddler bed mattress is GREENGUARD Gold certified. This certification ensures that a product has met some of the world's most rigorous and comprehensive standards for low emissions of volatile organic compounds (VOCs) into indoor air.
The mattress is free of prohibited phthalates, lead, and mercury. It also meets all applicable federal flammability standards.
Graco Premium is not an organic crib mattress, but it is made using only safe materials.
The mattress is designed to make your child's sleeping environment as safe as possible, and its low price doesn't compromise its safety at all!
---
Is Graco Premium foam crib and toddler bed mattress worth your money?
Yes! For the price you are paying, it offers many useful features. It is also a safe mattress which grows with your child.
But let's be realistic, the Graco Premium foam crib and toddler bed mattress is a classic example of "you get what you paid for". It is a good mattress, especially comparing to its price, but you can't expect the quality of a high budget crib mattresses.
We have found the best price for a Graco Premium foam crib and toddler bed mattress on Amazon.
---