Last updated on February 28th, 2023 at 01:15 pm
Parents want their babies to feel comfortable and happy. They want their babies to develop and learn new things. Finally, parents want their babies to be healthy, safe, and secure at all times. This includes choosing a proper baby crib. So, what kind of features should you look for when buying a new crib?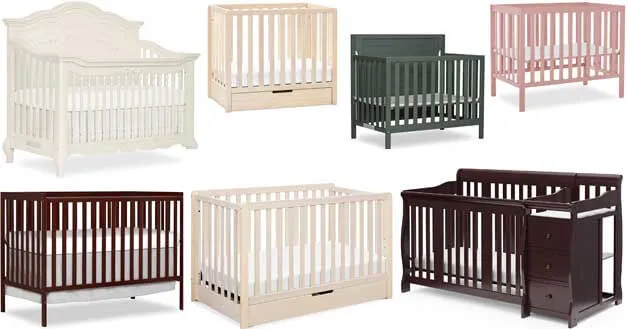 Important crib features
When choosing a crib, it's essential to consider your specific needs and preferences as well as the safety and comfort of your baby!
By taking the time to research, you will ensure a safe and comfortable sleeping environment for your little one. Not to mention, choosing a crib with the right features can make your life much easier too.
For instance, those lacking storage space can opt for a crib with drawers. Short moms can choose a low-profile crib to make it easier to reach the baby, etc.
Essential features to look for when buying a crib:
Safety
Size
Height
Mattress support
Material
Crib type
Style
Quality
Price
Now let's look at each of these features in more detail …
---
Features you should look for when buying the crib
Think about all the listed features and consider which ones are the most important for you and your family. However, while it's good to think about all of them, safety is the most crucial one! Make sure you choose a crib that meets all the safety standards and guidelines set by your country's regulatory bodies!
1. safety
When buying a crib, there are several important safety features that you should consider to ensure that your baby's sleeping environment is as safe as possible.
Don't worry! While everything listed below may seem daunting, it's not that frightening. You should know that most new cribs sold in baby stores and reputable online retailers are safe! Also, it's illegal in stores to sell cribs that don't meet current safety standards!
But when it goes about our little bundle of joys, it's better to be safe than sorry, so do your "safety research" and choose a reputable brand and retailer.
You can also read reviews from other parents who have purchased the same crib to see if the product has any safety concerns or issues. Or take a look at our list of the safest baby cribs, where we've already done the safety research for you.
If you want, you can take a look at our list of the best baby cribs. Of course, we only selected those that meet and exceed all required safety standards.
Safety features you should consider when buying a baby crib:
When you buy the crib:
2. Size
The size of the crib depends on several factors, including the size of the room, the age and size of your baby, and your family's specific needs.
You can choose between the standard-size and mini crib: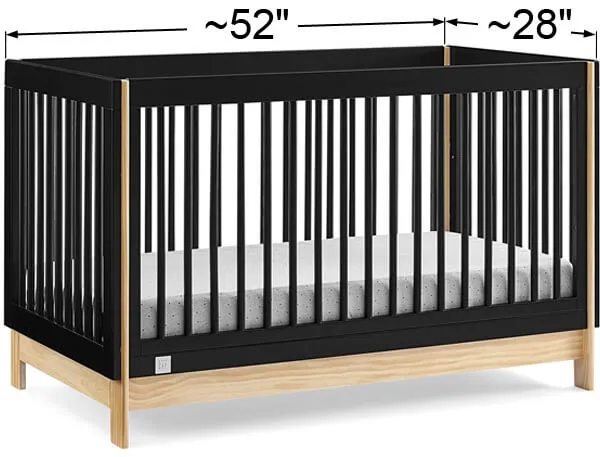 The law regulates the interior dimensions of standard-size (full-size) cribs, so any standard crib mattress fits into any standard crib!
The overall size of standard cribs can vary by a few inches due to different crib frames. But the interior dimensions must be 52 3⁄8 ± 5⁄8 inches (133 ± 1.6 centimeters) in length and 28 ± 5⁄8 inches (71 ± 1.6 centimeters) in width. 
A standard crib is a good choice for most families. However, a mini crib or portable crib may be a better option for those with limited space.
Mini and portable cribs are smaller than standard models. In contrast to full-size cribs, U.S. law doesn't determine their size. However, the internal dimensions of most mini cribs are pretty much the same, around 38″ (96,52cm) by 24″ (60,96cm). Thus, finding the right mini crib mattress is no longer a struggle as it used to be.
The mini crib is designed for smaller spaces and may be a good option for families living in apartments or urban lofts. A portable crib is a mini model that stands on wheels to move from room to room.
3. Height of the crib
If you are a short mom or have mobility issues, look deeper into this feature when buying a crib. Choosing a crib that is the right height will make it easier for you to reach your baby and tend to her needs.
If you need a lower crib, choose one that is lower due to a special design, such as smaller feet or a minimalist frame. Do not choose a model whose overall height would be lower due to a lower crib railing.
Safe low-profile cribs have the same height from the top of the mattress to the top of the rail as any other crib!
If you need help choosing the right low-profile crib, read this article: Best cribs for short moms.
4. Mattress support
Baby cribs come with several different types of mattress support.
Types of crib mattress support:
Metal springs: is a base for a mattress made of wire that is organized in a grid pattern
Slatted mattress support: is constructed of wooden slats that support the mattress.
Solid base: is constructed of a solid piece of wood, plywood, or MDF.
Whichever sort of mattress support you choose, ensure it's solid and secure, so the mattress doesn't sag or shift.
Adjustable mattress support is another feature to look for in a crib. It places your baby closer to you and helps reach your baby.
5. materials for cribs
Cribs can be made of various materials, although wood is the most common. The most popular woods used for cribs are pine, birch, and oak. Wooden cribs are solid and durable. Another advantage of wooden cribs is the variety of finishes and styles you can choose from.
In second place in terms of popularity are steel or aluminum cribs. They have a more contemporary or industrial look, which is highly liked nowadays.
Acrylic cribs might be an excellent alternative for parents looking for a lightweight, ultra-modern, and easy-to-clean crib. Acrylic cribs, on the other hand, are more expensive and may have a shorter lifespan.
6. Crib types
Convertible cribs: grow with your child. You can convert it into one or more beds, including a toddler bed, daybed, or even a full-sized bed. → Best Convertible Cribs of 2023
Combo cribs: are convertible cribs with an attached changing table. This makes them a space-saving solution for those with space issues and can not place a separate crib and changing table in their room. However, these extra features increase the cost of the crib.  → Best convertible cribs with changing table
Portable cribs: are light and easy to transport. They stand on wheels, and some fold down for convenient storage and transport. Portable cribs are available in mini and full-size versions and various materials. → Best Portable Cribs in 2023
Round cribs: have a round or oval shape. They are a stylish and one-of-a-kind addition to a nursery. But they are typically more expensive and require special oval mattresses and sheets that also cost more.
Pack 'N Plays: often known as Playards, can serve as a crib, a playpen, or a travel crib. They are made of a lightweight aluminum or plastic frame and surrounded by mesh. You can easily fold it down for storage or transport. → Best Pack 'N Plays
7. Styles
Parents choose crib style based on their preferences and the overall aesthetic of the nursery.
The most popular are traditional and modern crib styles:
Most parents decide on a traditional-looking crib. Traditional cribs are generally rectangular and surrounded by slats or spindles. Some cribs also have one or two solid panels instead of slats. These cribs feature adjustable mattress support and are of wood or metal.
Modern cribs have clean lines, sleek designs, and unique features. They have a minimalist appearance, with geometric shapes, asymmetrical designs, and vibrant colors. Contemporary cribs are manufactured from various materials, including wood, metal, and acrylic.
8. Quality
The quality of a baby crib depends on many different elements.
Materials: The durability and safety of the crib are significantly affected by the materials' quality. Solid wood, metal, or other strong materials that better sustain regular use are frequently used to construct high-quality cribs.
Construction: The crib's quality also depends on the construction methods used for manufacturing. Strong joints, safe hardware, and smooth finishing are characteristics of a well-made crib.
Design: Functional cribs, such as those with adjustable mattress heights, simple-to-use hardware, and convertible features, may prove to be more quality, lasting, and adaptive over time.
9. Price
The price of baby cribs depends on several factors, such as materials used, brand, size, and crib's features. Generally, cribs range from about $100 for a simple, affordable option to over $1000 or more for a high-end designer option.
---
Summary
When choosing a crib, there are several important features to consider. The crib should meet safety standards, be the right size for your baby's needs, have an adjustable mattress height, and be durable.
You have to choose a crib type. For instance, a convertible crib that transits into several beds or a portable model that stands on wheels.
Style, price, and additional features such as storage or a changing table are also important considerations.
Overall, choose a crib that is safe, practical, and fits within your budget and personal style preferences.