Last updated on January 23rd, 2023 at 04:46 pm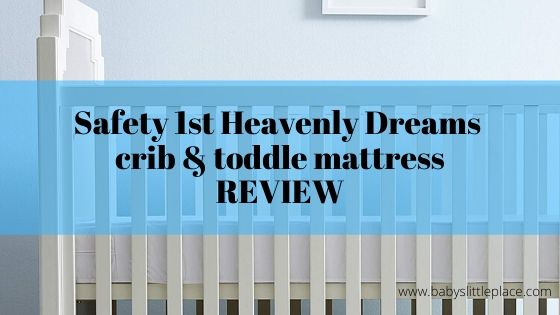 Safety 1st Heavenly Dreams crib mattress review
Safety 1st is a well-established company, with more than 30 years of experience. As the name of the company tells by itself, their priority is the safety of their products. Maybe you are more familiar with their other baby products, like car seats or strollers, but Safety 1st is also very focused on manufacturing safe crib and toddler bed mattresses too.
And the best part? Their baby and toddler crib mattresses are very affordable! That is why we have picked their most wanted, and best-selling model, Safety 1st Heavenly Dreams crib mattress for our review.
Safety 1st Heavenly Dreams crib mattress is a lightweight foam mattress, that fits into all standard size cribs and toddlers beds. We reviewed all the features that a good baby crib mattress must-have. You can read our findings below, in our new Safety 1st Heavenly Dreams crib mattress review.
---
Safety 1st Heavenly Dreams crib mattress: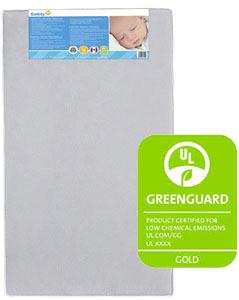 PROS:
lightweight crib mattress
affordable
safe choice
without odor
ideal firmness for babies
sufficient support for toddlers
hypoallergenic
water resistant
CONS:
it retains more heat than some other foam mattresses we had already reviewed (find out more in the Venting & heat regulation section of our review)
The specifications:
Mattress size: 52″ long by 27,5″ wide
The thickness of the mattress: 5″
Mattress weight: 7 pounds
Age and weight limits:

age limit: for infant and toddlers between approximately 0 – 5 years
weight limit: newborn to 50 pounds
The structure:
The Safety's 1st crib mattress's structure is simple but efficient, just like on any other foam mattress.
The mattress' core is made of high-density, thermo-bonded fibers. Simply put, it is from foam, without coils, or anything else.
Foam is surrounded by a tear-resistant, hypoallergenic vinyl cover. Covers made of vinyl are a common choice for affordable baby crib mattresses, but they have their pros and cons.
Because they are water-resistant, vinyl covers prevent bacteria and mold growth inside the mattresses. But on the other side, they are not as breathable as those made of cloth.
---
Safety 1st Heavenly Dreams crib mattress review's brekadown
According to Safety 1st, Heavenly Dreams baby crib mattress should have all the following features. To see if that is the truth, and to see how well the mattress performed, we have reviewed them all!
it offers excellent support and sufficient firmness from newborns to toddlers
it fits into all standard size cribs
it is durable
it is hypoallergenic
it is a safe innerspring mattress
it is water-resistant
easy cleaning
→ We've also checked the airflow through the mattress, heat regulation, and the bounce.
Venting and heat regulation
As I already mentioned, the mattress has a vinyl cover which can lead to lower air circulation, and unfortunately, I was not wrong. So, it takes little more time to cool down as mattresses with cottoned covers.
However, lots of crib mattresses in the same price range as Heavenly Dreams crib mattress, have vinyl covers. Vinyl covers are not forbidden or treated as a safety hazard for your baby.
The mattress passed all safety tests, but it is not exceptionally breathable, like for example a Newton Wovenaire baby crib mattress.
If your baby sweats a lot, here are few solutions:
use fitted cotton baby crib sheets over the mattress
the additional cotton pad under the sheet will also prevent overheating, and/or absorbs potential moisture
Firmness and support
Babies need a firm sleeping surface for many reasons. First of all, a firm mattress is much safer for newborns and young babies because it significantly reduces the risk of SIDS (Sudden Infant Death Syndrome). If the baby somehow rolls over, her face won't sink into the mattress, which lowers the risk of suffocation.
Firm mattresses also help with baby's and toddler's proper bone and muscle development. Your baby will push up, roll-over, or sit up much easier because her/his hands won't sink into the mattress.
Safety 1st Heavenly Dreams crib and toddler mattress' foam is made of high-density, thermal-bonded fibers that provide sufficient support for your baby and toddler.
After your toddler starts sleeping on it, because of a bigger weight, or playing and jumping on the mattress, the foam can start to dent or conform to his body. That's why it is recommended to rotate the mattress every 2 to 3 months for optimal use.
Fitting in the crib
Safety 1st Heavenly Dreams crib and toddler mattress' measurements correspond to those set by the government. The mattress fits into all standard full-size cribs.
The measurements of all new cribs are also regulated by the government. If they don't correspond, the crib shouldn't be on the market. If you have a new full-size crib, there shouldn't be any problems fitting the mattress into your crib.
U.S. regulations define:
a standard size crib is a baby crib with the following measurements: 52 3⁄8 ± 5⁄8 inches in length by 28 ± 5⁄8 inches in width
a standard crib mattress is a baby crib mattress with the following measurements: at least 27 1/4 inches by 51 5/8 inches and no more than 6 inches thick
If you have an old crib, or you are just extra caution, you can make a home fitting test. It is very easy, and all you need are two fingers.
Place the mattress into the crib. There shouldn't be more than two fingers space between the mattress's edge and the crib's inner frame.
Bounce
A crib mattress must have just enough bounce for safe and comfortable sleep. While your baby shouldn't sink into the mattress, it shouldn't be too hard and bouncy as well.
We don't have any reports that the Safety 1st Heavenly Dreams crib and toddler mattress would cause bouncing while the child rolls over during the sleep.
In fact, foam mattresses tend to be less bouncy from innerspring models. That's why it is less likely your toddler will start using them as a handy trampoline.
Durability
Be aware that Safety 1st Heavenly Dreams is a very cheap crib mattress. While it will last through infancy and toddlerhood of one kid, I don't recommend using it for a second child, especially an infant anymore.
All mattresses in the same price range last only for one child, or even less. So, comparing the price, with durability, I can say this is still a good purchase.
Because it is so affordable, you can buy another one for a second child, and spare yourself the worries that something is wrong with the old model.
Other important features we've also checked
Is the mattress hypoallergenic?
I already mentioned that I prefer cloth covers, but that doesn't mean the vinyl cover doesn't have its advantages.
The biggest plus of this cover is that it makes the mattress hypoallergenic. Vinyl prevents any bacteria, allergens, mites, or mildew formation inside the mattress.
Can it be cleaned?
Cleaning is not hard at all, because you can easily wipe it down with a damp cloth.
If there is a big mess, and you don't feel you can clean it sufficient with a cloth, you can take off the cover.
Keep in mind that the cover is not supposed to be removed, so taking off can be a pain. So, be careful that you don't damage the zipper. Also, take extra precautions with washing and drying, so that it doesn't shrink. Wash it in cold water and dry it on air.
Is Safety 1st Heavenly Dreams crib mattress waterproof?
The mattress's cover is water-resistant, not waterproof! What's the difference? Liquids will stay on the surface only for a certain amount of time then they can slowly penetrate into the mattress core.
That won't happen quickly, and you will probably clean it much sooner, but it is nice to know.
Does it have a warranty?
Safety 1st offers 10 years limited warranty on the Heavenly Dreams crib and toddler bed mattress.
Warranty does not cover damage caused by:
normal wear and tear
accidents
abusive use
negligence
the consequences of failing to comply with the user manual
---
Safety review
Safety 1st Heavenly Dreams crib mattress meets or even exceeds all required safety standards.
Without the use of potentially harmful chemicals, it also meets required federal flammability standards.
The mattress is phthalate and lead-free.
It has a GREENGUARD Gold certification, which means it doesn't contain chemicals that would pollute your indoor air.
---
Frequently asked questions
Safety 1st Heavenly Dreams crib mattress
1. Does the mattress have an odor?
Some parents reported an initial unpleasant odor. We think that the smell comes more from the plastic wrapping of the mattress, not from the mattress itself. Such a problem is common for all mattresses, that is why we always recommend airing it out before the use. Place the mattress on the flat surface in a well ventilated, warm room, and leave it for a day or two. Any potential odor should air out during that time.
2. Does the mattress come rolled up?
Many foam mattresses shippes rolled up, but not Safety 1st Heavenly Dreams crib mattress. It comes fully expanded. So the package is bigger, but you can start using it right away. There is also no fear that the mattress won't fully expand.
3. Is the mattress firm enough for a newborn?
Safety 1st Heavenly Dreams crib mattress has enough firmness for newborns.
4. Is Safety 1st Heavenly Dreams mattress dual-sided?
No! Both sides have the same firmness, but it fits into cribs and toddler beds. Its design reassures sufficient firmness for infants, with enough comfort for toddlers.
5. Does it work in all cribs?
It is a standard size baby crib mattress, so it fits into all standard, full-size cribs perfectly. It does not fit into mini cribs!
6. In what country is Safety 1st Heavenly Dreams mattress made?
Its cover is made in China, but the mattress is filled and finished in Canada. However, the same as all mattresses made in the US, this one meets all US safety standards as well.
7. What size sheet do I need for this mattress?
All regular size crib sheets should fit.
8. Can I use Safety 1st Heavenly Dreams in a Pack 'n Play?
No! Even if the mattress fits into your Pack 'n Play, it is too thick for a safe usage there. Pack 'n Play's mattress shouldn't be thicker from 3 inches. That is because of the mash which surrounds Pack 'n Plays. If the mattress is too thick, the baby can trap between the Pack 'n Play side and the mattress.
---
The verdict
Safety 1st received the Women's choice award as an America's most recommended brand for baby crib and toddler bed mattresses. I am not surprised, because safety should be the no.1 priority when picking products for our children. Heavenly Dreams baby mattress combines safety with affordable price, which is, of course, a win combination.
Yes, a few things could be better. But nothing on this mattress is so bad that I would not recommend it to you. For example, if they would replace vinyl with cotton cover, the cover would be plushier, but not water-resistant anymore.
Comparing to baby crib mattresses in the same price range, this one has a really good value for the price!
---