Last updated on September 14th, 2023 at 08:55 am
When it comes to baby gear, you usually have several options for each item, and baby bassinets are no exception. There are many styles and types of baby bassinets. Each of them has unique features to suit different family needs.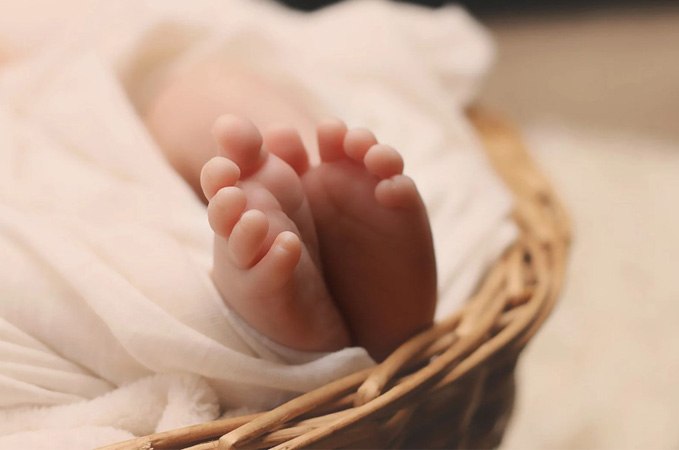 → PART 5 ←
Baby Bassinet Buying Guide
Types of Baby Bassinets
You can choose from the pretty basic standalone bassinets to the high-tech models with automated rocking functions, soothing sounds, and more. Or you might prefer a bedside sleeping bassinet that brings your baby next to you while still providing a separate sleeping area. Those who love to travel will appreciate the functionality of a lightweight travel bassinet ….
Then there are also added features, such as storage space, drop-sides, canopies, etc.
As you can see, you can pick from a wide range of baby bassinet types. Each type includes bassinets with none to multiple, more or less practical, added features. Each type includes bassinets of different styles, colors, etc. So, pick wisely, and settle only with a safe baby bassinet that is functional for you and your space.
Now, let's look into the specific characteristic of each bassinet type. We will discuss their basic features, benefits, and what to consider when choosing the one right for you. I will also add our recommendation for a great baby bassinet of each type.
Different Types of Baby Bassinets
According to their primary purpose and main function, we divide baby bassinets into four main types:
Traditional bassinets
Bedside sleepers
Travel bassinets
Smart baby bassinets
Traditional Baby Bassinet
Traditional baby bassinets are freestanding units that can be placed next to your bed or anywhere else in the home.
Since they are usually not too heavy, they are relatively easy to move around the home. Especially those that stand on wheels are very convenient.
Some are as basic as they can be, constructed only with a flat mattress surrounded by breathable sides and legs. Others have extras like wheels, canopy, storage space, etc.
Traditional baby bassinets stand on different feet. Some are stationary, and others stand on caster wheels, or they can rock.
Those who opt for a bassinet on wheels should pick the one whose wheels have a reliable locking mechanism that holds the bassinet in place when the baby is in it! The same applies to rocking bassinets! It must have a lock so you can use it in static mode when you're not supervising.
Bedside Sleeper
A bedside sleeper is a baby bassinet that attaches to the adults' bed. It allows babies to sleep next to their parents but in their own place. This co-sleeping practice is much safer than bedsharing and has little risks associated with Sudden infant death syndrome (SIDS).
A bedside sleeper (also called a side-sleeper, co-sleeper, or bedside bassinet) enables easy reach to your baby in the middle of the night, which is very convenient for mothers after birth.
Some bedside sleepers convert into the classic baby bassinet. However, they are usually heavier and bulkier than traditional models. Thus, they are less convenient to move from room to room. We also see no point in daily detaching and reattaching when a bedside sleeper is attached to the bed. It would be too time-consuming.
Bedside sleepers have different options for the side where they attach to the adult's bed. Some have a side that drops down when access to the baby is needed. Others have one wall lower than the other three.
The third option is a bedside sleeper with only three sides. Those are bedside sleepers we do not recommend! Not only are they not as safe as others, but they also can not convert into a standalone bassinet, which most others can.
Travel Bassinet
A travel (portable) bassinet is a small bed for the baby that you can easily move around. It features a lightweight but sturdy frame, which folds away into a compact carrying bag for easy transport and storage.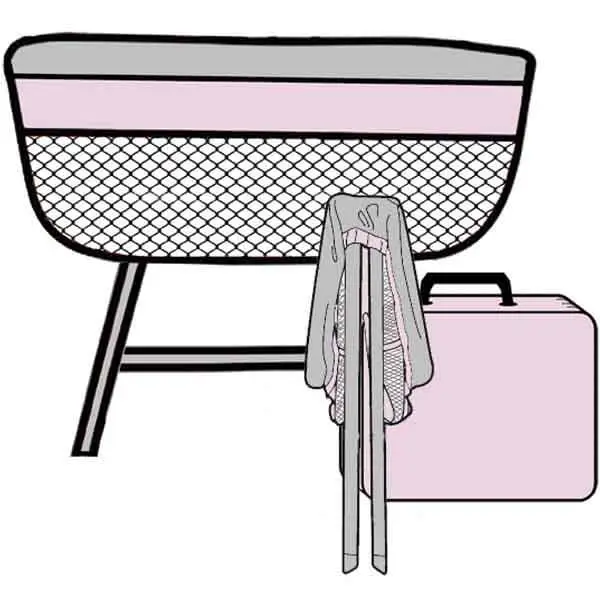 Travel bassinets are lighter and typically smaller than other types of bassinets. They fold down compactly and can easily fit into your car trunk or luggage.
They are great for traveling with the baby, but you can use one at home too. A travel bassinet is an excellent choice for limited space as it can be easily moved around the house and stored when not in use.
A travel bassinet is the same as other types approved by the American Academy of Pediatrics as a safe place for everyday sleep.
However, there are some limitations. The average weight limit for travel bassinets is 15 lbs, which is lower than the weight limits for bedside sleepers and traditional bassinets.
Smart Baby Bassinet
Smart bassinets are relatively new on the market but are already among the most popular baby gear.
I can see why. A quality smart bassinet can provide quite a few extra hours of sleep! I am sure it is on the wish lists of most parents, but it is the most expensive bassinet type, and not everyone can afford it.
The smart bassinet provides a safe sleeping space for the baby. However, that is far from all. This intelligent baby gear goes one step further. It helps your baby get to sleep faster and, most of all, helps her stay asleep.
In other words, smart bassinets reduce the need for sleep training, lower parental stress, and enable a gentle transition to the crib.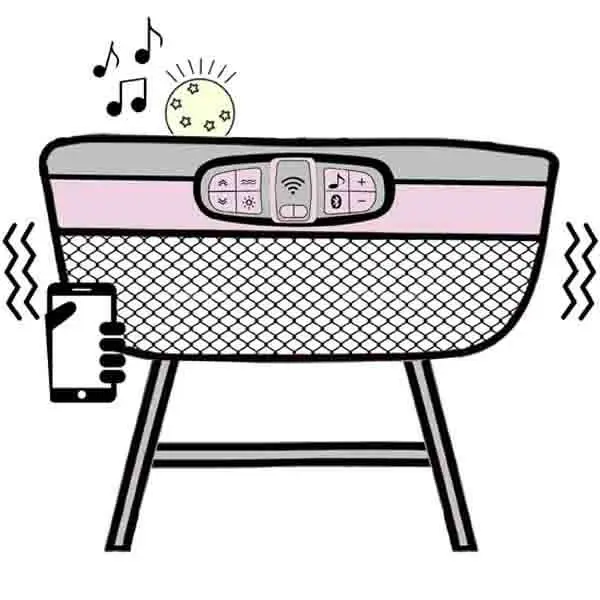 All this is possible due to inbuild tools and high-tech technology, such as auto-respond to a baby's fussing. A smart bassinet may respond with rocking, different motions, soothing sounds, vibrations, and more.
Almost all smart baby bassinets are Wi-Fi connectable and/or Bluetooth-compatible and can be controlled remotely via a phone app. The app can track your baby's sleep patterns, teach you about healthy sleep, etc.
What is the best type of baby bassinet?
There is no best or worst type of baby bassinet! While a traditional type is better for someone, a travel bassinet may be best for another. It really depends on what you are looking for. Each group also contains many bassinets that differ in quality, durability, etc.
Pick a bassinet type that best suits your family's lifestyle. And the most important is choosing a safe bassinet that meets all required safety standards.