In this part of the Bassinet mattress guide, we will look at how often and when to buy a new bassinet mattress.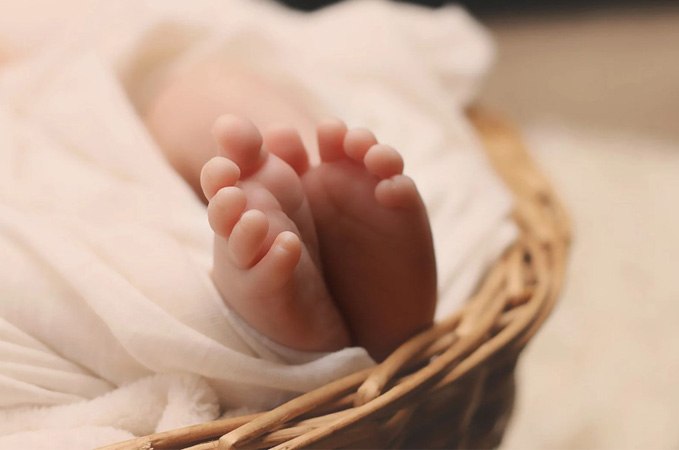 → PART 7 ←
Bassinet Mattress Guide
When to purchase a bassinet mattress? How often should you replace it?
Your newborn will need a place to sleep as soon as you get home from the hospital. If you choose the bassinet as your baby's first bed, you'll want to have it set up well before your due date. 
Setting up the baby bassinet includes:
Assembling the baby bassinet: Follow the provided instructions!
Inserting a snuggle-fitting mattress of the right firmness and thickness
Using a waterproof mattress protector. If the mattress is not waterproof or does not come with a waterproof cover, we recommend purchasing one. It is not mandatory; however, it is convenient.
Covering the mattress with a tight-fitting sheet
Bassinets generally come with a safe mattress! Thus you don't need to worry about it if you have a new bassinet.
But when to purchase a bassinet mattress replacement? If you have a new bassinet, most likely never. The included mattress should last at least one baby when used correctly.
When to buy a new bassinet mattress?
As I already said, you should generally use the bassinet mattress that came with your bassinet. However, replacing the mattress might be your best option in some circumstances.
You may consider buying a new bassinet mattress when the one you already have is:
1. Worn out:
If your bassinet mattress is old and worn out, you should find a replacement.
Inspect the mattress for any damages, dents, and tears. Make sure it is smooth, even, and extra firm!
A worn-out mattress may no longer provide sufficient firmness, increasing the risk of suffocation.
2. Dirty:
The mattress probably needs a replacement if it is dirty, especially if you can not clean it easily. 
If a dirty mattress is waterproof, you can at least hope everything at its core is in good condition.
However, if your mattress is not waterproof and has a lot of stains, you should look for a replacement. There is no way of knowing what is happening inside. Such a mattress can expose your baby to harmful bacteria, mold, mites, etc.
3. Doesn't fit into your bassinet:
A mattress must fit snuggly into a bassinet! It has to be flat with no large gaps between the mattress and bassinet's sides.
Contact the seller if you bought a new baby bassinet and its mattress pad doesn't fit properly in it!
If you bought a second-hand bassinet and the mattress doesn't fit, previous owners probably already purchased a replacement mat. The problem is that they didn't buy the right one, so you will have to fix their mistake.
4. Is too thick or thin:
Bassinet mattresses are pretty thin, usually around one inch. So I find it hard to believe that a new one would be too thin. It might happen in a bassinet with an old, worn mattress that may have compressed during use. Such a mattress is uncomfortable for your baby and disturbs her sleep.
It is more likely that the mattress is too thick. Maybe previous owners find the original too thin, so they've bought a replacement. Little did they know this was not safe for the baby.
The bassinet mattress should be no more than 1½ inch thick. The thicker one increases the risk of suffocation and falling out of the bassinet.
How to buy the right mattress for your bassinet?
Make sure the mattress is safe for your baby. It should be of the right size, shape, firmness, and thickness. Also, check that it is made of safe materials.
Original replacement from the bassinet manufacturer is certainly the best and safest option. It should be your first choice! 
However, some bassinet manufacturers do not sell their mattresses separately. In such a case, choose a replacement of the exact dimensions. I recommend contacting your bassinet manufacturer for advice.
Find a certified bassinet mattress. Certified products must meet the ASTM standard requirements, such as safe materials and proper firmness.
How often should you replace a bassinet mattress?
When used and cleaned correctly, the bassinet mattress should last at least one baby.
Bassinets are usable only in the first months. The baby is not yet heavy and active then, so she cannot damage the mattress.
However, babies spit up quite a bit, not to talk about other messes that will happen sooner or later. 
If left uncleaned, they can create an unhealthy sleep environment for your baby. I suggest using a mattress protector and bassinet sheets. That will help you keep the mattress clean, even if you don't wipe it immediately. It will prolong the mattress's usability, and you won't need to replace it at all!
Do I ever need to buy a mattress for a new bassinet?
In general, no. A new bassinet should come with a proper bassinet mattress! If you treat it right, you will never need to buy a replacement mattress. The current one will probably last for your second baby too.
I would not purchase a new baby bassinet without a mattress. However, if your bassinet somehow doesn't come with it, you'll need to purchase one separately.
If you are unsatisfied with the mattress provided, I suggest you read the previous parts of this guide. Then think about whether you really need another one.
Most parents are unhappy with the included bassinet mattress because they think it is uncomfortable. They feel that it is too firm or thin. But in most cases, this is not a problem at all. It is usually the opposite of what the parents assume; the bassinet mattress is of the right firmness and not too thin. It is as it should be to be safe for your baby!
You can read more here: