Last Updated on September 21, 2020 by Ines
Fisher-Price Musical Owl crib mobile Review
Fisher-Price Musical crib mobile is battery operated mobile, with a cute musical owl sitting on the top of the mobile's arm. It is a motorized crib mobile with removable parts. This owl baby crib mobile can be used as a crib or stroller mobile and also as a take-along musical toy. It is a multi-use infant product. As a mobile, it can entertain and soothe babies to sleep when using a crib or stroller. And when your baby outgrows the mobile, you will detach musical owl, which will entertain your toddler for many years to come.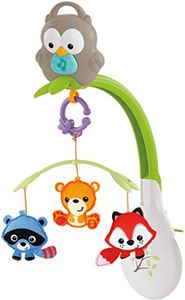 PROS:
versatile use: on a crib, on your stroller, or as a take-along musical toy
grows with your baby
adjustable volume
owl or parrot converts to a take-along musical toy with a handle
easy installation
good value for the price
CONS:
toys rotate only when they are attached to the arm of the crib mobile
you can't switch between sounds
it doesn't have a night light or projector
The whole Fisher-Price musical crib mobile is not heavy and easily attaches to various cribs. On the back of the mobile base is a special plastic connector, which will adapt to almost any size and shape of a crib rail. And for added security, there is an additional string that you tie around one of the crib slats. So, the mobile wraps around the top railing and fastens with a plastic belt, super easy and super strong.
If you follow the provided instruction, you shouldn't have any problems and mobile will stay stable and sturdy on the crib. Just make sure you follow the installation instructions and mobile won't fall from the crib rail!
3-in-1 means that this mobile can be used for three different purposes:
1. musical crib mobile
2. stroller mobile
3. musical take-along toy
Stroller mobile:
For use as a stroller toy, remove the linkable mobile and bring the plush forest friends wherever your baby goes. It easily clips to almost any stroller canopy, so your baby can enjoy with familiar toys wherever she goes.
This makes confusion amongst many parents! The mobile spins only when it's attached to the base! While you can detach the hanging toys from the mobile, you can't take the rotating motor with you. On the stroller's canopy, toys will hop because of the stroller's movement, not spin around automatically.
If you want a motorized unit, that can attach to most of the baby equipment, consider buying a Tiny Love portable baby mobile. Although you can use Tiny Love Take-Along Mobile on a crib, I personally used it on other baby equipment: on a stroller, car seat, bassinet, … It is really cheap, so I bought it as a second mobile for on the go. On the crib, I put another baby crib mobile with the night light projector and spinning toys, which is another good choice if you want night lights as well.
As you can see, you have various choices and we found and reviewed all the best models in their categories. You can find them all in our article Best baby crib mobiles, where are the links to their whole reviews as well.
Take-along musical owl:
Back to Fisher-Price owl baby crib mobile, which is the best grow with my musical mobile. When baby outgrows the mobile, the owl converts to a take-along musical toy with a handle for on the go, or at home entertainment toy.
---
Fisher-Price Musical crib mobile specifications
TOYS:
Fisher-Price Owl baby crib mobile features four colorful forest animals, a plush fox, raccoon and a bear that rotate, and a large plastic owl that sits on the top of the mobile and plays music. As I said before when your baby outgrows the mobile, you simply detached the plastic owl from the mobile and your toddler can use it as a take-along toy.
A rainforest friends' style is also available. It is basically the same mobile, just with different animals. It has rainforest animals, a plush lion, zebra and elephant that rotate and a large plastic parrot that sits on top of the mobile the same as the owl. Of course, it also plays the music and can be later used as a take-along toy for your toddler.
Musical owl or parrot toy provides playful, baby-activated tunes, and has a built-in carry handle so you can take them "on the fly" to entertain baby when you're away from home.
Two designs:
Fisher-Price Woodland Friends 3-in-1 musical mobile
Fisher-Price 3-in-1 musical mobile – Rainforest friends
ROTATION:
rotating direction: clockwise
for reducing visual stimulation before naptime or bedtime, the animal mobile slowly spins to a stop after 10 minutes, but the soothing music continues to play up to 20 minutes
MUSIC & SOUND OPTIONS:
music duration: up to 20 minutes of lullabies
volume setting: two levels
number of melodies: instrumental and soothing music plays on a continuous loop
switching between sounds: no
LIGHTS & REMOTE CONTROLE:
The mobile doesn't feature lights and remote control.
TECHNICAL DETAILS:
weight: 1.65 pounds
dimensions: 14 x 2.6 x 11 inches
batteries: 3 AA batteries required (not included)
AGE:
as a crib mobile: for babies from birth to five months
as a take-along toy with special handle: 5 months and up
---
Frequently asked questions about Fisher-Price Musical Owl crib mobile
1. Can I attach the baby mobile to a Pack 'N Play or bassinet?
No, it's not designed to be installed in a Playard or bassinet by default, but for a traditional crib with a gap between bars.
2. Can I turn the music off?
You can adjust the volume low and high, but animals spin only when the music is on. However, the music soothes babies to sleep, so we don't see that as a major problem. Animal mobile slowly spins to a stop after 10 minutes, but the soothing music continues to play up to 20 minutes.
3. Will this mobile attach to a crib with thick or round rails?
Yes, it will. It can fit on different sized and shaped rails because you pull tight two adjustable straps on the mobile base.
4. How long can my child use the mobile?
As a mobile, it is recommended to use it for up to 5 months. However, if your baby doesn't reach the mobile, and can't pull the toys down, you can use it longer.
As a take-along toy, your child can use it as longs as he/she wants.
---
The ability to use the mobile longer, not just for the first few months gives an additional value to this Fisher-Price musical crib mobile.
Also, it doesn't just help to soothe and entertain your little one, but it helps to develop important skills as well! The soft, spinning animal friends help enhance eye-tracking and visual skills, while gentle music helps stimulate hearing and listening skills.