Last updated on January 23rd, 2023 at 11:32 am
There are circumstances where a mini crib is a better choice than a full-size crib. But living in a small space is one of the main reasons why parents decide on a mini crib. We have found the best mini cribs for small spaces that are space-efficient but safe and comfortable for your baby.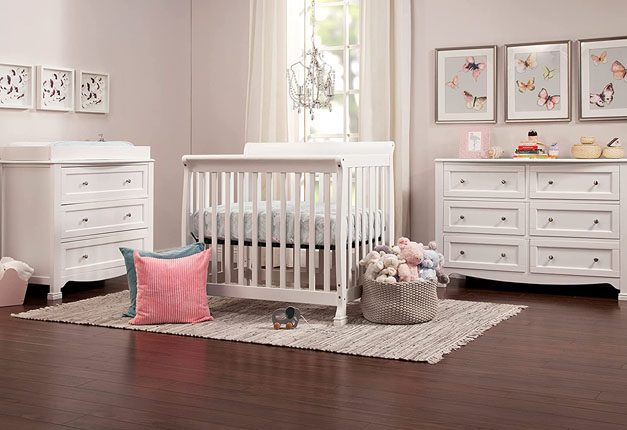 Mini Cribs for Small Spaces
Baby's Little Place Top-Picks
If you live in a small apartment or a modest-size home, you might worry about how to fit a traditional full-size crib into a tiny place. Do not worry. You have an alternative that is as safe and comfortable, a mini crib!
Of course, living in a small space is not the only reason to decide on a mini crib. A mini crib is also an ideal solution for twin rooms, co-sleeping in the parents' bedroom, shared rooms, grandparents' or caregivers' house, etc.
The best mini cribs for small spaces provide comfortable sleeping space for your baby while not taking up much room in your home!
Top 3 mini cribs for small spaces:
Best
portable

mini crib for small spaces: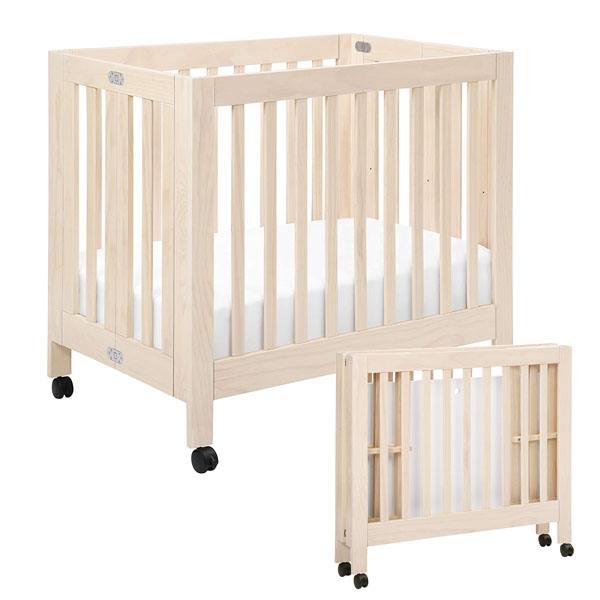 Babyletto Origami portable mini crib on wheels
A modern and stylish portable mini crib of high quality. It stands on wheels, so you can easily move it from one room to another. Those who do not use it every day will also appreciate its ability to fold down without disassembly.
Best
convertible

mini crib for small spaces:
DaVinci Kalani 4-in-1 convertible mini crib
A smaller version of the popular standard size Kalani convertible crib. All the great features of a full-size crib are combined into a compact mini crib that grows with your baby.
Best
storage

mini crib for small spaces: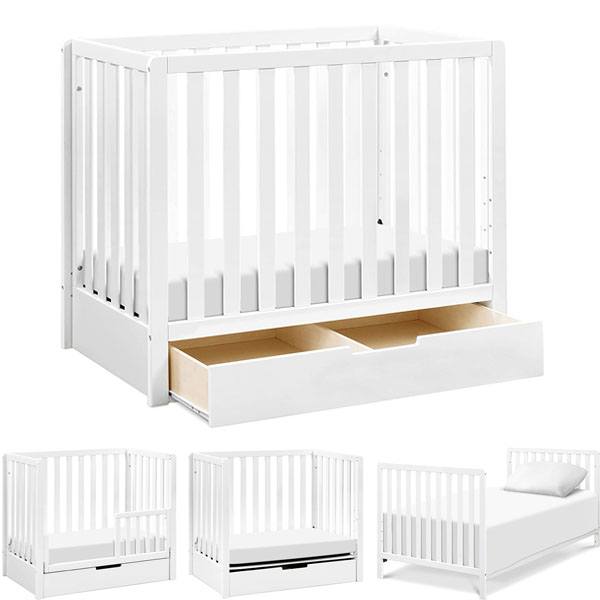 Carter's by DaVinci Colby 4-in-1 convertible mini crib with trundle drawer
A very space-efficient mini crib with an under-crib drawer. While it does not take up much space, it makes use of the one it occupies to perfection. Furthermore, the Colby crib is also convertible, so it grows with your child!
How do we choose our favorite space-saving mini cribs?
First of all, a safe baby's sleep is our priority! Not the design, appearance, or cool features, but the safety of your child!
Therefore, the process includes a lot of crib and mattress reviews, as well as education about the latest safe sleeping guidelines. Only then do we get a real insight into what a quality product is and what is not as good as you might think at first glance.
Of course, we also include the opinion of those who already have a mini crib. We want to know if the crib fulfills their expectations, which model they love the most, etc.
Mini Cribs for Small Spaces
When looking for a small crib, you can decide between portable and convertible models. Both possess a small footprint, but they differ in their functionality.
Both types have their advantages and disadvantages according to what you need. So let's take a look into their differences.
The best portable mini cribs for small spaces
A portable mini crib has a minimalistic frame, so it is usually an inch or two smaller than a convertible mini crib. Though, that is not a fact.
Its biggest advantage over the convertible model is its rolling feet. All portable mini cribs stand on wheels, giving you the option to move them around your home. Wheels have a locking mechanism so that the crib does not move when your child is in it.
Another distinctive feature of portable mini cribs is a folding mechanism. Most mini portable cribs fold down without disassembly. That is great for easy storage, especially for those who do not use the crib every day.
---
The best convertible mini cribs for small spaces

The convertible cribs' advantage over portable models is their longer usability.
A convertible mini crib grows with your child! When your child outgrows the crib, it can transit into one or more beds.
Depending on the model you choose, it can convert into a toddler bed, daybed, and/or twin-size bed. However, you have to remember that the mini crib's toddler bed and daybed are not as big as those of full-size cpnvertible cribs.
The convertible crib's frame is usually not as minimalistic as the one on portable cribs. Therefore are mini convertible cribs heavier than portable models, but they usually also sustain a heavier weight.
---
More about Mini Cribs for Small Spaces
Yes, mini cribs are smaller, but don't underestimate them! Just because they take less space in the room, they are not less comfortable than full-size models.
Their railings are also as high as those on standard size cribs, so they are as safe, and your baby won't climb out any sooner!

Should you decide on a mini or standard size crib?
There is no right or wrong answer to this question. It depends on what crib's features you need, and most of all, your available space.
You can choose from the same features, but it is the truth that babies outgrow mini cribs sooner. After all, they are smaller.
However, most mini cribs are suitable, at least until the baby's second year.
If you are facing space issues and a standard size baby crib doesn't fit into your home, you can choose between three options, a mini crib, a Pack 'N Play, or a baby bassinet.
All of them are considered safe for your baby, but a mini crib is the best choice. It is more stylish, stable, and comfortable than a Pack 'N Play and a more long-term alternative to a baby bassinet!
But think twice before your decision if you have enough room for a full-size crib and you only like the appearance of a mini crib. Standard-size baby cribs last longer, so purchasing one of them is a more rational decision.
A small crib offers the same features as a full-size crib. It is a perfect solution for small spaces, tiny nurseries, a better alternative to bassinets, excellent for co-sleeping in the parent's bedroom or sleepovers in the grandparents' home.
Mini Crib vs. Full-Size Crib – the difference in size:
How much smaller must be the footprint of a mini crib to be defined as a mini model? From an inch to ten inches and more….let me explain.
The internal dimensions of standard, full-size baby cribs are defined by law. The same goes for full-size crib matresses. That is great because any full-size crib mattress fits into any full-size crib.
U.S. regulations define:
a standard size crib is a baby crib with the following measurements: 52 3⁄8 ± 5⁄8 inches in length by 28 ± 5⁄8 inches in width
a standard crib mattress is a baby crib mattress with the following measurements: at least 27 1/4 inches by 51 5/8 inches and no more than 6 inches thick
On the contrary, the measurements of mini cribs are not regulated. So any baby crib that is smaller than a full-size crib is defined as a mini crib. Mini cribs can be of numerous sizes and shapes.
However, in most cases, their inner dimensions are around 38″ (96,52cm) by 24″ (60,96cm). That is great, as most mini crib mattresses correspond to these measurements and fit snuggly into most mini cribs.
Why would you buy a mini crib?
Because a traditional, full-size crib doesn't fit well in your apartment or nursery.
As you like the idea of co-sleeping with your baby, and you want to practice the safest option, which is room-sharing, not bed-sharing.
You intend to move the crib from room to room. In such a case, portable mini cribs on wheels are a perfect solution for you.
Your baby will spend a lot of time at grandma's house, so you need a secondary crib, which will fold up easily.
You need a baby crib only for a napping time. Then choose a portable folding mini crib.
You are a minimalist, so you don't want a big bulky crib. If you like them, why not? Mini cribs are as safe as standard-size cribs.
Mini cribs are a suitable solution for shared rooms or if you have twins.
How long can babies sleep in the mini crib?
Most babies can use a mini crib until they reach 18 to 24 months, but mostly it depends on how fast they grow and their development level.
The weight limit for a mini crib is usually 40 lbs. However, children tend to grow to a height that no longer matches the length of the mini crib before reaching the weight limit.
Toddlers have to stop using a mini crib when they start climbing or reach 35 inches, whichever comes first. When this happens, it's time to transit into a larger bed or for the conversion if you have a convertible model.
Mini Crib needs a Mini Mattress
Lots of mini cribs come with a 1″ mattress pad, but if your baby uses the crib every day, you should buy a thicker crib mattress. Check up the crib's inner dimensions and purchase the mattress that fits snuggly into the crib.
Used to, it was hard to find a fitting mini crib mattress of proper firmness for a baby. However, with the rising popularity of mini cribs, the mini mattress market has also grown significantly.
You can pick from many different small crib mattresses, bedding, rail protectors, and crib skirts.
RELATED: Baby crib mattress size
---
Mini cribs are created specifically for small spaces!
Today's lifestyle forces families to live in cities, in smaller apartments, urban lofts, etc. Therefore, the demand for quality and functional mini cribs has been increasing over the last few years.
Fortunately, big baby crib brands noticed the space limitations of young parents and have started to focus on mini cribs too.
Manufacturers are now more focused on mini cribs, so their market has grown significantly. That provides a variety of different mini cribs, which is excellent!
You can pick from various sizes and shapes, choose between features, and find many quality mini crib mattresses. But the broader selection also brings a more difficult decision, so I hope our guides, such as the best mini cribs for small spaces, help you in your final decision.
Thank you for reading my article! I hope it was helpful to you. If you have any questions, please leave them below. I will respond as soon as possible!