Last updated on January 26th, 2023 at 11:25 am
We've put together a list of the best baby cribs in 2023. We hope it makes your shopping experience easier and helps you find the perfect sleeping space for your little bundle of joy!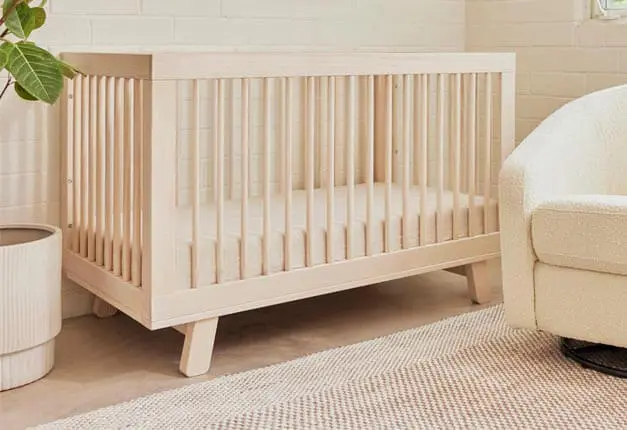 Best baby cribs you can buy in 2023
Baby's Little Place Top Picks
A crib is definitely at the top of the "must-have baby furniture" for most of us. However, it is also one of the first larger purchases expecting parents have to make for their baby. 
Unfortunately, buying a crib is more challenging than it sounds. You have to choose between hundreds of cribs loaded with different features. Cribs also vary significantly in price. Then there are numerous safety precautions you should follow, etc.
It can quickly become confusing and overwhelming. So, to make your decision easier, we've compiled a list of the best baby cribs you can buy in 2023.
By picking one of our favorite cribs, you don't have to worry about its safety and quality, as we've already done the research for you. All you have to do is choose the one you like and know it fits into your home.
We've also provided all the information you need about each crib on the list and explained why we love them.
However, if you need more detailed information about choosing a crib, read our baby crib buying guide first.
3 Top-Rated Cribs in 2023
Babyletto Hudson 3-in-1 convertible crib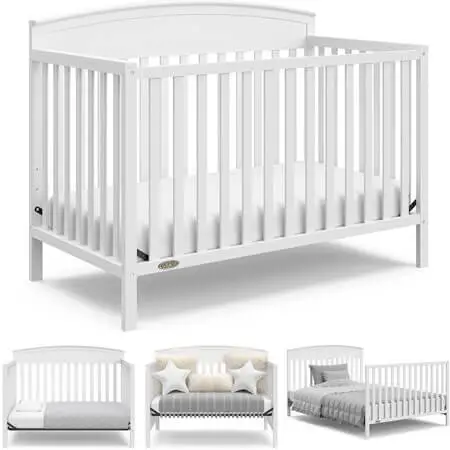 Graco Benton 4-in-1 convertible crib
Babyletto Origami mini portable crib
How did we choose the best cribs?
First, we compiled a list of cribs that could have everything we expect from the best cribs.
Our preliminary list included:
past year's best-selling cribs
Cribs liked by parents
New cribs that are not yet so well-known but, in our opinion, have great potential to become one of the best-selling models
Our priority is the baby's safety! So we've checked if cribs meet all required safety standards and looked for their certifications, like JPMA (Juvenile Products Manufacturers Association), GREENGUARD Gold certification, etc.
Then it was time for practical testing. We gave each crib a good shake. Quality cribs do not wobble and have no loose or missing parts.
However, although the most important, we didn't review only the crib's safety. We've also checked cribs' quality, features, materials, usability, price, etc.
We also considered the crib's design. After all, we are choosing the best baby cribs in 2023, so their style must conform to today's nursery furniture guidelines.
Finally, we were able to evaluate and compare the results, narrowing down the list to the top 13 picks below.
Baby's Little Place team wishes you a productive crib search and a lot of peaceful nights with your little bundle of joy!
---
The best baby cribs in 2023
Below are the cribs with the best ratio between functionality, quality, and price in 2023.
Best-selling cribs are convertible
Due to its functionality and ability to grow with the child, most parents decide on a convertible crib. Therefore our list contains numerous cribs of this type.
You can opt for a classic convertible crib or choose one with added features, such as changing table or under-crib storage drawer.
However, we didn't forget about parents who need other crib types. That's why we have also added the best mini crib, top-rated portable crib, etc. And if you want a wider selection for a specific crib type, you can jump on our list with the:
Convertible cribs
The number in the convertible crib's name tells how many beds it can be converted into. You can choose between 2-in-1, 3-in-1, and 4-in-1 convertible cribs.
Depending on the brand and a particular model, a convertible crib may transform into one or more following beds:
toddler bed
daybed
twin-size bed
full-size adult bed
When buying a convertible crib, keep in mind:
The number in the crib's name tells you only how many beds you may get if you have all the parts for its conversions. Conversion kits are often not included with the crib!
While most 4-in-1 convertible cribs convert into a toddler bed, daybed, and full-size adult bed, conversions of 3-in-1 models differ from model to model.
You have to buy a full-size conversion kit and bigger mattress for all convertible cribs that transit into an adult bed!
RELATED ARTICLE: Best convertible cribs of 2023
---
Cribs for short moms
A common problem for short moms is that they can't reach over the front rail and place a sleeping baby gently into the crib. Because of their struggle, their baby often wakes up during this process. Nobody wants that!
A low-profile crib with adjustable mattress support is a perfect solution for them. You can find low-profile cribs amongst mini or full-size convertible models.
Their lower profile is the result of a carefully designed frame, usually with shorter legs and minimalist design, without bulky top rails. By no means does this mean that the railing of these cribs is lower. Your baby can not escape any sooner than from any other crib!
Adjustable mattress support is another handy feature for short moms. The ability to set the mattress to the highest level for a newborn is very convenient!
RELATED: Best cribs for short moms
---
Best storage cribs
Storage cribs are cribs with additional storage space for baby belongings. These cribs have drawers and shelves, either under the mattress are or on the attached changer.
Under-crib drawer:
Cribs with under-crib drawers efficiently use otherwise unutilized space under the mattress. That is very convenient, especially for those who live in smaller homes. 
Not only that. If the area under the crib is not empty, there is no room for dust accumulation, which is also great, at least I think so.
Yes, you can put storage boxes under the regular crib, but a quality drawer on metal glides is a lot better. 
Some models have two drawers, but most of them possess only one large unit that is usually divided into two equal parts.
RELATED: Best convertible cribs with under-crib drawer
Convertible crib with changer:
These cribs have multiple names, such as combo cribs, multifunctional cribs, or multipurpose cribs. A convertible crib and changing table are connected into one handy piece of nursery furniture.
Combo cribs have a bigger footprint than regular full-size cribs, but they are space-saving cribs anyway. Yes, a combo crib takes up more space than a convertible crib, but a stand-alone crib and separately placed changing table are, of course, bigger. And most of the time, they are more expensive too.
Changing tables on combo cribs are smaller than stand-alone changers but big enough to change the baby for the first year. And best of all, they also offer ample storage space. 
Some have drawers, other shelves, or a combination of both. At this point, I want to mention that you can opt for a mini combo crib too. Those cribs take up even less space while offering all described above.
RELATED: Best combo cribs
A combo crib with drawer:
These are cribs with the most storage space you can get. They have an under-crib drawer and an attached changing table.
RELATED: The best combo cribs with under-crib drawer
---
Mini cribs
The demand for mini cribs increases year after year. Nowadays, we are forced to live in city centers, in smaller homes such as urban lofts or studio apartments, leaving too little space for a standard crib.
In such a case, picking a mini crib might be your best solution. It offers the same features as a full-size crib, just in smaller dimensions.
Most mini cribs stand on wheels, which classifies them among portable models. Lots of them can also fold down for easy storage. Nevertheless, you can opt for a mini convertible crib, mini combo crib, or even a mini crib with drawers.
Mini cribs are not traveling cribs! For traveling, rather pick a lightweight travel crib or a Pack 'N Play.
---
Remember, the best baby cribs are not the most expensive ones, as rating considers so much more than just a price!
A crib is one of the most significant purchases new parents will make. But the market is full of different types, models, styles, shapes, and designs, so young parents often don't know what to pick. This list can help!
A list of the best baby cribs of 2023 is a result of our hard work with the desire to help you with your decision.
We are sure you won't be disappointed if you choose one of our favorite baby cribs. But, if you won't decide on one, this list can serve as a starting point to find the best crib for your baby. I also suggest you read our baby crib buying guide, which will help you find the perfect crib for your little bundle of joy!