Since you are considering investing in the Hudson crib by Babyletto, you may want to gather all the necessary information about it in one place. That's where our Babyletto Hudson 3-in-1 convertible crib review comes in.
We've done comprehensive research, reviewed all Babyletto Hudson 3-in-1 convertible crib's features, and gathered feedback from parents who have already invested in it.
So, I am confident that our in-depth review covers everything you need to decide if the Babyletto Hudson 3-in-1 convertible crib is what you are looking for.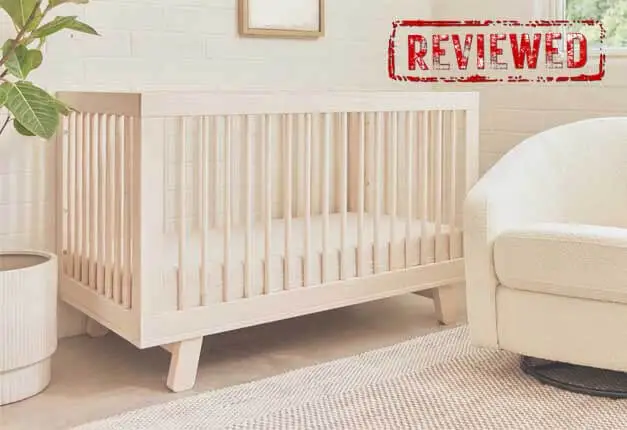 Babyletto Hudson 3-in-1 convertible crib
The Babyletto Hudson 3-in-1 convertible crib is a beautiful crib with clean lines and versatile functionality. It is the best-selling convertible crib from Babyletto, which is extremely popular among parents. And I am not surprised!
The Hudson crib by Babyletto is an excellent choice for style-conscious parents looking for a quality, long-term solution. Due to its low profile and sleek, minimalist design, it is also a great option for short moms and those who want a full-size crib but are short of space.
PRODUCT HIGHLIGHTS:
The versatile, modern design features a clean silhouette with rounded spindles.
Multiple finishes, including a contrasting two-tone finish, make it a stylish addition to any nursery.
A toddler bed safety guardrail is included with the crib.
The Babyletto Hudson 3-in-1 convertible crib is made with sustainable New Zealand pine wood.
Specially designed legs ensure the crib's lower profile without compromising the height from the mattress to the top of the crib.
Baby's Little Place Reviews
Babyletto is a well-known brand that specializes in modern nursery furniture and decor. Their products, including the Babyletto Hudson 3-in-1 convertible crib, combine style, functionality, and safety. With a commitment to sustainable manufacturing and prices that are still affordable for most parents, Babyletto offers parents versatile and aesthetically pleasing options for creating a contemporary nursery space.
Babyletto Hudson 3-in-1 Convertible Crib Review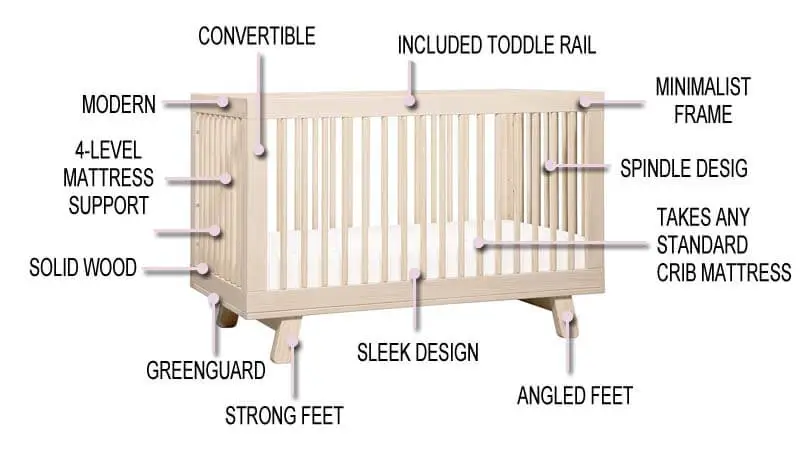 PROS:
A convertible crib that grows with your child
A toddler rail is included with the crib
Versatile modern design
Multiple finishes, including two-tone designs
Adjustable mattress height
Good value for the price
Compact design that works well in smaller nurseries or shared spaces
Low-profile crib, perfect for parents of all sizes
Sturdy and easy to assemble
GREENGUARD Gold certified
Meets and exceeds all safety standards set by the CPSC & ASTM
Non-toxic finishes, lead, and phthalate safe
CONS:
Higher price range
Visible mattress support when it is set to the highest setting
---
Thoughts about the Crib's Design
The design of the Babyletto Hudson 3-in-1 convertible crib is highly commendable. I especially like how well it combines style and functionality. The crib is well made and doesn't wobble after the assembly.
Babyletto Hudson convertible crib Specifications: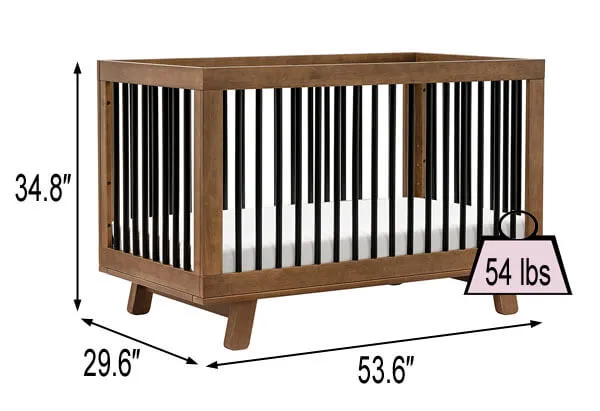 MANUFACTURER: Babyletto
MODEL: Hudson
TYPE: convertible
STYLE: modern-retro
MATERIAL: natural New Zealand pine wood
COLOR: Washed Natural, Black, Espresso, Grey, White, Natural and two tones: Grey|White, Espresso|White and Natural Walnut|Black
ASSEMBLED DIMENSIONS: 53.625″L x 29.625″D x 34.875″H
ASSEMBLED WEIGHT: 54 lbs
One of the standout features is the impressive range of color options available. The Babyletto Hudson 3-in-1 convertible crib is available in more finishes than most cribs we've reviewed so far. This extensive selection allows you to choose a finish that suits your style and effortlessly completes your nursery decor.
I like how well the Babyletto Hudson 3-in-1 convertible crib matches almost any nursery furniture. But the best match is certainly other Babyletto furniture, such as the Hudson 3-drawer dresser changer or Hudson 6-drawer assembled double dresser.
The crib features stylishly rounded spindles, which bear a resemblance to the popular modern European style. I fell in love with it the moment I laid my eyes on the crib! It boasts a total of 48 spindles—16 on the long sides and 8 on the short sides. While these numbers may not be the most crucial information, our goal is to provide a comprehensive review of the Babyletto Hudson 3-in-1 convertible crib, so we include them nonetheless.
One of the notable aspects of the Hudson crib is also its open design, which offers a great view of your baby from various angles and a light and airy ambiance within the crib.
When talking about the Babyletto Hudson 3-in-1 convertible crib, we shouldn't pass its footprint and high. The frame of this crib is made very thoughtfully, which is especially beneficial for shorter moms and those with a lack of space.
Babyletto Hudson Convertibility review
The Babyletto Hudson's convertibility offers a 3-in-1 functionality, allowing you to transform it into a toddler bed and, eventually, a daybed.
So, if you think it is a bit pricy, consider it a long-term investment. It will grow with your child and can be with you for many years.
Babyletto Hudson crib's convertibility:
NUMBER OF CONVERSIONS: 3
CONVERSION TYPES: crib, toddler bed, and daybed
TODDLER BED SAFETY RAIL: it is included with the crib
When it comes to the quality of its conversions, we found the Babyletto Hudson to be both effortless and of high quality. We have thoroughly tested them by converting the crib back and forth, and each conversion was quick and straightforward.
It is important to note that we followed the provided instructions during the process, and I recommend you do the same. Additionally, I always advise checking the crib's stability after each conversion.
I am pleased to report that our Babyletto Hudson 3-in-1 convertible crib remained sturdy and reliable throughout all stages.
The best thing about the Babyletto Hudson's convertibility is certainly the included toddler bed safety rail.
Many convertible cribs do not have this option. Having the guardrail included ensures that you have everything you need for a smooth transition from crib to toddler bed. This convenience saves you the hassle of searching for a compatible guardrail and eliminates the additional expense.
Is Babyletto Hudson actually a 4 in 1 convertible crib?
Indeed, the Babyletto Hudson offers even more versatility with its fourth conversion option—a junior bed. This means that in addition to transforming it into a toddler bed and a daybed, you can further adapt it into a comfortable junior bed as your child grows.
But then why didn't Babyletto name the Hudson a 4-in-1 convertible crib?
They adhere to the rule of marking the crib with the number of conversions you get when you buy it. I think this is fairer than many brands that name their cribs with higher numbers. Parents only later find out, to their disappointment, that this is only a number of the conversions their crib could have if they buy additional parts.
So, yes, if you want, you can transform your Hudson into a junior bed. But you will have to buy a junior bed conversion kit. You can buy it here, and it costs around $150. It is available in white, grey, washed natural, natural walnut, and black.
Safety Review
First and foremost, the crib is constructed using sturdy and durable materials, ensuring stability and reliability. It doesn't wobble or have drop sides.
Babyletto also prioritizes eco-friendliness and uses a non-toxic multi-step painting process for the crib's finish. Its commitment is backed by the Greenguard Gold Certification, meeting stringent standards for low chemical emissions. This eliminates the worry of harmful chemicals or toxins that could potentially harm your baby's health.
To prevent accidental falls, the Babyletto Hudson features adjustable mattress heights. You can lower the mattress as your baby grows, reducing the risk of them climbing out of the crib and potentially getting injured.
We've also measured the space between Hudson's spindles. They are 2″ apart, which is safe and smaller than the allowed maximum of 2 3/8 inches.
The Babyletto Hudson baby crib meets and even exceeds all safety standards set by ASTM (American Society for Testing and Materials) international and U.S. CPSC (Consumer Product Safety Commission)!
However, it's important to note that while the Babyletto Hudson 3-in-1 convertible crib incorporates numerous safety features, you must follow the manufacturer's assembly instructions and safe sleep recommendations. Only that way you can ensure the safest sleeping environment for your baby.
Babyletto Hudson's safety specifications:
SAFETY STANDARDS: meets and exceeds all safety standards set by the CPSC & ASTM
CERTIFICATIONS: GREENGUARD Gold Certification
NON-TOXIC FINISHES: yes
LEAD AND PHTHALATE SAFE: yes
STURDY: yes
DROPPING SIDES: no
Babyletto Hudson crib mattress information
The mattress sits on the metal spring support, which enables better air circulation and makes reliable support.
You can adapt the height of the mattress to four different positions. Start with the highest level for infants, but don't forget to lower it when your baby starts to crawl or sit independently. Keep it at the lowest level for toddlers!
The crib mattress is not included in the purchase.
The Babyletto Hudson 3-in-1 convertible crib takes any standard-size baby crib mattress of any brand. We tested the crib with Newton Wovenaire baby crib mattress and Colgate Eco Classica III crib mattress. They all fit perfectly!
Babyletto recommends their Pure Core non-toxic crib mattress with Hybrid Waterproof Cover, which is a perfect fit. 
Babyletto Hudson 3-in-1 convertible crib mattress information:
MATTRESS SUPPORT: metal springs
ADJUSTABLE MATTRESS HEIGHT: yes, 4 heights
Frequently asked questions
Babyletto Hudson 3-in-1 convertible crib
---
---