Last updated on January 23rd, 2023 at 11:53 am
Babyletto Modo vs. Hudson crib
Babyletto is one of the leading crib manufacturers for the last few years. They gained parents' trust by selling safe, functional, and durable baby cribs.
Although Babyletto offers a wide selection of different cribs, their convertible cribs are by far the best-selling models. But, why we have compared Modo and Hudson, and not other Babyletto's convertible cribs? We put them side by side and made Babyletto Modo vs. Hudson crib comparison chart for the following reasons:
Hudson is Babyletto's best-selling crib.
Babyletto Modo doesn't leg behind much, as it's becoming more and more popular too.
Many parents approached us with questions about their differences and which one is a better decision.
Comparison chart: Babyletto Modo vs. Hudson crib
| | | |
| --- | --- | --- |
| MODEL | Babyletto Modo | Babyletto Hudson |
| TYPE | 3-in-1 convertible crib | 3-in-1 convertible crib |
| CONVERSIONS | 3 | 3 (+1) |
| SIZE | 53.13″ x 29.88″ x 34.75″ | 53.625″ x 29.625″ x 34.875″ |
| WEIGHT | 59.52 lbs | 54 lbs |
| DESIGN | open, slats | open, spindles |
| COLOR ASSORTMENT | 5 | 8 |
| MATTRESS | full-size crib mattress | full-size crib mattress |
| CRIB LIMIT | < 35 inches | < 35 inches |
| TODDLER BED LIMIT | < 50 lbs | < 50 lbs |
| DAYBED LIMIT | < 50 lbs | < 50 lbs |
| LATEST PRICE | BEST PRICE | BEST PRICE |
Babyletto Modo vs. Hudson convertible crib
There is no difference between Modo and Hudson regarding safety and durability. Both cribs are durable and meet or even exceed all required safety standards.
Babyletto Modo and Hudson are full-size convertible cribs with a sleek design, so the difference in the size is hardly noticeable as well.
What is different?
Modo and Hudson have a different design
price: Modo is cheaper from Hudson
Hudson is compatible with Babyletto Junior conversion kit
If you already know which one you want, you can jump on its Review:
---
The difference in Babyletto Hudson's and Modo's design
Babyletto Modo and Hudson do not have the same look, which is, of course, the most noticeable difference between them.
Both cribs have an open design, without closed sides. You can place either of them in the center of the nurser, or beside the wall. In both cases, they look great! The open design's advantage is also the ability to see your sleeping baby from any angle of the room.
Babyletto Hudson's vs. Modo's design
| | | |
| --- | --- | --- |
| | MODO | HUDSON |
| STYLE | modern retro-looking | modern European style |
| SLAT/SPINDLE STRENGHT | 135 lbs | 135 lbs |
| FEET DESIGN | rectangular | rounded |
| COLOR | | |
Hudson's vs. Modo's design
1. Slats vs. spindles:
Hudson has a classic Babyletto's mid-century modern appeal, with a touch of retro style. It features stylish rounded spindles, which gives the crib a bit of a beautiful European style.
Modo is slightly different but without a doubt, sophisticated convertible crib. For the Modo, Babyletto replaced spindles with slats. That makes the Modo more traditional looking US crib.
Slat and spindle strength is the same for both cribs, so there is no difference from the safety point of view. The distance between slats or spindles is smaller than the prescribed maximum too.
2. Rectangular vs. rounded feet:
The second difference is the leg design. While Babyletto Modo legs are rectangular, Hudson's feet are more rounded, which matches their overall designs. The feet design does not affect the height, which is approximately the same for both cribs.
3. Finish:
The last difference is the color selection. While you can get Babyletto Hudson in eight finishes, is Modo available only in five colors.
---
A 3-in-1 convertible crib
Babyletto Modo and Hudson are 3-in-1 convertible cribs. That means you get three beds for one price. Modo's and Hudson's conversions are the same. Both cribs transit into a toddler bed and daybed.
Another great thing about Babyletto is the included safety guardrail for the toddler bed. Other crib brands sell them separately, so Babyletto's convertible crib prices might seem higher at first glance. But adding up the price of the crib and guardrail of other brands showed us that usually, they are not cheaper anymore.
Having everything in the package is very convenient, as you don't need to look for a matching toddler safety guardrail!
The only difference in Babyletto Modo and Hudson's convertibility is the option to purchase a Junior bed conversion kit for the Hudson. With this purchase, you can transform the Hudson even into a fourth bed, a junior bed.
Babyletto could name Hudson a 4-in-1 convertible crib because of that. Many other crib brands would. It doesn't convert into a full-size adult bed, but it is the fourth conversion.
| | | |
| --- | --- | --- |
| | MODO | HUDSON |
| CONVERTIBLE | YES | YES |
| NUMBER OF CONVERSIONS | 3 | 3(+1) |
| CONVERSION TYPES | toddler bed, daybed | toddler bed, daybed (+junior bed) |
| TODDLER BED SAFETY GUARDRAIL | included | included |
| JUNIOR BED CONVERSION KIT | X | not included |
| CRIB CAPACITY | > 35 inches | > 35 inches |
| TODDLER BED/ DAYBED CAPACITY | > 50 lbs | > 50 lbs |
Babyletto Modo's vs. Babyletto Hudson's convertibility
How long can my baby use Modo and Hudson as a crib?
Your baby can use both cribs until she begins to climb or reaches 35 inches.
How long can my child use Modo and Hudson as a toddler bed and daybed?
Your child can use a toddler bed or daybed of both cribs until she/he reaches 50lbs.
---
Mattress for the Hudson and Modo crib
Although their assembled dimensions are slightly different, they are both classified as standard size cribs. The difference in measurement is due to the different frame designs, not the different inner size.
Measurements of all full-size cribs are regulated by the government. The same applies to all full-size crib mattresses. So both of them take any standard full-size crib mattress, which is at least 51.625 x 27.25″ and no more than 6″ thick.
Both cribs have a metal crib mattress support and 4 adjustable mattress positions, so you can lower the mattress height as your baby grows.
If you want all-Babyletto crib, you can buy one of the Babyletto mattresses. Our research showed us that their Pure core non-toxic crib mattress is the best choice!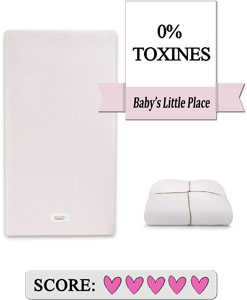 You can read our Babyletto Pure core crib mattress review, or choose amongst many other great baby crib mattresses.
---
Babyletto's Safety
Babyletto's priority is the safety of your child, and that is how it should be!
1. Babyletto Modo and Hudson are sturdy, without any moving parts! The same as all Babyletto cribs, Modo and Hudson meet or even exceeds all ASTM International and U.S. CPSC safety standards!
2. Cribs are non-toxic, as Babyletto finish their cribs in a non-toxic multi-step painting and staining process that is lead and phthalate safe.
3. Modo and Hudson are also GREENGUARD Gold certified, which ensures that they do not pollute indoor air. Modo and Hudson are screened for over 10,000 chemicals and VOCs known to pollute indoor air. They meet the rigorous chemical emissions standards of UL, a global independent safety science company.
4. Modo and Hudson are also an excellent choice for Eco-Conscious parents. Babyletto cribs are made with solid New Zealand pinewood, which is one of the most sustainable and renewable woods available.
5. Modo and Hudson are steady cribs without any moving part! Drop-side cribs are because of numerous injuries and even deaths forbidden since 2011!
---
Babyletto Modo vs. Hudson
Who is the winner?
There is no winner here. You will win with either of them. The most important features that a 3-in-1 convertible crib must have are the same.
both cribs meet all safety standards
both cribs convert into toddler bed and daybed
a safety guardrail for both cribs is included
any full-size crib mattress fits into both of them
So you will choose according to their design and your budget. The fact that the Modo is $100 cheaper than the Hudson is certainly not negligible!
And which crib would I choose? My winner is the Babyletto Hudson 3-in-1 convertible crib. It hurts me that it costs more, but I think it is certainly worth the money.
---