Last updated on January 23rd, 2023 at 04:27 pm
We've found the best bassinet mattress pads (also called bassinet mattress protectors, covers, or toppers) and added some tips on how to find a fitting one for your baby's bassinet.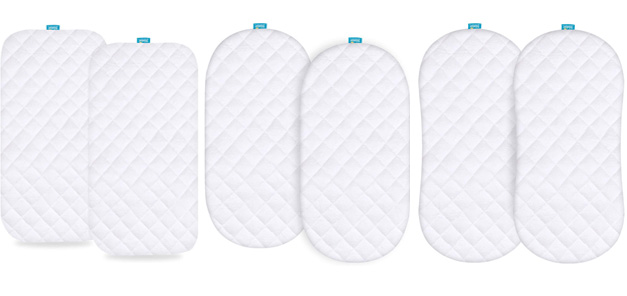 Protect your bassinet mattress with a quality mattress pad!
Baby's Little Place Top Picks
A bassinet mattress is one of those baby items that can get dirty fast, but unfortunately, you can not throw it in the washing machine. Infants spill and drool a lot. A leaky diaper or diaper blow-up is something that will happen sooner or later.
Yes, you can and will use bassinet mattress sheets, but most are not waterproof, so you will need a reliable mattress protector to keep your mattress clean and comfortable.
Solids and liquids shouldn't be able to penetrate the bassinet mattress! Leaking into its core increases the risk of mildew, bacteria, and mites, which is unhealthy for your baby. The best bassinet mattress pads keep the liquids and dirt away from the mattress, thus maintaining your baby's mattress fresh and safe.
What to Consider Before Buying Bassinet Mattress Pads?
Bassinet mattress pads come in various materials, including cotton, polyester, and organic options. You can pick amongst multiple sizes, shapes, and thicknesses, decide on a quilted protector, etc.
But the most important features to consider are those that ensure the mattress protector is safe for your baby. Those are the pad's thickness, size, and breathability. Also, you shouldn't forget to check the mattress pad's waterproofing abilities.
---
Best Bassinet Mattress Pads / Protectors
The more research we've done, the more convinced we were that Biloban is the only brand we'll include on this list. The Biloban bassinet mattress pads are so superior that we didn't see the point in adding others to the "best-of" list.
Believe me; I wanted to add more brands. But we have not found one that could compete with Biloban's excellent value for money and its wide selection of different sizes.
Even with more options … I'm sure you'd end up going with one of Biloban's bassinet mattress pads. So I thought, why not write more about their mattress protectors, their range, and how to choose the right one?
Top-Rated Biloban Bassinet Mattress Pads
Having a right-sized mattress pad is essential! But there are so many shapes and sizes that finding the right one can be a challenge.
That's why I appreciate Biloban's effort to make your search as easy as possible. You can shop their mattress pads by size or by the name and brand of your bassinet!
More about Biloban bassinet mattress pads:
---
Benefits of Bassinet Mattress Pads / Protectors
1. They prevent stains on the mattress's surface:
The bassinet mattress pad with a waterproof layer will protect your bassinet mattress from accidents. Liquids and dirt will not reach the mattress, so it will remain stain-free. Your bassinet mattress will stay clean and look like new.
2. Mattress protectors keep the mattress's core clean and dry:
Waterproof mattress protectors prevent liquid from reaching the surface of the mattress, let alone into its core. The bassinet mattress will stay dry and fresh! Moisture inside the mattress core can promote mold growth. You definitely don't want this around your baby!
Best bassinet mattress pads are made of durable materials to withstand repeated washing. You can wash them frequently to keep them clean.
3. Mattress pads protect against allergens and pathogens:
Yes, waterproof bassinet mattress pads prevent mildew, bacteria, or dust mite formation in the mattress. But fiber, such as bamboo or cotton, also works antibacterial naturally. These fibers are also hypoallergenic, meaning they do not irritate a baby's sensitive skin.
And last but not least, a bassinet mattress pad represents the barrier between your baby and the mattress. So, if anything happens to form inside the mattress's core, it won't come into contact with the baby.
4. They keep the mattress cool and cozy:
The best bassinet mattress pads are breathable, cool, and cozy. They absorb body heat, sweat, and moisture, keeping your baby dry and comfortable.