Last updated on January 23rd, 2023 at 12:30 pm
Mini cribs are a perfect solution for modern families who are limited by space. A mini portable crib, such as Babyletto Origami, will not only save much-needed space, you can easily move it around your home or fold away when it's not in use. We've reviewed Babyletto Origami's space-saving abilities, portability, safety, and overall functionality.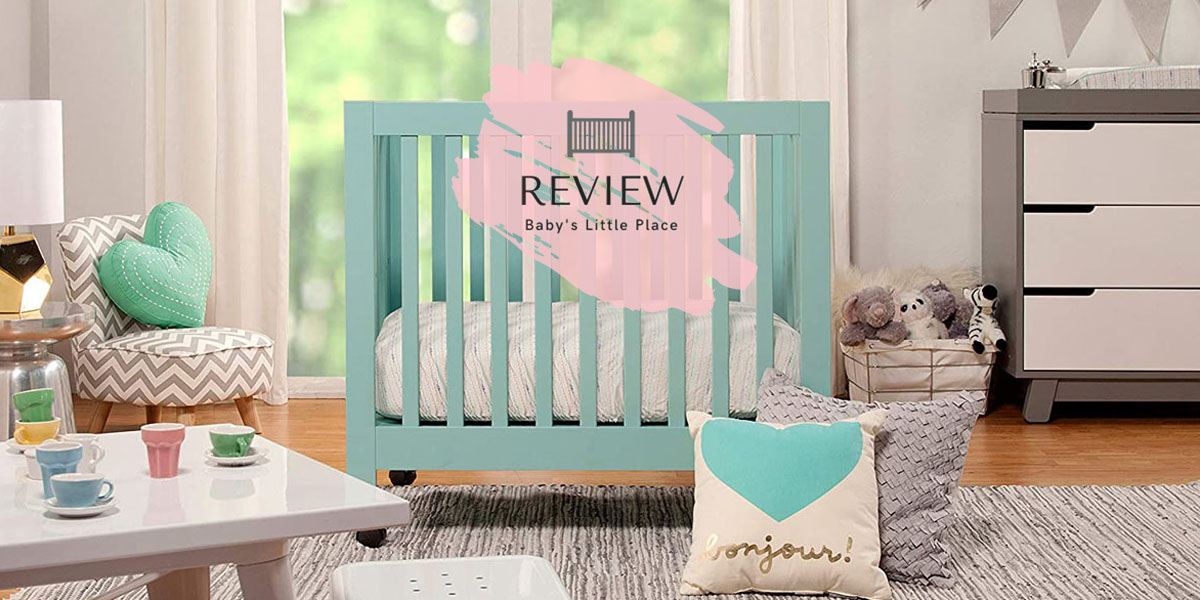 Babyletto Origami Portable Mini Crib
Baby's Little Place reviews
Today's lifestyle forces young families to live in city centers, where they have to settle for smaller apartments that are limited by space. However, by living in a tinier home, there is no need to give up your comfort.
Modern, functional furniture is designed to fit into small spaces while retaining all the features of standard size pieces. And the same goes for baby furniture in smaller nurseries, shared rooms, or co-sleeping in the parent's bedroom, where mini cribs have successfully replaced their full-size "sisters".
Babyletto Origami mini portable crib is a perfect example of functional baby furniture. It has all the needed features to offer a comfortable and safe sleeping environment while not occupying a lot of space. As it is not the cheapest mini crib on the market, we wanted to make sure that it is worth your money.
Our Babyletto Origami mini crib review covers everything you need to know before your purchase. Keep reading and find out what can this small crib offer to your family.
---
Babyletto Origami's pros and cons: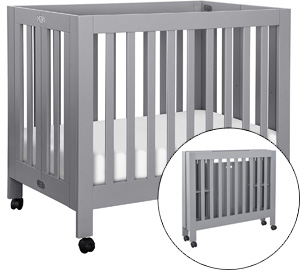 PROS:
comfortable mini crib, which doesn't take a lot of space
quality, smoothly gliding casters with a reliable locking mechanism
modern design in multiple finishes, including trendy colors, such as Petal Pink, Navy, or Lagoon
folds down without disassembly
a more long-term alternative for a baby bassinet
adjustable mattress support
durable and lightweight
a safe sleeping environment for your baby
CONS:
slightly higher price than some other quality mini portable cribs
Babyletto Origami portable mini crib is great for:
urban living
smaller homes, small nurseries, room sharing
as a secondary crib for grandparent's, daycare, or caregiver's home
co-sleeping in parent's bedroom, instead of a baby bassinet
---
Babyletto Origami Mini Crib Review
How we obtain the results of our reviews?
First, we've reviewed all of the Babyletto Origami features, quality, and safety. To obtain the most relevant results, we compared them with the results of other mini portable crib reviews.
Of course, we also took into consideration parents' opinions whose babies have been using the Babyletto Origami mini portable crib for a long time. We've combined everything into a transparent review that I hope will give you all the answers you need.
Portability review
The Babyletto Origami mini crib stands on smoothly rolling feet. They glide nicely, even on the carpet, so everything is as it should be. The wheels possess a locking mechanism, which keeps the crib in place while the baby sleeps in it. Safety standards do not require such a locking mechanism, therefore, it adds the value to this mini crib.
The primary purpose of cribs on wheels is moving around the home. If such crib doesn't fit through standard doorways, such a feature would be pretty much useless. Due to the minimalist frame, with straight lines, Babyletto Origami has no problems with this.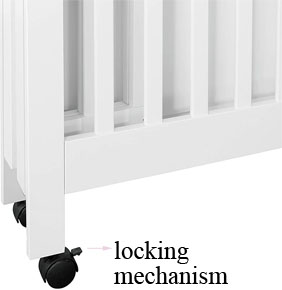 Review of crib's folding mechanism
Most mini portable cribs also fold down for easy storage. Babyletto's collapsing mechanism is quality made, and I didn't have problems whit the crib's collapsing or setting it back up.
The crib folds up small and doesn't require any disassembly. The mattress support fits into the folded crib, which I find very handy too.

Safety review
Babyletto Origami mini crib meets all required ASTM (American Society for Testing and Materials) international and US CPSC (Consumer Product Safety Commission) safety standards. The crib is lead and phthalate safe and finished in a non-toxic multi-step painting.
The Origami mini crib is also GREENGUARD Gold certified, which ensures that the crib doesn't pollute indoor air. It has been tested for over 10,000 chemicals and passes the most stringent emission standards to get this certification. There are not many crib manufacturers whose cribs own this certificate, so it's certainly an added value for the Babyletto.
The crib is well built, and what's crucial for a portable crib, it stands on the place when the wheels are locked down.
Babyletto Origami's design
It's hard to determine how beautiful is a particular crib. Different people like different things, and what's appealing to me, it is not necessarily nice to you.
However, we can compare it to similar cribs and check if it meets the general expectation for such crib type.
Babyletto Origami has a minimalistic frame, with clean lines. It is a modern crib that fits into most nursery designs. It is available in multiple colors, including unique tones, and nicely build. The overall look is appealing, and most parents adore it.
---
What size mattress fits in Babyletto Origami mini crib?
You will get a 1″ mattress pad with a crib, which is better than nothing! But I recommend using a thicker mattress for everyday sleep!
Babyletto Origami is a mini crib, so it requires a mini crib mattress. Just be careful when purchasing it! Unlike full-size models, the government doesn't regulate the size of mini cribs and mini mattresses. Not all mini crib mattresses fit into the Origami mini crib!
However, Babyletto stuck to non-official standards when designing the Origami, so most US mini crib mattresses fit into the crib. Look for a mini crib mattress that is at least 37″ long and 23.875″ wide. It shouldn't be more than 5″ thick either!
Don't forget about the mattress's firmness, which is besides snuggle fit, the most important feature you should look for when buying a mini crib mattress.
Babyletto Pure core mini crib mattress:
Babyletto recommends using Babyletto Pure Core mini crib mattress in the Origami crib. That is a lightweight mini crib mattress that fits perfectly into the crib. It is made from non-toxic materials, and it's fully recyclable.
The Pure Core mattress has a multifunctional cover with a soft quilted cotton face and vinyl-free waterproof backing to protect the mattress against accidents. It is removable, and you can wash it in the washing machine.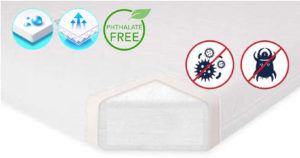 You can read more in our Babyletto Pure Core crib mattress review.
Other mattress information:
Babyletto Origami has an adjustable two-level mattress support
it sits on a solid support, made of TSCA Compliant engineered wood
---
Babyletto Origami's specifications
assembled crib dimensions: 38,625" L x 25,375" W x 36" H
collapsed dimensions: 38,625" L x 7" W x 36" H
Babyletto Origami mini crib assembled weight is 50 lbs.
Babyletto Origami is available in seven finishes. You can choose from standard colors, such as black, gray, washed natural and white, or unique tones Petal Pink, Navy, and Lagoon.
How long can your baby use the Babyletto mini crib?
Stop using the Babyletto Origami mini crib when your child can climb out or reaches 35 inches, whichever comes first.
Babyletto Origami is usually suitable for newborns up to 18 months, but that depends on how big your baby is.
Frequently asked questions regarding the Babyletto Origami mini crib:
1. How high is the top mattress position?
Measuring from the floor to the platform that holds the mattress it is about 21 1/2″ 
2. How hard is the assembly?
You should take time, follow the instructions and don't rush. If you follow the provided instruction, the assembly is easy and shouldn't take you more then an hour and a half.
3. Can I assemble the crib without the wheels?
Yes, you can, but the wheels are actually a good feature. While they are locked the crib stands still, and it's little higher than without them.
4. Is it possible to take the front railing off and use it as a co-sleeper?
No! You shouldn't do that, because it won't be safe!
5. Does the crib fit through doorways inside the house?
Yes, it does.
6. Is there any weight limit?
There is a height limit. After your child outgrows 35″ he won't fit into the crib anymore. Before he reaches this hight, he won't be too heavy for the crib.
---
Babyletto Origami is a better alternative to bassinets!
Why? Because it is more compact, it lasts longer, and it is way more comfortable than baby bassinets.
More and more parents are familiar with the benefits of sleeping in the same room with the baby. American Academy of Pediatrics even stated that co-sleeping for the first six months of a baby's life is the safest choice.
However, the baby shouldn't sleep in your bed! For a safe co-sleep, use a baby bassinet, Pack 'N Play, or a crib, which is placed next to your bed. 
Why would I decide on a portable crib for co-sleeping?
It is a more long-term solution than a bassinet and a more stylish alternative to a Pack 'N Play.
Your child starts learning to sleep in the crib from day one. The crib will become a familiar space, where he will feel safe. 
Deciding on a portable mini crib, such as Babyletto Origami, enables moving the crib in the nursery when he is old enough. Because he still uses the same bed, is the transition into his room much smoother.
---
If there is something else you want to know, and I didn't mention it in the Babyletto Origami mini crib review above, please leave the question below. I will happily help you!
After my research, I have found the best price for Babyletto Origami mini portable crib HERE.
---