Last updated on January 23rd, 2023 at 11:38 am
Providing a safe sleeping environment is one of the parent's first tasks. But many times, it turns out to be more complicated than they've thought. They do not know how to buy a baby crib, which would meet all safe sleep recommendations, fit into their home, and at the same time not cost a fortune.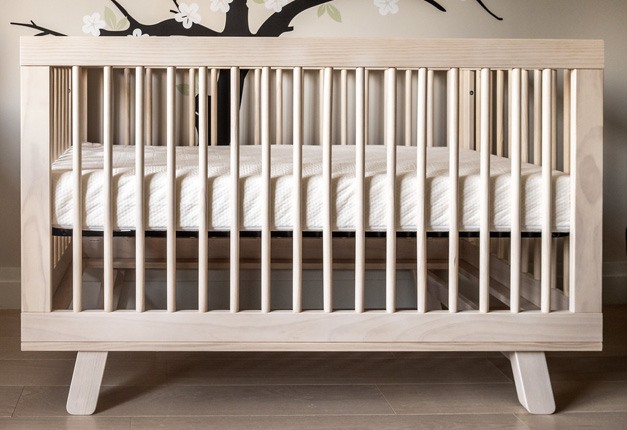 Internet is full of tips about safe sleep, advice where babies should or shouldn't sleep, sad stories related to SIDS (Sudden Infant Death Syndrom), etc. No wonder parents become overwhelmed. They begin doubting their knowledge, making them unsure how to buy a baby crib that would not endanger their child.
They often turn to us with questions about a suitable crib. So we've decided to compile this baby crib buying guide and ease your crib buying experience. It will guide you step-by-step through the process and help you find the best crib for your little bundle of joy.
American Academy of Pediatrics (AAP) promotes sleeping in the same room but in separate beds. They recommend a crib, portable crib, play yard, or bassinet as the safest sleeping place for the baby.
Although a crib might seem a little big for a newborn, it's the most rational and the safest decision you can make! The crib is the sturdiest and most durable choice. It is a more long-term solution than a bassinet and a more appealing option than Pack 'N Plays!
How to buy a baby crib?
You need a crib that fits your home, possesses your favorite features, and most importantly, does not endanger your baby! But there are also other things you have to consider, wherein price usually plays a significant role in the final decision.
Please, don't worry if you're limited by budget. Numerous cribs are cheap but also safe, quality, and appealing. I will write more about the prices below. So, take a look at which steps to consider when buying a crib:
Set the budget for your baby crib, and try to stick with it.
Consider what crib features you need. 
If you are living in a small apartment, consider buying a mini crib.
Choose the shape of the crib.
Do not forget that you need a proper crib mattress, which will also add to the final price.
Cribs have different mattress supports. If that is important to you, decide which one you want. Furthermore, most cribs have adjustable mattress support. It is an excellent feature if your newborn starts sleeping in the crib right away.
Consider a crib's height, especially if you are short.
Last but not least, check if your selected crib meets all required safety standards.
---
Now let's look into all this in a little more detail:
Baby crib buying guide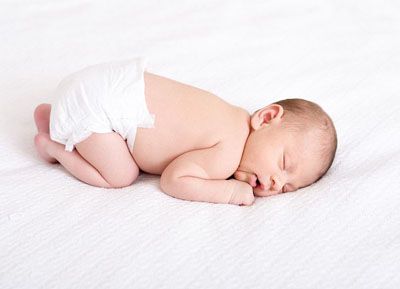 1. Determine your price range for a crib
Set your budget for a crib and try not to exceed it. Do not forget that you also need a crib mattress, which will raise the final price. An average baby crib mattress costs from $50 to $200.
How much should you spend on a crib?
Cribs cost from $100 to $1000 and more for unique designer models.
Keep in mind that expensive cribs are not safer in terms of meeting safety standards. Baby cribs are rigorous tested to meet required safety standards, otherwise, they are illegal to sell.
However, comparing a cheap $100 crib to a $1000 baby crib, there are differences in their appearance. The frames of more expensive cribs are usually more monumental, carved, with no visible hardware, etc. Yet, there are many mid-priced cribs that by no means show to be cheaper than high-budget ones.
How much does the average crib cost?
*There are, of course, quality and bad cribs in every price range. I've added links to our selections of the best baby cribs in each category.
Examples of quality cribs in their price range:
$100 – $150
$150 – $450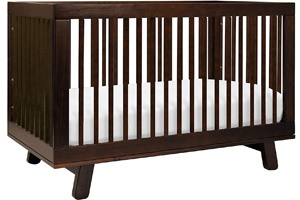 ---
2. Crib's features are important
Think about what you expect from the crib. You have numerous options, from cribs that grow with the baby to those with an attached changing table, etc. You can opt for a stationary crib or one that stands on wheels.
Of course, there are also various crib combinations. For instance, you can pick a crib on wheels that is also convertible, etc.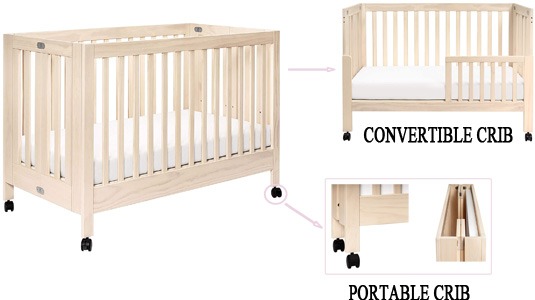 These are basic crib types:
Regular cribs: Traditional cribs without any additional features.
Convertible cribs: These cribs grow with the child.
Portable cribs: stands on rolling feet. Some also fold down for easy storage.
Cribs with storage space: These are usually convertible cribs with an under-crib drawer or an attached changer.
You can find a more detailed description of each crib type at the end of the article.
---
3. Measure available space before you buy a crib!
If space is not an issue, you can skip this step, otherwise measure how much space you have for the crib.
For easier mattress selection, are the internal dimensions of full-size cribs determined by law. But that doesn't mean their footprint is the same too. Due to different frames, external measurements may differ even between cribs of the same type.
In general, portable cribs are those with the smallest footprint. Next are convertible cribs. Combo cribs, on the other hand, are the ones that take up the most space.
Keep in mind:
---
4. Think about the crib's shape
Cribs are available in a rectangular and oval shape. Oval or cocoon-like round cribs are rare and considered unique and stylish. Although such cribs are cute and safe, think about if this is what you want.
An oval crib looks great in a big nursery, where it stands as a centerpiece of the room. An oval crib squeezed into the room's corner is not what you want! And not only that, the room won't be like in the picture, but an oval crib will also take you more much-needed space than a classic model.
Oval cribs are expensive!
Such a crib requires an oval mattress, which costs lots more than a regular crib mattress. Not because it would be better, but because of its unique shape and the fact that it's hard to get.
The same goes for the sheets. You have a smaller selection of fitted sheets, which are, of course, much more expensive.
---
5. How to buy a perfect crib mattress for your selected crib?
You can choose from a bunch of different crib mattresses. To narrow down the selection, decide between foam or innerspring crib mattresses first.
Consider if you want a 100% organic baby crib mattress, but keep in mind that truly organic crib mattresses are very rare and expensive. (You can read about this issue in our article about organic crib mattresses.) However, you have many other options, like natural crib mattresses, eco-friendly mattresses, synthetic, or such made of unique materials. They are all tested to be safe for your baby.
You can choose a regular crib mattress or such that grows with the crib. That is so-called dual-sided crib mattresses, consisting of two different sides, one for an infant and one for a toddler. So, a perfect choice for convertible cribs!
The most important features you should consider when buying a crib mattress are firmness and snug-fit!
Mattresses for full-size and mini cribs


Standard size crib mattress for a full-size crib:
The size of the full-size crib mattresses is standardized. So any new standard size crib mattress fits into any new full-size crib.
U.S. regulations define:
a standard size crib is a baby crib with the following measurements: 52 3⁄8 ± 5⁄8 inches in length by 28 ± 5⁄8 inches in width
a standard crib mattress is a baby crib mattress with the following measurements: at least 27 1/4 inches by 51 5/8 inches and no more than 6 inches thick
Mini crib mattress for a mini crib:
The size of the mini cribs and mini crib mattresses is not determined by law! So, you have to be a little more careful when buying a fitted mini-mattress.
However, in most cases, the inner dimensions of mini cribs are around 38″ (96,52cm) by 24″ (60,96cm), which is great, as most mini crib mattresses correspond to those measurements.
RELATED: Our NEW baby crib mattress buying guide
---
6. Mattress support
Check up what holds up the crib's mattress. You can choose between wooden slats, metal bars, board, or metal frame with wire springs. Each of them went through rigorous testing and is appropriate for the crib.
However, a wire spring mattress support tends to be the sturdiest and better withstands a jumping toddler than a wooden slat base.
Adjustable mattress support
Adjustable mattress support is something that you want! You can start with the highest setting for a newborn and lower it down while your baby grows.
Depending on the model, baby cribs usually possess 2 to 5 mattress height adjustments. In general, you can set it to 3 to 4 different heights on convertible cribs and two levels on portable cribs.
Most parents are comfortable with two layers. I think two levels are enough and three are ideal. In mattress supports with more than three levels, the difference between individual heights is so small that it is neglectable.
---
7. Low profile cribs for short moms
Such cribs have a unique design, with a minimalistic frame and short legs.
The height from the mattress to the top of the railing does not differ from other baby cribs, meaning they are as safe as any other baby crib. But due to short legs and specific frame design is the overall height a little bit lower. This, together with adjustable mattress support, allow short moms to reach their baby more easily.
RELATED: Best cribs for short moms
---
8. Safety
Safety is a crucial feature of each crib! The crib for your baby must be safe! If you love its design and features, but it doesn't reach safety standards, do NOT buy it!
All new cribs must meet strict safety standards set by the government. If they fail on safety tests, they are removed from the market. But if you decide on a second-hand crib, you have to be very careful!
Do not buy a used crib made before July 2011, when CPSC (Consumer Product Safety Commission) set new, more strict safety standards.
The most significant change they have made is the ban on dropping side cribs. There were too many injuries and even tragic deaths because of the dropping side mechanism. It is not worth the risk!
However, providing a safe sleeping environment is much more than just buying a safe crib. You have to purchase the right crib mattress and follow baby-safe sleep recommendations. Only then, you've made everything in your power for your baby's safe sleep!
---
Buying guide through different baby crib types
1. Regular crib
A regular crib is a basic model, without added features. It's without wheels, it doesn't convert, and doesn't possess additional storage under the crib.
Although it's safe, and usually doesn't cost a lot, it is the least wanted crib's type. Parents tend to decide on cribs with additional features, so regular cribs are slowly withdrawing from the sale, and are actually hard to get.
---
2. Convertible cribs
Convertible cribs grow with the child. Due to their versatility and long-term use, they are the most popular crib type on the market! Convertible cribs transit into one or more bigger beds, where possible conversions are toddler bed, daybed, junior bed, twin-size bed, and full-size adult bed.
They are divided into three groups, which differ in the number of conversions.
Example of a 3-in-1 convertible crib:

Example of a 4-in-1 convertible crib:

Things you should know before you pick a convertible crib
Read the crib's description:

Two convertible cribs may have the same number in their names but do not convert into the same beds. For instance, while one 3-in-1 convertible crib converts into a toddler bed and daybed, the other 3-in-1 crib skips the toddler bed and converts into a daybed and full-size bed.

Consider the price for the toddler safety guardrail:
The mattress for a crib and toddler bed:

You can use the same mattress in the crib, toddler bed, and daybed.
An excellent option for convertible cribs is a dual-sided crib mattress, which grows with the crib. It has two sides of different firmness, a firm side for the baby and a cozy side for the toddler.

An adult bed:

You will have to buy a full-size convertible kit and a fitted mattress for all convertible models that transit into a full-size or twin-size bed.
RELATED: Best convertible cribs in 2023
---
3. Portable cribs
Portable cribs are all cribs whose primary purpose is to be able to move around. The group is quite diverse, containing models whose portability is tied only to the home, to those that are meant for traveling.
Portable cribs are wooden, acrylic, or metal cribs that stand on wheels. These cribs are available in a mini or full-size and might even fold down for easy storage. Folding mechanism is particularly common for mini portable cribs, whose primary purpose is saving space in your home.
This group also includes Pack 'N Plays, Playards, and travel cribs, which are meant mostly for traveling, playing, for sleepovers.
Example of a mini portable crib: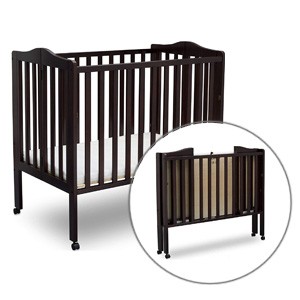 RELATED: Best mini portable cribs in 2023
Example of a full-size portable crib: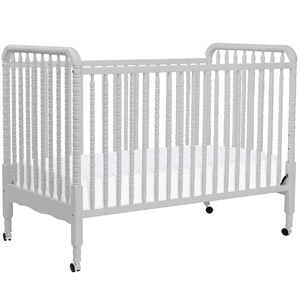 ---
4. Cribs with extra storage
Cribs with extra storage are great for everyone with space issues. You can choose between three types:
Cribs with a built-in trundle drawer under the mattress area
Cribs with an attached changing table 
Cribs with under crib drawer and changing table
1. Convertible cribs with a trundle drawer:
These cribs use otherwise unutilized space under the crib. They have a built-in storage drawer, which lies under the whole mattress area, and it's sometimes further divided into two parts for better organization.
RELATED: Best convertible cribs with under-crib drawer
2. Convertible crib with an attached changing table: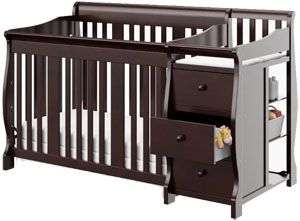 Convertible crib with an attached changing table, or co-called combo cribs consisting of two parts, a crib, and a changing table. Under the changing surface are drawers, shelves, or a combination of both. If the crib converts into a full-size adult bed, the detached changer usually transits into the nightstand.
RELATED: Best combo cribs in 2023
3. Convertible cribs with under crib drawer and changer:
You can not get a crib with more storage space. These models are convertible, with a large under crib drawer and an attached changing table.
RELATED: Best combo cribs with an under-crib drawer
---
I hope our baby crib buying guide answered all your questions and helped you choose the best crib for your baby. If not, ask us anything in the comments below. We will reply as soon as possible!
I have already provided lots of useful links, but our site has many other articles that might help you buy a baby crib. Find out more in our baby crib reviews, crib mattress reviews, best-of lists, pregnancy tips.