Last updated on January 23rd, 2023 at 11:51 am
Parents install crib bumpers, thinking they are providing a safer sleeping environment for their baby. But is that true? Are crib bumpers safe? No, unfortunately, crib bumpers are not safe! Additionally, there is no evidence about their protection from injury, and they even pose a danger to suffocation.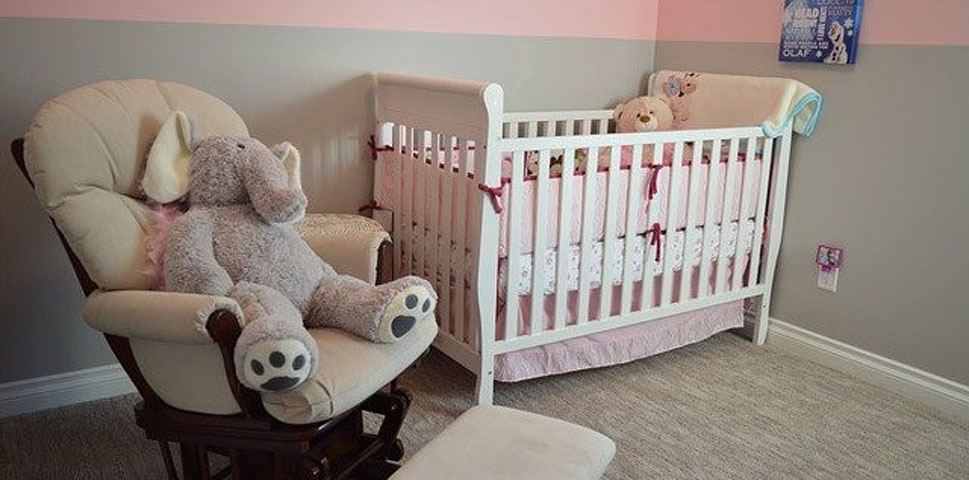 Are crib bumpers safe or dangerous?
An eternal disagreement between safety experts and manufacturers, which may soon get its official conclusion.
Crib bumpers are soft pads made of fabric, which you tie to the inside of the crib. They are supposed to protect the baby from injuries induced by bumping on the crib's sides. Their purpose is also preventing those little arms and legs from getting caught between the crib's slats. At first glance, they do look promising, but in reality, they pose a danger to your child.
---
The market is flooded with various crib bumpers. You can choose between different sizes, shapes, colors, and patterns. You can find very adorable pieces, and I am sure they are made with the best intentions, but, …
Crib bumpers are not safe, and safety experts advise against using them! The same applies to any other soft products in the baby's crib!
Actually, it is interesting how popular they are, despite years of warnings about their safety. Crib bumpers are still on the market and advertised as a safe product that prevents injuries, although there is no evidence for that.
Even a quick look at Amazon
or similar sites indicates their popularity. But why, if they are not safe? Probably because parents are unaware of the risk.
Parents buy a crib bumper with the best intention to provide a baby with a safe sleeping environment, not the other way around! I am sure no-one would endanger their child's safety intentionally.
---
Why are crib bumpers dangerous?
Used to, the gap between the crib's slats was bigger! Crib bumpers have restrained the baby's head from getting caught between these gaps, which for sure justified their use!
However, in 2011 CPSC (Consumer Product Safety Commission) released new crib safety standards, which specify the smaller gap between slats. Since then, head trapping between slats is no longer an issue. Now crib bumpers protect only against minor injuries (though even this has not been proven), which does not outweigh the hazard they pose. 
RELATED: What is the safe distance between crib slats?
Babies cannot consciously roll from front-to-back or back-to-front until 4 to 6 months of age, sometimes even later. If the baby turns over and ends up face-down in a crib bumper, she can't get out of that position on her own. That significantly increases the risk of suffocation and raises the chance of SIDS (Sudden Infant Death Syndrom).
Another danger posed by bumpers is due to their insufficiently or improper attached to the crib. Baby can become entangled in the bumper's ties, which can lead to injuries and even strangulation.
Crib bumper safety studies
In 2007, the Journal of Pediatrics published the results of the study, where they investigated crib bumpers' safety. Their conclusions should raise the alarm. They found 27 accidental deaths associated with the traditional use of bumper pads. 
Additionally, they couldn't prove that crib bumpers and other similar products protect babies from injuries. Their conclusion is clear: crib bumpers are dangerous for the baby!
In 2016, N.J. Scheers (Ph.D., a former manager of the CPSC's Infant Suffocation Project) published the results of her extensive study, which only confirmed the results of the first study. She had found there were at least 77 bumper-related deaths between 1985 and October 2012. Even more worrying is her finding that in the last seven years, there have been reported three times more bumper deaths than in the previous years.
Safety experts, the Consumer Product Safety Commission (CPSC), and the American Academy of Pediatrics (AAP) advise against crib bumpers because they pose a risk of suffocation and strangulation.
I am glad that in March 2020, the U.S. Consumer Product Safety Commission (CPSC) voted for changes to the required standards. 
If accepted, the mandatory safety standard will replace the current voluntary ASTM standard.
As a subject of voluntary industry standards, manufacturers are not required to test crib bumpers' safety before putting them on the market, which would change under mandatory safety standards.
Announced changes:
padded, pillow-like bumpers, should no longer be sold
there would be prescribed minimum airflow through the bumper
maximum crib bumper thickness would be 2 inches
they would also add a firmness requirement for crib bumpers
The proposal is still open to the public, where consumers, companies, and safety experts can explain their observations. They will assess all comments before the final mandatory standard enters into force. The whole process usually takes at least a year.
---
Frequently asked questions about
Crib bumper safety
At what age are crib bumpers safe?
The safety of the crib bumper depends primarily on the baby's ability to roll over, her coordination and strength.
While some babies start rolling over as early as 3 or 4 months of age, most of them learn it by 6 to 7 months of age. However, she must master it before you even think to place a bumper into her crib.
The crib bumper should no longer pose a risk of suffocation or strangulation for a healthy one-year-old. However, a different problem arises. Toddlers can use bumper pads as a step for climbing out of the crib, which can also lead to injuries. So, it is better to avoid them entirely.
Are breathable crib bumpers safe?
Many infant safety organizations advise against bumpers, including breathable crib bumpers. They claim that crib bumpers do not serve their purpose anyway. However, choosing a breathable mesh bumper over a padded one is a much better decision!
What can I use instead of a crib bumper?
It is better not to put anything in your baby's crib, but if you think that you need something anyway, choose a mesh liner.
As I mentioned in the answer above, choosing a mesh crib liner, such as this one, is the best alternative you can choose. It is made of lightweight, breathe-through mesh, which reduces the risk of suffocation.
---
MEDICAL DISCLAIMER
All information and resources found on www.babyslittleplace.com are based on the opinions of the author unless otherwise noted. All information is intended to encourage readers to make their own nutrition and health decisions after consulting with their healthcare provider.
All information contained on this website, including information related to medical matters, health issues, treatments, and products, serves only for informational purposes. It is not intended to replace the advice of your own doctor or specialist.
The information on this website is not intended to diagnose health problems or prescribe medications.