Last updated on January 23rd, 2023 at 04:55 pm
When buying a VTech Soothing Ocean Slumbers mobile, you will have to decide what's your priority. Either you prefer great functionality or a modern minimalist look. Unfortunately, this mobile doesn't offer both. Nevertheless, many parents love this baby crib mobile, so keep reading for our full VTech Soothing Ocean Slumbers Mobile review and see if you like it too.
Vtech Soothing Ocean Slumbers Mobile
Baby's Little Place Reviews
The best thing about the VTech Soothing Ocean Slumber mobile is its ability to responds to your baby's cry. Its built-in sound sensor is a great feature that makes it different from other battery-operated crib mobiles.
However, if you are a design freak who adores themed, modern nurseries, the mobile's overall look will probably disappoint you. The mobile is very colorful and might a little bit too plastic. Nevertheless, do not forget that the crib mobile's primary function is to soothe or engage your baby. And babies do like high contrasts and bright colors!
---
Vtech Soothing Ocean Slumbers mobile's pros and cons: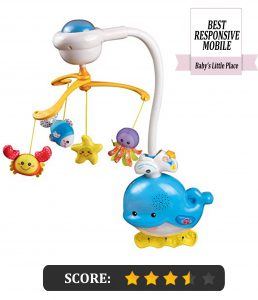 PROS:
it responds to your baby's cry
it grows with your child
easy to put together
switching between different sounds
lots of different sound options
adjustable volume
a night light
a ceiling projector
CONS:
it doesn't spin without the music
plastic look
poor customer service
---
Vtech Soothing Ocean Slumbers mobile Review
We've reviewed and evaluated all mobile's key features. I hope that will help you decide if this is the right choice for you.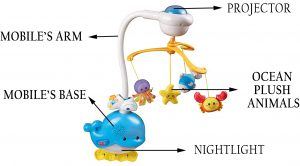 Vtech Soothing Ocean Slumbers mobile key features:
It is a voice-activated crib mobile that responds to your baby's cry by activating the calming tunes.
It has 35+ sing-along songs, sounds, melodies, and phrases.
VTech has brightly colored ocean animal characters that encourage the baby's visual awareness.
This is a baby crib mobile with a projector, which projects calming stars and moon images onto the ceiling.
It can grow with your child.
A list of long-playing soft music helps soothe babies to sleep.
 RELATED: Best baby crib mobiles
Best responsive (voice-activated) crib mobile
Is the automatic mobile's response to the baby's cry a useful feature that sells this mobile? Well, yes and no!
With the voice-activated mobile, you don't need to restart the mobile manually. It does it alone, without you disturbing the baby. It also responds right away, even when you are not near to it. Because of that, there is less chance for your baby to completely wakes up before you restart the mobile manually.
Of course, other models allow restarting from a distance too. Using a remote-controlled or Bluetooth-operated baby mobile enables this from another room. The only difference is that you still have to press the button with those two.
Sound sensor review:
Some parents claim that the sound sensor doesn't work, but we didn't notice such problems. So, probably they didn't set it up correctly.
The voice-activated sensor only works if you turn the mobile manually first. It will shut down after the setup time and restart the mobile if needed.
You may think that's obvious, but take a look at this example. You bring the sleeping baby in the crib, so obviously, you won't turn on the mobile. Your baby is sleeping, so she doesn't need it. But because of that, later, the mobile won't respond if she wakes up.
---
The design
I can't go past the VTech Soothing Ocean Slumber mobile plastic appearance. It gives it a cheaper look and doesn't express everything this crib mobile has to offer. VTech should improve that, and they will get a perfect responsive baby mobile.
I would also recommend investing in more themes, not just ocean one. Fitting in more themed nurseries would surely raise its sell.
I like that the mobile's base is not just a regular round box, but it's in the shape of a blue whale. That makes the mobile unique, which is a plus.
---
Nightlight and projector review
The base of the mobile (the whale) doesn't serve only as of the crib attachment. It also has buttons for controlling the whole unit and a nightlight in the whale's belly. The whale is cute and makes the mobile more appealing for you and your baby.
It has a larger musical button on the front of the base and little buttons on the side. They are meant for parental control, for adjusting the lights, volume, and timer on the mobile.
The VTech Soothing Ocean Slumber mobile features a nightlight and a ceiling projector. Nightlight in the whale belly changes colors and works further when you use the whale as the take-along toy.
That is not the case with the nightlight projector, which works when you use the Vtech Soothing Ocean Slumbers mobile as a crib mobile only. The projector is on the top of the mobile arm, so you will remove it along with the arm. As for the ceiling projection, it works great, and I wouldn't change anything.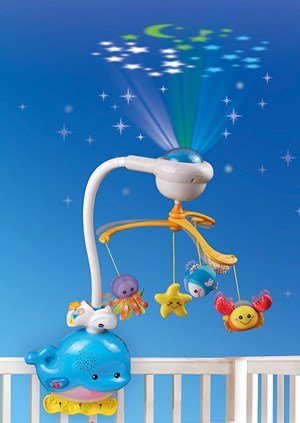 ---
Vtech Soothing Ocean Slumbers Mobile grows with your child
Another useful feature that gives additional value to the mobile is its long-term use. It is a 2-in-1 baby crib mobile, meaning you get one baby toy with two different purposes. In this case, you get a crib mobile that you can later easily convert into a crib toy or take-along toy.
In the first stage, it is a crib mobile with a nightlight and projector.
You have to convert it when your baby reaches the hanging toys. That is done by removing the mobile's arm and leaving the whale on the crib. It will serve as a musical box with a nightlight. It will further comfort her and help her sleep.
Although plush toys are removable, I do not recommend using them separately before your baby is not old enough. I think they are too small for a little baby! 
In the last stage, when your little one is big enough, you can remove the whale from the crib and use it as a take-along toddler toy. Your toddler will enjoy having the music box with lights and sounds in the shape of the whale.
---
Vtech Soothing Ocean Slumbers Mobile Specifications
Technical details:
weight: 2.28 pounds
dimensions: 12.6 x 4.7 x 18.3 inches
batteries: requires 4 AA batteries
BEST FOR AGES:
mobile & projector: birth to 5 months
musical crib toy: 5 months +
Features:
TOYS:
Vtech Soothing Ocean Slumbers Mobile features four bright ocean plush animals that dangle and twirls above the baby's head.
colorful plush octopus, crab, star, and fish
plastic blue whale
ROTATION:
rotating direction: clockwise
it doesn't spin without the music, but it has three modes of operating:
lights only
spinning & playing music
lights, spinning & music
SOUND OPTIONS:
The music button on a whale activates sounds, songs, and music. It plays a lot more sounds and songs as the majority of baby musical mobiles.
Besides lullabies and natural sounds, it plays sing-along songs and phrases as well. We found that very handy when you transform the crib mobile into a toddler take-along toy.
It has a built-in timer, which allows you to preset the working time. The mobile can play up to 40 minutes of soothing music, along with spinning the toys and projecting images onto the ceiling.
music duration: 20, 30 or 40 minutes
volume setting: yes
number of melodies: 37+ nursery rhymes, sing-along songs, natural sounds and phrases
switching between sounds: yes
LIGHTS:
The mobile features the nightlight and a ceiling projector.
Warranty:
Vtech Soothing Ocean Slumbers Mobile is covered by a 3-month warranty from the original purchase date, under normal use and service, against defective workmanship and materials.
---
Frequently asked questions about Vtech Soothing Ocean Slumbers Mobile
1. Does the mobile have a plugin?
No, it can work only with batteries.
2. When the baby starts crying, is it supposed to play only the sound/music, or is it supposed to activate the lights and mobile also?
It depends on which setting you selected at first.
3. How does Vtech Soothing Ocean Slumbers Mobile attach to the crib?
The mobile attaches to the crib with the adjustable strap, which goes over the rail, through the slats, and into the clip. It has an additional safety string, which you can tie around the nearest crib slat.
4. Do the lights that project onto the ceiling move or are they stationary?
It projects moving graphics on the ceiling.
5. Does this mobile have a child safety certificate?
All VTech products are thoroughly tested and evaluated by independent testing labs before they are brought to market and meet all the safety guidelines of the CPSC (Consumer Product Safety Commission).
6. Does it have the remote?
The mobile doesn't have a remote control. However, in this case, this is not a problem, as the sound sensor restarts the mobile, so you don't need it.
---
The verdict
With its colorful appearance, the VTech Baby Soothing Ocean Slumbers Mobile might not fit into all nurseries, but it has development benefits for your baby. It stimulates visual awareness, auditory stimulation, and tactile stimulation. It engages and soothes the baby, which is the most important!
It could be made a little better and more sophisticated, but it has everything you need for your baby. And with the additional sound responsiveness, it actually offers more than lots of other battery-operated crib mobiles.
If you don't mind the plastic look of the mobile, this mobile is a great choice. By the way, babies and toddlers don't care about its plastic look at all! They love their blue whale with lights and sounds.
---