Last updated on January 23rd, 2023 at 04:34 pm
When providing a safe sleeping environment, buying the crib is just the beginning. Choosing the right crib mattress is the same, if not even more important! That's why I have prepared this baby crib mattress buying guide that teaches what to pay attention to when buying one.
How to buy a perfect crib mattress for your baby?
Baby's Little Place Tips
Young babies, particularly newborns, sleep most of the day. Yes, I know, when my daughter was a baby, it didn't seem so to me, either. But they do, some even up to 18 hours per day!
Our baby crib buying guide is new and covers everything you need to know before and after buying a crib mattress in 2023. Yes, after too! Just purchasing a crib mattress that meets all required safety standards won't do the whole job. Only the right use of the crib mattress will provide the safest sleeping environment for your little bundle of joy.

Things to consider when buying a crib mattress
When buying a crib mattress, you have to make various decisions and think about many things that could affect safety and durability.
You have to decide on the material of the mattress's core: foam or innerspring.
If you can, buy a new model, and do not settle with low quality!
If you have a convertible crib, think about the crib mattress that grows with your child.
You must pick a firm baby crib mattress! 
A crib mattress must fit perfectly into the crib, so choose the right size.
Buy a breathable crib mattress, which prevents the baby's overheating and mold formation in the mattress's core.
Crib mattresses must meet all required safety standards, otherwise, they are illegal to sell. However, check if this is true for your chosen model. Better be safe than sorry!
See if the cover of your chosen crib mattress is waterproof. If not, you can buy it separately, but it must be breathable.
Inquire about its warranty!
If you want an organic baby crib mattress, you have to be aware that not many of them are 100% organic!
Is your child allergic? Then choose a hypoallergenic baby crib mattress.
If you are overwhelmed due to the amount of information you have to consider, do not worry! Below is a baby crib mattress buying guide, where I explained each step in detail.
Or take a look at our selection of the best crib mattresses in 2023.
---
Crib mattress buying guide
1. Foam or innerspring crib mattress
As long as you pick a quality model, both types are great! The quality and structure of foam crib mattresses change a lot in the past years.
A quality foam crib mattress offers the same support as the innerspring model, some even bigger. If properly used, we can't generalize which one is more durable or better for your baby.
The choice of material, therefore, depends on your personal preference, not because one material would be better than another!
What about a completely unique baby crib mattress?
So, there are foam and innerspring crib mattresses, but there is also one exception! Newton has made a crib mattress from the unique Wovenaire material. Not only that, but more than half of it is actually air! Such a structure makes it the only 100% breathable and 100% washable baby crib mattress.
Because of its unique features, excellent support, high quality, safety, and usability, is Newton Wovenaire one, of the most wanted and best-rated baby crib mattresses on the market.
---
Foam crib mattress
Foam crib mattresses are made of the polyurethane core, which is surrounded by the fabric or vinyl cover. Their structure is less complex than innerspring mattresses but equally efficient. A quality foam mattress is firm and offers proper support to your baby! 
Foam crib mattresses are available in a mini and standard sizes. Their thickness varies from 3 to 6 inches, and they are lighter than innerspring models. Most of them weigh less than 13 pounds, so changing sheets is much easier and faster too.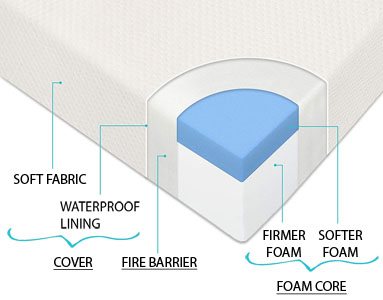 Foam core
High-quality baby crib mattresses, such as the Babyletto Pure core baby crib mattress, have a denser foam, resulting in a slightly higher weight. The law does not specify that the density of the foam must be stated on the label, so of course, it is often not. But you can conclude which foam is denser, by comparing the weight of different foam mattresses. Heavier foam crib mattresses have denser foam, resulting in better quality.
Fiber barrier
The mattress's fire barrier must be safe, non-toxic, and free of chemical flame retardants.
Cover
The core of the foam mattress is surrounded by a cover, which can be vinyl, fabric, or a combination of both materials. The combined cover has vinyl on the inside and softer fabric on the surface.
The vinyl cover is usually waterproof, so it better protects the mattress's core. You can clean it just by wiping it with a damp cloth. However, if a vinyl cover is not quality-made, it can leave annoying crackly sounds when your baby moves. Vinyl covers also have worse breathability than those made of fabric.
Whichever you choose, check up its qualities first. Is the cover waterproof or water-resistant, does it have a plastic feel and leave noises, and if it is breathable.
A waterproof cover prevents liquids from penetrating the core. 
A water-resistant cover keeps the liquids on its surface only for a certain period then they slowly penetrates inside.
The vinyl cover shouldn't have a plastic feel or leave noses.
A cover must be breathable. Choose the cover which is waterproof only on the top. As such, it will keep the breathability on the bottom side of the mattress.
Foam crib mattresses I have listed above are not the cheapest choice. That's why we've found an affordable alternative, a Graco Premium foam crib and toddler mattress. It's still not the cheapest one on the market, but very affordable.
For the price you are paying, you get an excellent baby crib mattress, which meets all safety standards, offers sufficient support, and has many other cool features, which you can find in our Graco Premium Review.
---
Innerspring crib mattress
The structure of the innerspring crib mattress is a little more complex. The core is made of steel springs. Springs provide excellent support, but they are hard to touch, so they must be surrounded by multiple layers of different cushioning materials that give the mattress a needed softness. 
Due to the springs, these mattresses weigh between 5 to 30 pounds, which is more than foam mattresses.
Innerspring baby crib mattresses differ in the number and hardness of steel coils in the core. Never buy an innerspring mattress, if you don't know its exact structure! There should be a description of what's inside on the label or in the manual!
cover
lock-stitched binding
cushioning
springs
airflow pockets
Springs
In general, more springs mean better quality. If there are more springs, they are closer together, which results in a firmer structure. But this is not always the case. If the difference in coil count of two mattresses is not too big, the one with fewer coils can offer better support anyway. That is because its steel is thicker and stronger.
You have to find the perfect combination of coil count and steel thickness (steel gauge). Some crib mattresses have more than 200 coils, others are less than 80. So how do you choose the perfect one? A quality baby crib mattress, such as Kolcraft, is one with 135 -150 springs. The thickness of coils is measured as a steal gauge and ranges from 19 to 12.5 gauge, where the lower number means thicker steel. 
Insulator pad
The insulator pad prevents the coils from poking through the mattress's surface. The best are fiber wrap pads, made from pressed scraps of cloth, and coir fiber pads made of shredded coconut shells. Coconut pads cost more, but either works well in crib mattresses.
Avoid innerspring crib mattresses with woven polyester, hard felt, or plastic-mesh insulator pads. Such mattresses are less durable, tend to form pockets over time, and become concave, which creates a safety hazard for your baby.
Cushioning layers
Cushion layers can be made of cotton, foam, or the worse choice, polyester. Polyester is cheaper, but it's less durable, and mattresses with polyester cushioning tend to form pockets sooner.
Cover
All layers are surrounded by fabric or vinyl cover, with the same characteristics as those on foam mattresses.
---
Foam vs. innerspring baby crib mattress
FOAM CRIB MATTRESS

INNERSPRING CRIB MATTRESS

lower price
higher price
lighter
up to 13 pounds
weights more
from 5-30 pounds
less bouncy
higher bounce, so there is more chance your toddler will use it as a handy trampoline
if you don't pick a quality model, it won't last as long as the innerspring mattresses
they are generally more durable
RELATED: Foam vs. Coil/Innerspring crib mattress
---
2. New vs. second-hand baby crib mattress
If it's possible, decide on a new baby crib mattress. I always tell parents that a cheap but new crib mattress is often better than a used one, which was expensive. That applies especially to a secondhand crib mattress, whose previous owners you do not know personally.
A used crib mattress is maybe not as firm as it should be anymore. Also, you can't possibly know what has been going on with the mattress, how many accidents it surviewed, was the mattress properly cleaned and dried out, etc. If not used properly, it can harbor mold, mildew, bacteria, or fungus in its core.
Newer judge the crib mattress by the look of the cover! The cover may look clean, but you can't be sure what's going on inside. Well, except in the previously mentioned Newton Wovenaire, where you can see into its core. 
---
What about quality? 
If you opt for a cheap crib mattress, it does not mean that you have to give up its quality. I'm not claiming that all cheap crib mattresses are good, but we've found a few that offer a lot for a very reasonable price.
Delta Children offers a wide selection of popular baby crib mattresses for an affordable price. We've already reviewed them, and they possess excellent quality for the price! If you are interested, you can read our Delta Children baby crib mattress review, where you can also find links to their prices. A quality affordable choice, which is also very popular among parents is Graco Premium or Safety 1st Heavenly Dreams baby crib mattress.
---
3. Convertible, dual-sided baby crib mattress
A dual-sided crib mattress, such as a Dourxi crib mattress, is the best choice for convertible cribs. It has two sides of different firmness, a firm side for babies, and a softer side for toddlers.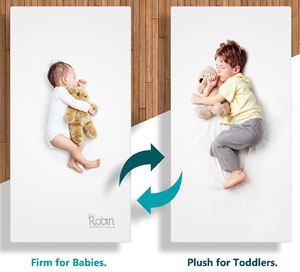 While babies should never sleep on softer mattresses, toddlers can sleep on a firm surface. However, toddlers often want a softer mattress. Since they cuddle with their parents on their bed, they know how cozy it can be. And a dual comfort baby crib mattress is a perfect solution.
Start with the firmer side for a newborn and baby, and flip the mattress when your child is old enough. Don't rush with the flipping. Maybe you can do it at the same time you are converting the crib into a toddler bed. That's how your little one gets a new bed with a new mattress, without any additional costs for you!
---
4. How to choose a crib mattress with sufficient firmness?
One of the most important things you should consider when buying a crib mattress is sufficient firmness! A firm crib mattress significantly reduces the risk of SIDS (Sudden Infant Death Syndrom).
Your baby's head won't sink into a firm mattress! Sometimes babies roll over, but they are not able to push up and turn yet. In such a case, a firm crib mattress doesn't contour to the baby's face and prevents suffocation! At the same time, it offers much better support to make it easier to push up or turn her head on the side.
So, choose a firm crib mattress! Not only that it's much safer, but it also contributes to proper baby bone and muscle development!
---
How to test the crib's mattress firmness?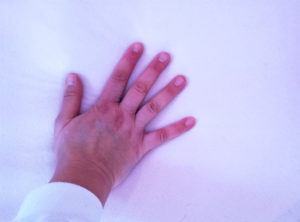 First of all, if it feels too firm for you, then it's probably firm enough for your baby! Press on the mattress's surface with your palm. If it offers enough resistance and it spring's back quickly, it's firm enough.
---
5. How to choose a fitting crib mattress?
You have to choose a crib mattress that fits perfectly into your crib. Pick a standard-size crib mattress for a full-size crib, a mini mattress for mini cribs, and a suitable model for a Pack 'N Play or travel crib.
---
What is the best mattress for a full-size crib?
Given the correct fit, choosing a fitting crib mattress for a full-size crib is the easiest. Inner measurements of full-size cribs and the size of crib mattresses are regulated by the government. That's how any new standard-size crib mattress fits into any new crib!
However, if you are not sure, check it by yourself. Place the mattress into the crib and look for the gaps between the mattress's edge and the crib's frame. If there is a gap, place your fingers there. The gap shouldn't be wider than two fingers!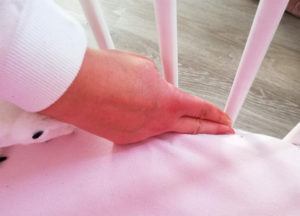 ---
What is the best mattress for a mini crib?
Choosing the right crib mattress for a mini crib is a little more complex. The mini crib's measurements are not defined by the law, classifying all cribs smaller than a full-size crib amongst mini cribs.
Luckily in most cases, the mini crib's inner dimensions are around 38 inches by 24 inches, and most mini crib mattresses correspond to those measurements!
When choosing a mini mattress, always carefully check if its size matches the internal dimensions of your mini crib, and make a two-finger home fitting test to be absolutely sure!
---
What is the best mattress for a Pack 'N Play or travel crib?
A portable mattress must also fit snuggly into the Pack 'N Play or travel crib. But this is not the only requirement! In this case, the thickness of the mattress is even more important!
It shouldn't be too thick! These cribs have soft mesh sides, so the baby could roll down and trap between the mattress's edge and the crib's side.
Most Pack 'N Plays and travel cribs take the mattresses up to 3 inches thick, but check by the manufacturer first!
---
6. Do you need a breathable crib mattress?
Yes, you do! Choose a crib mattress with sufficient airflow through its core. 

The benefits of a breathable mattress are:
A breathable crib mattress cools down faster and, as such, prevents the baby's overheating.
A breathable crib mattress drys faster and, as such, prevents mold formation in its core.
I have to say, most new baby crib mattresses possess sufficient breathability. We always check the venting and breathability in our baby crib mattress reviews. And I have to say that most of the time we get good results!
There could be issues with vinyl and completely waterproof covers. If the mattress has such cover, check if it has side venting holes, or if it's waterproof only on the top and sides. If the bottom side is not waterproof, it will provide sufficient airflow anyway. 
Note: If you decide on a dual-sided crib mattress with such a cover, don't forget to turn the cover when flipping the mattress. That's how you will avoid liquid penetration if the accident occurs.
---
7. Crib mattress safety standards
Choosing the right crib mattress is equal, if not even more important, than choosing a safe crib. Only the correct combination of both will give you the right result, which will contribute to your baby's safety.
For instance, you can buy a high-rated baby crib mattress, which meets and even exceeds all required safety standards, but if it doesn't fit snuggly into your crib, it won't provide sufficient safety to your baby!
Every new crib mattress must meet strict safety standards set by the CPSC (Consumer Product Safety Commission) and ASTM (American Society for Testing and Materials). Manufacturers are also required to reveal all the materials used for their mattresses. Do not buy a crib mattress if you can't find these data, or the seller doesn't want to provide them!
Tests include checking the content of harmful substances, measurements, and checking the mattress's firmness. Often, the mattress's descriptions are accompanied by certificates obtained by a particular mattress.
Crib mattress certifications: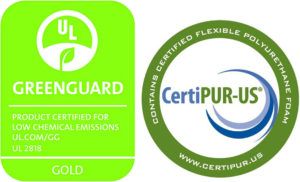 GREENGUARD Gold certification

, which ensures that the crib mattress was independently tested and verified to meet strict emission levels of indoor pollution. Certified crib mattresses are without toxic chemicals, such as volatile organic compounds (VOC), formaldehyde, and phthalates.

CertiPUR-US certification

, which refers to the mattress's foam. Certified foam is without ozone depleters, mercury, lead, and other heavy metals. The foam is free from formaldehyde, phthalates, and chlorofluorocarbons. It also guarantees that foam passed all durability and performance tests. 
Organic crib mattresses must have one of the following certifications!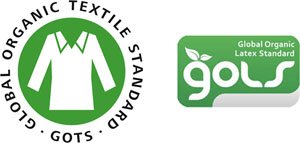 1. GOTS (Global Organic Textile Standard) for fiber-based products. The GOTS certification assures that a product you are buying is certified organic and non-toxic to a strict standard.
2. GOLS (Global Organic Latex Standard) for latex-based products. The GOLS certification ensures that the latex in crib mattresses is organic, and meets specific standards in the processing and manufacturing steps.
---
8. Do you need a crib mattress protector?
Even if you have a waterproof crib mattress, it is advisable to use an additional crib mattress protector too. It will protect the mattress and keep the sleeping environment clean. 
Quality covers also provide absorbency and helps manage moisture. The cover will absorb liquids, but won't let them penetrate into the mattress's core. As such, it helps prevent the baby's skin irritation from moisture exposure.
Choose the one that is machine-washable, so you can easily clean it if a bigger accident occurs. 
Choose a tightly fitting cover!
Always place the cover under the sheet!
---
9. Do you need a crib mattress with a lifetime guaranty?
Crib mattress warranties vary from one year to a lifetime. And I think you don't need a lifetime warranty, especially if you are required to pay extra for it.
Paying extra money for a lifetime warranty is more of a marketing strategy than a benefit for you! A quality crib mattress, combined with proper use, lasts a long time, much longer than your child can use it.
---
10. What is an organic baby crib mattress?
Finding a 100% organic baby crib mattress can be a tough job. I was surprised by the low number of truly organic crib mattresses.
There are eco-friendly, natural, or green mattresses, which are excellent, high quality, and safe models, but they are not 100% organic.
If you want a 100% organic crib mattress, check if it has all the certifications I have described above. But be careful! You have to check if all parts of the crib mattress are certified organic. In most cases, only its individual parts are certified, which is often not accurately stated on the label. You can read more about this in our article about organic crib mattresses.
After our research, I can recommend the following mattresses:
---