Last updated on January 23rd, 2023 at 12:16 pm
The Graco Benton 4-in-1 convertible crib looks beautiful, quality, and strong. Comparing this with its affordable price, it seems that it is definitely worth your consideration.
However, when it comes to baby equipment, a good price and nice appearance were never enough for me! So, I have decided we will make our own Graco Benton 4-in-1 convertible crib review, where we will check all its features a little more closely.
Baby's Little Place review:
BRAND: Graco by Stork Craft
MODEL: Benton
CRIB TYPE: 4-in-1 convertible crib
SIZE: full-size crib
Graco Benton 4-in-1 convertible crib review
Graco is one of the most recognized and trusted baby brands whose mission is to deliver safe and quality baby products into every home.
Graco's most recognizable products are their car seats, strollers, and Pack 'N Plays. But cribs are not far behind and becoming more and more popular each year!
For the crib production, Graco decided to work with Stork Craft, which is one of the leading baby furniture manufacturers in the US. That is a win-win combination, for both companies and the parents. The result of their collaboration are numerous Graco convertible cribs that are very popular among parents.
And their leading crib? The Graco Benton 4-in-1 convertible crib!
---
Graco Benton's review at a glance: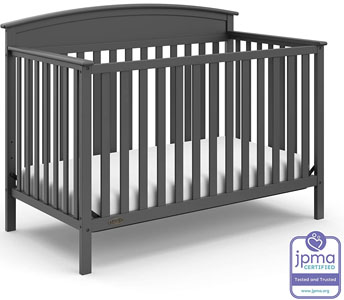 PROS:
elegant and timeless design
it can be a lifetime bed for your child
Graco Benton has a high value for the price
it stays sturdy after conversions
safe crib, which meets all applicable federal safety standards
a full-size crib with a minimalist frame (perfect for smaller nurseries)
affordable price
decent color selection
it is available as a stand-alone convertible crib or with an attached changer
CONS:
a few visible holes and exposed screws*
*That is common for all convertible cribs in the Graco Benton's price range, so I can not say it is a drawback.
---
Graco Benton review's breakdown
When buying a convertible crib, you have to understand the meaning of the number in its name. Yes, it tells you to how many beds a particular crib converts. But you probably won't get all the parts for the conversions with the crib. 
So, let's take a look at what is included with the Graco Benton 4-in-1 convertible crib.
Graco Benton's convertibility review
Graco Benton is a 4-in-1 convertible crib, meaning it can convert into three beds. In Benton's case, conversions are:
a toddler bed
a daybed
the full-size bed with a headboard
Toddler bed:
When your baby outgrows the crib, you can convert it into a toddler bed. The interesting part about this conversion is that you can convert it into a toddler bed with or without a safety guardrail. Meaning, you can convert it without any additional costs.
The conversion is easy and doesn't take a lot of time. However, I recommend you take your time, follow the provided instructions and double-check if you have done it correctly.
As for the safety guardrail, I think it is best to have it. Speaking from my experiences, I do not believe my toddler would stay in her bed without it.
Note! Most convertible cribs do not have an included toddler bed safety guardrail, but there are some exceptions, like Babyletto convertible cribs.
Anyway, the Graco Benton matches with a universal Graco toddler bed guardrail, but unfortunately, you have to buy it separately. I don't know why, but prices vary quite a lot between different finishes, which is a bit disappointing.
Nevertheless, if you decide on it, I recommend you buy it with the crib. You will have it by hand when it is time for the conversion. And most importantly, it could happen that the guardrail won't be in stock when you need it.
Daybed:
For an added versatility, you can convert it into a daybed. The conversion is done by removing a toddler bed safety guardrail and lifting the mattress support one level higher.
You do not need any additional purchases for this conversion, which is excellent.
But to be fair, I see no reason to convert it at all. I don't mean this just for the Graco Benton 4-in-1 convertible crib, but for all convertible cribs whose toddler bed has a safety bar. Why would you remove it if it is safer for your toddler when it is on?
Adult bed:
This Graco Benton 4-in-1 convertible crib can last well into adolescence as you have the option to convert it to a full-size adult bed. Just disassemble the crib to get the headboard and attach it to a full-size metal bed frame.
But yes, you will have to buy a Graco full-size metal bed frame conversion kit and a mattress.
Note! No crib of any brand that converts into an adult bed comes with the included parts for the conversion, so that is not Benton's disadvantage compared to similar cribs.
---
What do I think about Graco Benton's design?
I find Benton as a simple yet beautiful crib. Those who like arched cribs will love its headboard. I like that it is closed only on the top, which makes it more open and breathable.
It is available in five finishes: driftwood, espresso, pebble grey, white, and whitewash. It is not the hugest choice I've seen so far, but it is a decent color selection. Together with its traditional look, this allows it to match almost any room decor.
I like that it has a small footprint, which is also perfect for those facing space issues.
Many parents who initially thought they have to buy a mini crib were pleasantly surprised that the Benton crib fits into their smaller space. Not that mini cribs are not good, but you can not use them as long as full-size models!
Note! The Graco Benton has a smaller footprint due to its minimalist framework. Its interior dimensions are standardized and the same as for all full-size cribs.
---
Graco Benton's specifications
crib's dimensions: 56,7″L x 29,8″W x 40,5″H
weight of the crib: 42 pounds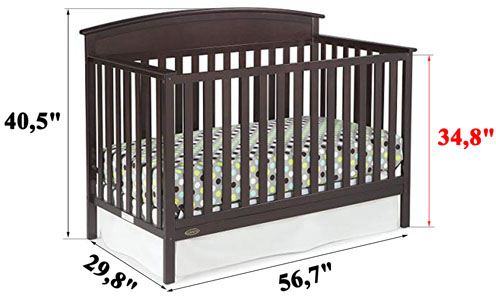 If you have read the crib's dimensions, the height of the crib probably raised your eyebrows. If it seems too high for you, you are right.
That is the highest point of the arch! Yes, surely for whom this is important, but why is there no data about the front rail. After all, that is the place where you actually place the baby into the crib.
Anyway, we have measured it, and the height of the front rail is 34,8 inches.
---
Frequently asked questions
How long can my baby use the crib?
There is a hight limit for the crib stage. When your child outgrows the height of 35 inches, it is time to convert the crib into a toddler bed. Maximum recommended weight limit for a daybed/toddler bed is 50 pounds. As far as the full-size bed, the weight limit will depend on the metal bed frame you will purchase.
I'm a little confused, do I need to make an additional purchase for a toddler bed?
No, it is not necessarily because you can have a toddler bed without the safety guardrail. You can transform a crib into a toddler bed by removing the front rail and placing the crib mattress into the lowest position. But if you think your toddler needs an additional safety rail, you can purchase the universal Graco's toddler guardrail.
Is the crib portable?
No, the crib is not designed to move around too often. It is fine if you move it to clean underneath it, but don't move it around every day. If you intend to move the crib a lot, you might want to look into portable cribs instead.
What about under-crib storage?
No, Graco Benton 4-in-1 convertible crib doesn't have an under-crib drawer. Nevertheless, the height from the floor to the front bottom rail of the crib is approximately 6,5. That is enough space for low, flatter storage boxes.
If you want a Graco crib with an under-crib drawer, you might like the Graco Solano 4-in-1 convertible crib.
Do I need to assemble the crib?
Yes, but it is so incredibly easy. Even pregnant women reported they assemble the crib in less than an hour. We do not recommend that – let the hubby do it for you, but yes, it is easy to put together.
---
The best Crib Mattress for Graco Benton
Graco Benton 4-in-1 convertible crib is a full-size crib, meaning its interior dimensions are standardized to fit any standard crib mattress. So, you can use any standard-size crib mattress, but of course, Graco recommends their crib and toddler mattress, which is a perfect fit.
RELATED: Crib mattress buying guide
Other mattress information:
The Graco Benton has a metal spring support, which is considered one of the better ones as it is durable and allows better airflow through the mattress.
It has adjustable mattress support, so you can start with the highest setting for a newborn and gradually lower it down. You can set the mattress into three different heights, where the lowest height setting is approximately 10″ above the floor.
---
Final verdict
Our Graco Benton 4-in-1 convertible crib review showed that the crib certainly lives up to its excellent parents' reviews.
It is a beautiful, quality, and safe crib. It has an excellent value for the price and comes with a 1-year manufacturer warranty.
If you like it, I do not see a reason why you wouldn't buy it!
---