Is the crib a suitable Christmas gift for feature parents? Well, it depends on the individual situation. A crib can be an excellent Christmas present if you understand the parents' wishes or a total disaster if it is not the one they wanted.
Can you buy a baby crib as a Christmas Present?
If you know the exact crib model they want, you will nail it with such a gift. But if you are not familiar with the parents' wishes, it is probably better to pick another Christmas gift.
You can give them a gift card for a nursery furniture store. However, in my opinion, a gift card is not the same as the real present under the Christmas tree.
Don't get me wrong, a gift card is very useful, but I rather find a box with a cute ribbon under the Christmas tree. Maybe I am strange, or that is my inner child who is remembering the warmth of our family's Christmas mornings, but that is how I feel. Anyway, you know your loved ones the best, so you will know what is best for them!
Of course, there are also other options, like a Pack 'N Play or travel crib. Most parents want one of them. It is not so important that they perfectly match their interior decor, so it is less chance that they would not like it.
Travel Crib as a Christmas Gift
If parents travel a lot, choose one of the lightweight travel cribs. Most travel cribs set up or collapse in less than a minute. They can fold into a small travel bag, which can be in the shape of a backpack or suitcase, and are overall a perfect travel companion for a young family.
Parents will appreciate the convenience of a travel crib. It is a safe sleeping and playing are for their baby. And the best part, they are usable from newborn to toddler age.
If you find the travel crib a suitable Christmas gift, you can take a look at our selection of the best travel cribs of this year here, or read the article about affordable travel cribs.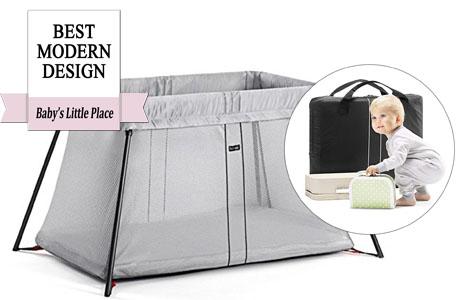 Pack 'N Play as a Christmas Gift
If you don't know which crib's model parents want, or those to whom the gift is intended travel only occasionally, a Pack 'N Play might be a better choice for their Christmas gift.
Pack 'N Plays are a blend of a standard crib and travel model. They are perfect for afternoon naps, a safe playing area, a travel crib, or even a substitute for a regular crib.
Pack 'N Plays are a little heavier from travel cribs but also folds down into a carrying bag to take it with you wherever you go.
You can choose amongst classic models or care station Pack 'N Plays that features multiple different accessories.
You can find the best Pack 'N Plays in this article.
Baby Crib as a Christmas Gift
If you do not know which is the exact crib model parents want, but you have decided to take a chance and buy a baby crib anyway, here are a few things you should know.
Full-size or Mini Crib:
Baby cribs come in two sizes, as a standard (full-size) or mini crib. A full-size crib is larger and usable for a longer time. With smaller dimensions, a mini crib does not last as long, but it is a perfect space-saving option for those who are facing space issues. You can get a mini crib with the same features as any full-size model, just in smaller dimensions.

Crib's features:
Cribs, mini or full-size models, come in different shapes and materials, equipped with various features.
The most popular are convertible cribs that grow with the child. When the child outgrows such a crib, it can convert into one or more beds (a toddler bed, daybed, full-size adult bed).
Because it can last from newborn to adulthood, the convertible crib may be the only bed the child will need.

Then there are combo cribs, which are the combination of a crib and a changing table. They are also convertible, where in the last conversion, the changer usually transforms into a nightstand next to the adult bed.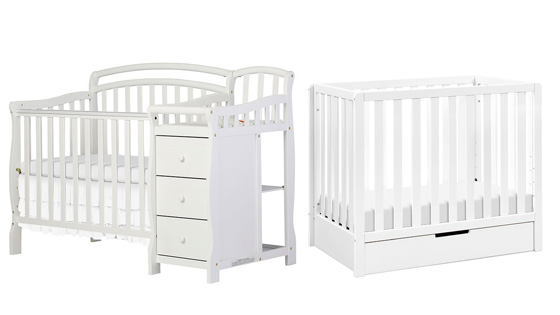 You can also choose a crib with an under-crib drawer (full-size or mini) or such that stands on the caster wheels. Among the latter, mini portable cribs that stand on wheels and fold down for easy storage are particularly popular.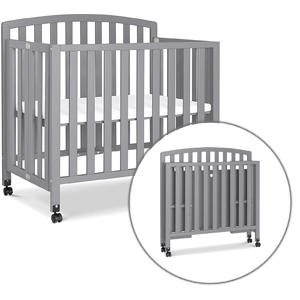 Anyway, choose wisely or read our crib buying guide for additional information.
---
Crib Mattress as a Christmas Gift
If those who are buying a Christmas gift already have a baby crib, they might need a crib mattress.
If they have a standard size crib, you are good to go. Full-size crib's measurements are regulated by the government so that any standard size crib mattress fits into any full-size crib.
It is a little more tricky with mini cribs, as they come in various interior sizes. Most of them correspond to the unofficial size standard and do take a US mini crib mattress, but make sure what crib model they have before your purchase.
Of course, you can choose from numerous crib mattresses. They are made of different materials, possess various features, etc. What I want to say is, there are many things you have to consider, so read our crib mattress buying guide for more information.
---
No matter what Christmas gift you choose, choose wisely, and think thoughtfully about the gift recipient's wishes and needs first. I am sure you will pick it by heart, so you can not be wrong!
I wish you a Merry Christmas and a Happy New Year!